Weekend in Cheltenham for foodies
Escape on a gourmet getaway to Cheltenham to treat yourself to award-winning food by the towns best chefs, discover cosy gastro pubs and experience delicious food from hidden eateries local foodies rave about.
When planning a gourmet weekend getaway there is truly nowhere better to head to than Cheltenham. Our Regency town has long been known as a foodie destination and quite rightfully so too. Home to several MasterChef's and finalists; nine Michelin Guide featured restaurants and some of the best independent restaurants in the region.
This suggested weekend itinerary aims to give you a flavour (pun intended) of the delicious delights Cheltenham is proud to offer. Of course, to fully appreciate the wealth of cooking expertise from our local chefs, you would need to stay much longer than a couple of days!
Day 1 - Friday morning
Recuperate from your journey with a refreshing cup of loose leaf tea in the elegant courtyard of The Regency Tea Rooms, located on Regent Street, the epicentre of the independent foodie scene in Cheltenham. Pop into The CheeseWorks, recognised as one of the finest British cheesemongers, for a nibble of their handmade cheeses, or to treat yourself to a cheese hamper.
Top tip
On the second and last Friday of every month Cheltenham's Farmers' Market takes place from 9 – 2pm on the pedestrianised area of the Promenade. For true foodies this is a wonderful opportunity to sample and buy locally grown produce and homemade treats from Gloucestershire and the Cotswolds.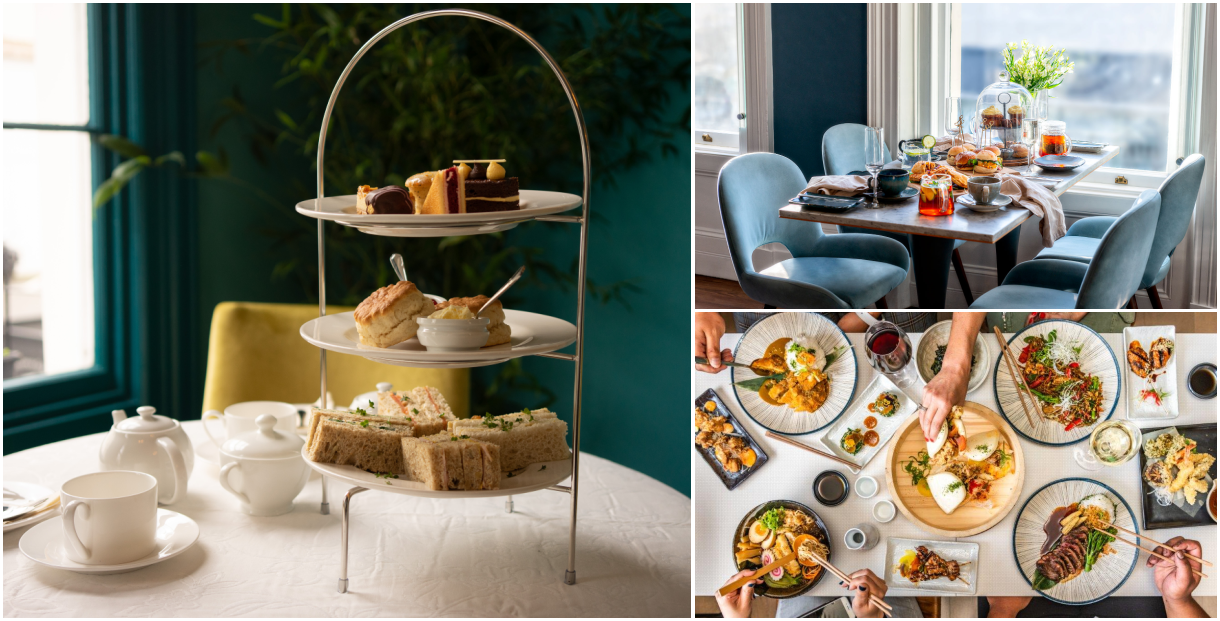 Images - Afternoon Tea at Regency Tea Rooms (left), The Find (top), KIBOU (bottom).
Lunch
From here take some time to peruse the lunch menus of some of the most popular eateries in town such as KIBOU, Domaine 16, The Find and WoodKraft owned by MasterChef winner, Simon Wood. It'll be difficult to choose just one to experience for lunch but wherever you choose you can be sure of a friendly welcome and delicious, fresh food.
Afternoon
After lunch enjoy a stroll along the Promenade, around Imperial Gardens and Montpellier Gardens before heading to the No. 131 terrace, (the perfect spot for people watching!) for a cocktail or glass of your favourite tipple.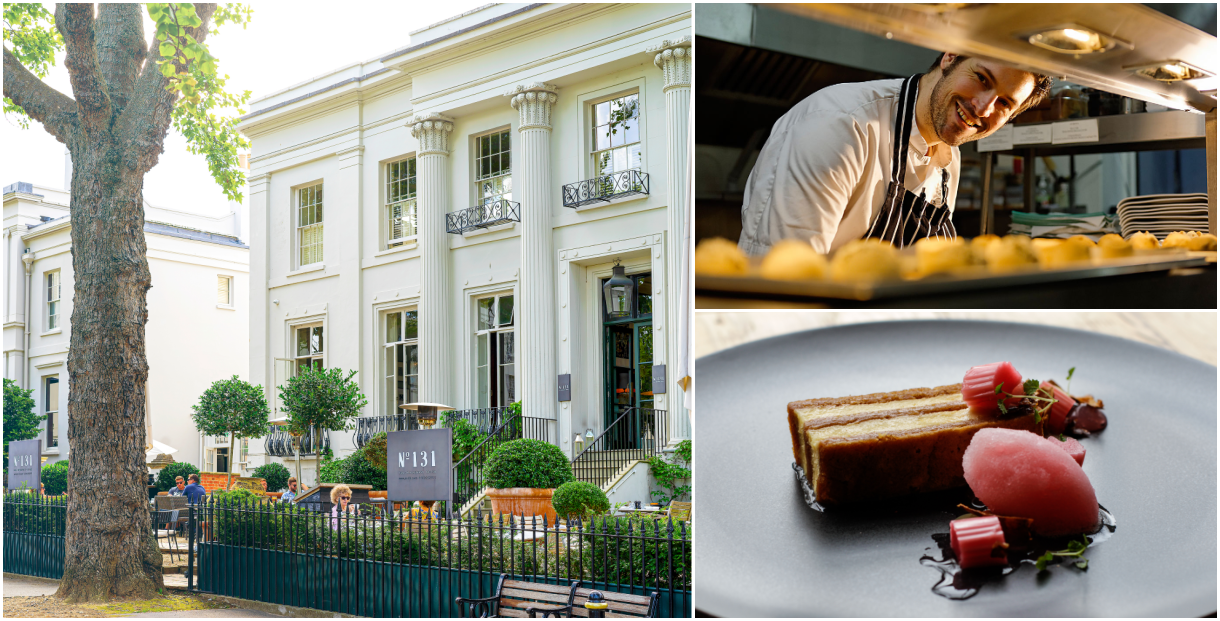 Images - Terrace at No. 131 (left), Head Chef Lumiere Restaurant, Jon Howe (top), dessert by Restaurant GL50 (bottom).
Evening
Treat yourself to a fine dining experience for dinner on your first evening. There are several fine dining restaurants to choose from, all of which require a table reservation so please do plan ahead. Le Champignon Sauvage, a one Michelin star restaurant has provided a 'special occasion' spot for over 30 years. Expect the best of British ingredients showcased in classically based French dishes by a chef widely recognised as one of Britain's leading craftsmen.
Lumiere Restaurant offers a 3AA Rosette award winning dining experience. The unique contemporary tasting menus of 6 and 8 courses are constantly evolving throughout the seasons. Make sure you leave room for dessert as they are utterly divine.
For a night cap, head towards one of the many wine bars in Cheltenham. The Grape Escape stocks over 100 wines from around the world, all personally tried and tested by the owners, Ant and Zoe.
Montpellier Wine Bar is one of Cheltenham's oldest and most iconic wine bars, it has been delighting wine lovers since 1977. Their wines are mainly sourced from small family-owned vineyards from around the world. The bar is a must-visit for any first time visitor to Cheltenham.
More nightcap ideas – Cheltenham Wine Bars, Cheltenham's Best Cocktail Bars, Pubs & Bars in Cheltenham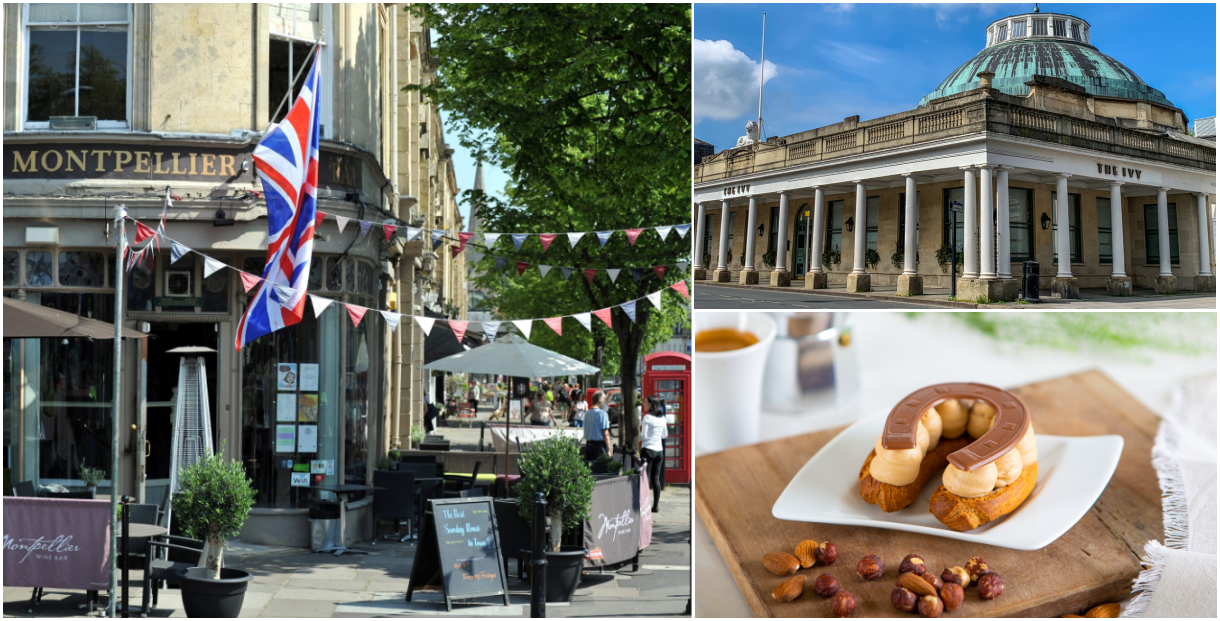 Images - The Montpellier Wine Bar (left), The Ivy Montpellier Brasserie (top), HorseChoux patisserie (bottom).
Day 2: Saturday morning
There is no better way to start the day than experiencing Cheltenham's signature patisserie – The HorseChoux. Based on Cheltenham's biggest visitor attraction, the racecourse, the pastry is shaped like a horseshoe with a choux bun base, cream puff filling finished with a delicate horseshoe-shaped chocolate topping.
The HorseChoux is only available from a 'hole in the wall' at 30 Clarence Street which opened in November 2020. Being so new it truly is one of Cheltenham's best kept secrets.
Enjoy your patisserie whilst you head towards the shopping district of Montpellier, home of stylish eats and chic boutiques. Don't miss the iconic Rotunda, home to the Ivy Montpellier Brasserie and Caryatids, modelled on the Acropolis in Athens, which give the area a distinctly continental vibe.
Browse the unique shops; take a peek inside the Grade II listed Montpellier Arcade before popping into a café to enjoy refreshments whilst soaking in the Regency architecture. There are several to choose from, although one which you simply won't be able to miss is Pink Vintage. This fashionable boutique store also serves delicious Monmouth Coffee and artisan cakes. The pink exterior, which matches its name, has made it a popular selfie spot, particularly with Instagram fans.
Lunch
If shopping has given you an appetite you'll be spoilt for choice in Montpellier. Enjoy a slice of authentic Italian pizza at Chaplais Kitchen; a boozy affair at Montpellier Wine Bar or John Gordons; French food inspired by Raymond Blanc's travels at Brasserie Blanc or dine under the impressive Rotunda ceiling of The Ivy Montpellier Brasserie.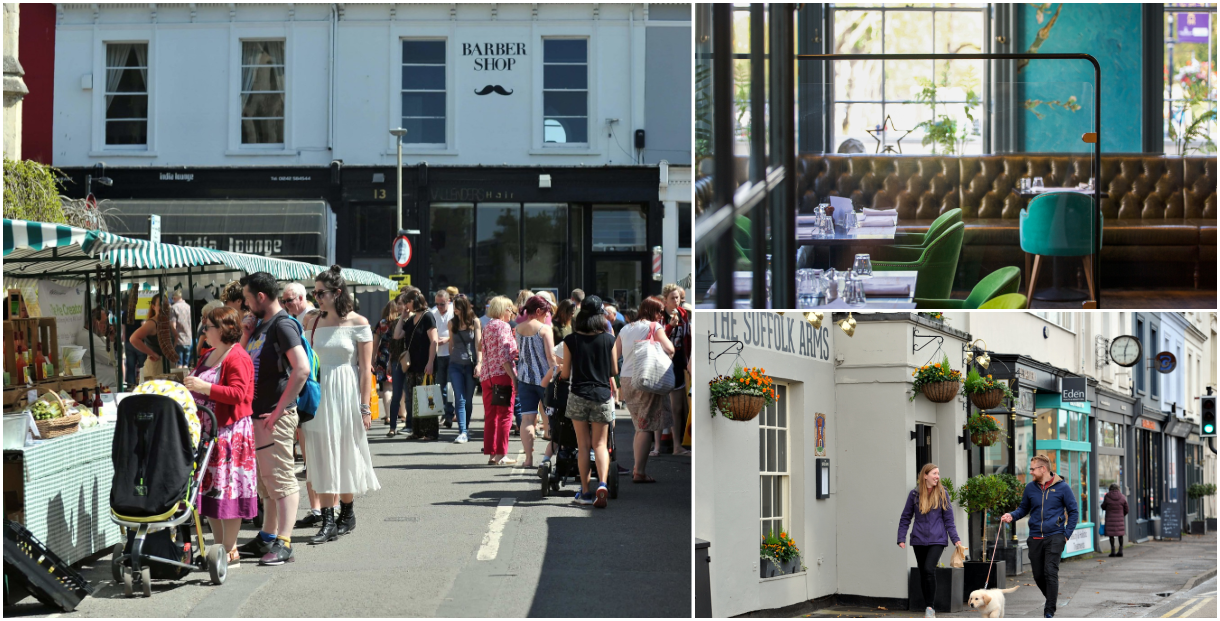 Images - The Suffolk's street market (left), Brasserie Blanc interior (top), The Suffolks shops (bottom).
Afternoon
After all that eating you'll be ready to stretch your legs to discover another shopping district, The Suffolks and Tivoli. This is an area of quiet, period streets set around the grand architecture of Suffolk Square. It's a quirky place where the terraces of Georgian and Victorian townhouses recall the affluent heydays of Cheltenham as a spa town.
It's a place to wander and enjoying browsing the unusual stores and discovering the independent cafes. It will confirm your desire to return to Cheltenham for another weekend foodie getaway. There are just too many fabulous places to eat here to squeeze into one weekend!
Top tip
The Suffolks is well known by locals for their annual May bank holiday & Christmas street fairs and Sunday markets, which usually take place in in April, July, August and October. If you can tie in your visit around one of these events we can guarantee you'll enjoy the 'Notting Hill' relaxed atmosphere.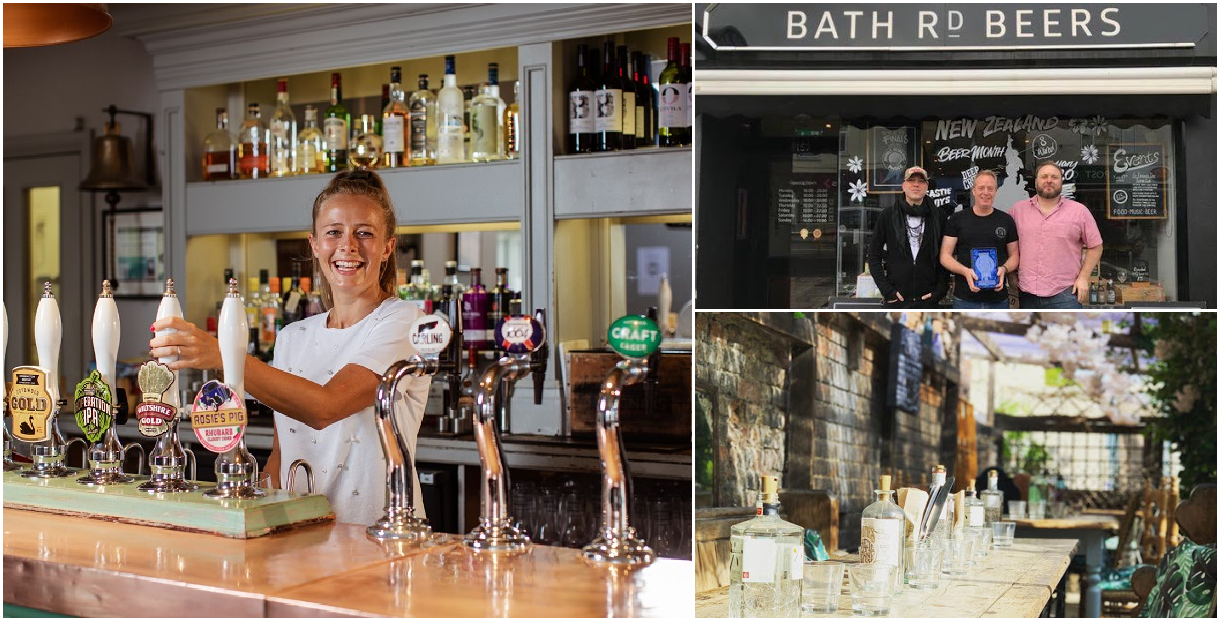 Images - Bar lady at The Exmouth Arms (left), award winning team at Bath Road Beers (top), Curious Cafe & Bistro (bottom).
Before leaving The Suffolks and Tivoli, to head towards our final hidden gem for the day, we suggest you swing by Baker & Graze, another popular spot with local foodies. If you can squeeze in an almond croissant to enjoy with your coffee we can 100% recommend it!
Take a stroll down Suffolk Road and head towards Cheltenham College. Established in 1841, Cheltenham College was the first of the great English Public Schools. The magnificent buildings and architecture provide a backdrop to a first class modern private education for the private students, aged from 13-18, fortunate to be educated here.
Turning right at the end of Suffolk Road brings you onto the main shopping area of Bath Road. You'll feel the community spirit here among the independent shops immediately. Shop keepers are friendly and extremely passionate. This is not a place to rush your shopping; a big part of the experience is having a natter.
An unmissable stop for beer drinkers is Bath Road Beers, who stock around 450 of the world's finest drinks, including beers and ciders from Gloucestershire. Browse around the natural and organic produce at the Natural Grocery Store, pick up gifts from the Emporium or Jackeroo Boutique and take your pick from the many independently run coffee shops or pubs to pause for a while and enjoy a beverage.
Two particularly popular cafes are Curious Café & Bistro, (who serve one of the best breakfasts in Cheltenham. A good tip for your next visit!) And Brew & Bake where we recommend you nab one of the window seats for the best viewing spot of Bath Road. On a hot summers day you simply can't beat a drink in the beer garden of the Exmouth Arms. A lively popular pub with locals, which serves great craft ales.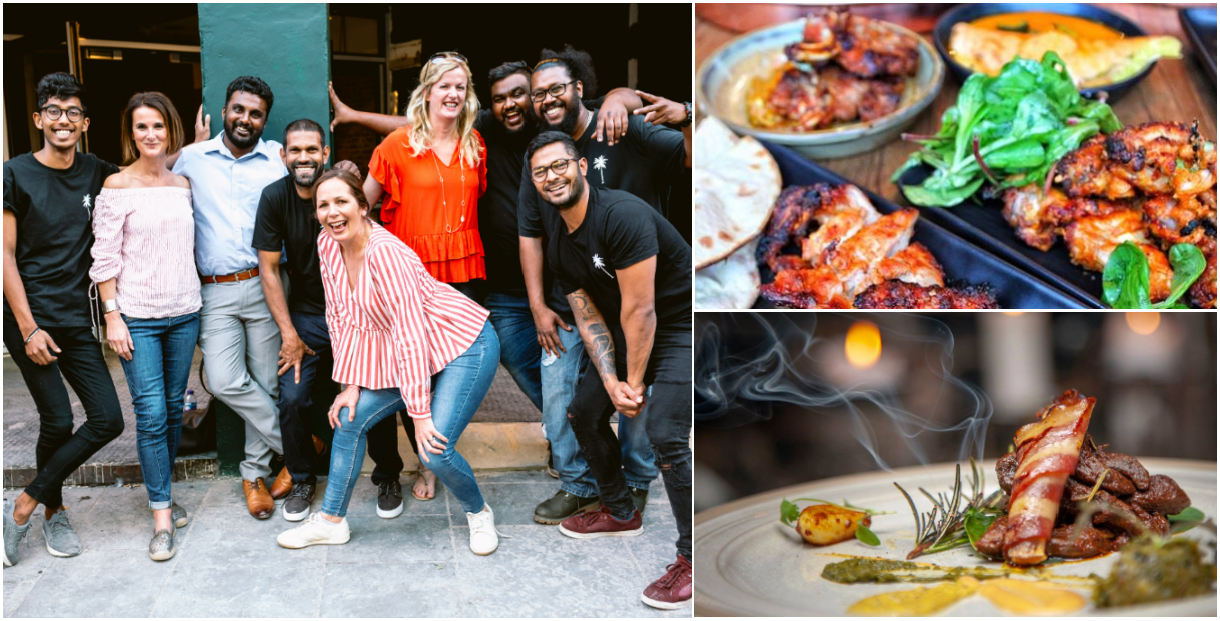 Images - Hardworking team at The Coconut Tree (left), food by Bhoomi (top), food by East India Cafe (bottom).
Evening
Last night you discovered the fine dining delights of Cheltenham. Tonight we recommend you experience one of Cheltenham's many world-class international restaurants. The town's cosmopolitan atmosphere has made it the ideal place to experience cuisines from around the world. Whether you've got the taste for a fragrant Indian curry, a sizzling Korean barbecue, fresh Japanese sushi, authentic Sri-Lankan cuisine or a romantic French meal, there are options to suit all tastes and budgets.
Cheltenham's extensive selection of Indian restaurants means spice lovers are truly spoilt for choice. Four top class Indian restaurants, (all listed in the Michelin Guide no less!), are Prithvi which serves elegant Indian dishes in an intimate and relaxed environment; Bhoomi which specialises in South Indian dishes; East India Café which specialises in adding contemporary twists to classic dishes and last, but certainly not least, the Curry Corner, a family-run restaurant which serves authentic, flavoursome dishes with influences from across Bangladesh, India and Persia.
A popular international restaurant with locals, visitors and even esteemed restaurant critic, Jay Rayner, is The Coconut Tree, which serves award winning Sri-Lankan street food.
Click here for more inspiration - Cheltenham International Restaurants.

Images - Boathouse Cafe (left), Ellenborough Park restaurant (top) & Victoria's at The Queens Hotel (bottom).
Day 3 - Sunday morning
After breakfast in your hotel take the opportunity to work up an appetite for Sunday lunch. Walk along The Promenade, through The Brewery Quarter and the short distance to Pittville Park, the largest ornamental park in Cheltenham and home to the magnificent Pittville Pump Room and lakes.
There are several refreshment options in the park - Central Cross Café, Boathouse Café and Pittville Pump Room Café & Bar. In the summer months the Pump Room host regular outdoor entertainment including dancing and singing, it's a great spot to enjoy a brew whilst soaking in the vibrant community atmosphere.
Late Sunday lunch
Once again, you are spoilt for choice with delicious dining options for lunch. You could pop in your car or taxi to one of our nearby hotels, such as Ellenborough Park, an indulgent 15th Century country estate. Here you could enjoy a delicious roast whilst overlooking the 90-acres of private grounds with views of nearby Cheltenham Racecourse.
Alternatively, if you wish to stay in Cheltenham town centre we would thoroughly recommend the new restaurant Victoria's, at The Queens Hotel. Here you can expect the very best of British seasonal cuisine, with exceptional views of the Imperial Gardens.
For a more casual dining experience we wholeheartedly recommend you swing by The Tavern. This popular gastro pub is affectionately known as Cheltenham's friendliest pub. Their Sunday lunch is legendary. You can expect plates piled high with the finest cuts of meat, duck fat roast potatoes, cauliflower cheese, and giant Yorkshire puddings. Make sure you leave space for one of their utterly sinful puddings. The perfect way to finish off your gourmet foodie weekend in Cheltenham!