Cheltenham for wine lovers
Come with us as we take a virtual tour around Cheltenham wine bars and restaurants and speak with our local wine connoisseurs.
From chilled glasses of rosé in the sunshine to full-bodied red wines by the fire in winter and the clinking of glasses of bubbly to celebrate a special occasion, Britain has become a nation of wine-lovers. But many of us are guilty of sticking to the same old favourite tipples – Prosecco, New Zealand Sauvignon Blancs, Argentinian Malbecs, Italian Pinot Grigios.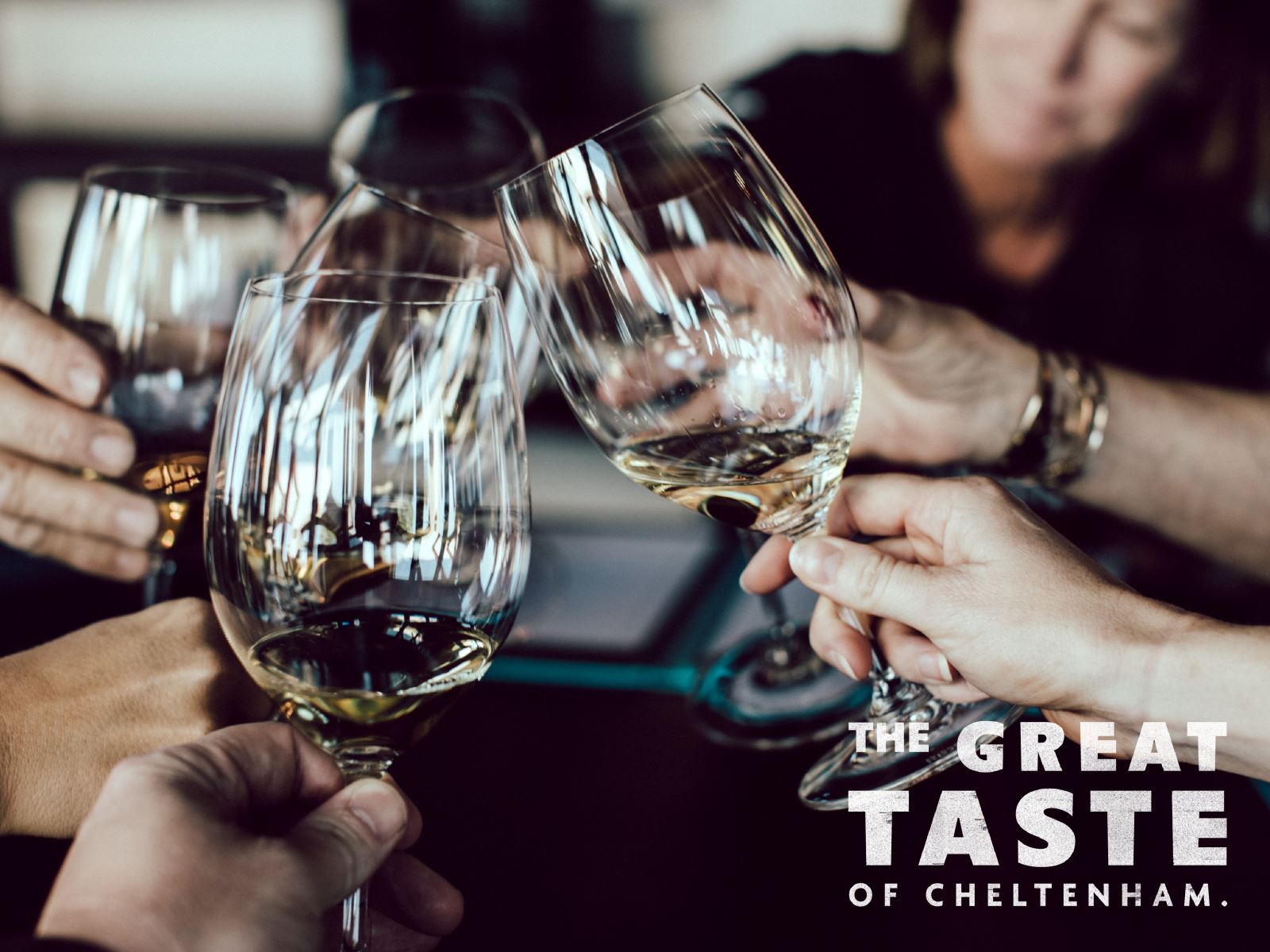 Anthony Davies, owner of Cheltenham wine bar The Grape Escape explains that supermarkets tend to promote the same wines which they know are likely to be popular: "People are drawn to what they know, but there are over 1000 different grape varieties and thousands of producers out there, and by trying something different you might find something you like even more." And with its selection of wine bars, wine merchants and expert restaurants sommeliers, Cheltenham is the perfect place to expand your wine knowledge.
The Grape Escape opened on Bath Road in 2015, with Ant and his wife Zoe wanting to share their love of wine and give people the chance to try new varieties and winemakers. They have recently (May 2021) closed their town centre wine bar and taken up residency on a Thursday - Saturday evenings at popular local cafe - Baker & Graze - in The Suffolks.
Their wine list stocks over 100 wines from around the world, all personally tried and tested. There's a mix of well-known and more unusual grape varieties, established producers and up-and-coming future stars of the wine world.
The wine menu is split into sections for French, other European, US and other New World wines. Californian wine is one of Ant's passions, and one he thinks is seriously underrated. "People tend to associate the US with big-volume producers like Barefoot or Blossom Hill but there's so much more to it, with some great wines coming out of California and Oregon."
Coronavirus has been a huge challenge for the hospitality industry, but it's also opened up some new possibilities. The Grape Escape previously ran popular group wine tasting sessions, but during lockdown they switched to tasting sessions via Zoom, which take place once or twice a month. You still get provided with the wines and tasting notes, but now they're delivered to your door on the day of the event and you can taste from the comfort of your own home.
Using Zoom means that wine producers and importers from around the world have been able to get involved and share their passion for their wines. Austrian winemaker Arnold Holzer led a tasting for the Grape Escape live from a desk in his vineyard as the sun went down, and wine legend Jim Clendenen from Au Bon Climat dialled in from his base in California.
Cheltenham wine bars
So if you want to branch out from the familiar favourites or learn more about wine, where do you start? How can you try something different without running the risk of buying a bottle of wine you don't like? Cheltenham's wine bars offer a selection of wines by the glass so you can easily try out new grape varieties, wine regions or wine producers, and get some expert advice.
The Grape Escape's list of 'by the glass' wines changes every week, with five whites and five reds as well as sparkling and rosé or orange wines on offer. Or you can try a few in one of their 'wine flights' – featuring all that week's reds, whites, or a selection. Ant says: "We encourage people to blind taste the wine flights, and they're usually surprised by which ones they like the best. Often we get people who say they'll try everything but the Chardonnay, but when they try it without knowing what it is, it ends up being ons of their favourites."
Running since 1977 in a prime location on the corner of Montpellier Street, the Montpellier Wine Bar is one of the town's oldest and most iconic wine bars. Their wines are mainly sourced from small family-owned vineyards from around the world, and they aim to select interesting wines that offer taste, quality and enjoyment. The wine bar's owner Andrew Billington says the bar is a great place to "eat well, enjoy wine and love life", with a menu of fresh, simple and tasty food available which is designed to complement the wine list.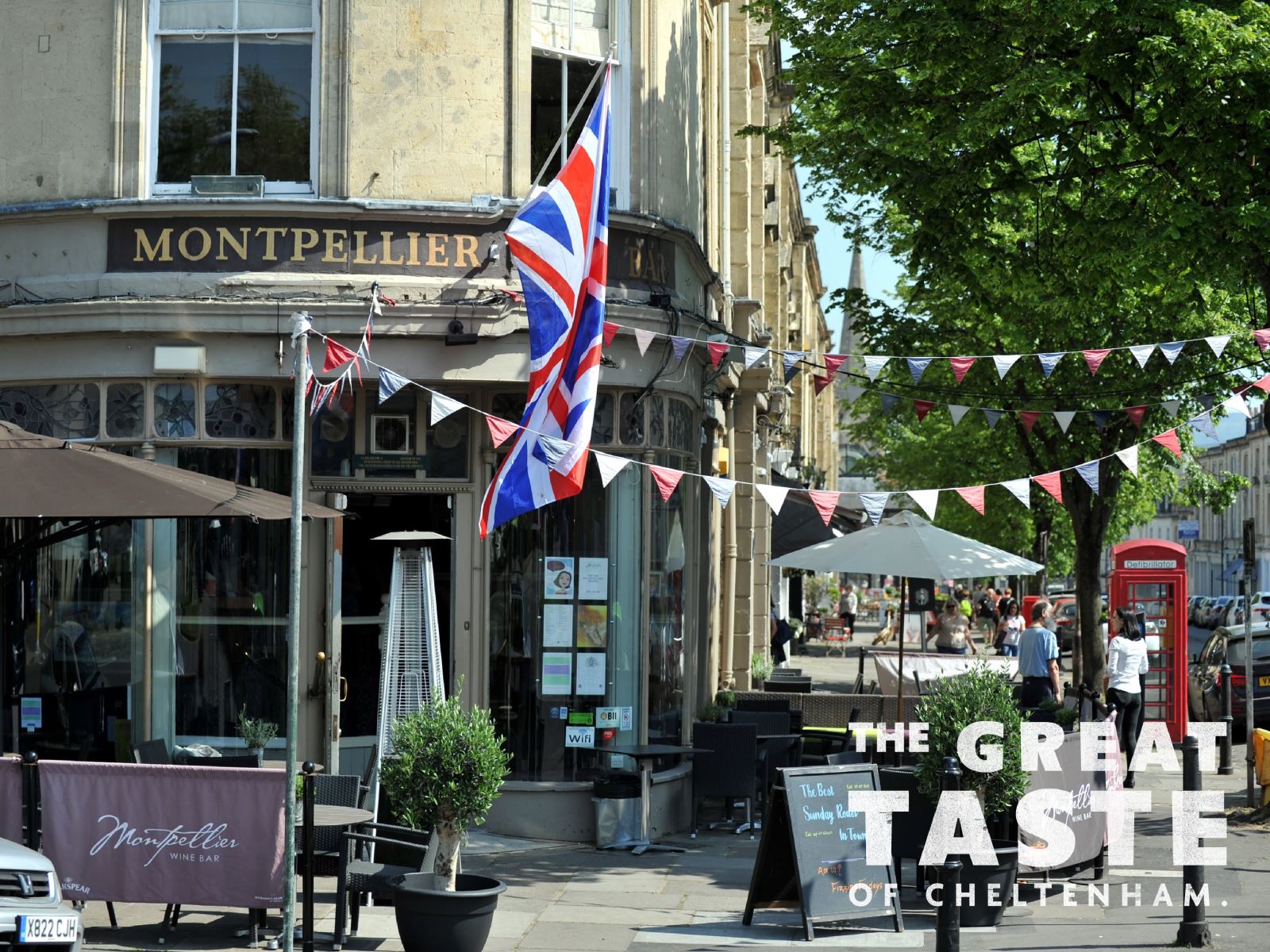 On Montpellier Wine Bar's wine list you'll find their wines broken down into different categories with food-pairing advice to help you choose the best wine for you – ranging from fruity, soft, dry easy-drinking reds to full-flavoured, creamy, oaked whites – or their knowledgeable staff are on hand to give you advice. As well as wines from famous regions in France, Italy, New Zealand and South America, there are also some more unusual wines on their list, such as a Moldovan Pinot Grigio white and rosé.
You can also enjoy a glass of wine with a view of Montpellier Gardens at John Gordons. This independent wine and spirit merchant has over 80 wines available to try at any one time, including organic varieties. Or head to Charlton Kings where you'll find the Sixways Wine Bar, run by the Cheltenham Wine Company and featuring 100 of their favourite wines, all selected from small specialist producers.
Cheltenham also boasts a selection of independent wine merchants, where you can stock your cellar or get advice on the perfect wine to suit any meal or occasion. Tivoli Wines on Andover Street in Tivoli features a diverse range of high-quality, great-value wines, sourced from everywhere from traditional French regions through to emerging countries such as Japan. They have recently expanded their online range to feature over 600 wines now available through their website. Appellation Nation on Montpellier Walk also offers wine cases and individual bottles for to click and collect or for local and national delivery.
Wining and dining in Cheltenham
Food and wine is the perfect combination, and many of our Cheltenham restaurants have expert sommeliers and wine buyers who've chosen wines to perfectly complement their menus.
Cheese and wine is a classic pairing, and Domaine 16 on Regent Street (featured in the video below) specialises in matching the two. Owner Stephanie trained in Paris and worked in Michelin-starred restaurants before setting up Domaine 16 as a place people can come to enjoy great food and wine in a relaxed atmosphere. The restaurant's wine list includes a selection chosen to accompany the restaurant's signature cheese fondues. As well as good-value vintages from France, you'll also find local wines from the Woodchester Valley, Cotswold Hills and Poulton Hill Estate vineyards.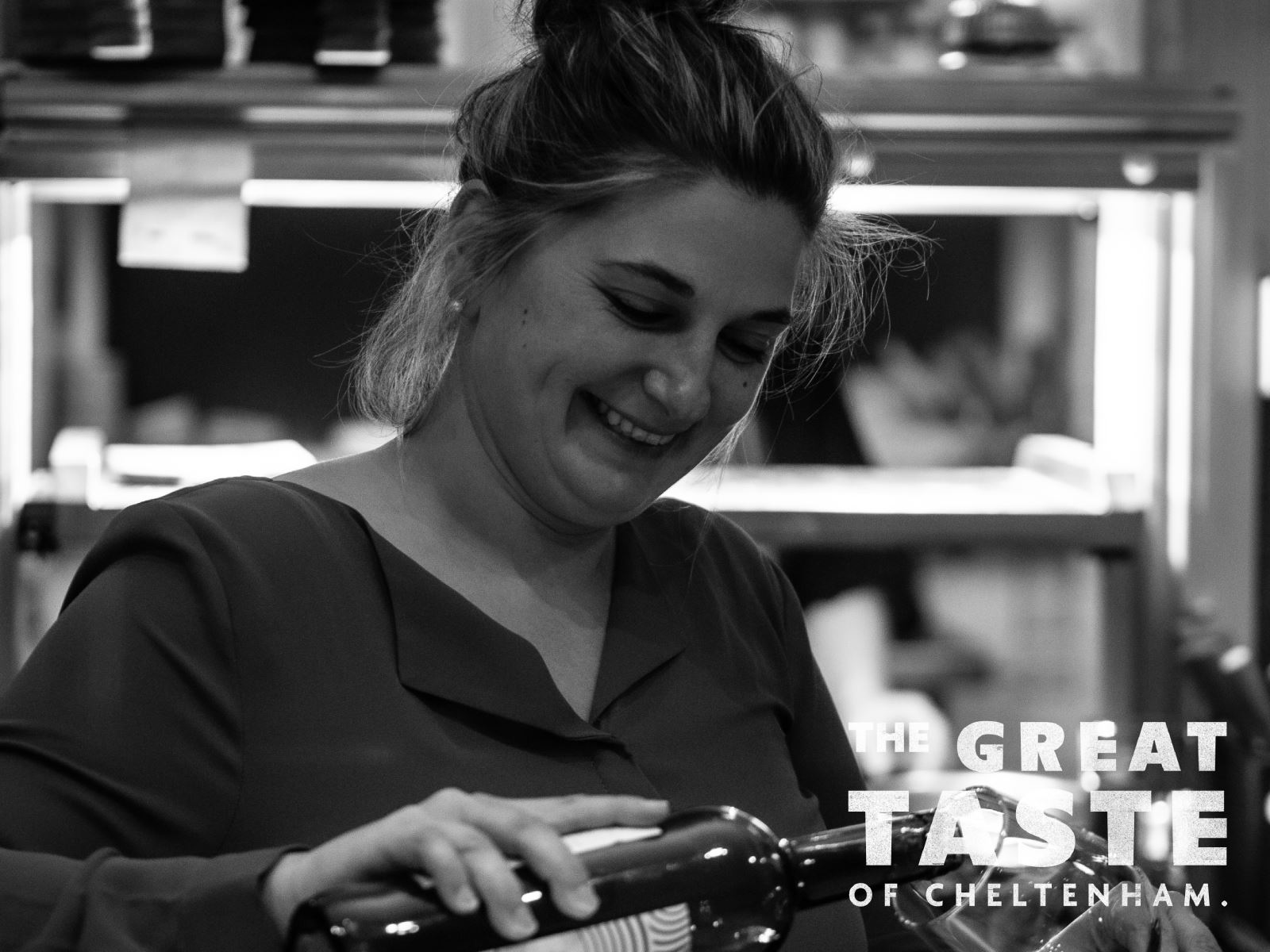 Stephanie Ronssin, the owner of Domaine 16 who ensures diners feel special and unique.
Cheltenham fine-dining restaurant Lumiere on Clarence Parade prides itself on having a diverse wine list to go with their diverse customer base. Their tasting menu comes with an optional wine flight which is designed to pair with the dishes being served, and gives them the opportunity to introduce their customers to wines they might not necessarily pick themselves. Like a Japanese white wine made with the Koshu grape, which has an almost savoury taste to it and pairs perfectly with a scallop and tomato dashi dish. A Verre de Vin system also means that Lumiere's 100-bottle wine list is also available by the carafe, as well as 18 wines by the glass.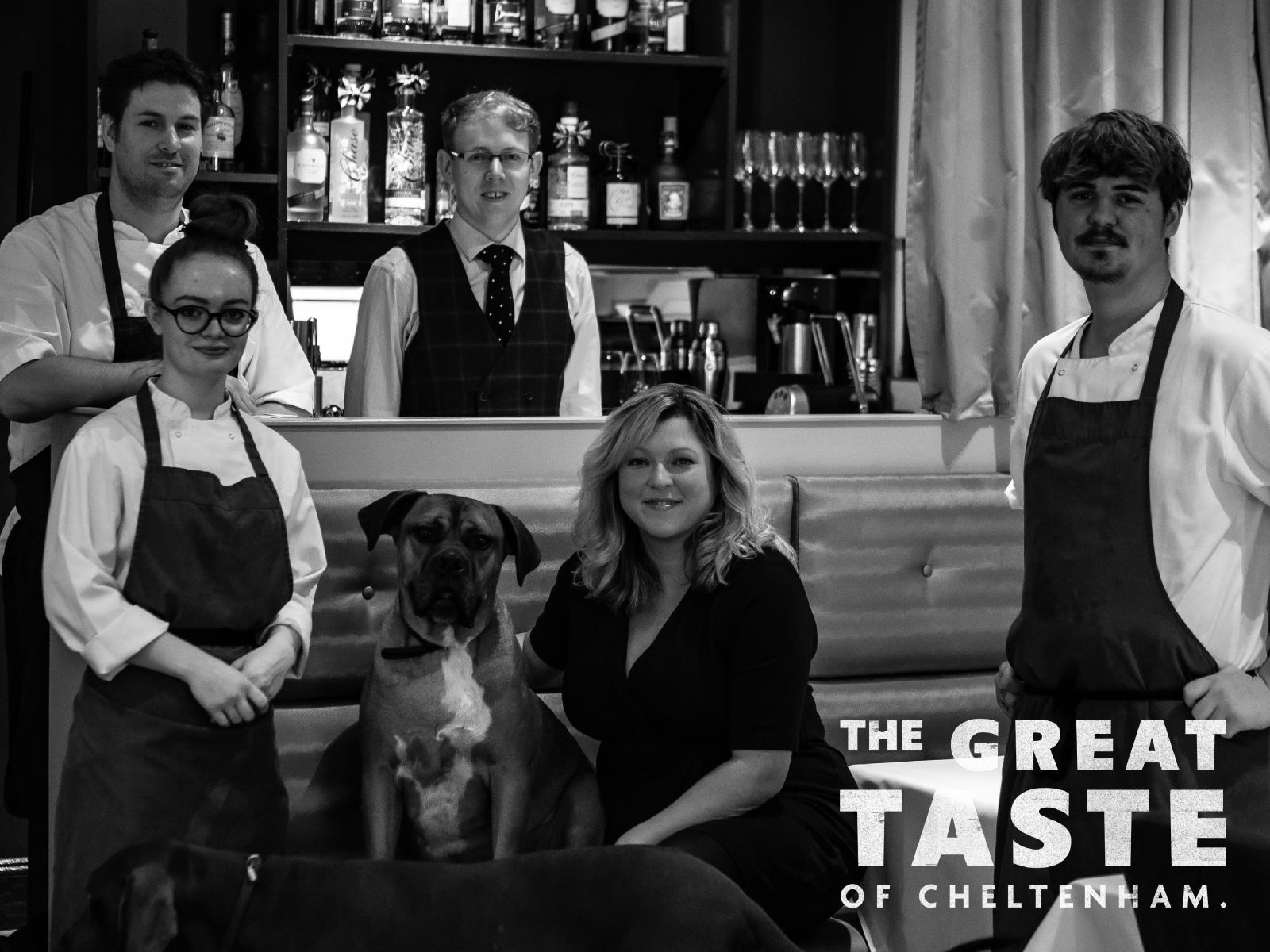 The hard-working team at Lumiere. You can read more about them here: Lumiere - Our Story.
At Italian restaurant Cicheti on Regent Street, wines are hand-picked from wineries in France and Italy by sommelier Andrew to complement their menu of Venetian-style small plates and sharing platters. Their wine list features rising stars and hidden gems of the wine world, and as they import them directly, many of these wines won't be found anywhere else in the UK. As well as wines by the glass and bottle – which are also available to take away – you can also choose one of their wine flights, featuring three–five wines chosen to create a curated 'wine journey'.
What to drink in autumn
So as the days get shorter and the weather starts to turn, what do Cheltenham wine experts recommend we should be drinking this autumn?
The Tivoli Wines team love the wines of Spain for autumn: "particularly the north west regions of Galicia and Bierzo. Godello, one of the area's principle white grapes, is deliciously ripe and rounded with autumnal pear and yellow apple flavours, and is excellent both unoaked and oaked, as the wines of the beautiful and dramatic steep slopes of the Ribeira Sacra sub-region sometimes are. For reds, we'd go to the more rolling hills of Bierzo for Mencia, the region's most important red grape. Light- to medium-bodied with a gorgeous earthy black fruit character that seems perfectly suited to this time of year, in much the same way as Pinot Noir."
Andrew at the Montpellier Wine Bar's recommended autumn wines depend on the Great British weather: "Bright and sunny? Sample a glass of Picpoul de Pinet with its palate of pear drops and salty minerality. Or cooler and cloudy? Try a Brouilly – a Cru Beaujolais which has wild berry and warming spice notes."
And Ant from the Grape Escape also likes spicy wines for autumn: "Reds from the Rhône Valley – Chateauneauf de Papes is the most well-known so tends to be more expensive, but there are plenty of other villages like Vacqueyras or Gigondas – as well other Grenache/Syrah blends from South Africa or New Zealand. And spicy whites like Pinot Gris or Gruner Veltliner."
Images of wine glasses by Scott Warman and Kelsey Knight on Unsplash.