The insider's guide to Cheltenham: The Festival Town
Come for the festivals and stay for the fun, food and fabulous hospitality: indulge your passions and experience so much more in Cheltenham.
Our Regency gem, just a short hop from London, Birmingham and the South West, is renowned as The Festival Town with an action packed calendar of large events year-round and 35+ annual festivals encompassing culture, music, food and sport, and so much more.
In fact, with so much going on it's easy to miss out on some of the other things that make Cheltenham such a great place to visit, from its elegant architecture, proud history and unrivalled shopping opportunities, to an award-winning food scene offering a world of flavours and buzzing night life.
It all adds up to The Festival Town being an unbeatable destination for a weekend break, a mid-week stay or even a return visit to refresh the mind, body and spirit.
Our town is famous for hosting the world's oldest literature festival, which takes place in October, along with May's Jazz Festival, which attracts many of the scene's coolest performers.
But that's far from all. Other key dates in the town's packed and diverse event schedule include the Cheltenham Science Festival, which asks important questions about the world today and is held at Imperial Gardens (and other venues) from June 6th to 11th. Lives of Colour: Culture Fest, held at Pittville Park on June 10th, is a free event celebrating the town's multi-cultural heritage, bringing together art, food, music and dance. July 15th sees the Midsummer Fiesta at Montpellier Gardens, a free community event offering non-stop entertainment, while Summer Jam 2023 – the Lakefest Warmup – promises an eclectic line up of acts, from pop to rock and folk to funk indie and reggae, from June 30th to July 2nd at the Brewery Quarter in Henrietta Street, also the home of the popular Wimbledon Big Screen from July 3rd to 16th.

The Open Air Theatre Festival at the Tuckwell Amphitheatre at Dean Close School from August 1st to 13th offers a diverse programme, covering everything from Shakespeare to jazz. Meanwhile, there's an opportunity to develop a deeper appreciation of spirits at the Gin and Rum Festival at Cheltenham Town Hall on Saturday August 5th, with more than 120 different brands to sample.
Other events attracting the crowds include Wychwood Festival at Cheltenham Racecourse from June 2nd to 4th, an annual summer family festival featuring a star-studded line up and various workshops; Cheltenham Open Studios showcasing the work of more than 200 artists at 82 venues from June 10th to 18th and Cheltenham Music Festival with its eight days of incredible music from July 8th to 15th: hear world premieres at Cheltenham Town Hall and emerging talent at Pittville Pump Room – two iconic landmark buildings in a town dotted with magnificent Regency architecture.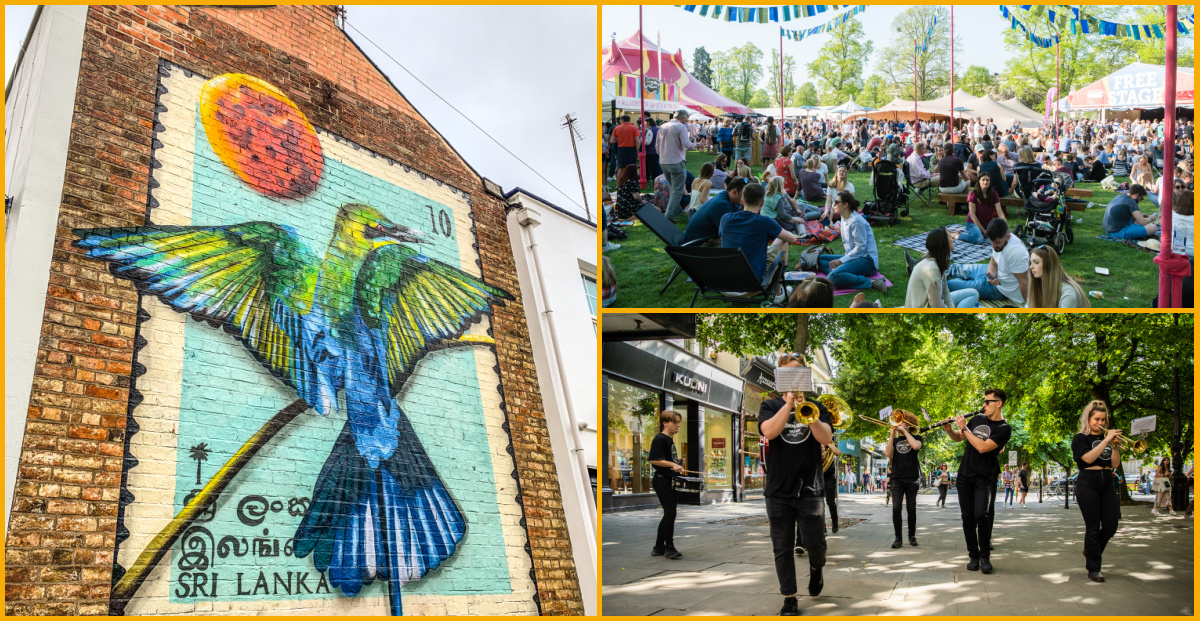 Images - Left Cheltenham Paint Festival, top Cheltenham Jazz Festival, bottom Cheltenham Music Festival
June 23rd to 25th is an important weekend in Cheltenham, featuring Retro Americana with its classic cars such as Chryslers and Cadillacs, live music and delicious food evoking a 1940s and 1950s vibe at Pittville Pump Room. There's also the popular Cheltenham Food and Drink Festival held at Montpellier Gardens, and the Cheltenham Children's Festival on June 24th, organised by the charity No Child Left Behind.
Leading national and international street artists will be brightening various walls around the town during the Cheltenham Paint Festival from July 28th to 30th, and those who love the sound of leather on willow will be heading to the grounds of Cheltenham College for the world's longest running cricket festival, Cheltenham Cricket Festival from July 4th to August 4th.
Where to refuel - Your guide to dining in Cheltenham during the festival season
The diverse nature of Cheltenham's festivals is matched by its eclectic collection of restaurants, all of which take the utmost pride in the quality of food and drink on offer.
The Nook on Five in Imperial Square, Cheltenham's only rooftop bar and restaurant, is ideally located for those attending festivals in the town centre. This stylish, adult-only restaurant combines fine dining with an iconic vista, with the option of eating outside during the summer months.
Restaurant Journey on Bath Road represents a culinary adventure, with unique flavour combinations and a vibrant tasting menu.
Memsahib's Lounge on The Promenade offers contemporary Indian cuisine, while The Coconut Tree on St Paul's Road represents the colourful flavours of Sri Lanka, and Kibou on Regent Street serves Japanese food in vibrant surroundings, both of which offer a children's menu.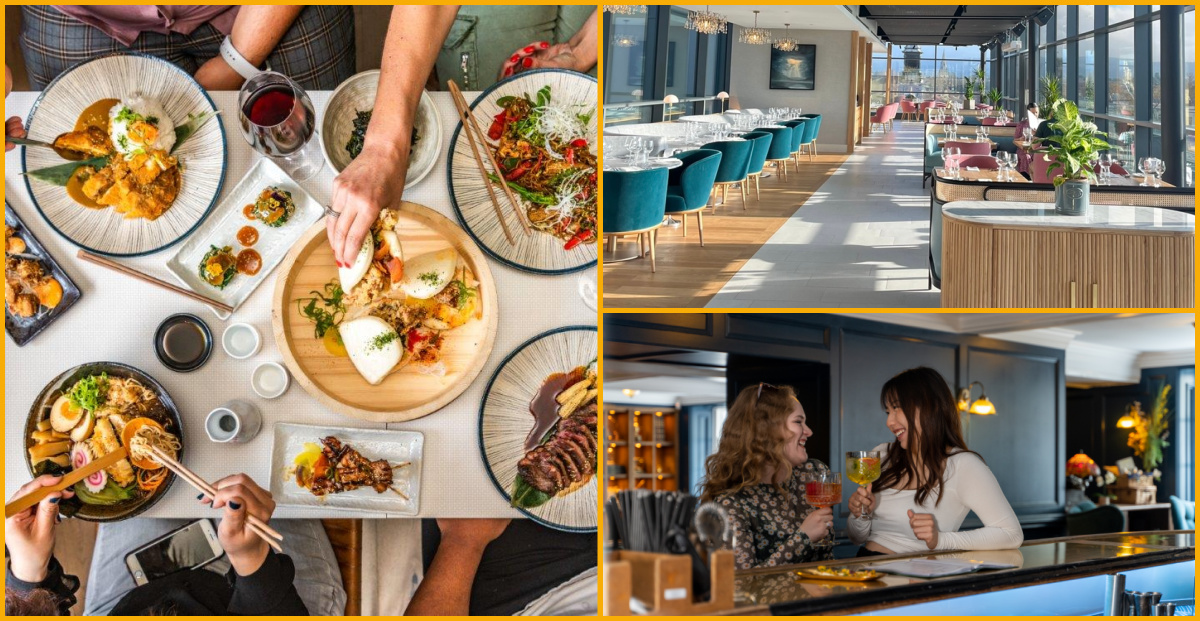 Images - Left KIBOU, top Nook on Five, bottom Memsahib's Lounge
Diners are also well looked after at The Ivy, a brasserie serving modern British and international classics, located in a Grade I-listed rotunda building that was originally a spa before being turned into a bank. This restaurant in Montpellier is especially well placed for Cheltenham Science and and the Midsummer Fiesta.
Delicious seasonal food and a lively atmosphere can be found at The Tavern in Royal Well Place, and discover why The Beefy Boys have garnered a cult following for their American-style 'dirty' burgers and cocktails at their new restaurant on Regent Street.
Round off memorable days at Cheltenham's festivals with a good night's sleep
Discover how the town's proud heritage for hospitality lives on in everything from luxurious hotels to camping and glamping to suit all budgets...
Remain in the thick of the action by booking a room at the elegant Queen's Hotel, described as 'one of the noblest buildings of its kind in Europe'. It overlooks the beautiful Imperial Gardens and offers superb standards of comfort and convenience.
No 38 The Park, a chic and dog-friendly boutique hotel situated within a beautiful Georgian building in leafy Pittville, is just a short hop away from the Lives of Colour: Culture Fest and Retro Americana Festival, and only a short walk from the town centre.

Images - Left Queens Hotel, top Ellenborough Park, bottom The George Hotel
The Ellenborough Park Hotel in Southam is nestled between the Cotswolds' highest point and the gallops of the Cheltenham Racecourse, making it a perfect base for those attending The Cheltenham Festival in March or Wychwood Festival in June. Be immersed in its centuries of history, explore its 90 acres of grounds and relax in its soul-soothing Indian spa.
Other great places to stay include Malmaison, an ideal place for Montpellier-based festivals such as the Open-Air Theatre Festival at Tuckwell Amphitheatre; the centrally-located The George Hotel, and The Holiday Express next to the Brewery, close to the Summer Jam 2023 and Wimbledon screenings. For glamping and camping options, head out to Cotswold Farm Park near Guiting Power, which throws in unlimited entry to see the Farm's resident rare breed livestock belonging to TV presenter Adam Henson.
While staying in Cheltenham, don't miss out on the opportunity to explore Pittville Park and Pump Rooms, the waters at which established the town as a fashionable spa during the Georgian period; catch a production at the Everyman Theatre which offers a varied programme of drama, comedy, musicals and opera or take in the regularly changing exhibitions at The Wilson.
No visit to Cheltenham is complete without a stroll along its famous tree-lined Promenade, with a selection of the very best international retailers, or head down to the well-known shopping areas of Montpellier and The Suffolks, for a unique selection of independent stores including Bodega, Malone's Vintage and Sandra Dee. For jewellery lovers, Cheltenham boasts a selection of unique and artisan designers to bespoke and pre-loved collections.
Cheltenham is renowned as The Festival Town, but with so much more to offer it's well worth extending a stay to make the most of its wealth of fun, food and fabulous hospitality.

To plan your stay in Cheltenham check out our helpful guides...