Food from around the world in Cheltenham
Eat your way around the world without leaving Cheltenham at the town's selection of international restaurants, with delicious dishes from Europe, Asia and beyond. The town's cosmopolitan atmosphere has made it the ideal place to experience world cuisines. Whether you've got the taste for a fragrant Indian curry, a sizzling Korean barbecue, fresh Japanese sushi or a romantic French meal, Cheltenham has just the place for you, with options to suit all tastes and budgets. So join us and The Taste Plug on a journey across the globe through's Cheltenham world food scene.
Part one of our 'Around the world in one town' features tasty Mexican food at Paparritos, delicious Sri Lankan street food at The Coconut Tree and authentic Japanese at the newly extended KIBOU Japanese kitchen and bar..
Part two of our around the world Cheltenham culinary tour features a visit to Cicheti's for authentic Italian food, American tasty treats at Smokey Joe's, food imported from Spain and cooked by a Spanish chef at Bar Padron and exotic Anglo-Indian flavours at the one and only Memsahib Gin & Tea Bar...
Of course the international restaurants featured in the videos above only scratch the surface of the many that call Cheltenham home. Keep reading and find out how you really can travel the globe without leavihng Cheltenham!
A taste of India
It's over 200 years since the first Indian curry house in the UK opened in London, and since then Indian food has become one of the country's most-loved cuisines. But recently our tastes have evolved, with British curry lovers turning towards lighter, more authentic dishes and trying regional cuisines from different parts of India.
Cheltenham's extensive selection of Indian restaurants mean spice lovers are spoilt for choice. If you're looking for a special meal, fine-dining restaurant Prithvi creates refined, elegant Indian dishes served in intimate and relaxed surroundings. Bhoomi specialises in South Indian dishes, from one-pot curries to masala dosas and Keralan-style barbecue. And the East India Café adds a contemporary twist to classic dishes, combining local Cotswold produce with exotic spices from across the world to create mouthwatering Anglo-Indian cuisine.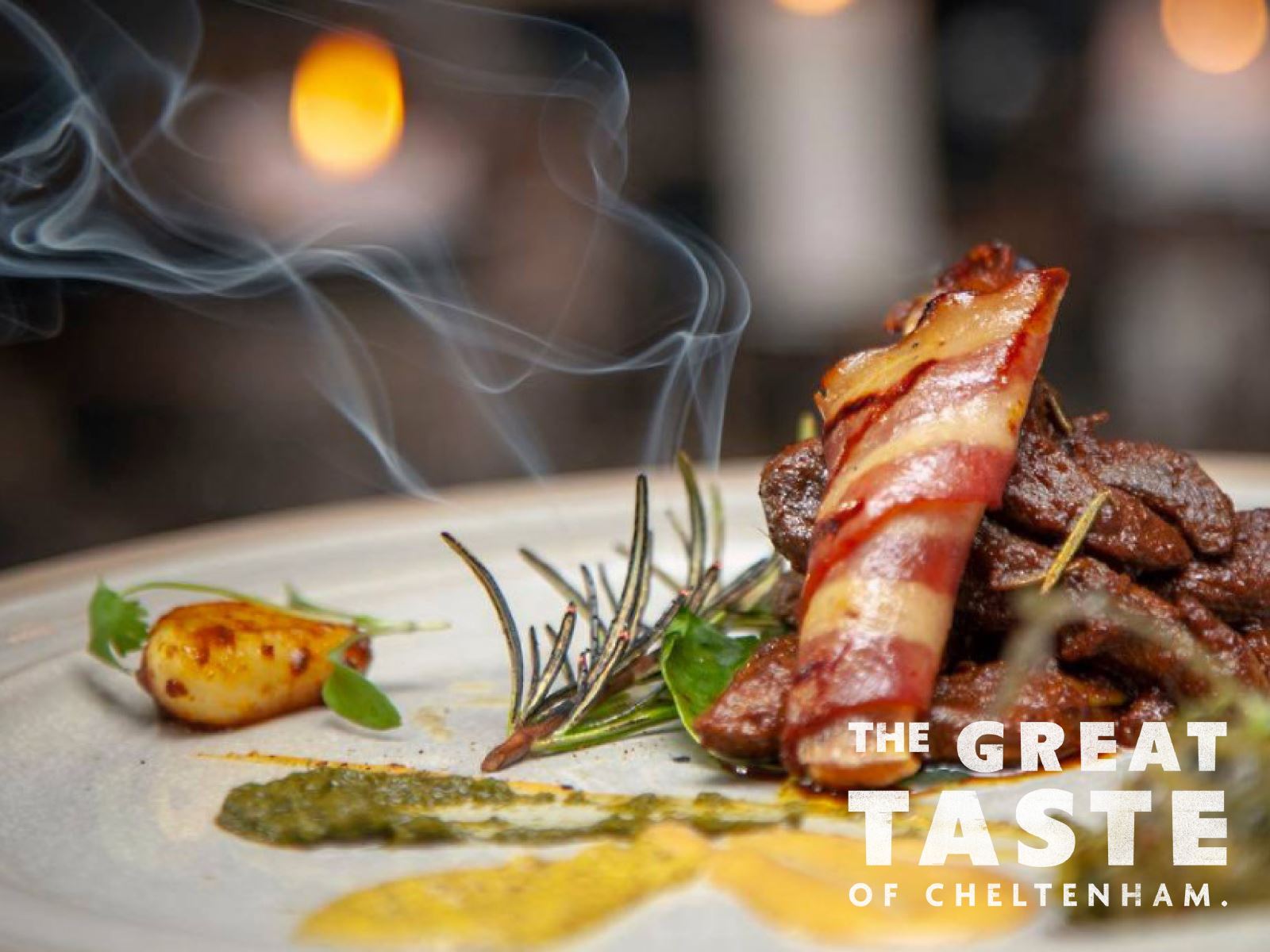 Contemporary Indian dish at East India Cafe
Or if you fancy a weekend treat, the Curry Corner is the UK's oldest and most highly regarded Bangladeshi restaurant, run by father and daughter chefs and a finalist in Gordon Ramsay's Best Indian Restaurant in Britain contest. Bombay & Co serve flavourful Indian street food dishes from Bombay. The family-run Spice Exchange offers traditional Indian cuisine to either eat in or take away. And the Rogan Josh takeaway on Winchcombe Street was awarded the prestigious title of 'Best National Takeaway' in the 2019 English Curry Awards.
Litu Mohiuddin, director and co-founder of Cheltenham's Memsahib Gin and Tea Bar on the Promenade, explains why he thinks Indian food is so well-loved: "I think it is its sheer variety and the fact that it really offers something to suit every taste and palate. We blend high-quality, locally sourced core ingredients which are expertly mixed with herbs and spices for a taste sensation that is quite extraordinary." He adds that Cheltenham's "excellent vibe and cosmopolitan feel, with a large and discerning population" makes it a great place for food from around the world.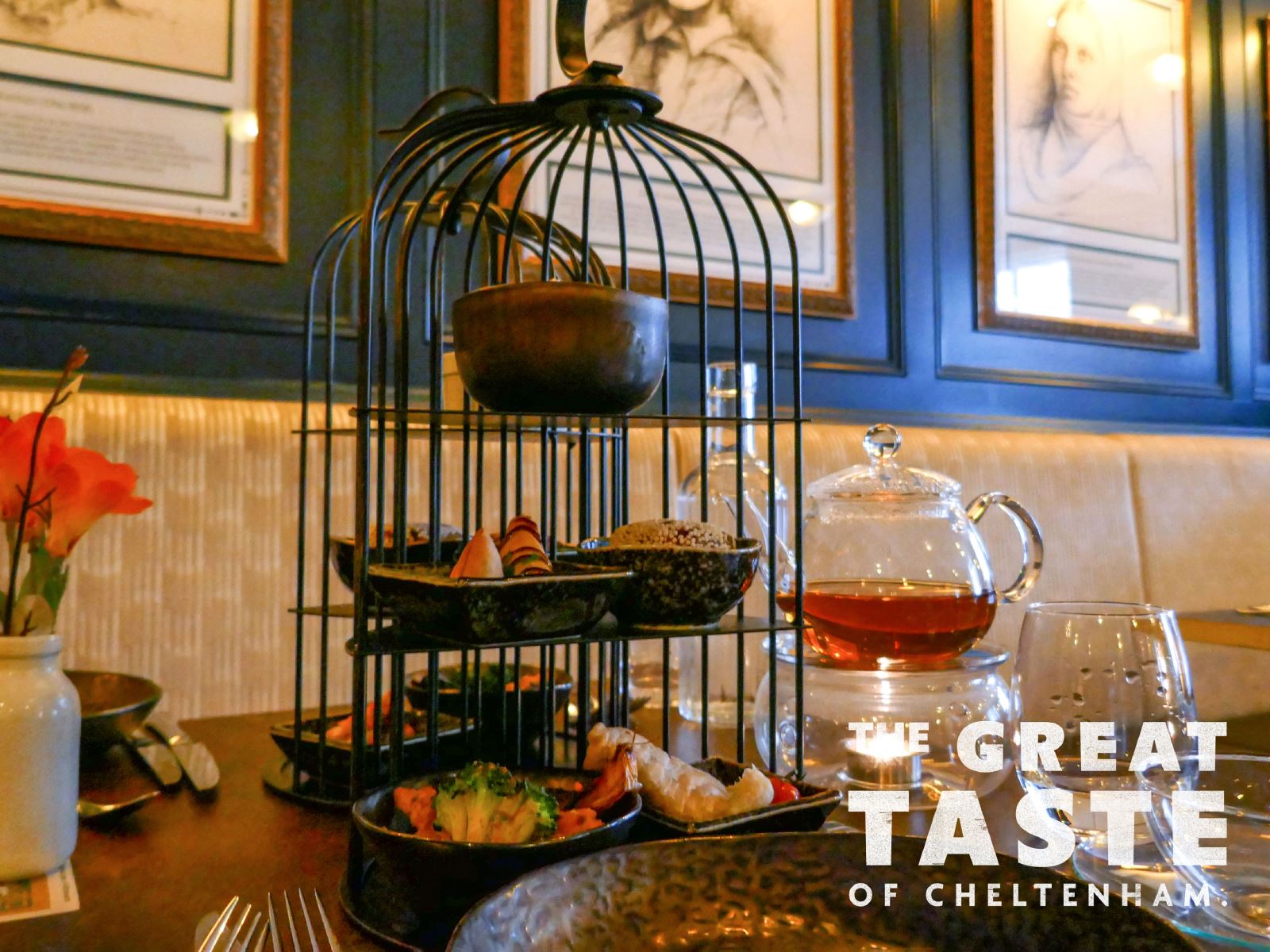 Afternoon tea at Memsahib Gin and Tea Bar
The Memsahib Gin and Tea Bar is the first of its kind, inspired by the British Raj period, during which many Anglo-Indian women, known as 'Memsahibs', settled in Cheltenham, bringing with them new and exciting tastes and flavours. The menu combines Anglo-Indian and modern European-influenced dishes, with a selection of over 55 gins, house-crafted gin cocktails and a range of premium teas offered in association with The London Tea Exchange.
Litu says "We are probably best known for our pioneering gin and tea six-course tasting menu. It gets rave reviews and we freshen up the menu seasonally, which keeps our customers coming back." The tasting menu is inspired by a Memsahib picnic and is available with an optional drinks pairing and vegetarian options. One dish with an interesting pedigree is the lamb curry – first served in first class on the Frontier Mail trains in India in 1967, it's a culinary trip back in time to the golden era of railway travel. Customers rave about the explosion of tastes created on the palate.
You can also try an Indian-inspired take on one Britain's favourite meals – the afternoon tea. Litu explains the Memsahib's version is "a unique blend of savoury and sweet Indian street food, served and presented in the manner of a traditional British afternoon tea." Momos, samosas, Indian flatbreads and a gulab jamun cheesecake make an exotic alternative to the usual afternoon tea fare of sandwiches and scones with jam and cream.
A taste of the Far East
From ramen to sushi, Japanese food has become a firm favourite with UK diners for its fresh flavours – and Cheltenham is lucky enough to be home to the multi-award-winning Japanese restaurant KIBOU. This popular restaurant recently moved from its original basement location on Regent Street to a larger premises in the Regent Arcade, increasing the number of diners they can serve from 25 to 80 and providing plenty of space for socially distanced dining.
With a décor inspired by the nostalgia of Tokyo's bustling backstreets, the new venue is adorned with cherry blossoms, Japanese prints and geisha illustrations created by local artist Martyna Sabadasz. There are a range of drinking and dining zones to choose from – from the horigotatsu (a sunken Japanese-style dining area) to six-seater banquettes and private dining.
Combining a Japanese hot kitchen, ramen and sushi bar, KIBOU's menu focuses on typical and contemporary Japanese dishes, with owner David Franks describing it as "an authentic yet accessible slice of Japan". The new site has also given them the opportunity to expand their drinks offering, with an extended range of cocktails, sake and Japanese beers and whiskeys now available.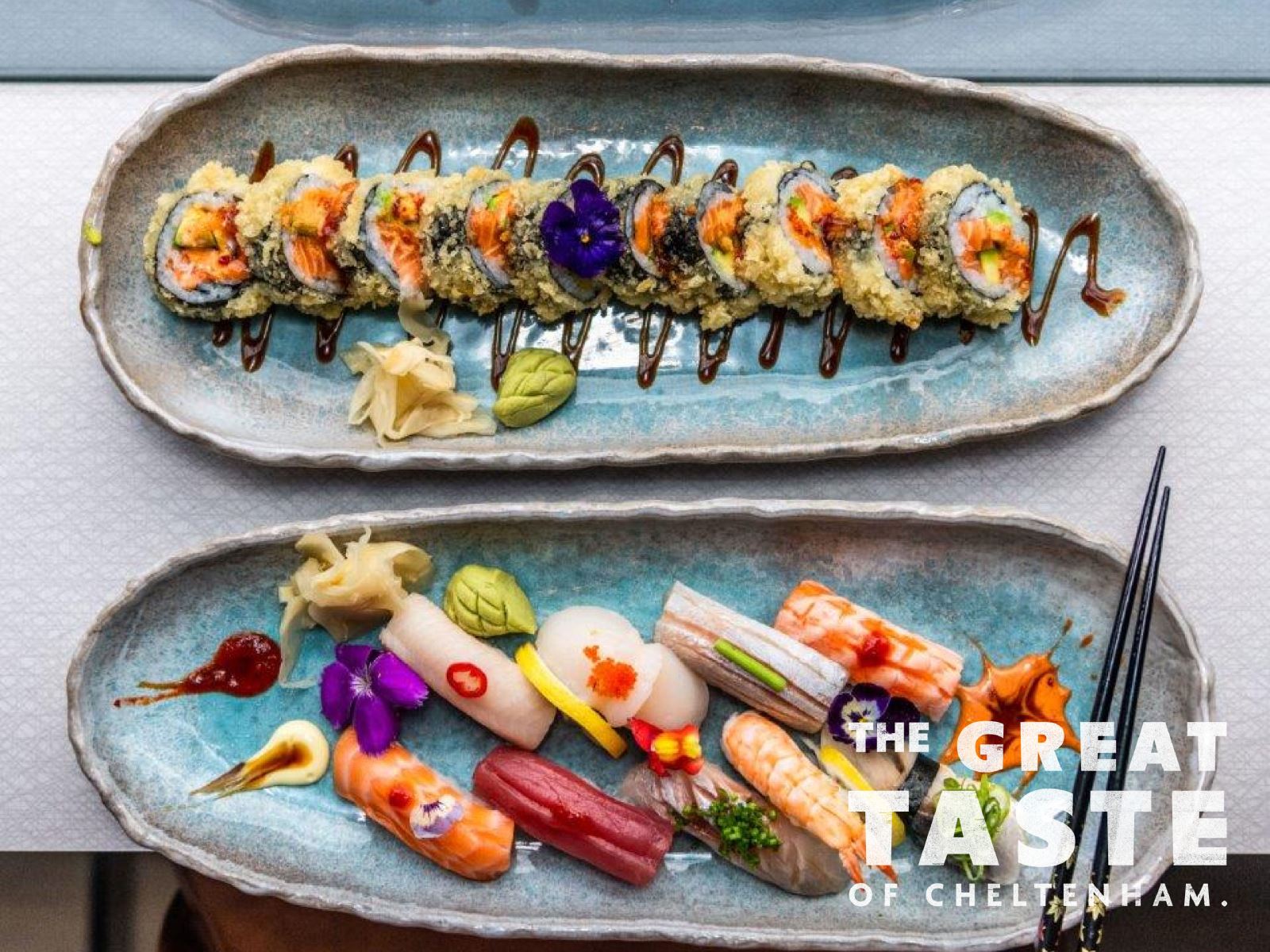 Beautifully presented dish at the KIBOU

On the menu you'll find ramen noodles, donburi rice bowls, crispy tempura, yakisoba stir-fried noodles, katsu curry, steamed bao buns – and of course plenty of fresh sushi and sashimi, handmade to order. Don't miss the speciality volcano roll, with 10 pieces of salmon, avocado and tobiko, dipped in tempura batter, fried and served with KIBOU's house sauce. KIBOU also has a good selection of vegetarian and vegan dishes available, with special menus for kids and for gluten-free diners.
Japanese isn't the only Far Eastern food you'll find Cheltenham – you can travel around the region with dishes from Korea to Sri Lanka and Thailand. If you've got a craving for Chinese food, The Mayflower is one of the longest running Chinese restaurants in Gloucestershire, with the Kong family serving up family recipes like crispy duck pancakes and Mandarin spare ribs in friendly, relaxed surroundings. And 288 Bar & Wok focuses on fast, fuss-free Chinese dishes, served on long tables in a style inspired by the noodle bars found in China and Hong Kong.
Or how about trying some Korean specialities like bibimbap, tteokbokki rice cakes or an Korean barbecue at Ginger & Garlic? You'll also find tasty Thai food served at The Railway and The Vine, where Thai chefs create tempting curries, stir fries and wok dishes for Chai Yo Kitchen at The Vine and Thai street barbecue food cooked over an open fire at Smokey Phi Phi's at The Railway.
The Coconut Tree in St Pauls serves Sri Lankan street food which is not to be missed. The mission of this local success story is - 'Everyone is welcome to the table'. Sit with friends and chat whilst you tuck into sharing plates of authentic freshly cooked dishes starting from just £2.50. We can thoroughly recommend the delicious hoppers, (bowl shaped pancakes made with coconut milk), kotthu and the huge sharing cocktails!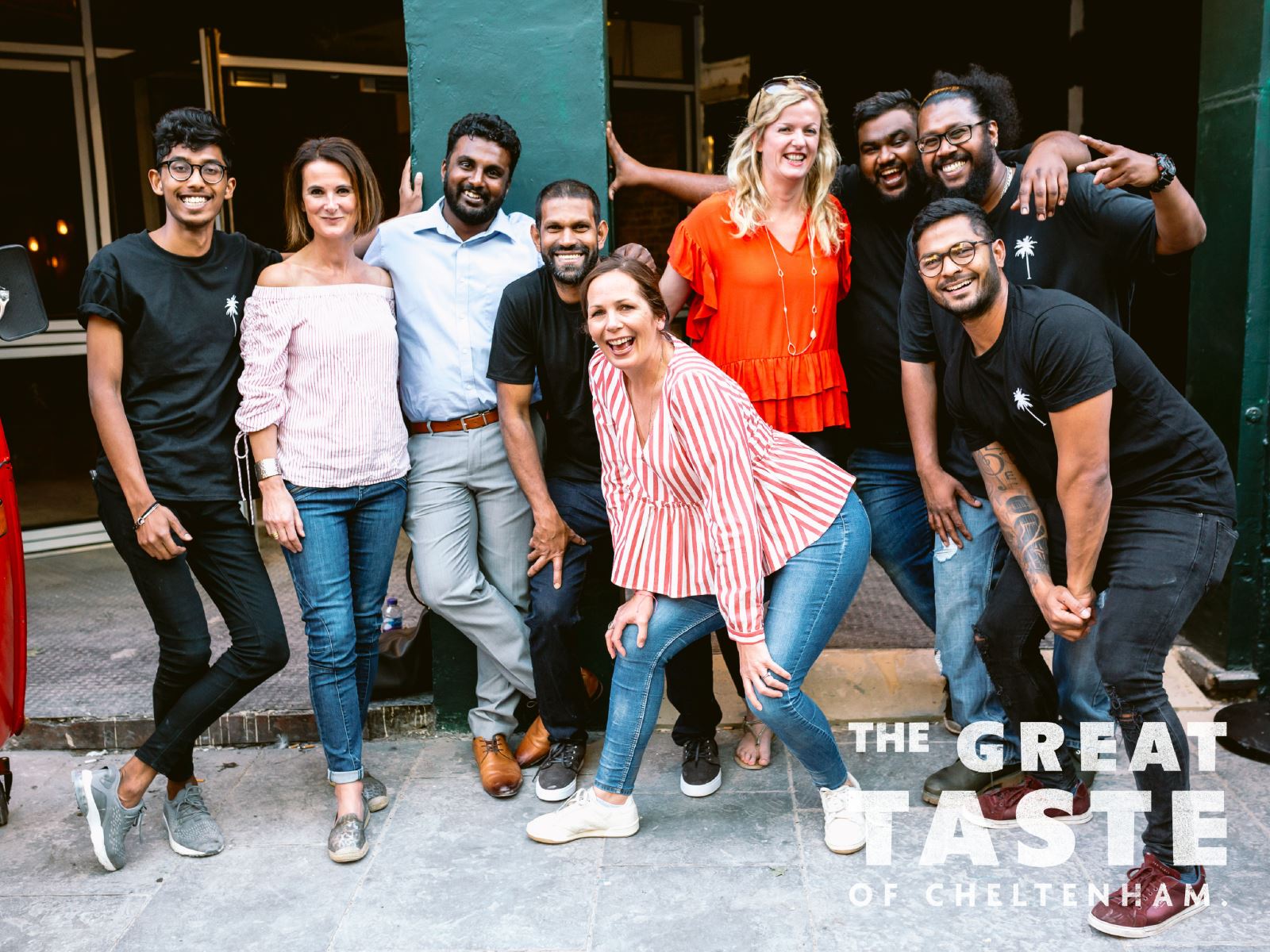 The hardworking team are like one big family at The Coconut Tree
A taste of Europe
Closer to home, French cuisine is renowned for its sophistication, using high-quality ingredients, delicately cooked and beautifully presented. Cheltenham French restaurant L'Artisan is run by Yves and Elisabeth, a French couple from Provence who met in Toulouse and ran restaurants across the South of France and in Paris before moving to the UK. After successfully running 'La Table d'Yves' restaurant in Leicestershire, they moved to Cheltenham and opened L'Artisan on Clarence Street in 2013.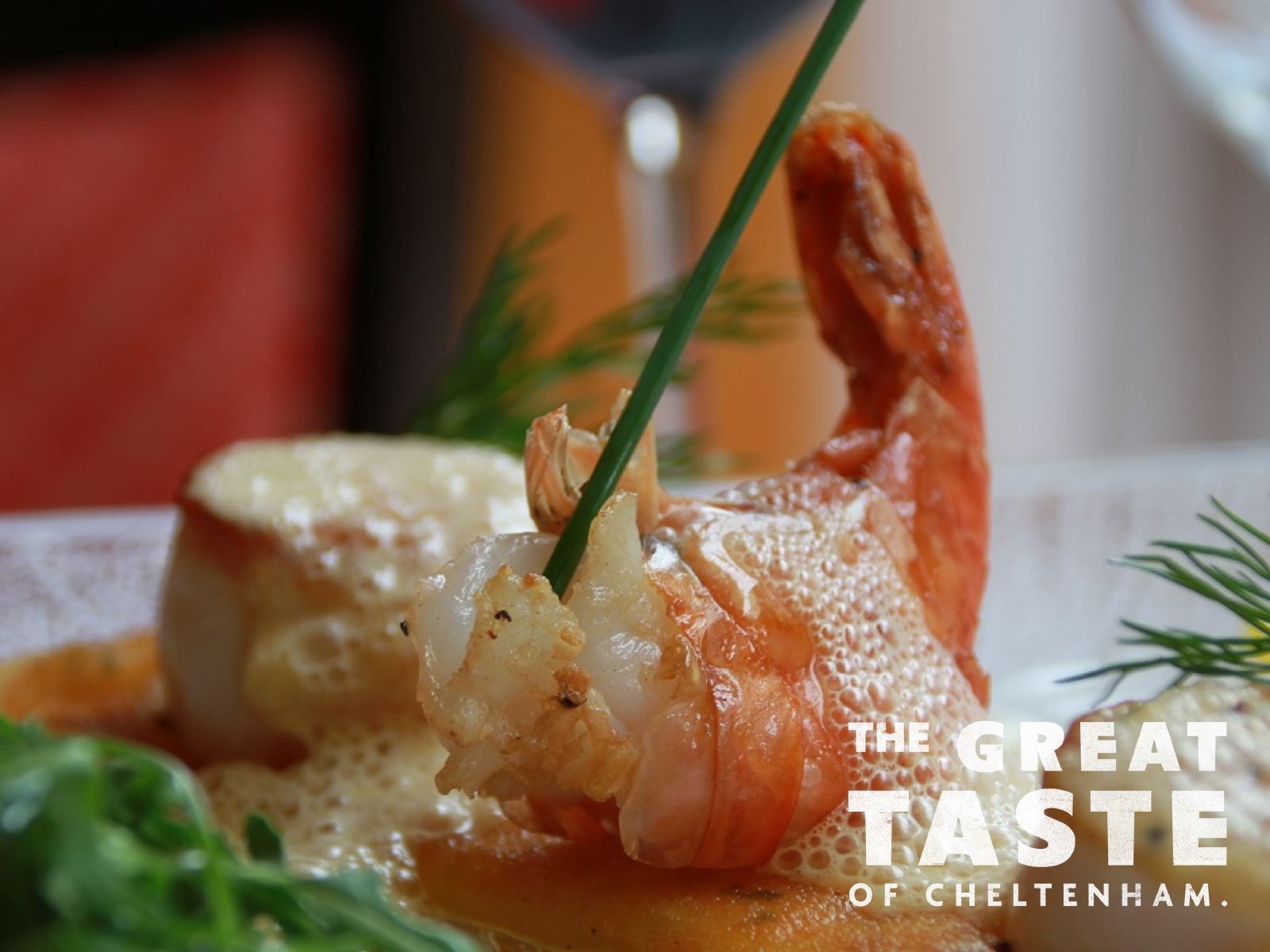 Scallops and prawn on bruccio pastilla at L'Artisan
Designed to create a typical Provencal French atmosphere, the restaurant has an unpretentious, comfortable feel that's a world away from the stuffy reputation that can characterise some French restaurants. "I think we've banished the idea that French means expensive and formal,'' Head Chef Yves says. His genuine French cooking style has won them a loyal local customer base, taking traditional French home-cooking techniques and adding his own modern twist.
The menu is regularly updated and includes quintessential French dishes like snails in garlic butter, veal noisettes in a Normandy cider and apple sauce, beef tartare and 'duos' of various different fish. Yves believes that "a plate of food should be a work of art. It must appeal to the eyes and the nose as well as the taste buds. The meal should have contrasting flavours and textures and, above all, must produce that vital feel-good factor. I believe the fact that we aim for consistency in standards of everything we do is what brings people back again and again.''
You can also find delicious French fare at Petit Coco, a cosy farmhouse-style French bistro in Cheltenham with a daily chalkboard menu featuring dishes like Coq au Vin and Magret de Canard. Daphne Restaurant brings you a taste of summer with dishes from Turkey and the Mediterranean, all prepared from scratch with plenty of vegetarian choices. And Italian lovers can feast on hand-stretched sourdough pizza with a choice of toppings – including vegan and gluten-free options – at Fat Toni's Pizzeria. Or try Venetian-style tasting plates of meats, cheeses and more along with a glass of wine at Cicheti, and enjoy the 'sweet and savoury' Sicilian flavours on offer at Dolce & Solato.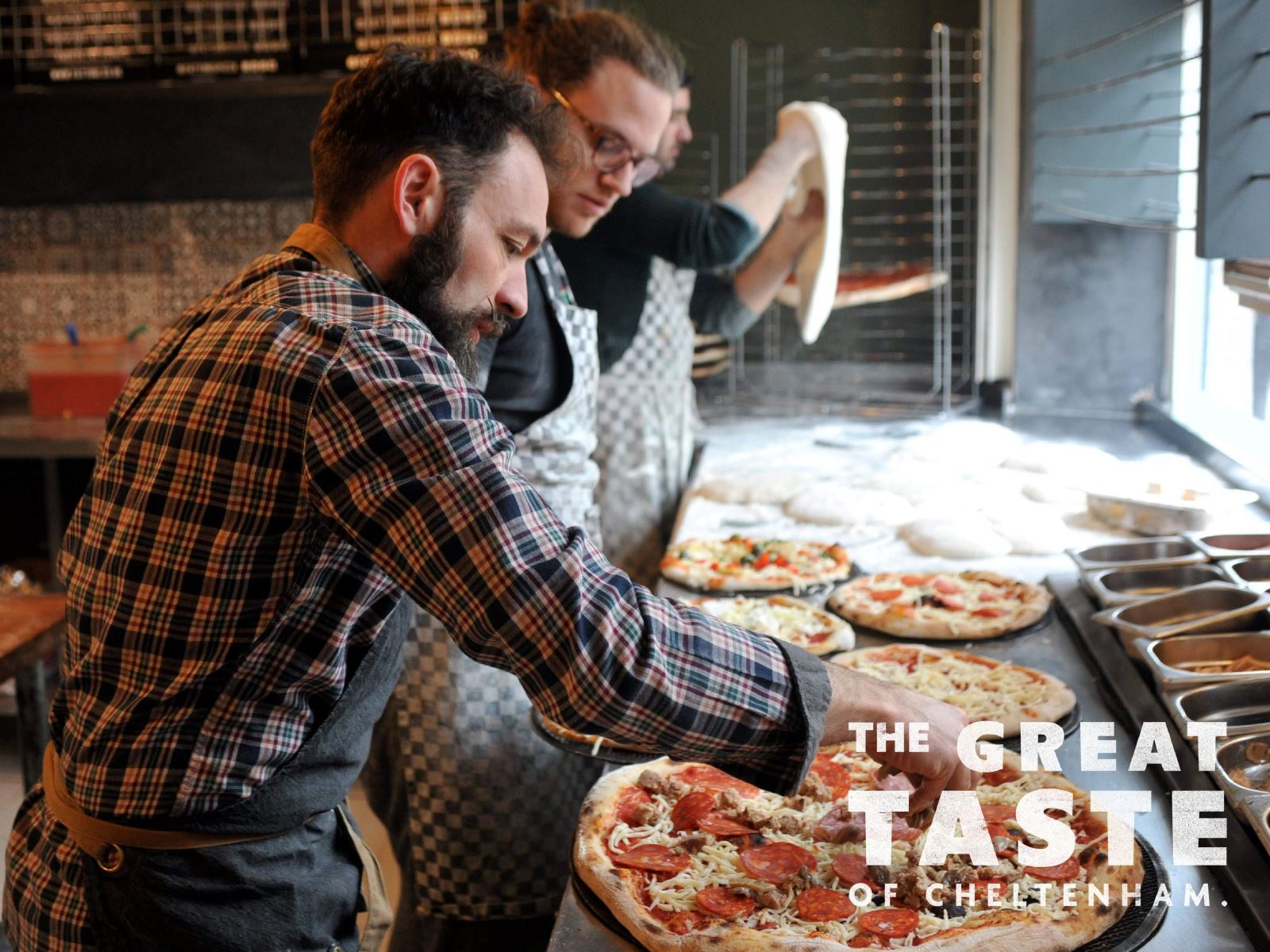 Chefs preparing fresh pizza dough at Fat Toni's