Looking for a great cocktail bar in Cheltenham to enjoy a drink in town with friends? We have you covered with this guide to the best bars and mixologists in town as recommended by students at the University of Gloucestershire...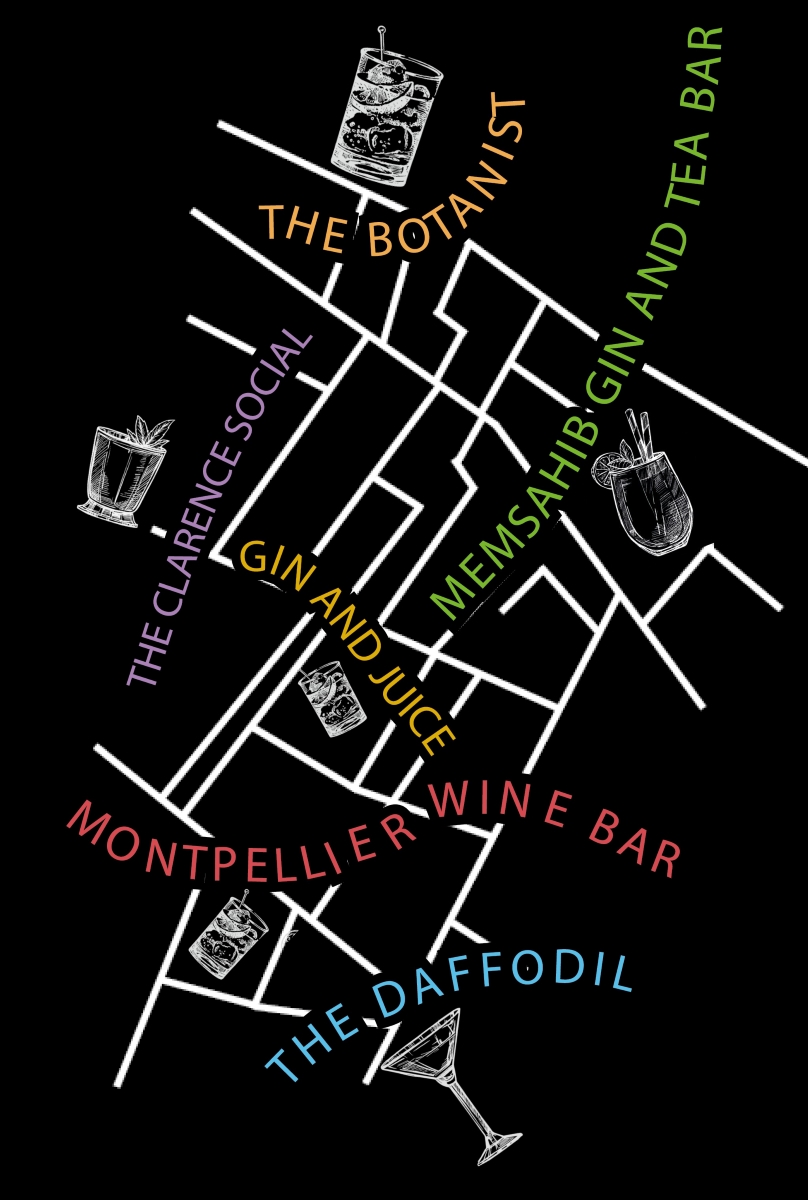 Address: Located within Cheltenham's vibrant Brewery Quarter. Unit 6, The Brewery Quarter, Cheltenham, Gloucestershire, GL50 4FA
Website - https://thebotanist.uk.com/
The Botanist is a great place to start – or end – any night out. For starters, there's live music, a wall made entirely from plants and wacky cocktails served in plant pots. With a team of skilled mixologists, the Raspberry Disaronno Sour is a highlight, and for regulars there are even cocktail-making masterclasses throughout the year, so you can try your own hand at the craft.
Address: Just off of the Promenade. 1 Clarence Parade, Cheltenham, Gloucestershire, GL50 3NY
Website - theclarence.socia
The Clarence Social is a must-visit. With a secret basement bar and a stylishly decorated restaurant, you can sample innovative cocktails and savour an experience unlike any other in Cheltenham. Twinkling fairy lights strewn across the ceiling greet you as you walk through the grand doors, and the whole vibe is like a sophisticated speakeasy or a gentleman's club of old. As for the cocktail list, the classic mojito comes highly recommended – but there are plenty of favourites to work your way through!
Address - 47 – 49 Promenade, Cheltenham, Gloucestershire, GL50 1PJ
Website - memsahibginand teabar.com
A relatively new bar in Cheltenham, this is a hot spot for those seeking another unusual drinking experience. The speakeasy-style bar features portraits of Victorian women to illustrate empowerment during that era, so the effect is like taking a step back in history. The expert bar staff infuse 15 different types of gin, which they then pair with tea for a unique flavour combination which you'll be hard pressed to find anywhere else. Specialising in a variety of 55 gins, all products are ethically sourced and Fair Trade, and the team even craft their own gin, resulting in refreshing and fragrant flavours. Tucked away off the Promenade, the Indian Summer cocktail is a customer favourite – with its tantalising taste transporting you right back to the British Raj period.
Address - 131 The Promenade, Cheltenham, Gloucestershire, GL50 1NW
Website - www.no131.com/ eat-drink/gin-juice
An extension to the beloved No.131 at the end of Cheltenham's Promenade, Gin & Juice is the newest addition to Cheltenham's lively drinking scene. The motto is simple: "by day, we brunch, and by night, we dance," and this seems like the best way to summarise the experience at this beautifully decked-out bar. With a pulsating soundtrack, you can enjoy sophisticated tipples in a relaxed and friendly environment, and there's seating inside and outside, making it a perfect pitstop all year round. Our top tip? Don't miss the Chocolate Martini, which will reflect your experience here: fun, unique and delicious.
Address - Bayshill Lodge, Montpellier Street, Cheltenham, Gloucestershire, GL50 1SY
Website - montpellierwinebar.co.uk
Established in 1977, but still one of the places to be seen in Cheltenham. Not many establishments can match the warm and inviting atmosphere at this privately owned and highly acclaimed bar. While probably best known for its wide selection of international wines, the delicious cocktails also hit the spot. Try the English Summer, made with smooth Neptune Barbados rum, to see what we mean.
Address - 18-20 Suffolk Parade, Montpellier, Cheltenham, Gloucestershire, GL50 2AE
Website - www.thedaffodil. com
Not only is this bar-restaurant in Suffolk Parade one of the most sophisticated nightspots in Cheltenham, it is also TV approved. Having featured on the BBC's acclaimed drama Sherlock, the stunning décor makes for a refined drinking experience. The upstairs bar is where to head, with its high ceilings, vast walls and windows. Inside, the atmosphere is bustling while intimate at the same time, and the art deco venue feels like it's stepped right out of the Roaring Twenties. The service is unmatched, and you'll be greeted at the door and whisked into the heart of the action, as the sounds of sophisticated jazz fill the air. With a great choice of cocktails, the Grape Gatsby is a true beauty which will help you embrace the retro theme.
---
For more Cheltenham inspiration check out...
Cheltenham's best brunch spots
Guide to Cheltenham's restaurants and bars
---
*This list of recommended Cheltenham cocktail bars have been taken from a Guide to Cheltenham produced by third year Magazine Journalism and Production students at the University of Gloucestershire. With thanks to - Claudia Trotman, Ryan Wilks, Kieran Galpin, Amber Hurst, Molly Malsom, Terri Bone, AJ Crompton & Robyn Nuttall.
Related
0 Comments