48 hours in Cheltenham & the Cotswolds
This suggested itinerary will enable you to…
Discover and explore this lesser known cool, cosmopolitan corner of England
Explore at your own pace and uncover some of the locals' best kept secrets
Travel by foot, good for those who prefer slower paced, environmentally friendly travel
For those looking for a weekend escape that offers something a little different and with a sense of the 'how did I not know about this?', then look no further than Cheltenham - the Cotswolds' cosmopolitan capital of style and culture.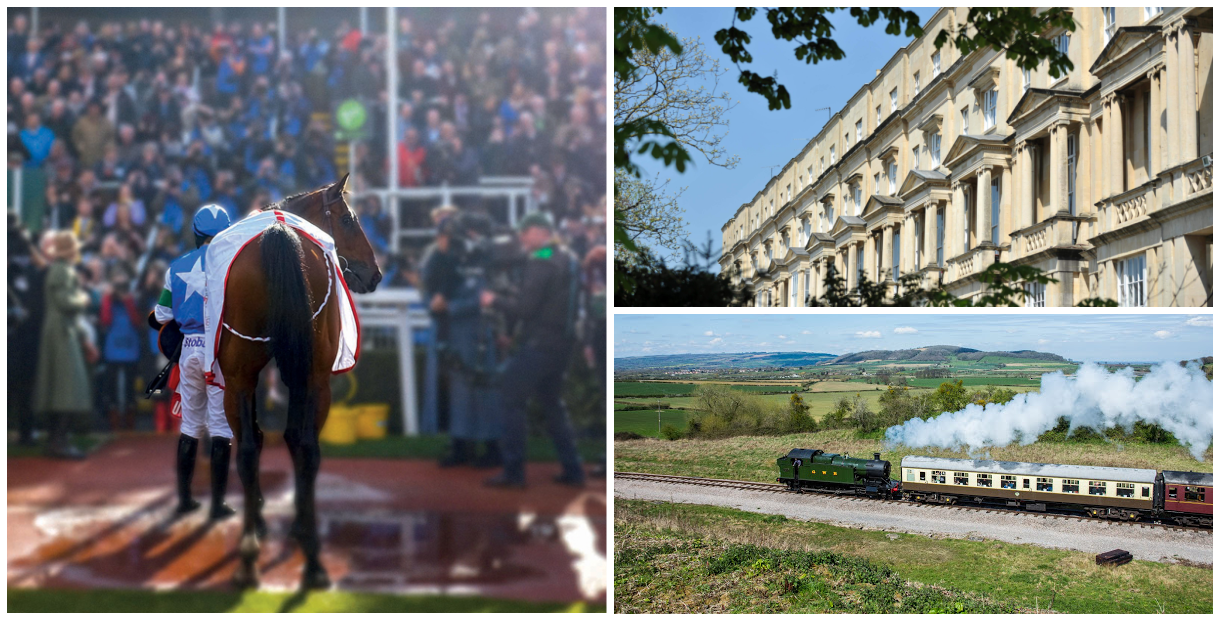 Images - Cheltenham Racecourse (left), Regency buildings in Cheltenham (top), GWSR travelling through the Cotswolds (bottom).
Best known for its horseracing, festivals and spa and Regency heritage, Cheltenham already enjoys a reputation for being an attractive yet less-crowded alternative city break to the likes of Bath and Oxford. However, what the guide books may not tell you is that Cheltenham is a true hidden gem waiting to be discovered and explored - with a wealth of luxury boutique accommodation, a thriving cultural scene and with cool neighbourhoods full of parks, grand architecture and more than its fair share of independent shops, restaurants and cafés.
Of course, Cheltenham offers a range of excellent guided tours throughout the year, but this suggested weekend away is all about exploring at your own pace – and taking the time to discover hidden gems and best-kept secrets that only the locals know!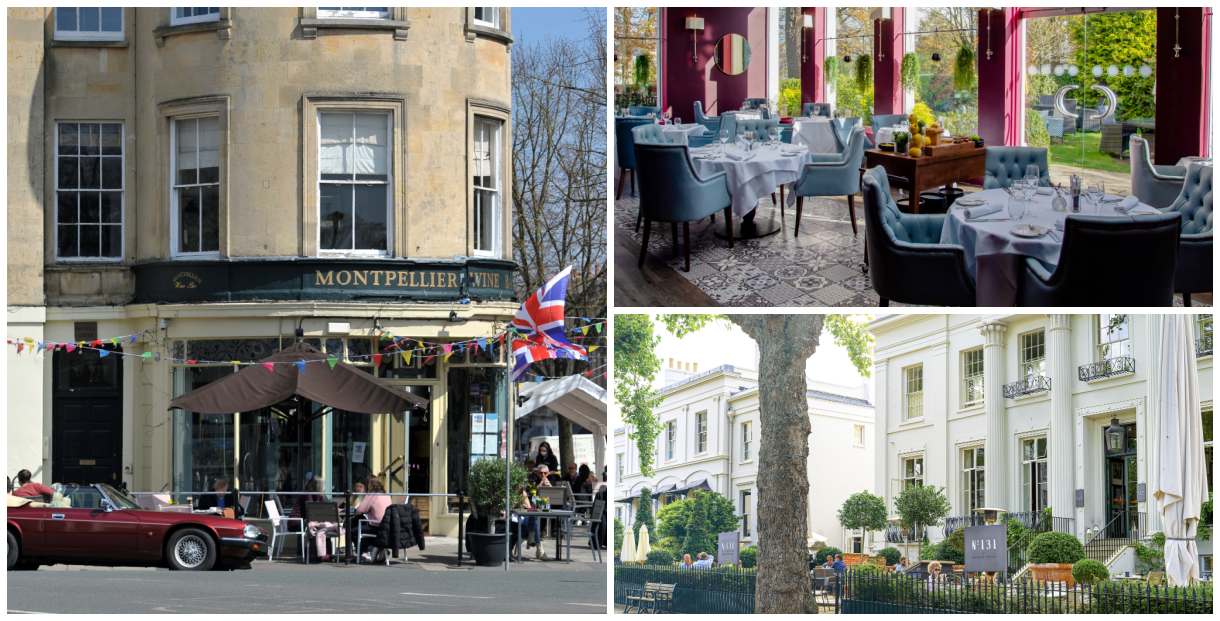 Images - Montpellier Wine Bar (left), Victoria's Restaurant at the Queens Hotel (top), No. 131 (bottom).
Day 1 – Friday evening
Lesser known fact number 1 is that Cheltenham is one of the most accessible destinations in the UK. Skirted by the M5 and well-served by dualled A-roads, Cheltenham is less than an hour from both Birmingham and Bristol and only 2 hours from London Paddington with GWR.
So, that means you can easily arrive into Cheltenham in time to check-in at one of the town's stylish accommodation options and head out for a well-earned Friday night dinner and drinks.
Accommodation options
A lick of luxury – Queens Hotel, No. 131, Neptune Apartments
Boutique – Spa Court by Staylets, Cotswold Grange Hotel
On a budget – Holiday Inn Express, Citrus Hotel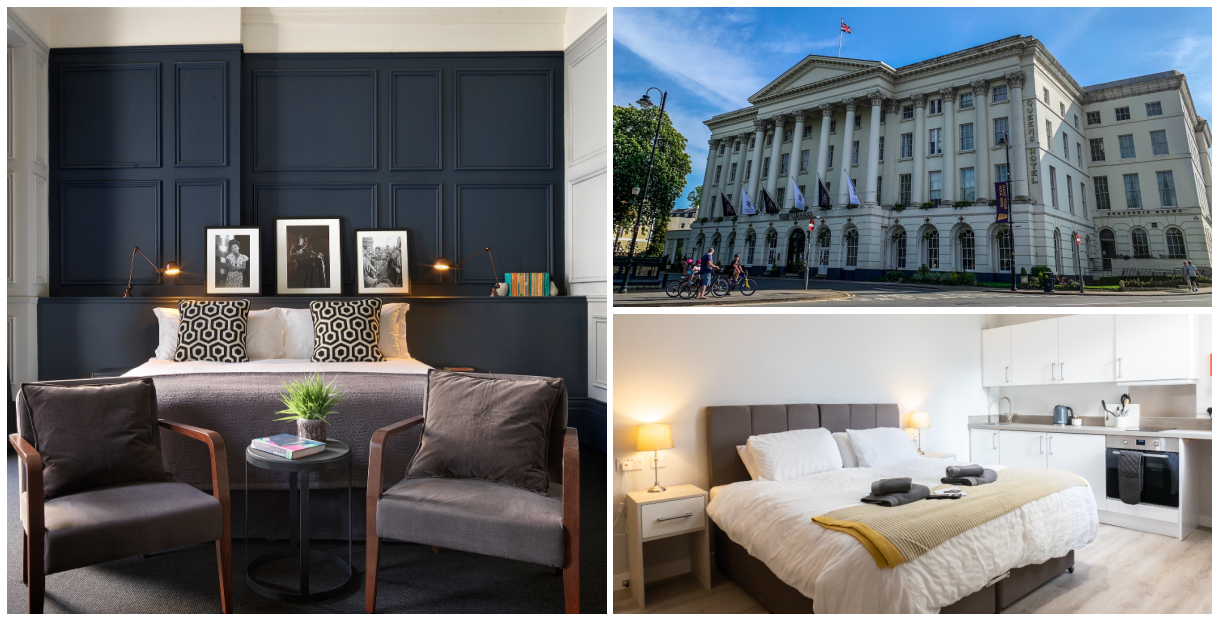 Images - Bedroom at The George Hotel (left), Queens Hotel (top), self catering apartment at Spa Court by Staylets (bottom).
Dinner options
Treat yourself – Lumiere, The Nook on Five
Cool but casual – The Coconut Tree, MUSE Brasserie
Just great value – The Garden Bar, Bar & Wok, Bottle of Sauce
After dinner drink options
Gin & Juice, The Alchemist, Memsahib Lounge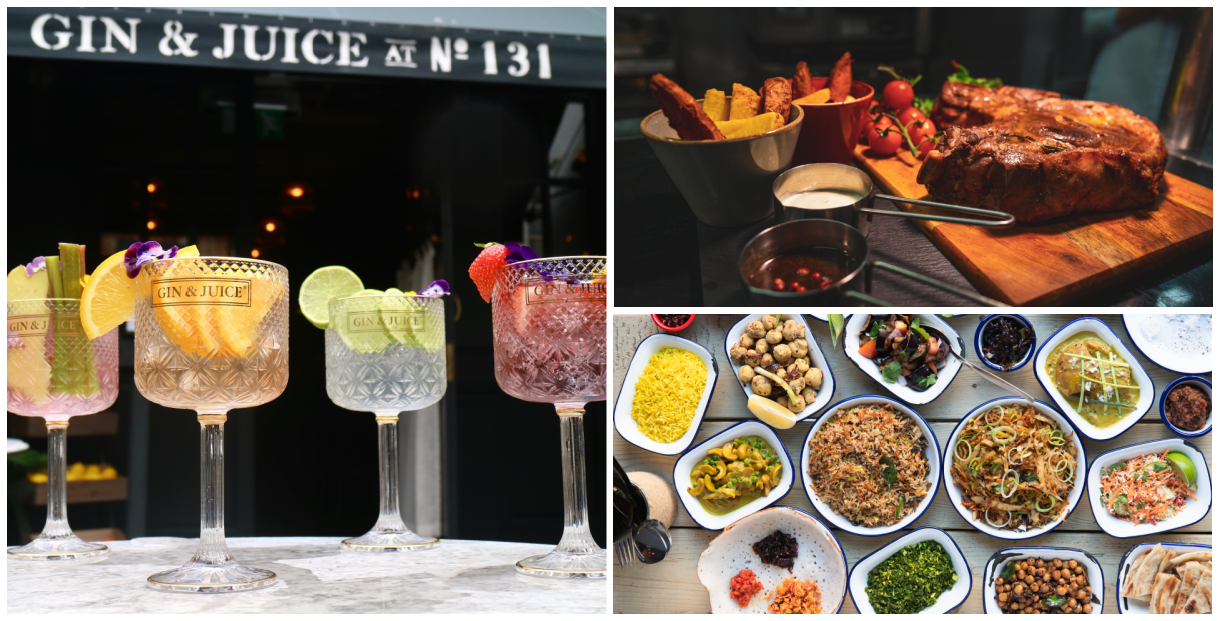 Images - Cocktails at Gin & Juice (left), steak at the MUSE Brasserie (top), Sri Lankan dishes by The Coconut Tree (bottom).
Day 2 – Saturday morning
Cheltenham is one of those places that just exudes that Saturday morning feel-good vibe. Its range of characterful neighbourhoods interspersed with spacious parks and gardens are made for exploring and a good old mix of mooching and people-watching.
Just a 5 minute stroll from the centre of the town, we recommend you start the day by exploring Montpellier – Cheltenham's stylish and distinctly cosmopolitan district which is home to a range of independent boutiques and quirky stores offering everything from high-end fashion to antiques and jewellery. This tree-lined district harks back to Cheltenham's Regency pomp – look out in particular for the spectacular Rotunda building (one of the original spa pump rooms) and striking Grecian caryatids.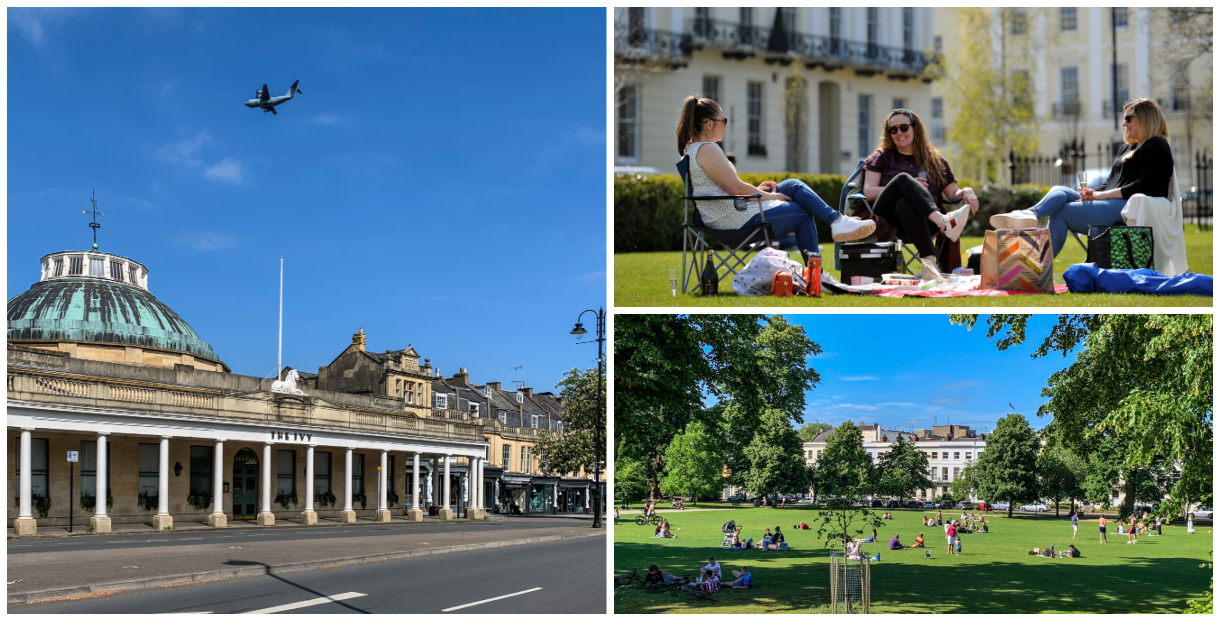 Images - The Ivy Montpellier Brasserie (left), picnic in Imperial Gardens (top), Montpellier Gardens (bottom).
Adjacent the main shopping street is Montpellier Gardens, one of several of Cheltenham's formal gardens and famous for playing host to the likes of JK Rowling and David Attenborough at the annual (October) Times & Sunday Times Cheltenham Literature Festival - the oldest literature festival in the world. Surrounded by Cheltenham's famous Grade 1 listed Regency townhouses, this impressive town-centre green space is an ideal spot to grab a coffee (we recommend Chaplais Kitchen and Montpellier Garden Café) and enjoy the splendour of a townscape little-altered for almost 200 years.
Wander through and beyond Montpellier Gardens and you'll soon find yourself in another of Cheltenham's hidden gems – The Suffolks. With its own distinctive and almost village-like atmosphere, The Suffolks is set around the mid-19th century Suffolk Square in the heart of the Montpellier district. Described as "the Notting Hill of Cheltenham" The Suffolks district is home to a host of independent and individual restaurants, cafes and deli's - while a variety of antique and interior shops and a range of boutiques including vintage clothing, giftware and jewellery make this area of Cheltenham a shoppers' paradise. Look out too for The Suffolks' annual street fair, held every Bank Holiday Monday in May and four Sunday street markets throughout the year.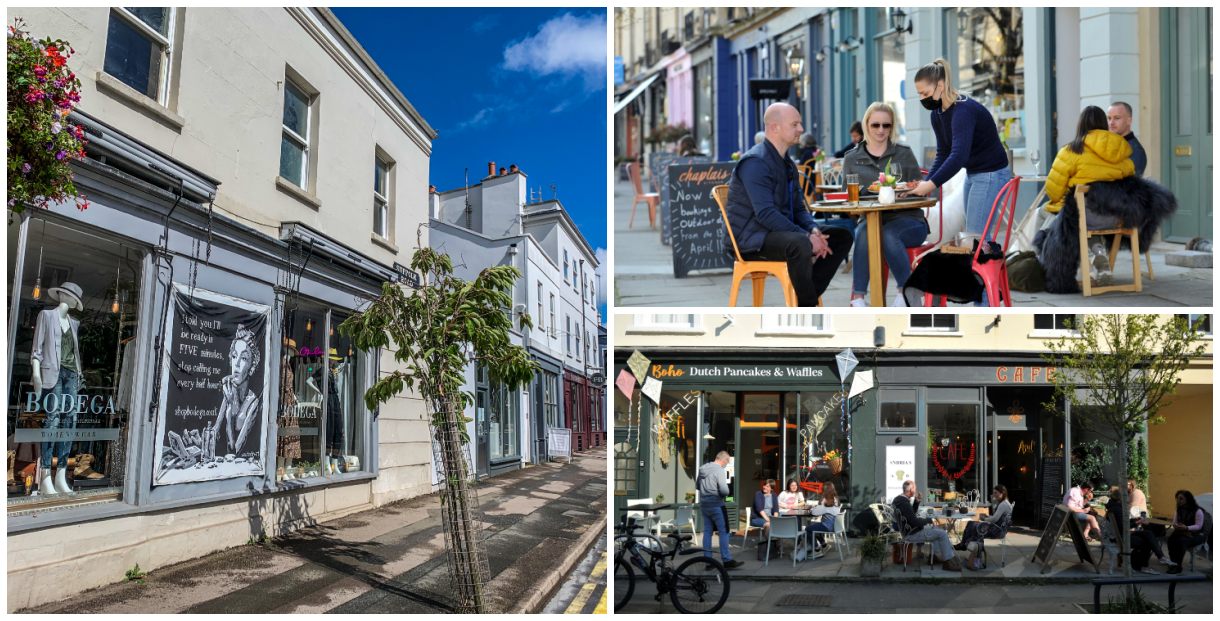 Images - Shop Bodega in The Suffolks (left), al fresco dining at Chaplais Kitchen in Montpellier (top), outside dining at Cafe Boho in The Suffolks (bottom).
Time for a spot of lunch? You won't be surprised to learn that you'll be spoilt for choice in this part of town.
Lunch stop options:
Afternoon
After lunch, head back into town via Imperial Gardens – another of Cheltenham's central parks surrounded by spectacular Regency townhouses, hotels and the equally imposing Cheltenham Town Hall – the town's largest live music and entertainment venue.
Running alongside Imperial Gardens is Cheltenham's famous Promenade - a tree-lined avenue of elms and horse chestnut trees - first created at the height of the town's Regency era as a place to 'Promenade' and to see or be seen. The prominent and statuesque Neptune Fountain - modelled on the Trevi fountain in Rome – adds to the splendour.
Today the Promenade has a reputation as one of the best preserved and most beautiful thoroughfares, and is now a nostalgic modern hub with smart cafes, shops and bars blending in with a historic facade. A poll by Google is said to have named the Promenade in Cheltenham as one of the top shopping streets in the UK.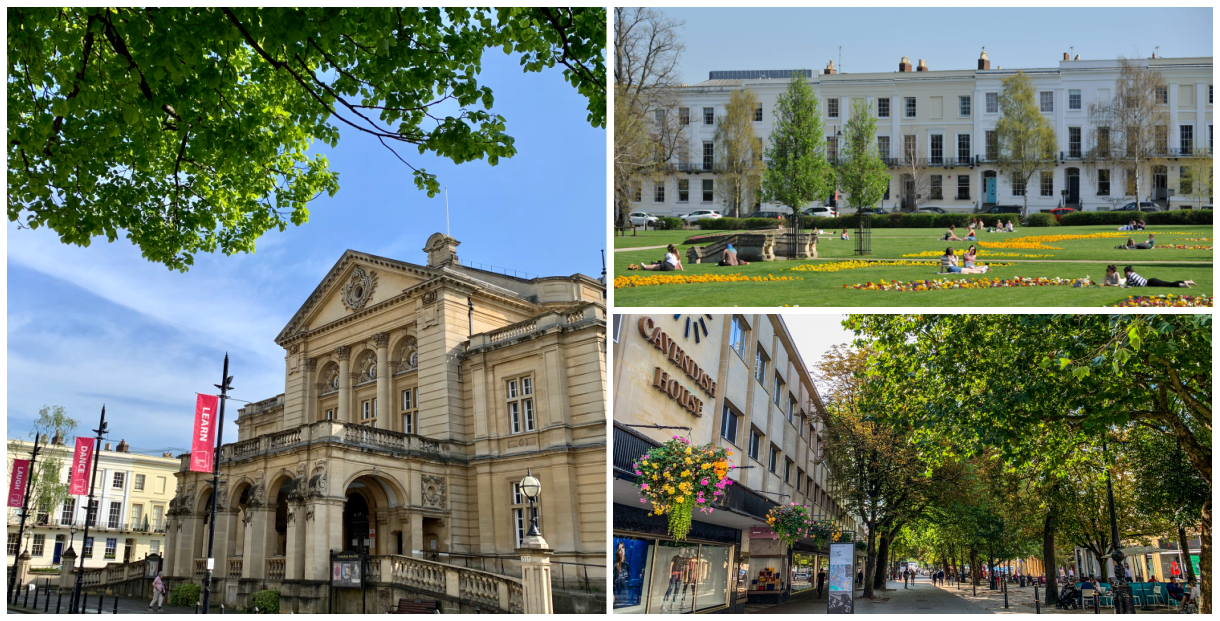 Images - Cheltenham Town Hall (left), Imperial Gardens (top), Cavendish House / House of Fraser on The Promenade (bottom).
This distinctive sense of place, ambience – and great selection of shops – makes Cheltenham a refreshing change to the average homogenous high street or shopping mall – and the perfect antidote to the ruthlessly efficient, but somewhat soulless online shopping experience that has fast become the norm in recent times. So – take the time to rediscover the joy of shopping - whether John Lewis, House of Fraser, Primark or hometown, flagship Superdry store – you can be assured that, despite its comparative size, Cheltenham is truly a shoppers' paradise.
Before returning to the hotel, if you have time – and aren't weighed down by shopping bags – go via the Cheltenham's own Royal Crescent located just behind the Promenade – a sweeping arc of Regency townhouses that are lesser known – and photographed than its Bath namesake – but just as instagrammable! Or perhaps swing by Holst Victorian House, the birthplace of composer Gustav Holst complete with the piano on which he composed The Planets.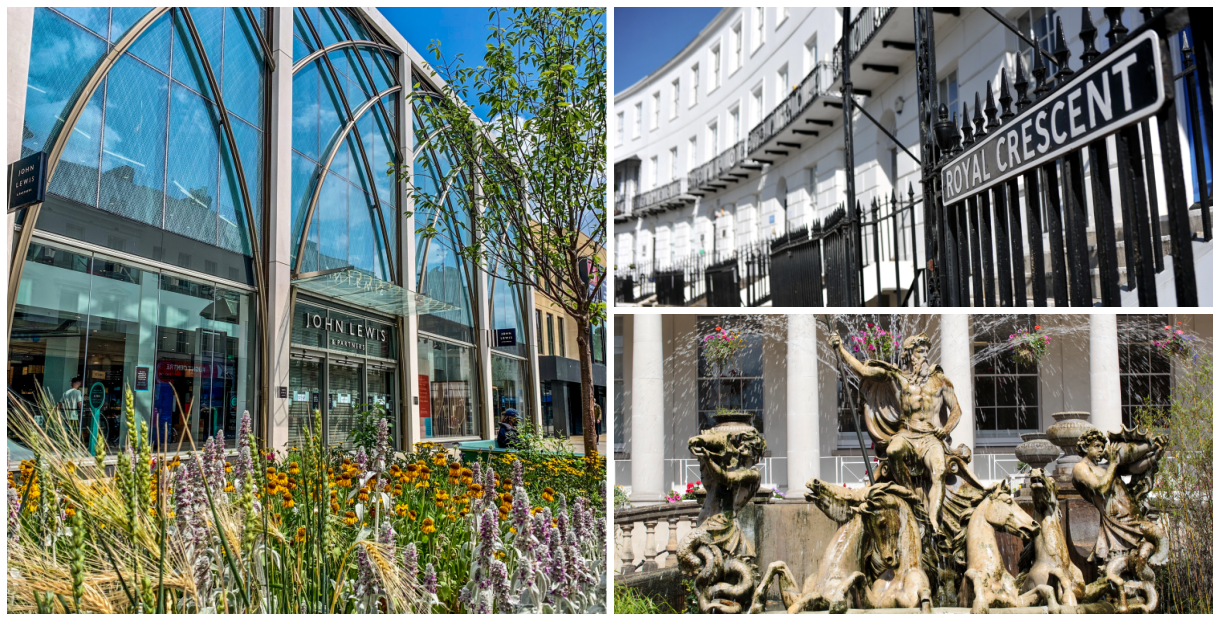 Images - John Lewis & Partners Cheltenham on the High Street (left), Royal Crescent (top), Neptune Fountain (bottom).
Evening
True to its creative and cultural spirit, a visit to one of Cheltenham's theatres, arts venues or independent cinemas is a must. Cheltenham's famous Everyman Theatre is one of the few regional theatres to play host to national tours and pre-West End performances, while the Playhouse is Cheltenham's intimate community theatre, presenting a mix of non-professional and small-scale professional stage productions.
If a gallery is more your thing, look out for later openings of The Wilson – Cheltenham's Art Gallery and Museum – which regularly hosts national touring exhibitions, or Montpellier's Garden Gallery which features regularly changing artist exhibitions.
The art-house TIVOLI cinema is a newer addition to Regent Street – the 'in-the-know' epicentre for the best in Cheltenham's dining and entertainment offer.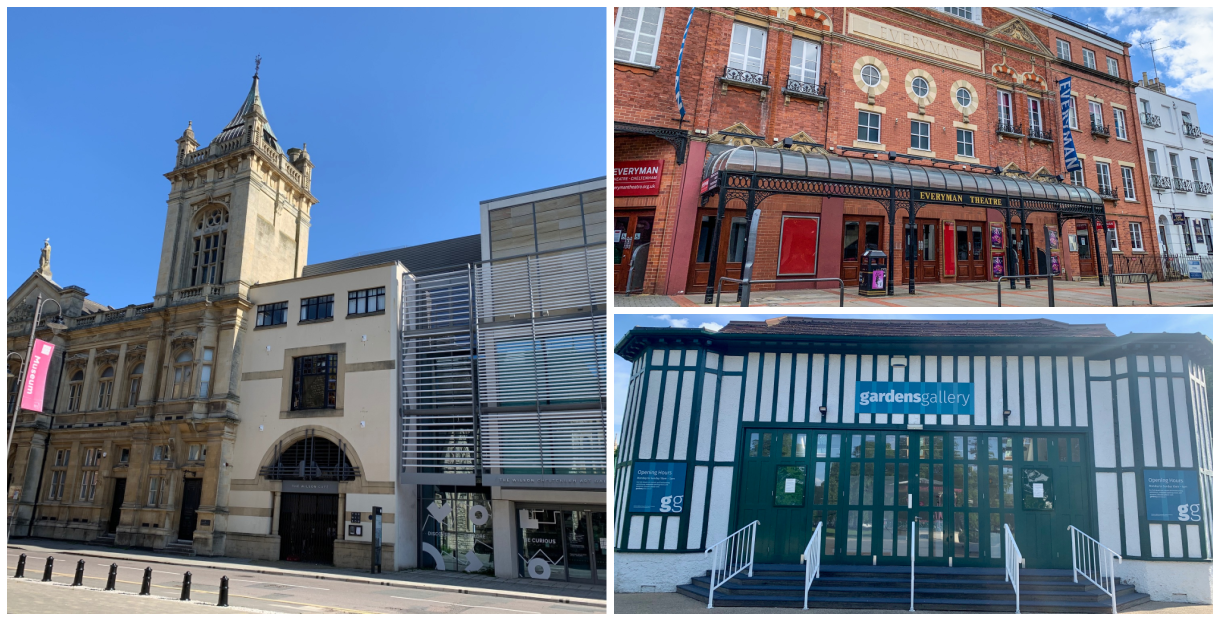 Images - The Wilson Art Gallery & Museum (left), Everyman Theatre (top), Gardens Gallery in Montpellier Gardens (bottom).
We recommend heading to Regent Street therefore, home to some of Cheltenham's best independent restaurants – many of whom offer special pre-theatre sittings.
Dinner Options
Treat yourself: Domaine 16, Purslane, Restaurant Journey
Cool but casual: Kibou, Beefy Boys, Pho
On a budget: Copa, Whittle Taps, Old Courthouse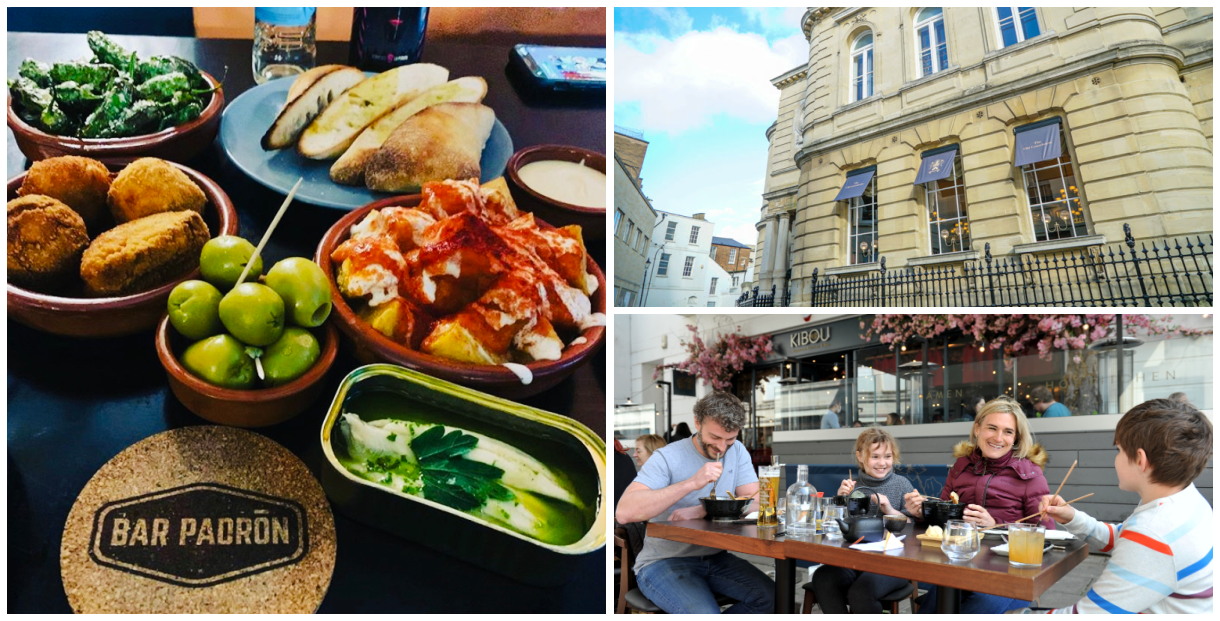 Images - Tapas at Bar Padron (left), The Courthouse (top), al fresco diners at KIBOU (bottom).
Day 3 – Sunday morning
Ok, it may be a Sunday morning – but you know what they say about the early worm… An early start provides an opportunity to experience another of Cheltenham's hidden gems. Cheltenham's Sandford Parks Lido is one of a dwindling number of vintage outdoor lidos in the country and boasts an impressive 50m heated pool. This spectacular Grade II listed art deco oasis in the centre of Cheltenham is a must-visit, if only just to soak up the sense of history and nostalgia as you take a refreshing open-air dip.
The excellent on-site café serves the obligatory post-swim coffee or hot chocolate warmer-upper, but if you want to continue the theme of truly living like a local and discovering another secret spot – take a 5 minute stroll over to La Boulangerie – Cheltenham's very own French bakery. This tiny artisan bakery – discretely tucked away in an unassuming trading estate – has quickly built a reputation amongst Cheltonians for the most amazing breads, croissants and pastries in the area. Be sure to get there early, as when they're gone, they're gone!
Afternoon
Armed with the finest Parisian baked goods – the day ahead provides the perfect opportunity to explore a little further afield – and take advantage of the fact that Cheltenham truly is the gateway to the Cotswolds.
Such is the ease and proximity of some of the Cotswolds best-known and best-loved locations, you have a number of options for where to head to. We recommend a short drive out of town along the B4632 and a visit to the picturesque town of Winchcombe. Famous as a centre for walkers, Winchcombe has a wonderful timeless quality about it, with Cotswold stone cottages standing side by side with distinctive black and white half-timbered buildings. Lose yourself in the narrow alleyways, stay or dine in the historic pubs, indulge in afternoon tea in a local café or while away the time browsing the local galleries and independent shops.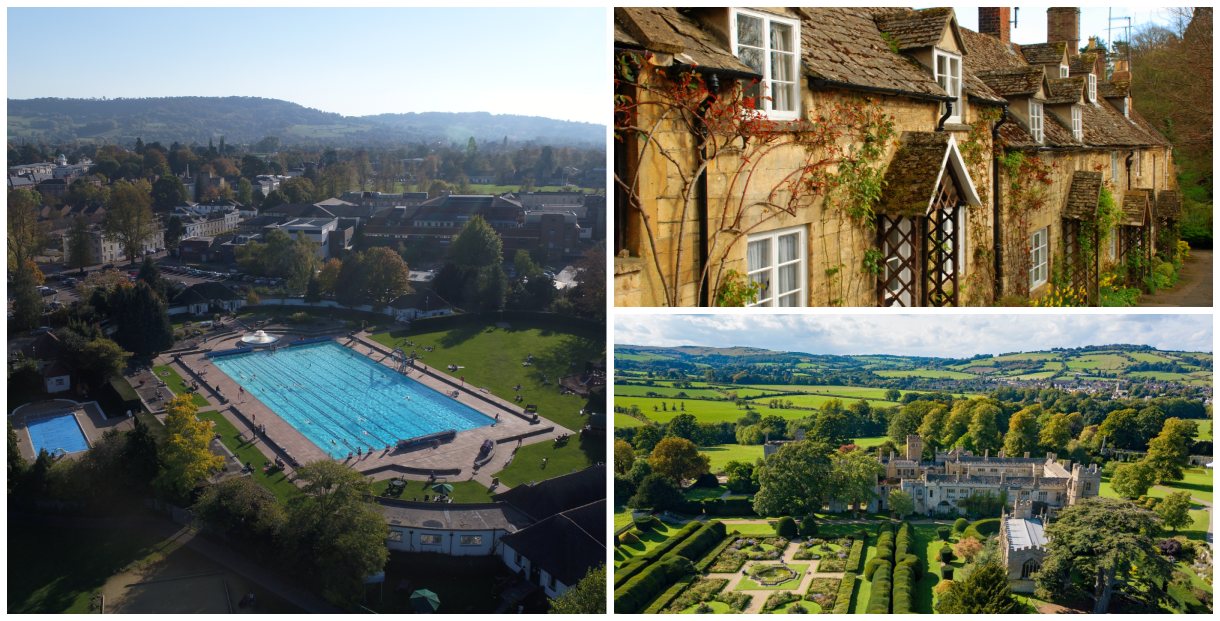 Images - Sandford Lido Pool (left), typical houses in Winchcombe (top), Sudeley Castle (bottom).
Winchcombe's jewel in the crown however is surely Sudeley Castle - one of the finest Castles and gardens in the country. The extensive and award-winning gardens have been lovingly restored and designed to reflect the Castle's fascinating past and enhance the historic moments and romantic stories held by the building's old stones. Sudeley has played an important role in the turbulent and changing times of England's past, with Royal connections stretching back 1,000 years. It was famously the former home of Katherine Parr, the last wife of Henry VIII and she is buried in St Mary's Chapel within the grounds. Access to the exhibitions and the family's private apartments is available daily from spring to the end of October.
Don't have a car? Don't worry – the GWSR (Gloucestershire Warwickshire Steam Railway) operates a frequent service (usually 5 days a week) between Cheltenham (racecourse station) and Winchcombe – or, if you want to make the most of the steam train experience – you can enjoy the full 28 mile trip, with wonderful views of the nearby sleepy hamlets and villages. In less than an hour, you can be in Broadway – one of the Cotswolds' most famous beauty spots. As its name suggests, Broadway is dominated by a wide main street lined with independent shops, restaurants, hotels and plenty of antique shops. The nearby Broadway Tower is a famous Cotswold landmark and sits high up on scarp overlooking the town. The folly, which was designed by Capability Brown, sits 312 metres above sea level. It's the second highest point on the Cotswolds escarpment with beautiful views, so it's definitely worth a visit.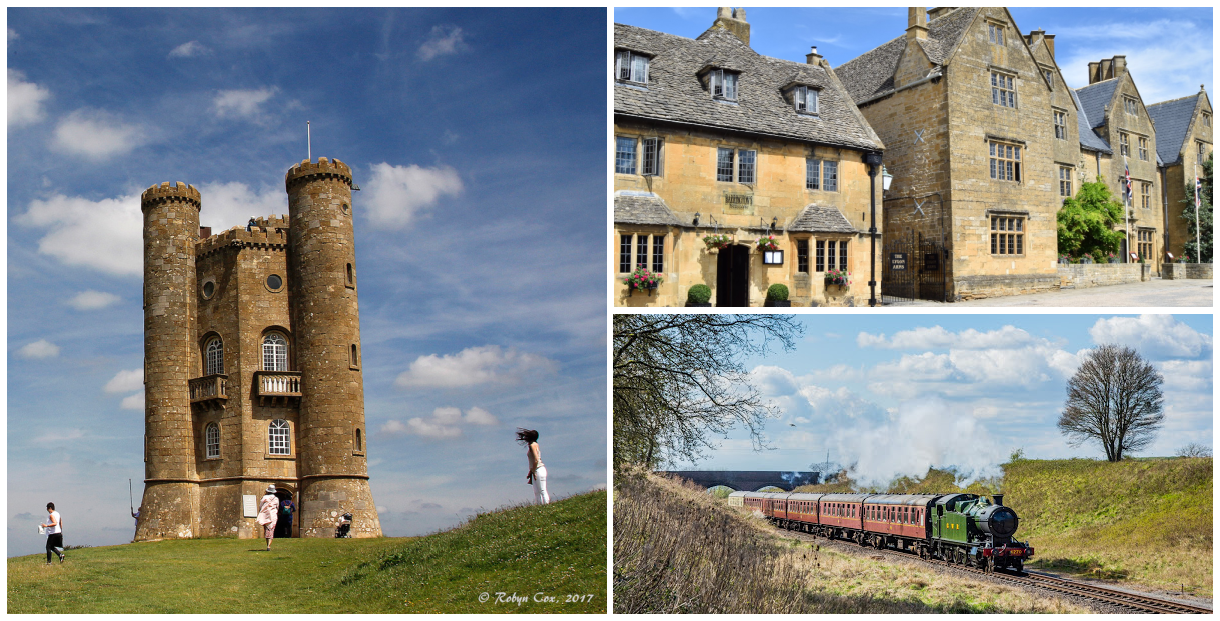 Images - Broadway Tower by Robyn Cox (left), The Lygon Arms Broadway (top), GWSR steam train travelling through the Cotswolds (bottom).