Weekend in Cheltenham and Gloucester
This suggested weekend itinerary will enable you to…
Escape to the Regency town of Cheltenham and historical city of Gloucester
Create memories that will last a lifetime
Push yourself out of your comfort zone by learning a new skill or trying something new
With The Festival Town of Cheltenham and the heritage city of Gloucester being just a ten minute GWR train journey apart, or a five mile car journey, the two unique Gloucestershire destinations make the perfect twin-stop weekend away. (Although we would of course recommend you visiting for much longer!)
Below is our whistle-stop weekend itinerary, starting in The Festival Town of Cheltenham and moving onto the nearby City of Gloucester. Recommendations have been handpicked by the teams at Visit Cheltenham and Visit Gloucester.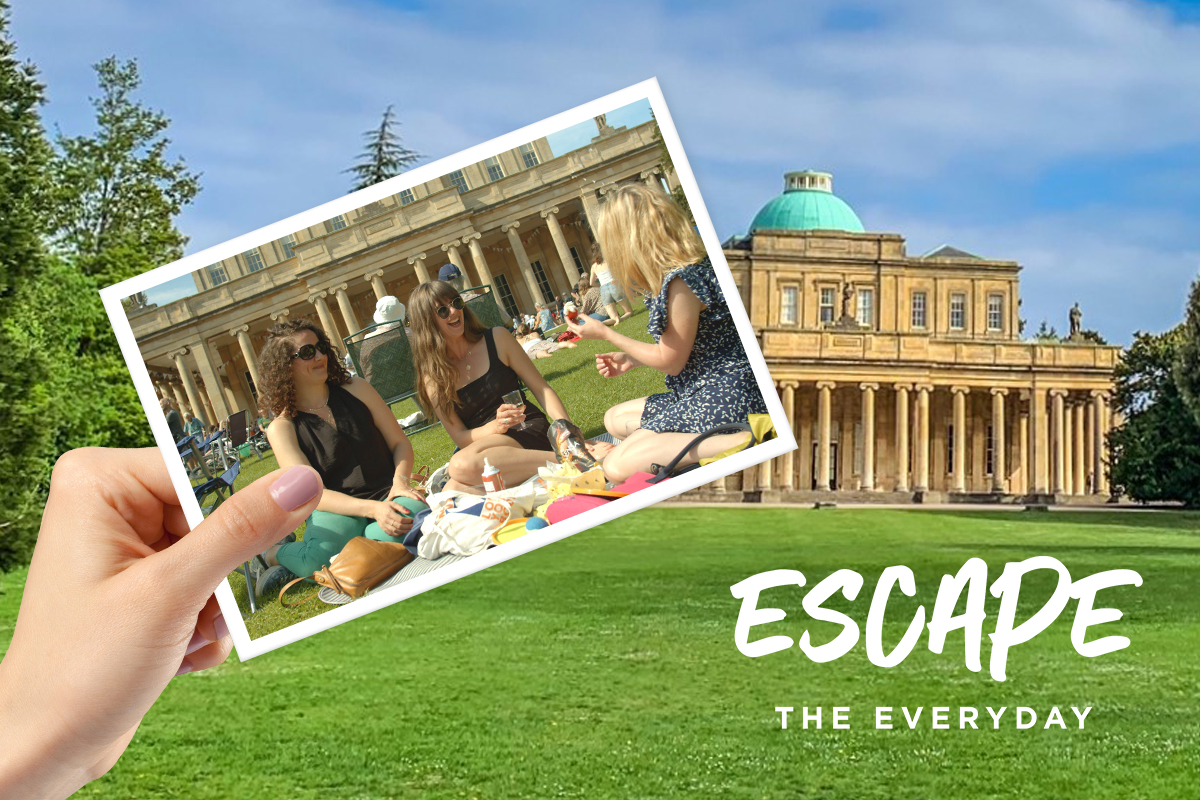 Friday evening in Cheltenham
Cheltenham is one of the most accessible destinations in the UK. Located just off the M5 and well-served by A-roads, Cheltenham is less than an hour from both Birmingham and Bristol and only two hours from London Paddington with GWR.
Make the most of your early arrival by checking into one of the town's stylish accommodation options and head out for well-earned Friday night dinner, drinks and entertainment.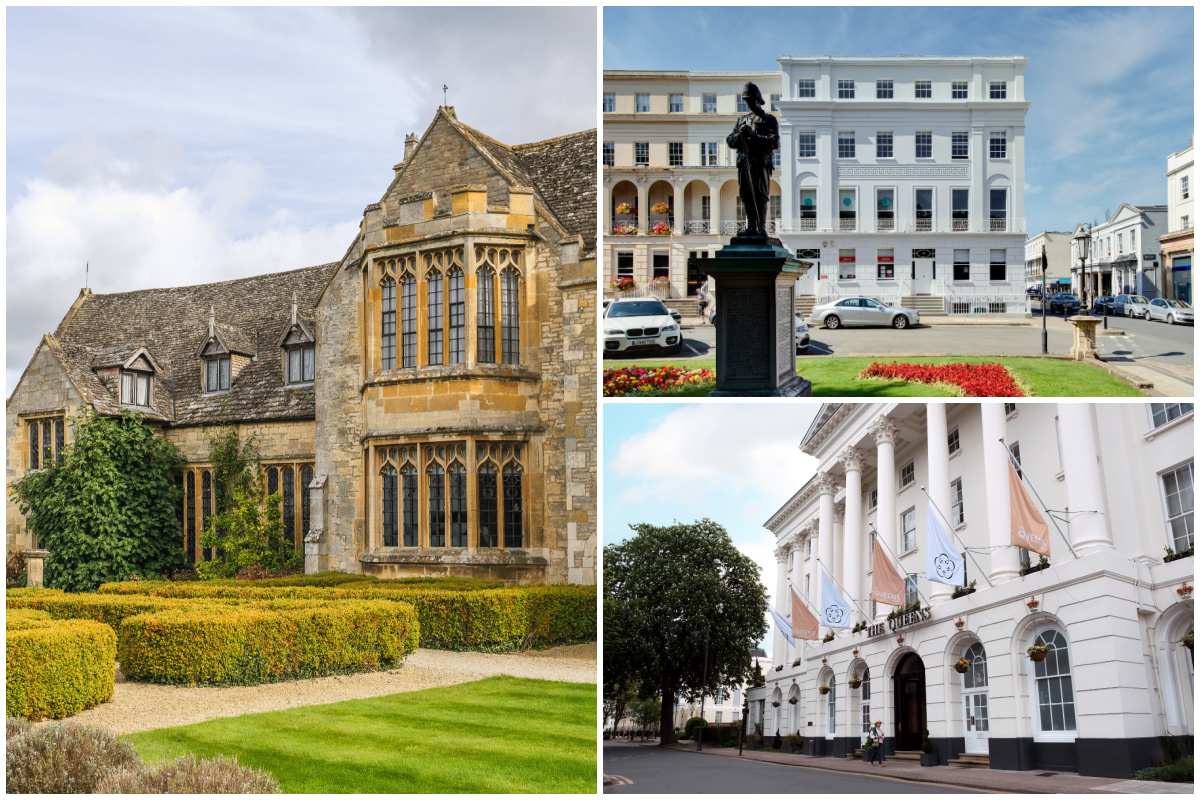 Images - Ellenborough Park (left), Neptune Apartments (top), Queens Hotel (bottom).
Cheltenham accommodation recommendations
Cheltenham offers a fantastic range of accommodation to suit every style, taste and price range. Whether you are looking for town centre hotels close to all the action; countryside retreats a short drive from the town centre; spa hotels, self-catering apartments or even camping and glamping options, we know you'll find the perfect place to lay your head or indulge and recuperate.
For a luxurious stay we recommend Gloucestershire's only 5 star hotel, Ellenborough Park. The Queens Hotel, No. 131 and the brand new Neptune Apartments also offer an indulgent stay. For an affordable stay in the centre of town we suggest The George Hotel and Spa Court by Staylets. If you wish to be located equally between Cheltenham and Gloucester we would recommend Leonardo Hotel located a short drive from Cheltenham Spa train station or The Greenway Hotel & Spa.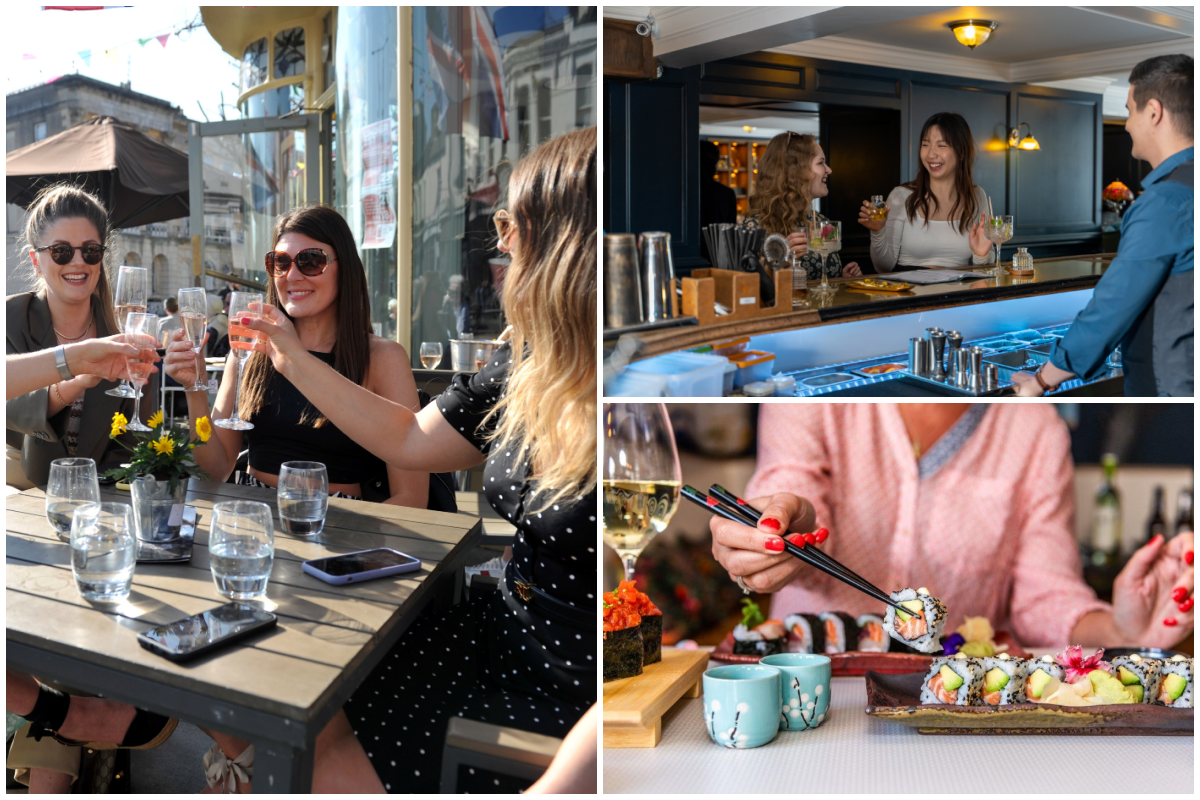 Images - Montpellier Wiine Bar (left), Memsahib Gin & Tea Bar (top), KIBOU (bottom).
Cheltenham dining recommendations
Stylish luxury – YOKU, Restaurant Journey, The Nook on Five (rooftop bar & restaurant)
Unique and oh so cool! – The Coconut Tree, KIBOU, Domaine 16
Crowd pleasers – Brewdog, Smokey Joe's, Bottle of Sauce, Hub Box
Cheltenham bar & pub recommendations
Cocktail bars - Gin & Juice, The Alchemist, Memsahib Gin & Tea Bar
Wine bars – Montpellier Wine Bar, Sixways Wine Bar, The Grape Escape
Beer gardens – The Railway, The Swan, Garden Bar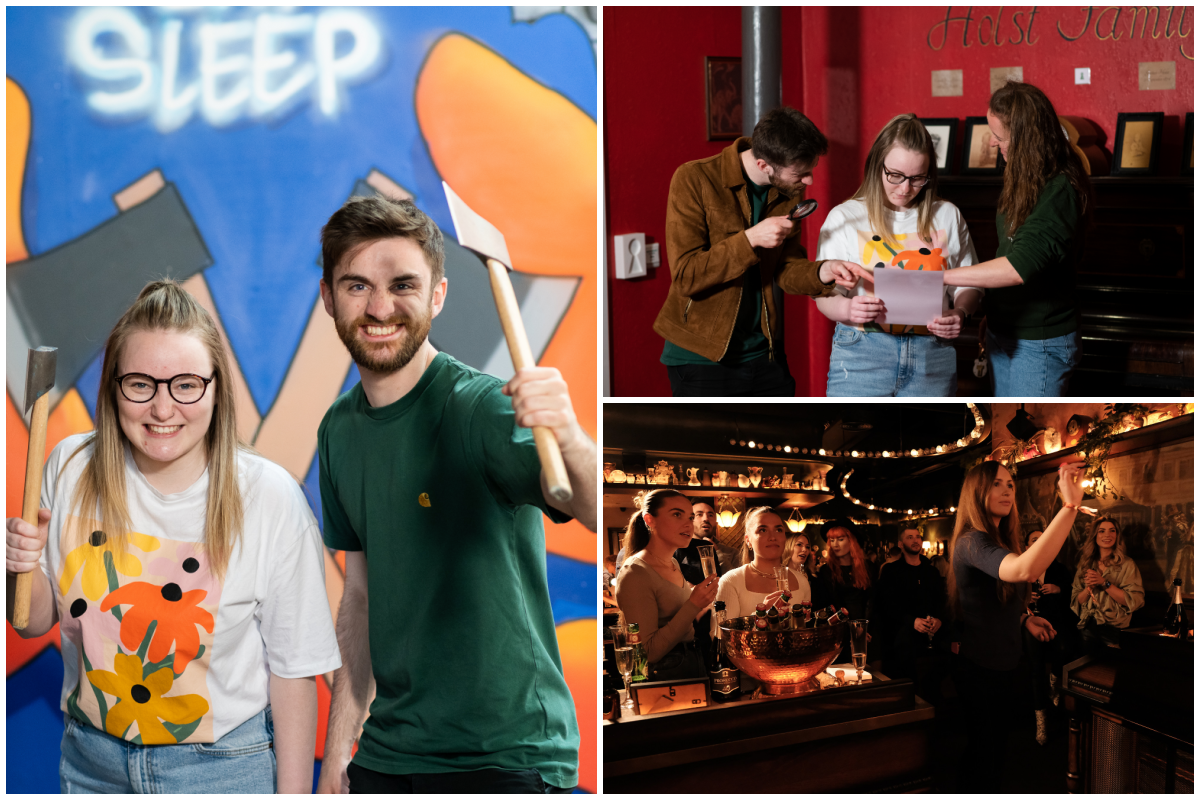 Images - Axe throwing at Eat Sleep Axe (left), Escape Rooms (top), playing darts at the Flight Club in The Brewery Quarter
Cheltenham evening entertainment options
Live music bars - Smokey Joe's, The Tavern, The Botanist
Try a new skill – Axe throwing at Eat Sleep Axe, gin masterclass at Memsahib Gin & Tea Bar, brew your own beer at BrewHouse & Kitchen, play darts at the Flight Club, or try out your detective skills at Escape Hunt or Escape Rooms
Live concerts, shows or comedy acts – There is something going on year round in Cheltenham. Check out our Cheltenham what's on guide and search by date of your visit
Saturday morning in Cheltenham
Our top tip is to get an early start to make the most of your day. Wake up bright and early for a mooch around Montpellier, Cheltenham home of stylish eats and chic independent boutiques. This tree-lined district harks back to Cheltenham's Regency era – look out in particular for the spectacular Rotunda building, one of the original spa pump rooms and now home to the Ivy Montpellier Brasserie and striking Grecian caryatids.
From here take a stroll along the Promenade, highly regarded as one of the best preserved and most beautiful thoroughfares in the UK. After a morning coffee, pastry or other delicious treat we recommend you get yourself a pair of wheels so you can cover more ground!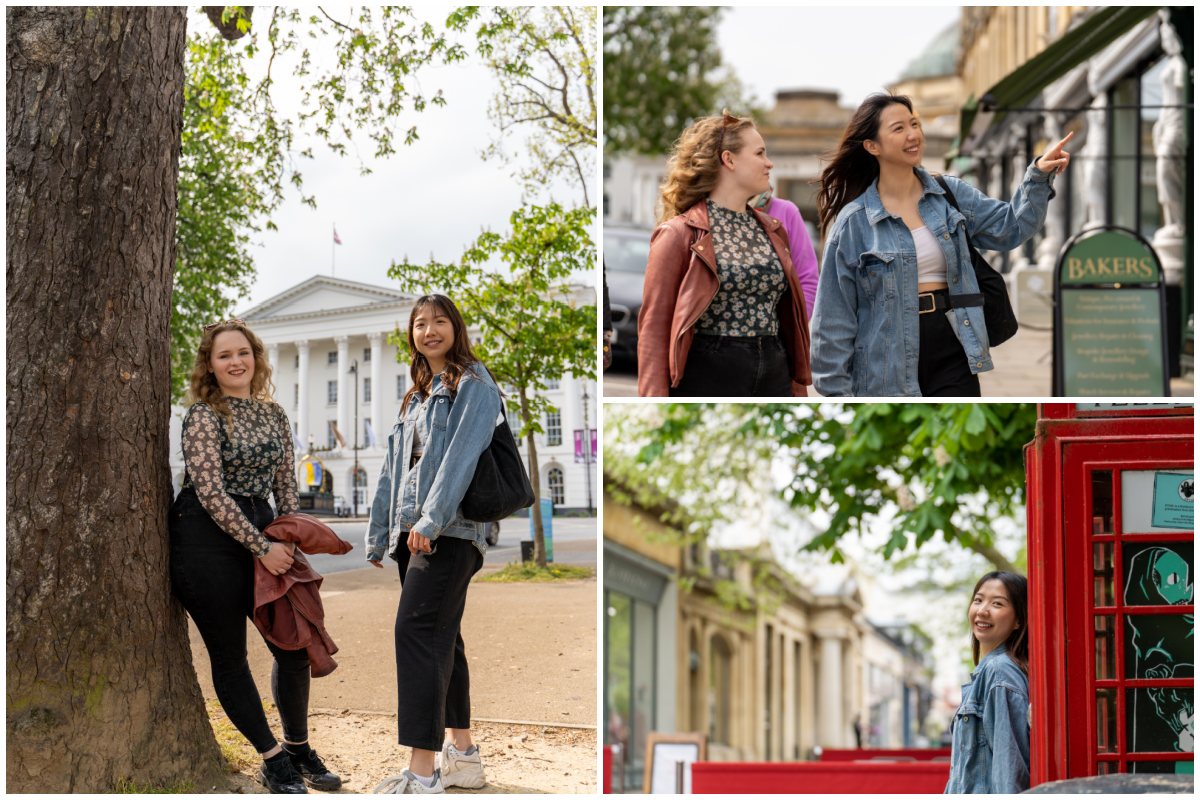 Images - Sightseeing in Montpellier and along the Promenade. Queens Hotel (left), shopping in Montpellier district (top), Promenade (bottom).
Morning coffee & refreshment recommendations
Hidden Gems - Lazy Graze, Sisu Pancakes, Regency Tea Rooms
Instagrammable – No 131, Queens Hotel, Ivy Montpellier
Saturday afternoon in Cheltenham
After a lazy morning mooching it's time to step up the pace. You've got two options. Hire a bike (pedal power or electric, with or without a tour pack and mobile app) from The Bicycle Hub or hire an electric scooter, via Zwings.
Whichever mode of transport you decide upon hop onboard and head towards Pittville Park. Here you can take selfies in front of Pittville Pump Room, one of the sites which gives Cheltenham it's 'spa' name. Enroute look out for street art from the popular annual Cheltenham Paint Festival. There are several instagrammable spots you won't want to miss enroute including murals in The Brewery Quarter and along the Honeybourne Line.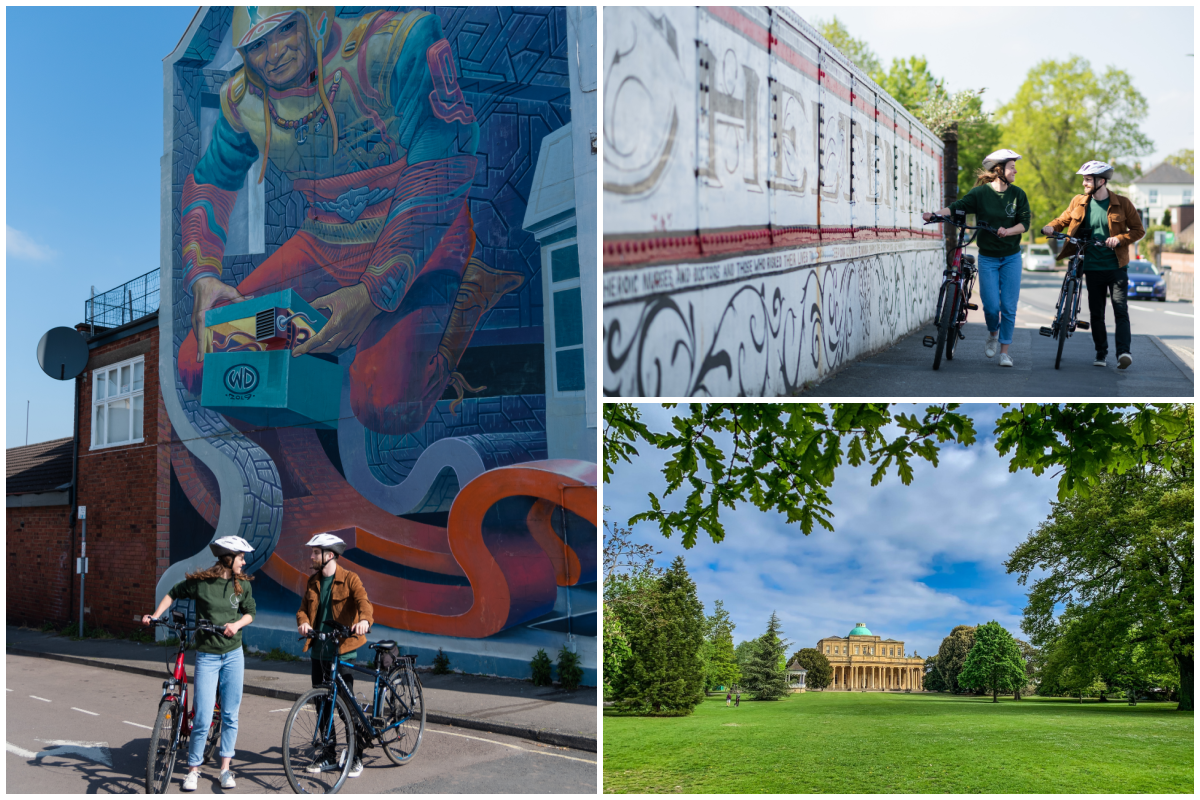 Images - Bikers near the street art on Gloucester Road (left and top), Pittville Pump Room (bottom)
Feeling adventurous? Hire a rowing boat, enjoy some pitch and putt golf or have a game of tennis during your afternoon in Pittville Park. All can be booked via the Boathouse Café.
Had enough exercise for one day? Experience the free immersive heritage trail at Pittville Pump Room. Listen to characters on the self-guided audio trail from the eras tell their stories and experiences of the pump room and its history. Afterwards enjoy a pit stop in the Pittville Pump Room Heritage Café. Or for an extra special treat, on your way back into town swing by the 'Enchanted Window' for a cone of goodies from Once Upon A Tea Room.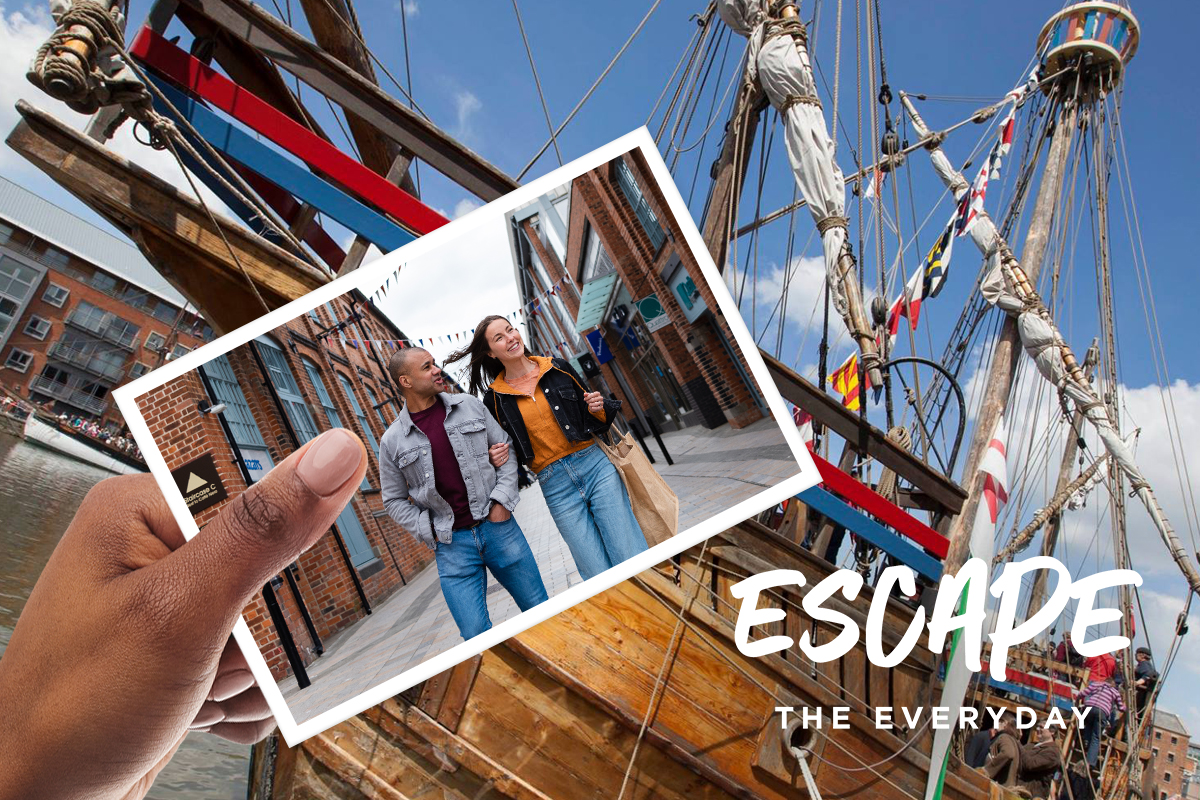 Saturday evening in Gloucester
You may wish to break your weekend up by staying one night in Cheltenham and one night in Gloucester. For a truly unforgettable experience we recommend a night on board SULA, a converted light ship in Gloucester Docks.. SULA is the UK's only stay aboard lightship!
Captain Colin and Vivienne, the most gracious of hosts, will greet you and show you to your suite, split across two levels. In sumptuous surroundings, you probably have just enough time to chill for a short while, before getting ready for your night out!

Images - Couple onboard SULA Lightship, Gloucester Docks (left), Gloucester Brewery (top), enjoying drinks outside Dr Fosters (bottom).
Gloucester dining recommendations
Stylish luxury – Settebello, Aroma, Portivo Lounge
Unique and oh so cool! – Hooker & Eight, The Med, Pilgrim's Yard
Crowd pleasers – Café Rene, Brewhouse Kitchen, Greek on the Docks
Gloucester bar & pub recommendations
Cocktail bars – Dr. Fosters, Settebello, The Abbey, Coal Grill
Wine bars – Spago Creperia, Portivo Lounge
Beer gardens – Gloucester Brewery Warehouse 4, New Inn, The Thatch Inn, The Pelican
Gloucester evening entertainment options
Live music bars – Café Rene, Dick Whittington's, The Cavern, The Guildhall
Try a new skill – Sunset Paddle Boarding, Private Prison Tour, Trapped Escape Room
Comedy nights – Warehouse 4 at Gloucester Brewery, The Guildhall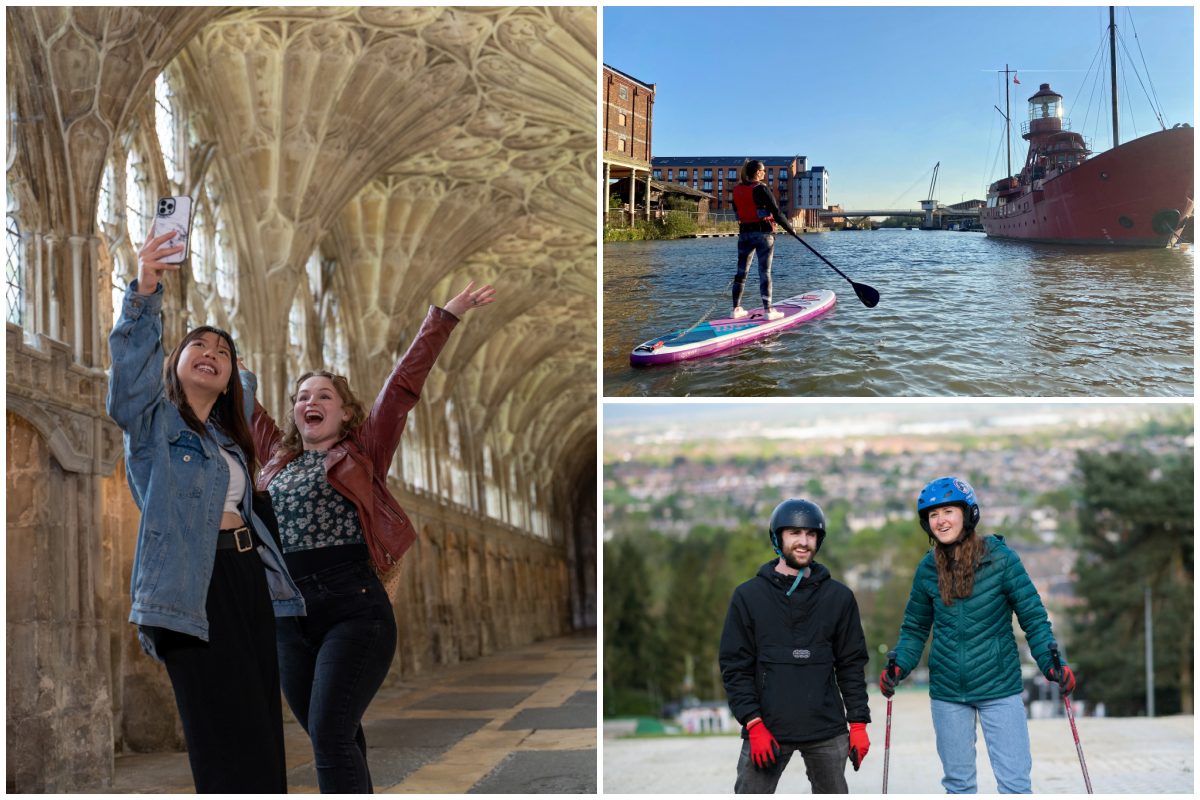 Images - Friends taking selfie inside Gloucester Cathedral (left), paddle boarding in Gloucester Docks (top), couple skiing at Gloucester Ski and Snowboard Centre (bottom)
Sunday morning in Gloucester
It's *5.30am, the sun is starting to appear, and Mike from Discover Paddling has just arrived on his SUP board, ready to take you on your Sunrise Paddle Boarding Adventure in the docks and along the Sharpness Canal. With feelings of serenity and calm, as the rest of the City is still sleeping, there simply is no better way to start the day. Mike is a former Olympian, with many medals and stories to share, and has an amazing way of teaching novices how to master the sport. (*Paddle boarding sessions are available at various times throughout the day if you are not an early riser!)
Dropping you back at SULA, with coffee waiting, it's time to shower, grab some breakfast from On-Toast or one of the other many amazing coffee shops dotted throughout the city and around Gloucester Docks.
With coffee in hand, wander through the gate streets, not forgetting to look up at the amazing architecture and hidden historical surprises high above the street. You'll notice just how many independent shops and restaurants Gloucester has, and is very proud of.
No trip to Gloucester would be complete without a visit to Gloucester Cathedral, quite simply a breathtaking architectural landmark, bursting with history and intrigue, and of course, a filming location for the Harry Potter movies. Once you have finished snapping Insta-worthy shots and selfies, stroll through Barbican Way, past Gloucester Prison, which now offer tours on certain days, and you'll find yourself heading back towards the docks, across the Rainbow Crossing!
Images - Couple at Gloucester Quays (left), Gloucester Cathedral (top), ladies shopping in Gloucester (bottom)
Time for lunch. We recommend Spago Creperia, an independent, authentic and family run restaurant, perfectly positioned on the dockside, and if weather permits, the perfect spot for dining alfresco. You will never have tasted crepes quite like these, and we strongly recommend them all. The menu is divine, with tapas and desserts to make your decision even harder!
With stomachs pleasantly full, it is time to head to the Trapped Escape Rooms to see if you can free yourself to enjoy the rest of your visit! Or if you are feeling more adventurous, and still have the energy, how about a session at the Gloucester Ski and Snowboard Centre? Home to one of the longest outdoor artificial ski slopes in the UK. Or the Warehouse Climbing Centre? A cleverly transformed Victorian warehouse which offers indoor caving, climbing and bouldering.
Next stop in your busy schedule is Gloucester Quays, a pleasant stroll along the dockside, where you can admire the restored warehouses and the amazing ships in the dry docks along the way. With up to 70% discount on the RRP, for a multitude of well-known brands such as All Saints, The North Face, ASICS and Hotel Chocolat, it is a shopper's paradise for some amazing bargains!
For a meal prior to heading home we recommend Bangkok Canteen, located on Westgate Street. Bangkok Canteen is an independent Thai restaurant serving a mouthwatering gluten free menu, with dishes created from locally sourced produce.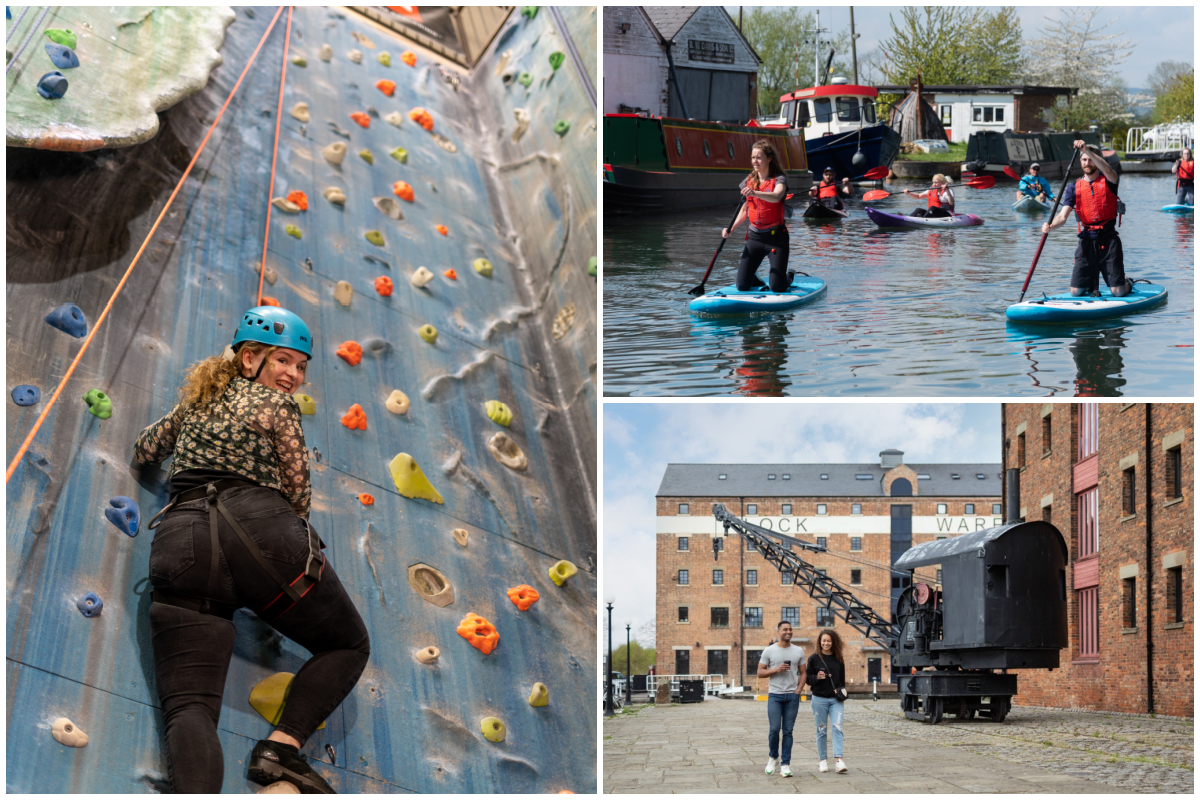 Images - Climbing at the Warehouse Climbing Centre (left), paddlle boarding along the Sharpness Canal (top), exploring Gloucester Docks (bottom).
For more staycation inspiration check out our helpful guides:
48 hours in Cheltenham and the Cotswolds | Weekend for foodies in Cheltenham | Cheltenham weekend of discovery | 16 Cheltenham staycation ideas | Day trip to the Forest of Dean & Wye Valley from Cheltenham | Day trip to Gloucester from Cheltenham | 15 reasons to visit Gloucester | Spa break in Cheltenham | What's on in Cheltenham | Festivals in Cheltenham | Stag do in Cheltenham & Gloucester