Day trip to Gloucester from Cheltenham
Located a short 15 minute drive from the Regency town of Cheltenham, the historical city of Gloucester is a great choice for a day out, or an extended break, whilst on a Cheltenham staycation.
The cathedral city of Gloucester nestled between the Cotswolds and the Forest of Dean, is Britain's most inland port, rich with history dating back to Roman times. Gloucester's many museums and attractions tell the stories of those that have made a great impact on England and the world; and showcase the city's proud military and industrial heritage.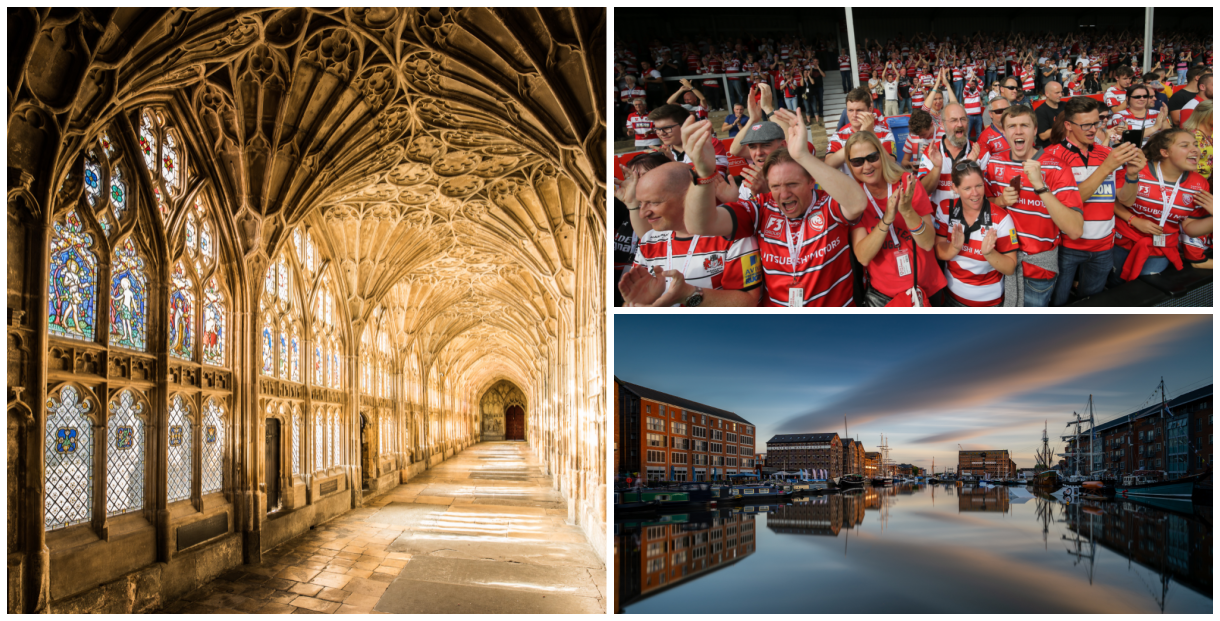 The magnificent gothic cathedral is the site of Henry III's coronation and the final resting place of King Edward II. Gloucester Docks is a popular leisure destination for shopping, food and drink; set against the backdrop of the beautifully restored Victorian warehouses and the vast Gloucester Sharpness Canal.
Sports fans flock to the city to experience the roar from 'The Shed' at Gloucester Rugby or cheer their team on at Gloucester City AFC's brand new stadium. The city is also host to many vibrant festivals and events, from the award-winning Gloucester Tall Ships, the nostalgic Gloucester Goes Retro to the critically acclaimed Gloucester History Festival and the atmospheric Gloucester Quays Victorian Christmas Market.
From independents in the City's historic streets through to well-known brands in the Gloucester Quays' Shops, high street chains, and Gloucester's Shopping Centres, there really is something for everyone when shopping in Gloucester.
The Gate Streets are lined with a combination of quirky and wonderful independents such as The New Gloucester Antiques Centre and The Candle Tree, local eateries such as Hooker and Eight and The Bangkok Canteen, and intermixed with the chain stores to grab your weekly essentials.
The City has several shopping centres, including King's Walk Shopping Centre, Eastgate Shopping Centre and of course, Gloucester Quays Outlet, with up to 70% discount on brands such as Joules, The North Face, Asics, M&S, Clarks, Hotel Chocolat, and many more.
Encouraging visitors and residents alike to 'Shop Local,' you'll find the weekly Farmer's Market every Friday at The Cross, playing host to a wealth of traders, selling the very best in local products and produce, and on the first weekend of each month, Orchard Street Market brings together the finest, often award-winning, artisan food, drink, and craft producers.
So, whether you are window shopping, weekly shopping, gift shopping or treating yourself, the nearby city of Gloucester has something to offer you!
Quite simply it isn't just 'what's on in Gloucester', it is that Gloucester is always on!
Whatever your tastes, interests or hobbies, there is always something new to try, new to experience or visit again and again, not to mention a fantastic festivals and events programme.
When it comes to all year round, keep an eye on the Guildhall for live music and cinema, the Museum of Gloucester with their inspiring exhibitions, and pop-up events at Blackfriars Priory. Gloucester Cathedral has a calendar of events for both young and old, whilst JOLT Studios, The Music Works, and The Cavern are the foundations of Gloucester's vibrant creative community
Gloucester's Tall Ships Festival, takes place annually at the beginning of June. The event provides fun for all ages with music, live entertainment, ships which you can purchase boarding passes to go aboard, and lots, lots more.
Slightly later in the year is the much anticipated Gloucester Goes Retro in August. The event sees the City's streets lined with vintage cars, wandering characters and live music and dancing, people flock from miles around to enjoy this spectacular event.
September sees the arrival of Gloucester's History Festival, 2022 will be its twelfth year, with a series of events, including talks from famous historians, held at the beautiful Blackfriars Priory.
Why not sign up to the free Visit Gloucester's Newsletter, to keep up date with what's on in our neighbouring city - Gloucester.
Fact of the day: Gloucester is the UK's most inland shipping port, with a 16-mile canal link to Sharpness Docks and the sea.
Shrouded in history, the Gloucester Docks are a place of beauty and incredible buildings, with restored warehouses, dry docks and many vessels moored within, not least the incredible LV14 SULA which is the only stay aboard lightship in the UK!
Situated along the Gloucester Quayside are a wide variety of visitor attractions, restaurants, and museums. You'll find the National Waterways Museum and the Soldiers of Gloucester Museum, Gloucester Brewery with Warehouse 4 – a newly opened Tap Room and Shop, and of course, Gloucester Quays Outlet.
You can enjoy a bite from many surrounding eateries, including Greek on the Docks, On-Toast (quite simply the best toasted sandwiches in Gloucester), and the recently reopened Dr. Fosters to name just a few. The perfect locations to enjoy some local food, with a stunning vista.
There are plenty of water-based activities to choose from, Stand-Up Paddle Boarding with Discover Paddling, Gloucester Leisure Cruises, and Narrow Boat Hire for starters, not to mention Gloucester's Tall Ships Festival in June.
Just a short stroll from the City Centre, make sure your visit to Gloucester includes a wander around the docks.
As in Cheltenham the choice of places to eat in neighbouring Gloucester are endless. Whether you prefer well known chain brands, or like to sample new dishes from independents, you will not be disappointed.
Restaurants in Gloucester are dotted throughout the City. If you visit the restaurants in Gloucester Quays, you can enjoy the likes of Bills, Brewhouse Kitchen, and Five Guys, amongst many others.
If you prefer to try something new, a bit different, Gloucester is full to the brim of independent restaurants, with nearly all cuisines covered!
For restaurants in Gloucester Docks when the sun is shining, there is no better place to be than Greek on the Docks. You will also find Warehouse 4, which is Gloucester Brewery's Tap Room with various food trucks to whet your appetite.
Viet Yummy can be found on Westgate Street, a new, independent, and authentic Vietnamese Kitchen, with a mouthwatering menu.
If you are looking for more of a lunch or a light bite, head to Guru Coffee House or Sowl Fuud which is a vegan takeaway.
In short, Gloucester is full to the brim of anything and everything from paninis and baguettes, through to bespoke tasting menus and local produce, crafted into the most delicious of dishes.
Whatever your favourite dish, you are sure to find it in Gloucester.
---
Discover more at www.visitgloucester.co.uk