Day trip to the Forest of Dean & Wye Valley from Cheltenham
Located a short 30 minute drive from the Regency town of Cheltenham, the Forest of Dean & Wye Valley is a great choice for a day out whilst on a Cheltenham staycation...
Dean Wye has acres of ancient forest and plenty of space to roam free. Visit the Forest of Dean and Wye Valley for woodland walks and outdoor activities, off-road cycling, unique attractions and more castles than anywhere else in the UK.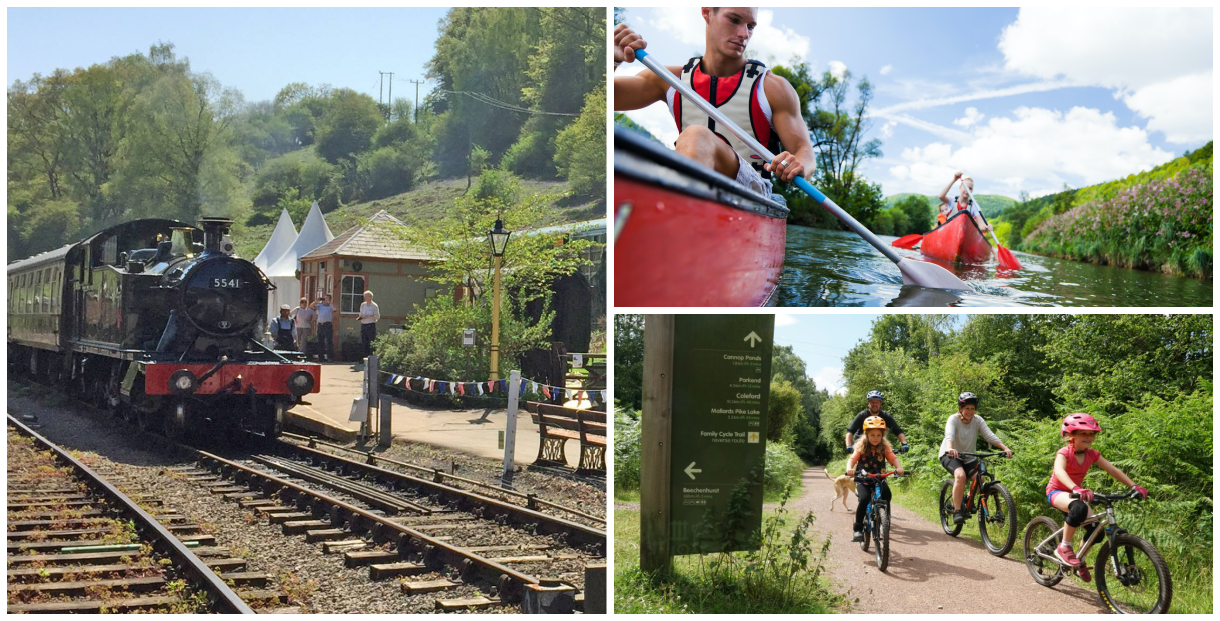 Things to do in the Forest of Dean and Dean Wye
Head to the magical Puzzlewood where Star Wars and Merlin have been filmed, take a steam train ride on the Dean Forest Railway or head underground to the ancient Clearwell Caves.
Stop at one of the Forestry England sites for a picnic or explore the hundreds of miles of foot and cycle paths ideal for families looking for a gentle stroll or hikers looking for long distance paths including the Forest of Dean Sculpture Trail and the Family Cycle Trail. This ancient forest and wild river valley offer visitors a chance to recharge their batteries, get off the beaten track and escape the everyday.
The dramatic Wye Valley is to the north and west of the Forest of Dean and provides visitors with some of the best viewpoints in the UK. Head to SymondsYat Rock for breathtaking views over the valley below, then enjoy the riverside pubs nearby with canoes and kayaks for hire and even boat tours down the Wye.
Market towns including Ross-on-Wye and Coleford are ideal for shopping and sightseeing or head to one of the many dramatic castles or the awe-inspiring ruined abbey at Tintern along the River Wye. This whole area is rich with history and culture, attractions and activities and plenty of outdoor adventure for all ages.
This stunning area is to the west of Cheltenham and within easy reach for a day out or for a longer stay enjoying both rural and city exploration. The Forest of Dean can be reached in around 30 minutes from Cheltenham. There are train stations at Lydney and Chepstow and there are buses into the Forest taking in many of the key areas for tourists.
Discover more at Visit Dean Wye - www.visitdeanwye.co.uk
For specific information check out the following helpful guides...
Things to do in the Forest of Dean and Wye Valley
Walks in the Forest of Dean and Wye Valley
Places to Eat in the Forest of Dean and Wye Valley
Experiences in the Forest of Dean and Wye Valley