15 reasons to visit Gloucester during your staycation in Cheltenham
With just over five miles separating the Regency town of Cheltenham and the historical city of Gloucester, there are many reasons why you should include a day trip to Gloucester during your staycation in Cheltenham. Or perhaps extend your stay, and enjoy a twin-destination short break in Gloucestershire!
From the breath-taking Gloucester Cathedral to waterside adventures and little hidden gems loved by locals, below we've shared Gloucester BID's top 15 reasons why you should visit Gloucester during your staycation in Cheltenham…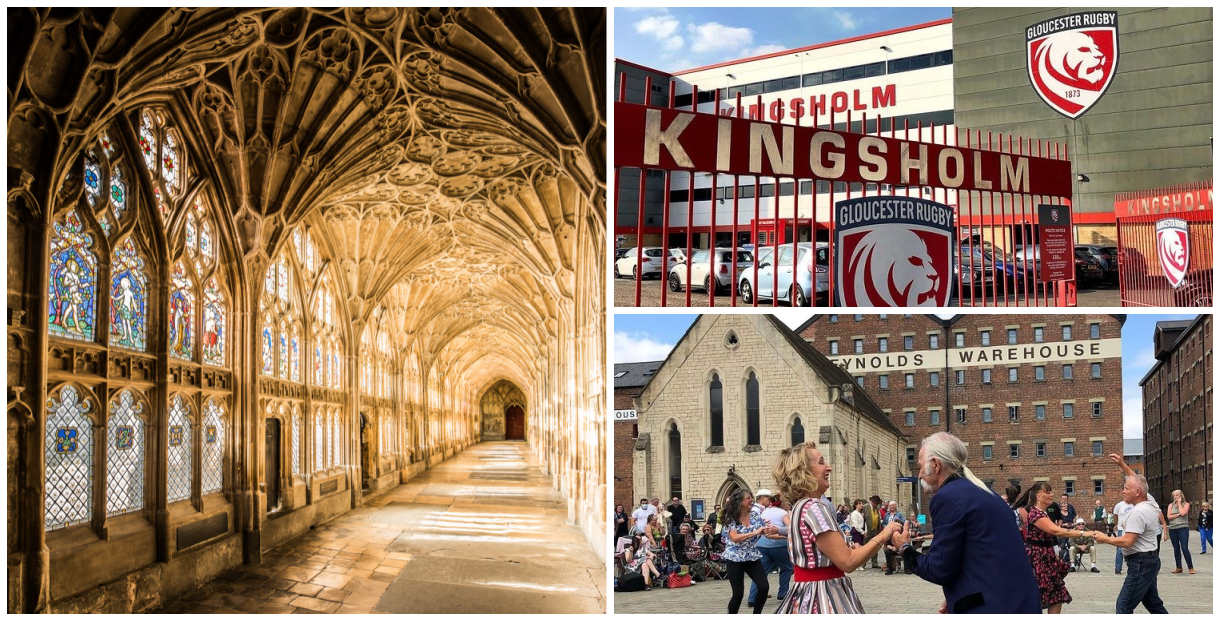 1. See the wonder of Gloucester Cathedral
Gloucester Cathedral is one of the finest medieval buildings in the country. See the tomb of Edward II, Robert Curthose's monument and some of the most important stained glass in the country – including the spectacular Great East Window. The extraordinary fan-vaulted medieval cloisters are famous throughout the world.
As Gloucestershire's most famous film location, the cloisters are an unmissable sight, they were transformed into the hallowed corridors of Hogwarts for the filming of Harry Potter and the Philosopher's Stone, The Chamber of Secrets and The Half Blood Prince.
Find out more here: gloucestercathedral.org.uk
2. Cheer on a rugby team at the Kingsholm Stadium
The home of Gloucester Rugby, Kingsholm Stadium hosts regular matches between the Cherry and Whites and other premiership teams.
Find out more here: gloucesterrugby.co.uk
3. Enjoy one of Gloucester's many festivals
From the annual dress-up Gloucester Goes Retro Festival to the nautical celebration of the Gloucester Tall Ships Festival, you'll find a number of fantastic events on throughout the year in Gloucester. With 30+ major events and annual festivals in neighbouring Cheltenham, there truly is something happening for all ages, year-round in this area!
Plan your visit around these festivals here: Visit Gloucester Festival Guide & Visit Cheltenham Festival Guide

Image of Gloucester Docks - Jon Rees
4. Learn about the Romans in Gloucester Museum
You'll find a fascinating range of relics in the Museum of Gloucester ranging from the Romans and Medieval to Victorian times. It also houses the Tourist Information Centre where you can find out about other local places to visit.
Find out more here: museumofgloucester.co.uk
5. Enjoy an unforgettable water adventure on the Gloucester and Sharpness Canal
They are plenty of amazing things to do in Gloucester Historic Docks for visitors, including the National Waterways Museum and a trip on the Gloucester and Sharpness Canal. Boat trips on the historic Queen Boadicea II, Dunkirk Little Ship run daily Tuesday to Saturday between April and October.
Find out more here: https://canalrivertrust.org.uk
Or for adrenaline junkies, why not try a 'no experience is necessary' paddle boarding adventure promised by Discover Paddling. Choose from an, 'epic session of fun, games and challenges; or a 'meander along the stunning waterways to relax and unwind.'
Find out more here: discoverpaddling.co.uk
6. Visit the wonderfully quaint Beatrix Potter Museum
The Tailor of Gloucester Museum is a delightful museum dedicated to Beatrix Potter and her magical work. The museum houses many different, donated items from all ages including a replica of The Tailor of Gloucester's waistcoat.
Find out more here: tailor-of-gloucester.org.uk/museum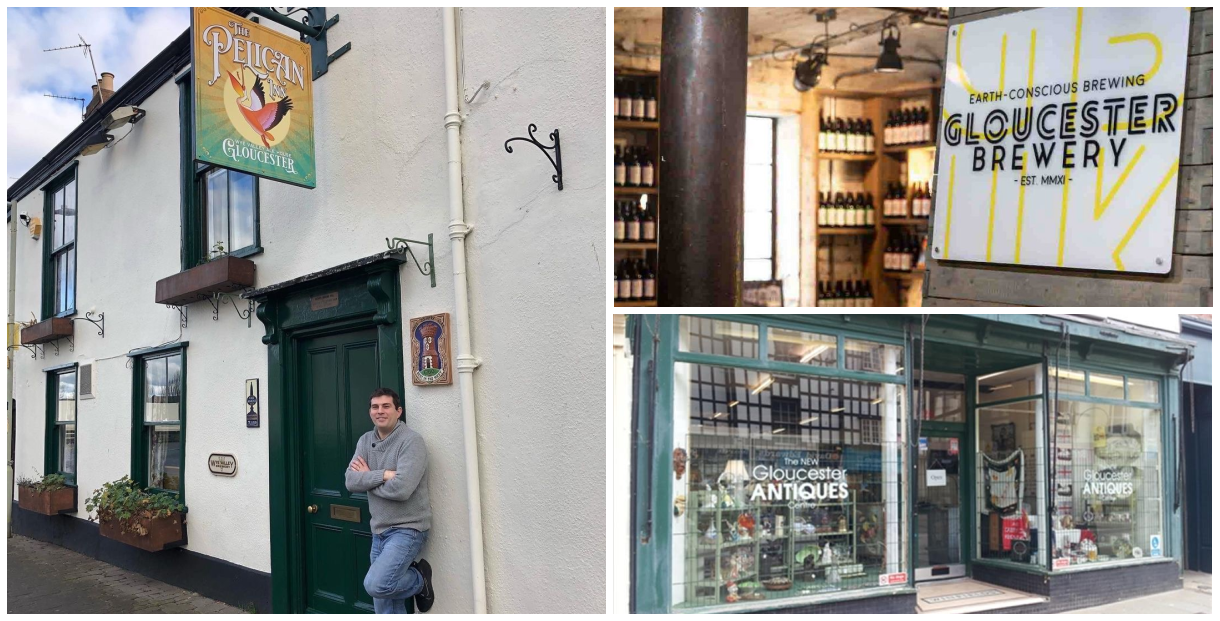 7. Discover new beers at the breweries and ancient pubs
Gloucester has several historic pubs and inns along with some new breweries to try. We recommend The Gloucester Brewery with Gloucestershire's first self-serve bar, it also has a large taproom and shop.
Find out more here: www.gloucesterbrewery.co.uk
Older inns to try include the current CAMRA Gloucestershire pub of the year, The Pelican Inn. In a building dated from at least 1679, it welcomes beer lovers with its 8-10 cask ales, 4 craft keg and large collection of cans.
Find out more here: pelicangloucester.co.uk
8. Walk the historical streets and alleyways and stumble upon some surprises
With history spanning across 2,000 years, 'Glevum' was first established as a Roman fort in 48AD. Gloucester has since been an important centre and remnants of historical eras from the Saxons to the Victorians can be discovered. Take a guided tour with Gloucester Civic Trust or Gloucester Cathedral or use the GloucesterTours.co.uk app to learn much more about the city's history.
Find out more here: Visit Gloucester: Guide to Heritage & History
9. Browse in the Aladdin's Cave of the Gloucester Antiques Centre
This huge shop attracts visitors from far and wide as it has antiques and collectibles for everyone. Collectors can find period and 20th century furniture, fine ceramics, glassware, gold, silver and antique jewellery, coins, trading cards, stamps, vinyl records, postcards, toys, quality antique clocks and watches. The expert staff are on hand to offer help and advice as you browse at the Gloucester Antiques Centre which is in one of Gloucester's most historic buildings on Westgate Street.
Find out more here: gloucesterantiquescentre.com

10. Pick up some bargains at Gloucester Quays
If antiques are not your thing, how about designer bargains? Gloucester Quays Outlet Shopping offers up to 70% off at over 50 stores, plus food and drink and great events for all ages. Find great deals in top brand stores including, Joules, Dune, Saltrock and Radley London and then relax in one of the many quayside restaurants.
Find out more here: gloucesterquays.co.uk
11. Eat in some of the best independent restaurants in Gloucester
It's great to find a unique place to eat out and you'll find diverse cuisine in Gloucester. Gloucester BID recommend:
Tiger's Eye, which is Gloucester's first 'Hot Rock Grill' restaurant occupying the two floors of Old Bell, a listed Inn dating back to the 17th Century. You'll find creative pan-Asian ideas plus meat and fish grilled on hot rocks at the table.
Find out more here: tigerseyerestaurant.co.uk
Hooker and Eight which offers Gloucester's finest handmade pizza. The menu includes an imaginative range of pizza which you can enjoy while surrounded by rugby memorabilia.
Find out more here: hookerandeight.com
12. Enjoy a dockside stroll after dining at a waterside restaurant or café
On a sunny day, you can feel like you're abroad in Gloucester Docks. Surrounded by 15 Victorian warehouses, Britain's most inland port has become a popular destination. You'll find a wealth of restaurants to dine in and enjoy the views. The Gloucester BID favourites include:
Greek on the Docks where you'll find classic Greek fare served in a comfortable, waterfront setting with a full bar & outdoor seating. You almost feel like you're in Greece!
Find out more here: greekonthedocks.co.uk
Settebello, an authentic Italian trattoria and cocktail bar in the heart of the historical Gloucester Docks. This is an independent restaurant bringing Southern Italy to you!
Find out more here: settebello.co.uk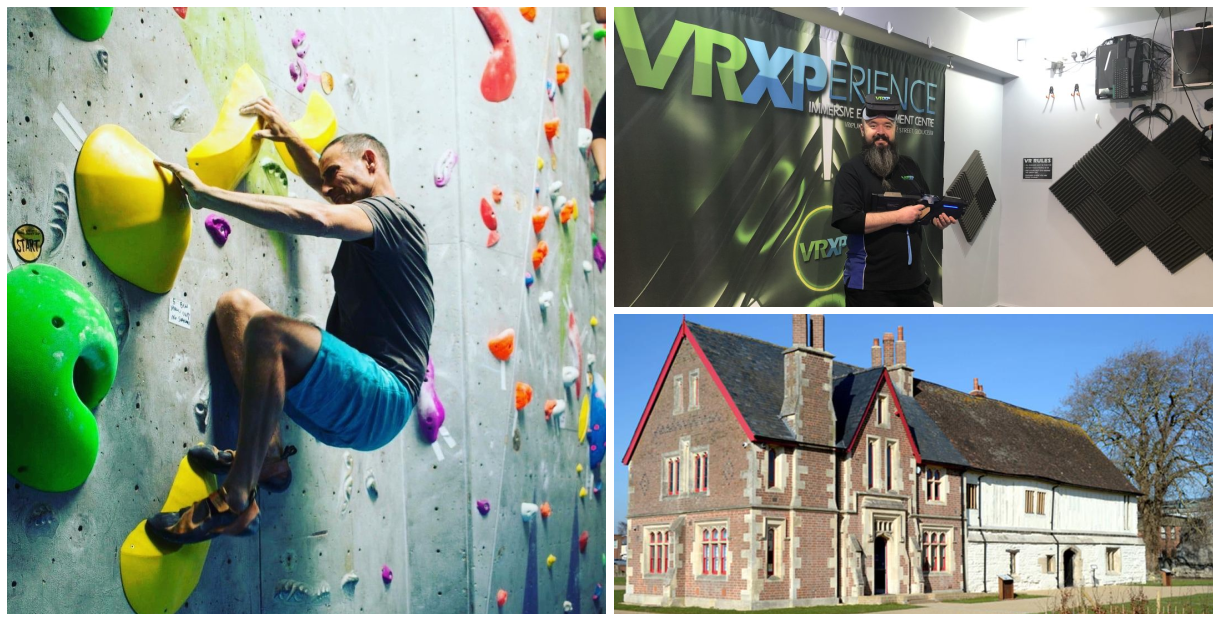 13. Encounter a virtual reality experience at the VRXperience Centre
The independently run VRXperience offers a fun, exciting and a very accessible experience for people of all ages and abilities. From soothing experiences and trying out the latest VR games, right through to thrilling fully immersive competitive VR racing, roller-coasters and working together in VR Escape Rooms, there is something for everyone.
Find out more here: vrxperience.uk
14. Get fit at the Gloucester Climbing Centre
Housed inside a Victorian warehouse, discover Gloucester's Warehouse Climbing Centre for indoor caving, climbing and bouldering. Across the five floors you'll also find a café, a Kids Zone, party rooms, shop along with changing rooms.
Find out more here: the-warehouse.co.uk
15. Discover a medieval priory
The Llanthony Secunda Priory in Gloucester is the remains of a once large and important Augustinian Priory which was founded outside the city walls in 1136. You can explore these ruins all year round.
Find out more here: llanthonysecunda.org
---
For more helpful guides to help you plan your staycation in Cheltenham and day trip to Gloucester keeping scrolling! If you wish to stay in a hotel located between the Regency town of Cheltenham and the historical city of Gloucester we recommend Jury's Inn on the Gloucester Road and The Greenway Hotel & Spa on the Shurdington Road.