20+ stag do ideas & activities in Cheltenham & Gloucester
We've rounded up the best stag do ideas for an unforgettable stag weekend in Cheltenham and nearby Gloucester. From stag night dinner and drinks, sports and activities to unique adventures. There's sure to be something to please every stag and his best mates!
If you're the best man struggling to get organised, or a fellow groomsman scouting for fun stag do activities, this guide is for you! Let us help you give him a send-off to remember.
The city of Gloucester and The Festival Town of Cheltenham are located just five miles apart, with great rail and bus connections. We believe the two destinations offer all the ingredients for an unforgettable stag weekend. Read on to see why!
For hen do ideas check out - Ladies weekend in Cheltenham & Gloucester
---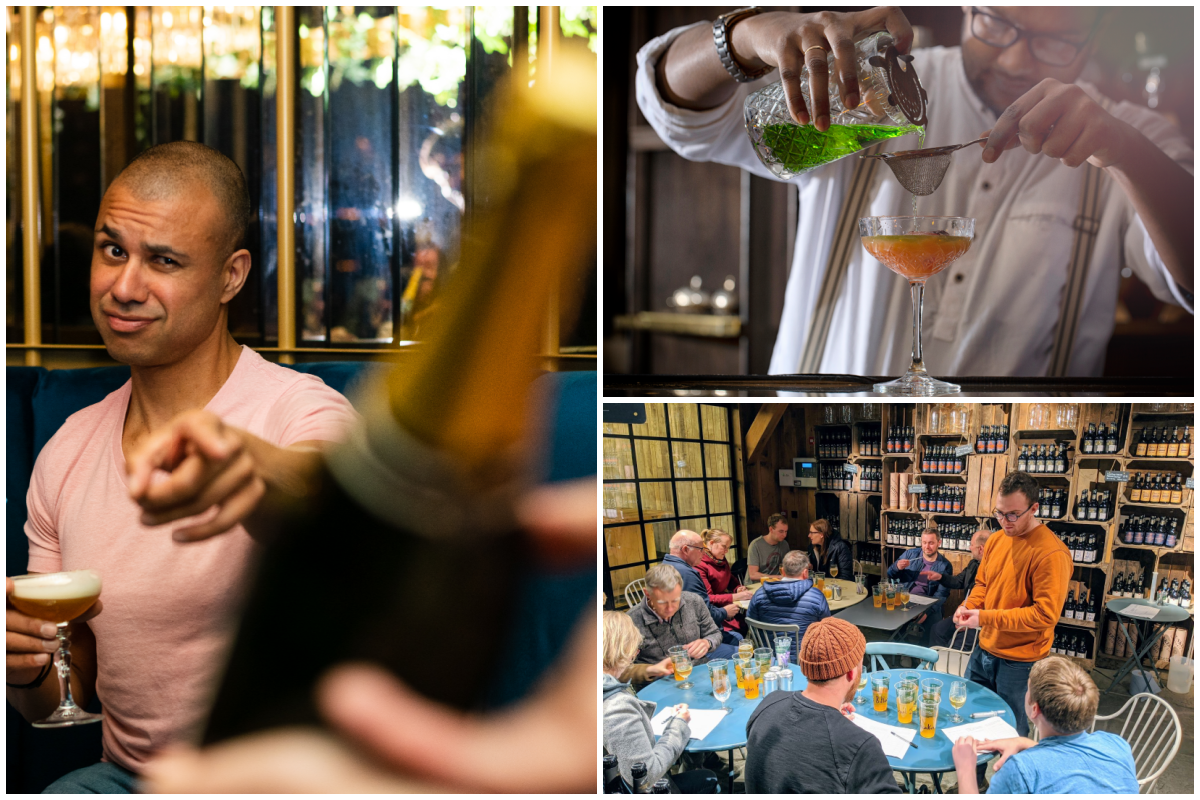 Image - Imperial Haus (left), Memsahib gin masterclasses (top), cider tasting at Dunkertons (bottom)
Bars & breweries ideal for stag nights in Cheltenham & Gloucester
A stag weekend needs stellar nightlife. Don't stick to the familiar trappings of high street pubs and clubs when there are so many unique venues to explore whilst your stag party enjoys a tipple or two.
47 - 49 Promenade, Cheltenham GL50 1PJ
The Memsahib Lounge is a first of its kind. Crafting their own gin, they have developed 16 varieties of gin recipes by infusing them with the rarest teas and botanicals.
Memsahib's cater for private dining, meeting spaces in their bar and lounge as well as drinks reception events and exclusive hire for private parties and dinner.
Throughout the year they also play host to various masterclasses, where you can learn to infuse your own gins and enjoy your own bespoke drink.
Dowdeswell Park, London Road, Cheltenham, GL52 6UT
If your stag is more of a cider drinker than a lager fan then Dunkertons Cider & Taproom could be the place for his stag night.
With a wide array of award-winning organic ciders, as well as a variety of other alcoholic and soft drinks, there is sure to be something to suit all tastes.
There are also frequent tours and tastings held on-sight, as well as events and live music to enjoy in the sunshine or around one of their many outdoor fire pits. Dunkertons has an atmosphere that is uniquely its own.
Cheltenham Brewery Quarter & Gloucester Quays
With locations in both Cheltenham and Gloucester, Brewhouse and Kitchen is a small, independent pub group with a passion for craft beer.
They are so dedicated to craft beer that they brew a range of core and seasonal beers, on-site, in their very own micro-brewery. Each range is as unique to the pub as its Head Brewer is.
If you are inspired to discover more about brewing, check out their Brewery Experience Days. You get to brew, taste lots of beer, and take home a mini-keg of beer at the end of the day. What's not to love?
Fox's Kiln, West Quay, The Docks, Gloucester GL1 2LG
Gloucester Brewery was founded in 2011 on a love of beer, and a vision for creative, sustainable brewing.
Their popular brewery tours run twice a month and give a fantastic insight into the beer making and distillation process. Starting with a beer in their taproom, you'll head on a guided walk through the onsite brewery where you can quiz the brewer on all things beer related.
56 Andover Road, Cheltenham, GL50 2TL
Who says stag weekends can't be a classy affair?
The Wine Library at Tivoli Wines in Cheltenham opened in November 2017 to give people the chance to taste and learn about wine in a relaxing atmosphere.
With as many as 20 wines to sample from state-of-the-art Enomatic wine dispensing machines, you and your friends can chill out on Chesterfield sofas and enjoy the tastes at your own pace.
For more inspiration check out - Pubs & bars in Cheltenham | Pubs in Gloucester
---

Images - Street art and delicious Sri Kankan street food at The Coconut Tree (left), BAO Master's feast at BAO & BBQ (top), burger & fries at Hub Box Cheltenham (bottom)
Stag weekend dining out ideas in Cheltenham & Gloucester
Of course, drinking on an empty stomach is a recipe for disaster. So make sure your stag weekend has plenty of pit stops to load up on delicious nibbles and carbs!
59 St Paul's Road, Cheltenham, GL50 4JA
If you prefer your dining experiences to be chilled out, cheap and charming then The Coconut Tree in Cheltenham is the perfect place to fill up during your stag night.
The restaurant, with its exposed brickwork and street art décor has a cool, laid back atmosphere that is popular with groups and celebrations with no need to pre-order.
Enjoy Sri Lankan hospitality and cuisine with a medley of delicious tapas dishes, coupled with a delectable menu of sweet and fiery 'Cocotails', inspired by the rich flavours of Sri Lanka.
3 Regent Street, Cheltenham, GL50 1HE
Bao + BBQ was born out of the fusion of fiery Texan BBQ and Taiwanese cuisine. Diners can expect smoked meats, steamed Bao buns and cocktails all served in a stylish setting.
Each cut of beef is sourced from long-horn, free-roam Gloucestershire cattle. With the help of award-winning butchers, every cut has the PGI (Protected Geographical Indication) mark. So you know you'll be getting some of the best Gloucestershrie beef money can buy.
The Brewery Quarter, Cheltenham, GL50 4FA
This is the place to head to for award-winning burgers, hand-cut fries, and crafted drinks. Hub Box is a laidback place to meet and eat. Prime cut or plant-based, it's all about tasty food done the right way, making good times really mean good!
49 Westgate Street, Gloucester, GL1 2NW
If you're on the lookout for a crowd pleaser, then you can't go far wrong with pizza, and at Hooker & Eight they take serious pride in their dough.
From their slow cooked sauce, 48 hour proofed hand-stretch dough to their home made secret recipe meatballs, each pizza is crafted with love and care. All served in a buzzy, sit-down pizza parlour packed with rugby memorabilia and homely vibes.
For more inspiration check out - Restaurants in Cheltenham | Restaurants in Gloucester
---

Images - Axe throwing at Eat Axe Sleep (left), Escape Rooms Cheltenham (top), Ninja Warrier Gloucester (bottom)
Stag weekend activities in Cheltenham & Gloucester
A staple of any good stag party is an itinerary of interesting and memorable activities. Luckily, Cheltenham and Gloucester have a whole host of things to do to keep your stag party entertained!
52 Winchcombe Street, Cheltenham, GL52 2ND
Eat Sleep Axe is the perfect place for your stags to channel their inner Vikings!
The sport of axe throwing has a long history, (back to the 3rd Century) and today there are axe throwing leagues, competitions and outdoor ranges around the world.
More recently, axe throwing indoors has become popular, and Eat Sleep Axe provides a unique experience in Cheltenham, in a suitably urban venue.
The Brewery Quarter, Cheltenham, GL50 4FA
If Eat Sleep Axe hasn't already quenched your thirst for throwing things at padded boards then you can keep the party going at Flight Club, Cheltenham's new social darts venue.
Flight Club has reinvented darts for the twenty first century, housing it in a spectacular setting; serving food and cocktails, with an incredible 'Brunch Social' running every weekend.
With your own semi-private oche playing area and event options and packages for up to 37 people Flight club is a great spot to unwind and compete with your mates.
The Brewery Quarter, Cheltenham, GL50 4FA
Just across the way from Flight Club is Mr Mulligans, the leading operator of adventure golf across the UK.
With two epic adventure golf courses, electro-darts, shuffleboard and pool tables, plus a bar and restaurant, there is sure to be something to suit every stags interests.
52 Winchcombe Street, Cheltenham, GL52 2ND
Escape Rooms Cheltenham provides fun escape room challenges for teams of up to six players, who have to work together to solve all the puzzles and escape the room in under 60 minutes.
The unique Escape Room games are all created in-house by designers and reflect their Cheltenham base, so you will never play them anywhere else. Past themes have included GCHQ, Cheltenham Races and Paternoster (a Cheltenham-based thriller).
Upton Lane, Gloucester, GL4 0UT
Looking for something with a bit more punch for your stag do? Paintball Raiders are the most established paintball site in Gloucestershire with a reputation for quality and professionalism.
The games are varied and you'll be playing several over the course of the day. With short, action packed skirmishes in the form of village fight and capture the flag, as well as longer attack and defence games with multiple objectives. It's the perfect venue for some adrenaline fuelled stag do fun.
Metz Way, Gloucester, GL4 3DB
Ninja Warrior UK Gloucester is inspired by ITV's hit programme Ninja Warrior UK. Climb, balance, jump and swing across the Ninja Warrior obstacles or take on their short course time trial.
Ninja Masters is officially the "Big Kids" session at Ninja Warrior UK Gloucester usually running Monday, Friday and Saturday evenings and exclusively for people aged 16 and over.
For more inspiration check out - Things to do in Cheltenham | Things to do in Gloucester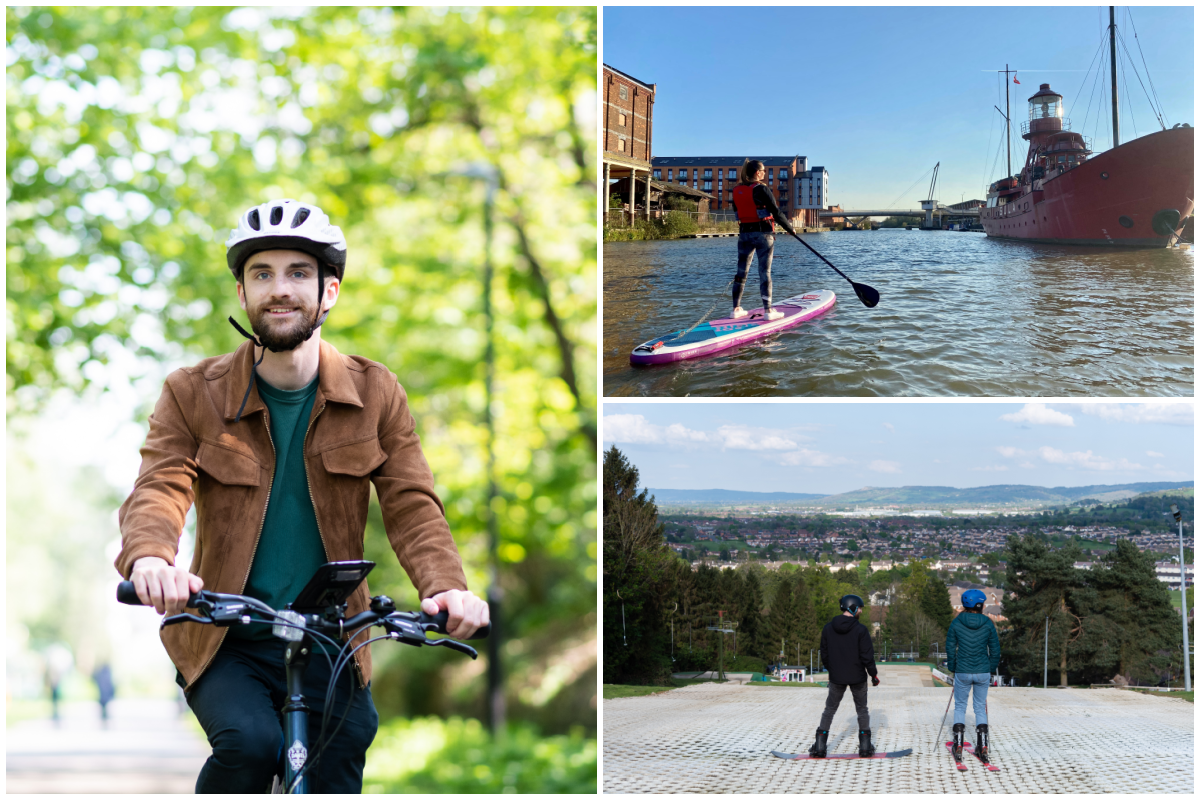 Unique adventures for stag weekends in Cheltenham & Gloucester
Your best friend is about to tie the knot and take on the adventure of married life. So, what better way to see him off than with a little adventure of your own? Both Cheltenham and Gloucester have great options for some off-kilter escapades....
The Nuttery, Notgrove, Gloucestershire, GL54 3BS
Nestled in the heart of the picturesque Cotswolds, Quad Quest offers eco-friendly electric quad biking for all ages. 'The Twister' package is a great option for adults and can be specially catered for stag dos and hen dos.
The package starts with a short introduction to the bikes and a safety briefing followed by a practice lap. The trek follows some picturesque parts of 'The Thrill' route and includes a few laps around their 'Twister' track. Fair warning, the Twister track can get extremely muddy in wet conditions!
Compass Holidays, telephone number - 01242 250692
Of course the best kind of adventure are the ones you chart yourself. So why not hire a bike and see where it takes you?
Compass Holidays has a great selection of bikes for short or long-term rentals; perfect for exploring the local spa town of Cheltenham and the nearby Cotswolds. Their bicycle fleet ranges from adult bikes and tandems and electrics. Great for getting you between activities or for general exploration.
Llanthony Warehouse, Gloucester Docks, Gloucester, GL1 2EH
Discover Paddling offer memorable kayaking, canoeing and paddle boarding experiences from SUP safaris, paddles to the pub and private group sessions bespoke to your stag weekend requirements.
Perfectly positioned in the heart of the Historic Gloucester Dock with easy access to transport links and local cafes and restaurants. You can be sure to relax and unwind as you meander along the stunning waterways enjoying a paddle with your best mates.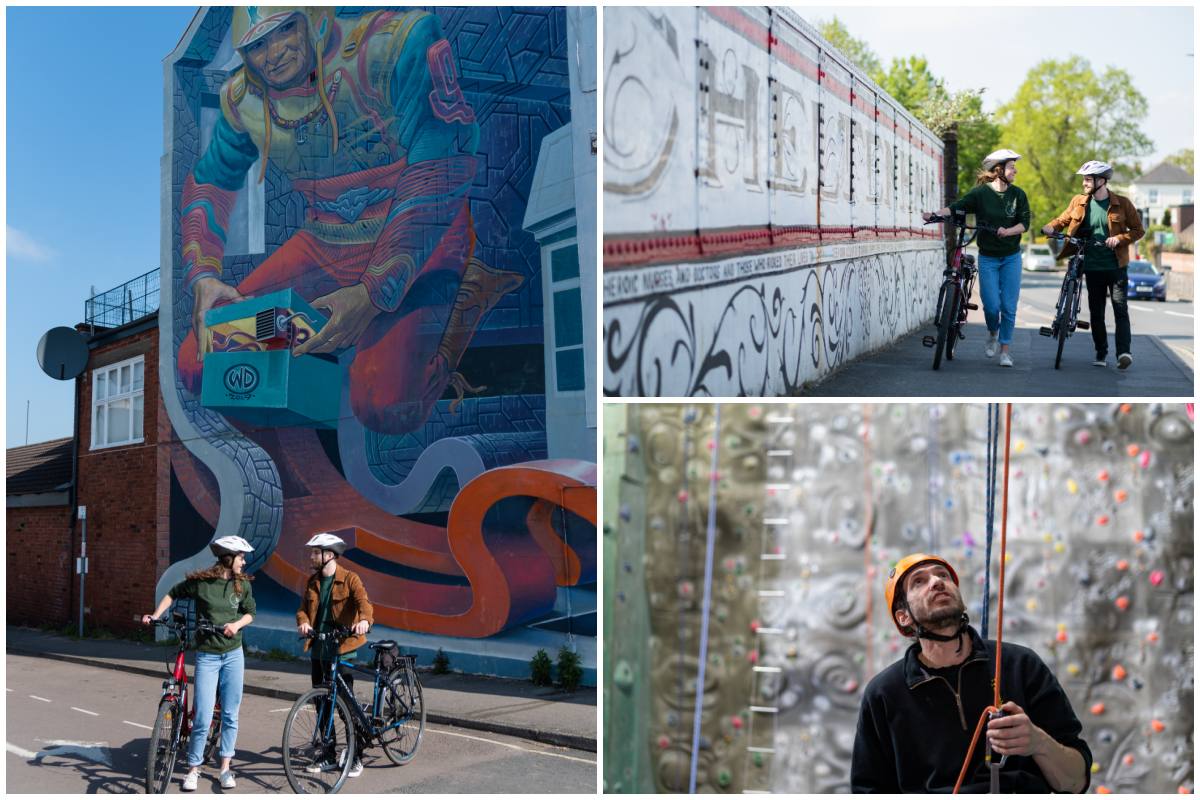 Images - Bike riding and street art in Cheltenham (left & top), climbing at The Warehouse Climbing Centre in Gloucester (bottom)
Matson Lane, Robinswood Hill, Gloucester, GL4 6EA
Gloucester Ski and Snowboard Centre is one of the longest outdoor artificial ski slopes in the UK for skiing and snowboarding fun. With options for group packs and coaching, and recreational practice for seasonal skiers.
Tubing is popular with all ages and does not need any previous experience to enjoy. The large inflatable rings can be spun and linked with others and there are several options for large parties.
Alongside the ski slopes you can also enjoy golf, squash, sauna, Jacuzzi and a leisure pool. As well as Battle Hill, a totally wireless outdoor laser tag facility that offers all the thrills of paintball without the bruises.
Parliament Street, Gloucester, GL1 1HY
Housed in an old Victorian Warehouse, near Gloucester's Historic Docks, The Warehouse Climbing Centre has recently completed a half million pound refurbishment project.
Spread over five floors, The Warehouse offers over 50 lower offs providing over 120 routes.
Scale the full heights in the Main Arena with top rope, lead and auto-belay climbing up to 13m, or leave the ropes behind and experience the dynamic low-level walls across their two bouldering rooms.
---

Images all feature Cheltenham Racecourse
Concerts, comedy nights & sports events ideal for stag weekends in Cheltenham & Gloucester
Whether it's live music, laughs, sporting action or something in between your stag group is after Cheltenham and Gloucester have alot to offer year-round.
Evesham Road, Cheltenham, GL50 4SH
The home of jump racing hosts world class racing meets throughout the year from New Years Day to The International in December. The most well known is of course The Cheltenham Festival, featuring the Gold Cup in March. You won't regret organising your stag do around one of the racing events, the shared sense of enjoyment and thrill of watching the racing action will be an experience your group of friends will never forget.
The Centaur at the racecourse also hosts live concerts and top comedy acts thoroughout the year, past acts have included the likes of UB40 and Jon Richardson. Check out the box office when planning your stag do in Cheltenham.
Imperial Square, Cheltenham, GL50 1QA
Prefer the sharp wit of a stand-up comic to the melodic tones of a live band? The Cheltenham Town Hall is the hotspot for comedy in Cheltenham and is home to an impressive year round programme of major festivals, entertainment, exhibitions and functions.
Past acts performing at the historic site have included Jason Manford, Carl Hutchinson, Sara Pascoe and Ed Gamble. Be sure to book early to secure your tickets.
23 Eastgate Street, Gloucester, GL1 1NS
In the mood for some great music to accompany your stag party? Then Gloucester Guildhall is the place to be.
The Guildhall has a well-earned reputation as 'The County's Liveliest Venue'. It has played host to some of the finest names on the national music circuit including Radiohead, Muse, The Subways, Lily Allen, and many more. Check out their website to see what gigs are coming up.
Kingsholm Road, Gloucester, GL1 3AX
Even if you aren't a big rugby fan, it's hard to beat the atmosphere of a live game.
Founded in 1873 and, with its Kingsholm Stadium home situated near the heart of the city, the club enjoys an enviably close relationship with its supporters. Gloucester is a true rugby city, and the passion and excitement of the crowd are palpable at every match. A fantastic way to start or round off a jam-packed stag weekend.
---
Looking for more inspiration and ideas for a stag weekend? See our guides featuring Cheltenham festivals & major events | Cheltenham shows, concerts & comedy | Cheltenham accommodation and What's On this year in Gloucester.