Winter weekend break in Cheltenham
Published December 2022
We recently had the pleasure of hosting a trip for three travel writers, to showcase our winter weekend break offering in Cheltenham. During their time with us we visited some of the best hotels, restaurants, attractions and hidden gems; and introduced them to some of the local annual festive events which make our Regency town a unique place to visit at this time of year.
Whether you're planning a day trip or weekend break in Cheltenham this winter we hope you'll find our itinerary below useful.
Day one – Winter weekend break in Cheltenham Spa
Our first stop was a visit to Holst Victorian House, located on the edge of Pittville Park. Cheltenham's only Victorian home and the birthplace of famous composer Gustav Holst in 1874. Here we watched a fascinating short video which shared the story of Holst and lives of some of the other past inhabitants, including Holst's parents, both in Victorian and more modern times.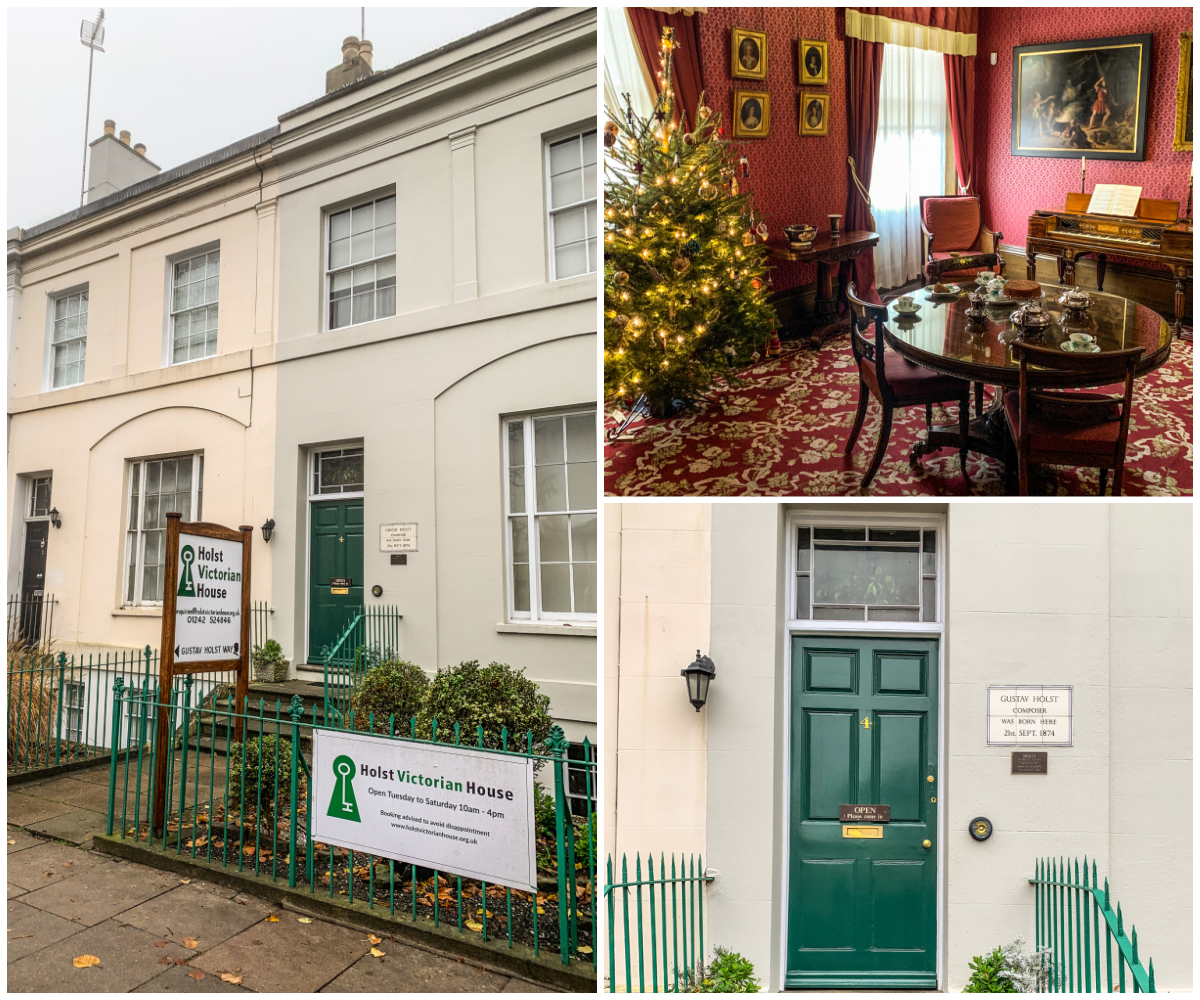 After we explored the house, which is a time capsule of 19th century life with a working Victorian kitchen, bedroom, scullery, nursery and music room, complete with the piano on which Holst composed The Planets.
Next we took a short stroll to The Brewery Quarter, Cheltenham's town centre entertainment complex and home to a vast choice of well-known restaurants, bars and indoor attractions - Hollywood Bowl, Mr Mulligan's indoor golf, Cineworld, Escape Hunt and Flight Club, all perfect for escaping the cold weather on winter days.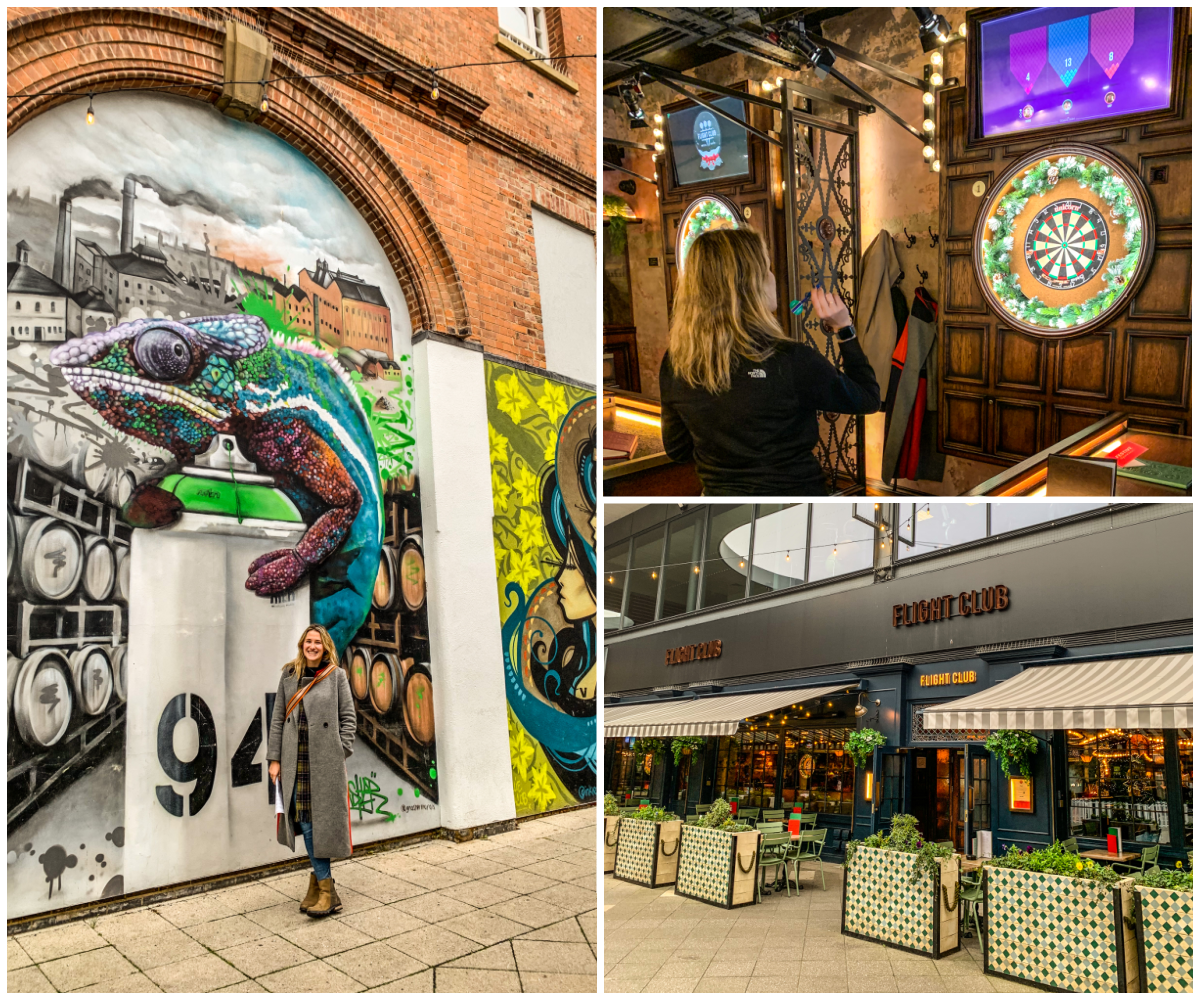 We spent an enjoyable hour throwing darts at the home of social darts, the Flight Club, which is great fun whether you're an expert dart player or a novice, with different levels of games to experience. The latest digital technology is used to capture video highlights, so you can relive the highs of your game, and critique your dart skills.
Before lunch we took a stroll through the Regency town centre, along the Promenade and called into one of Cheltenham's newest stores – Hatchards. A well-known store for book fans, due to its impressive claim to fame of being London's oldest bookshop. It was established in 1797 in Piccadilly and opened here in October 2022, just in time for the Cheltenham Literature Festival.
As you step into the traditional bookstore it feels like you've stepped onto a movie set, with thousands of books stretched out in front of you covering every genre from classics to crime, fantasy, history, art, biographies and more. We could happily have spent a few hours browsing but it was time for our next stop of the day - the magnificent Queens Hotel.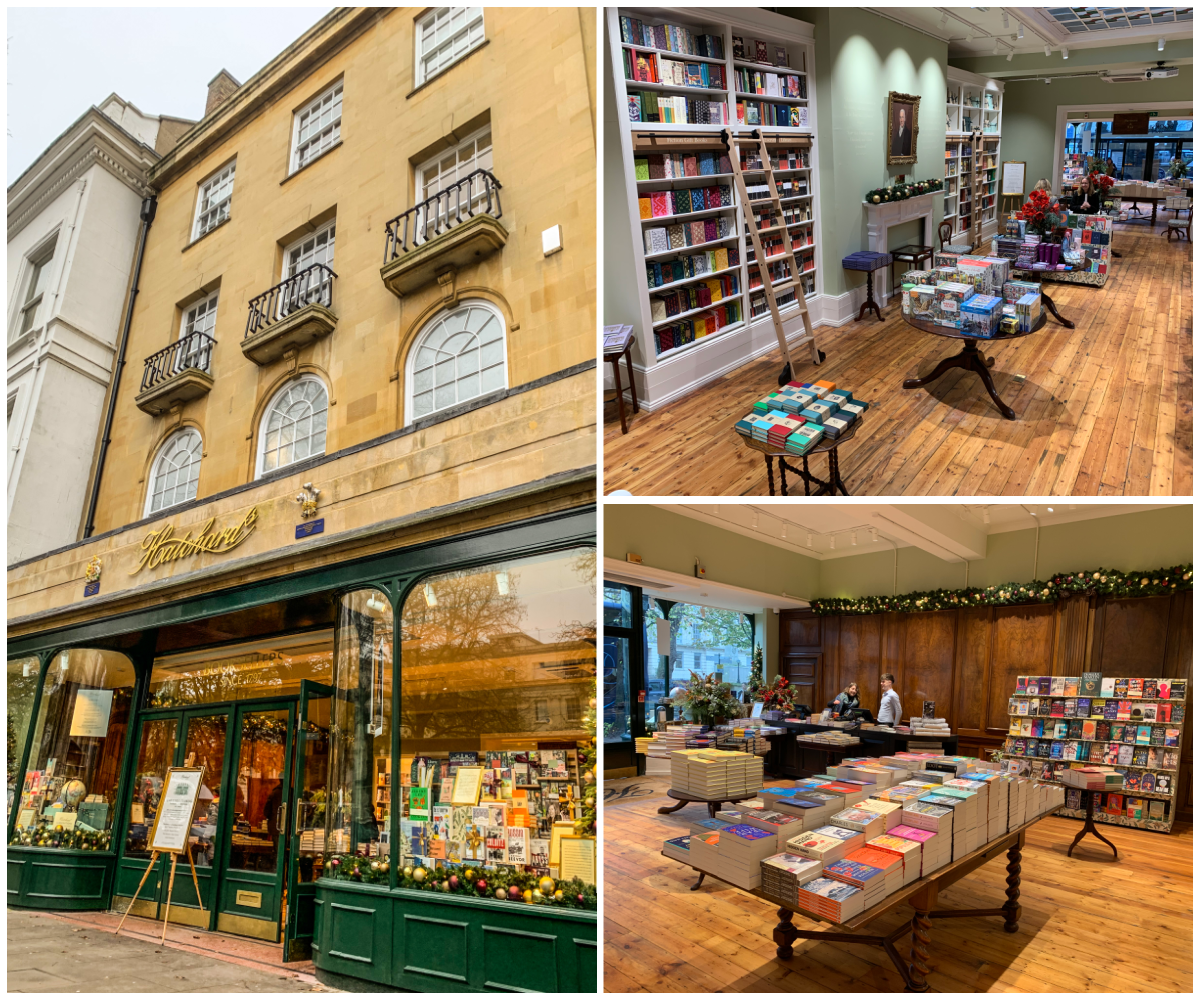 The Queens Hotel is an elegant building, described as one of the noblest of its kind in Europe. It opened its doors in 1838 on the site of the original Sherbourne Spa, and was popular with wealthy visitors and royalty who visited to restore, renew and revive. It was named in honour of Queen Victoria whose coronation fell in the same year.
Overlooking the Imperial Gardens it provides the perfect base for a town centre short break in Cheltenham, just mere steps away from many boutique stores, bars and restaurants.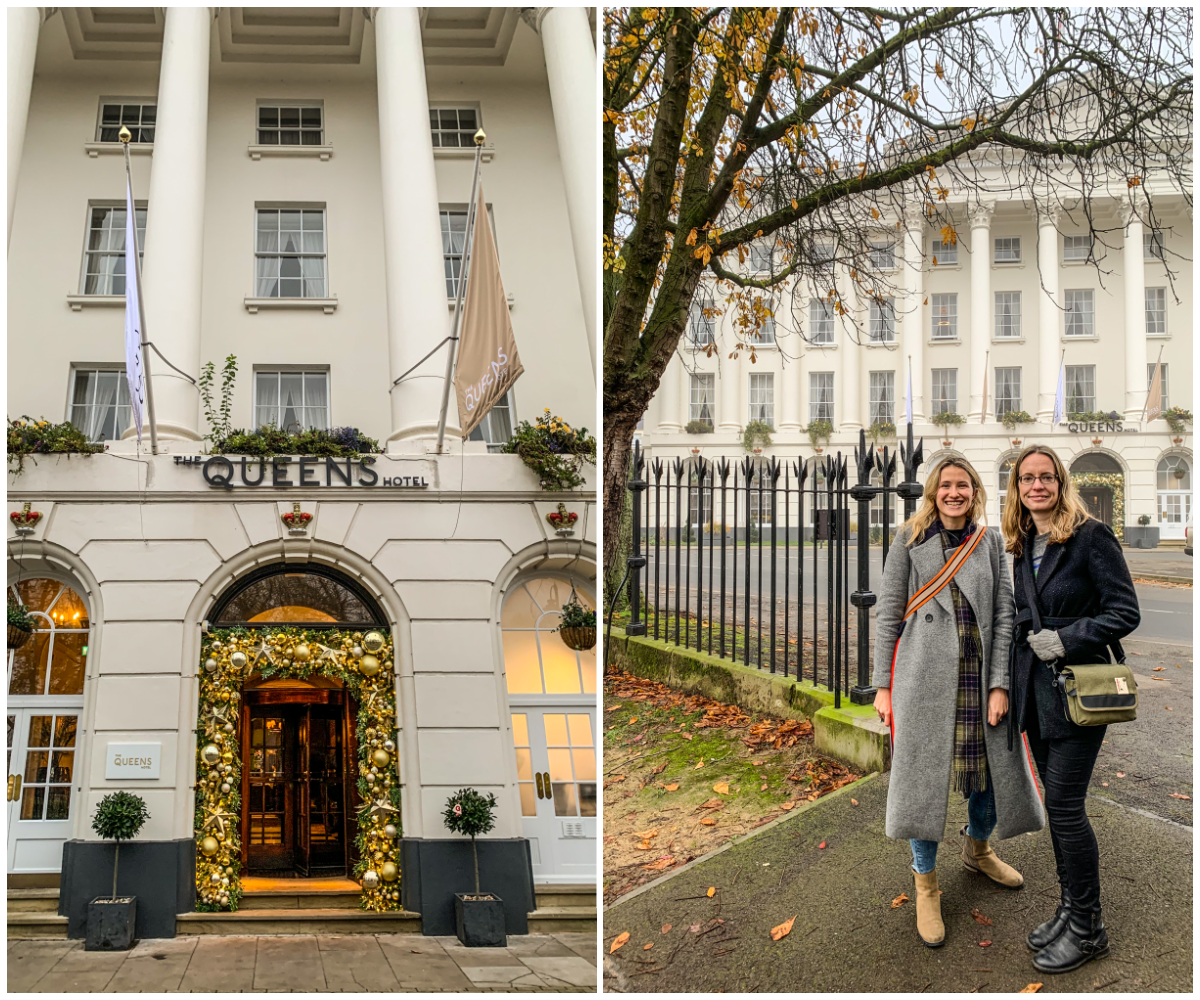 The hotel is 'dressed to impress' at Christmas, with a grand entrance and magical Christmas tree creating a wow moment as you enter via the revolving door. It's worth popping up the stairs to admire the iconic listed staircase, which provides the backdrop to a unique Instagrammable selfie!
The onsite restaurant Victoria's serves delicious British fine dining cuisine with international flair, in a relaxed and contemporary dining room.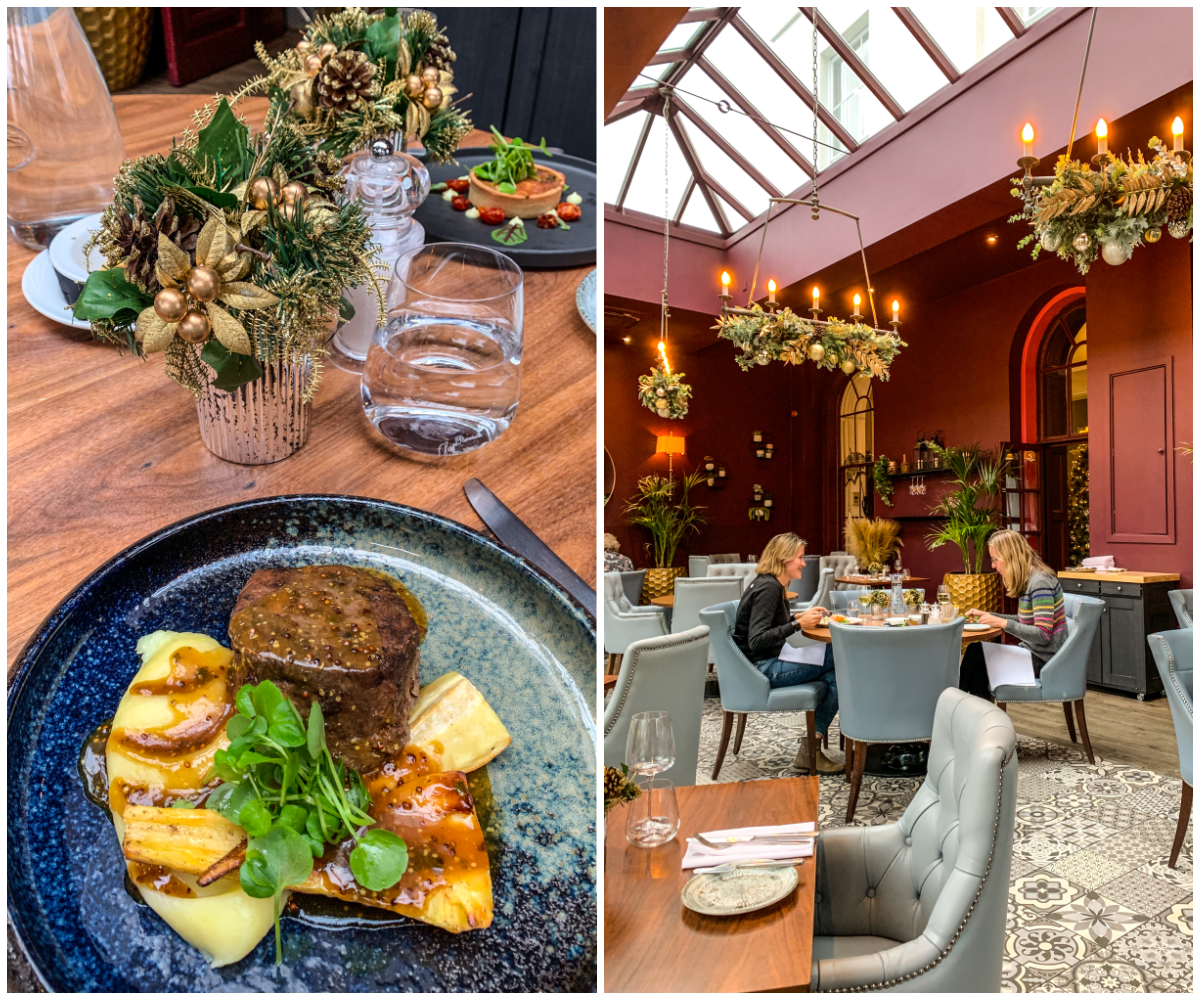 Our next stop was the Garden Bar in Imperial Gardens, which has been transformed into an Après Ski Bar for the festive season. Here we warmed up with mulled wine and hot chocolate, whilst swinging in the chair lift! At weekends the Garden Bar hosts free live music.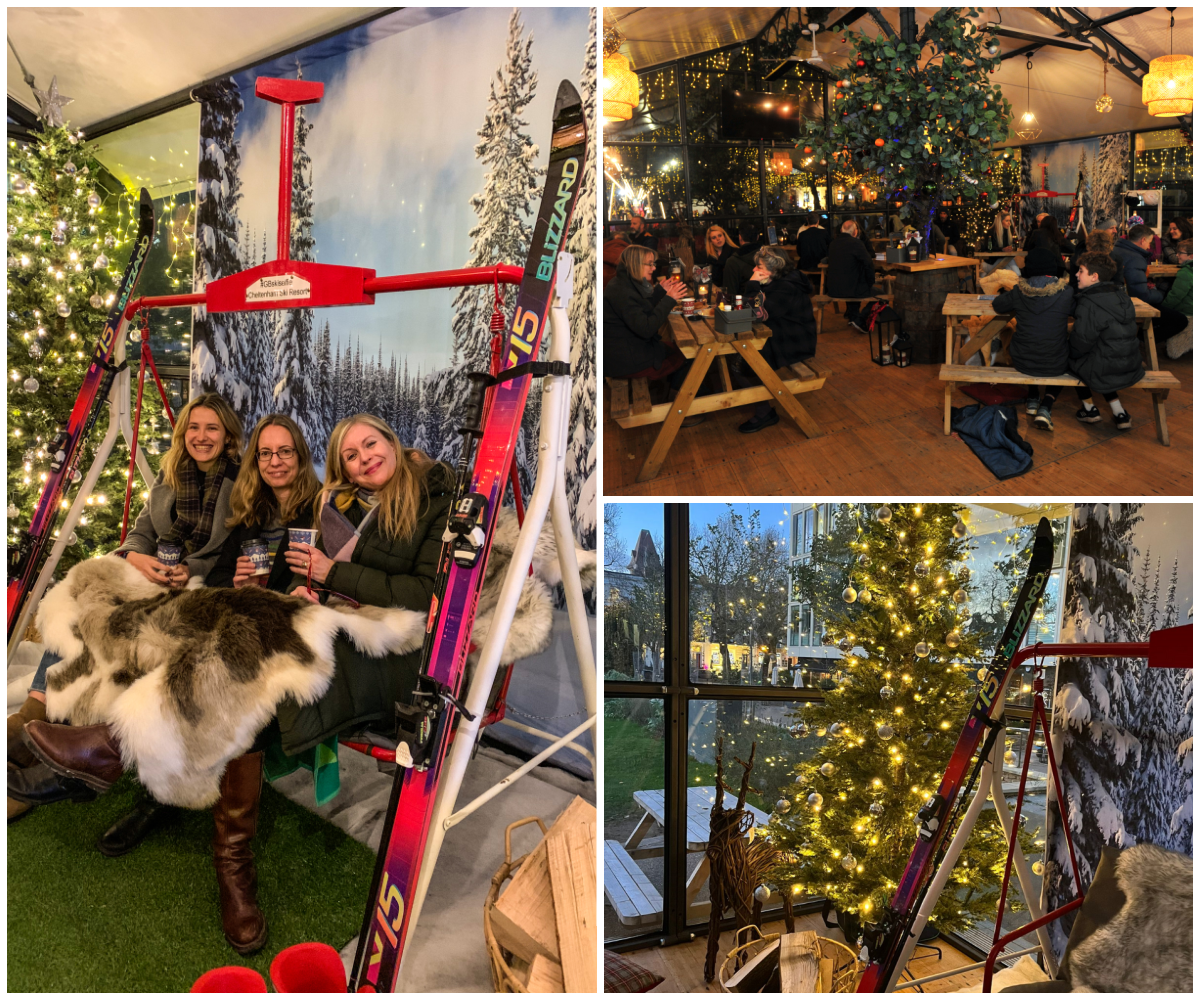 Meet our three travel influencers - right to left - Claire from Weekend Candy, Lucy from Explore the Cotswolds and Danni from Danni Meets World.
Montpellier, known as 'the home of stylish eats and chic boutiques', was next on our itinerary. Our visit coincided with a late night shopping event. Under twinkling lights we browsed the many independent stores selling unique products from crafts, made by talented Gloucestershire crafts people at the Gloucestershire Guild of Craftsmen, to authentic Italian deli food in Maison Chaplais, fancy macarons at Edible Art Patisserie and home interiors in Pink Vintage, a popular boutique store, which always has the most incredible window display.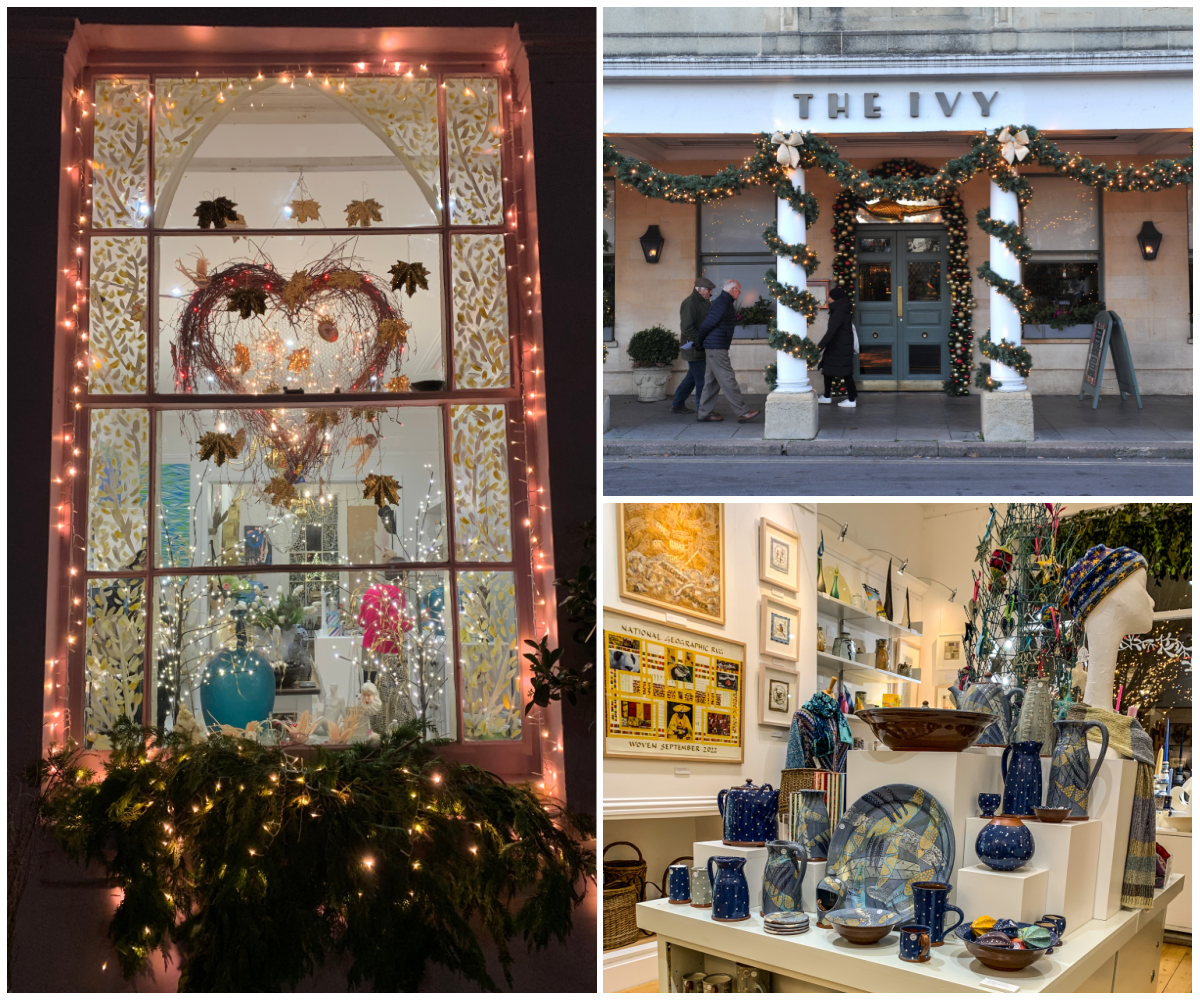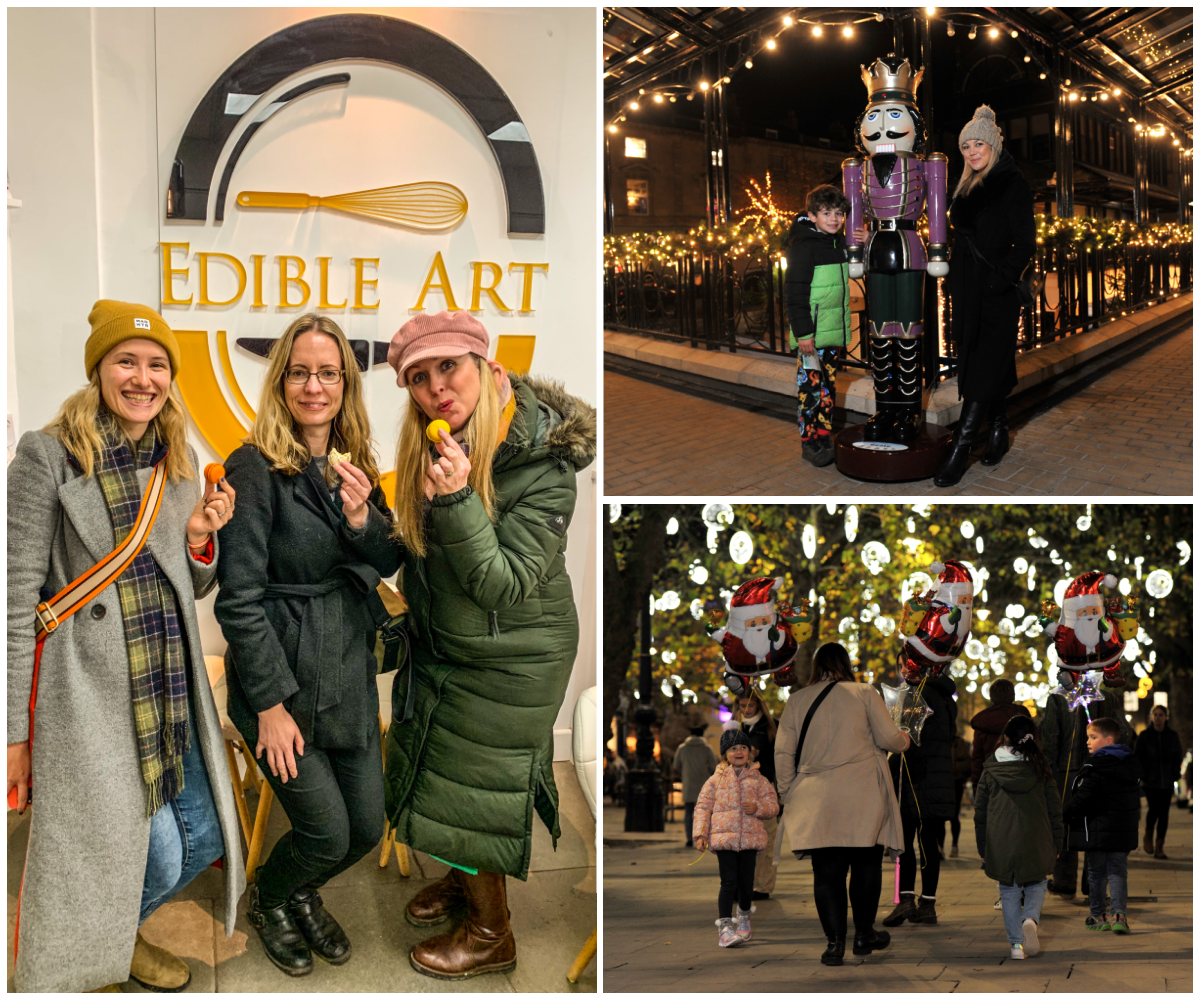 Our final stop for the evening was Cheltenham's five-star hotel – Ellenborough Park. Although only a short 10 minute drive from the hustle and bustle of Cheltenham town centre, this luxury country house hotel is located in 90 acres of spectacular countryside, nestled between the Cotswolds' highest point on Cleeve Hill and the gallops of Cheltenham Racecourse.
The 500-year old hotel has been lovingly renovated to its original five-story glory. We took a tour around some of the recently refurbished bedrooms, which are absolutely superb. We loved the roll top baths and décor which match the timeless country charm of the hotel perfectly.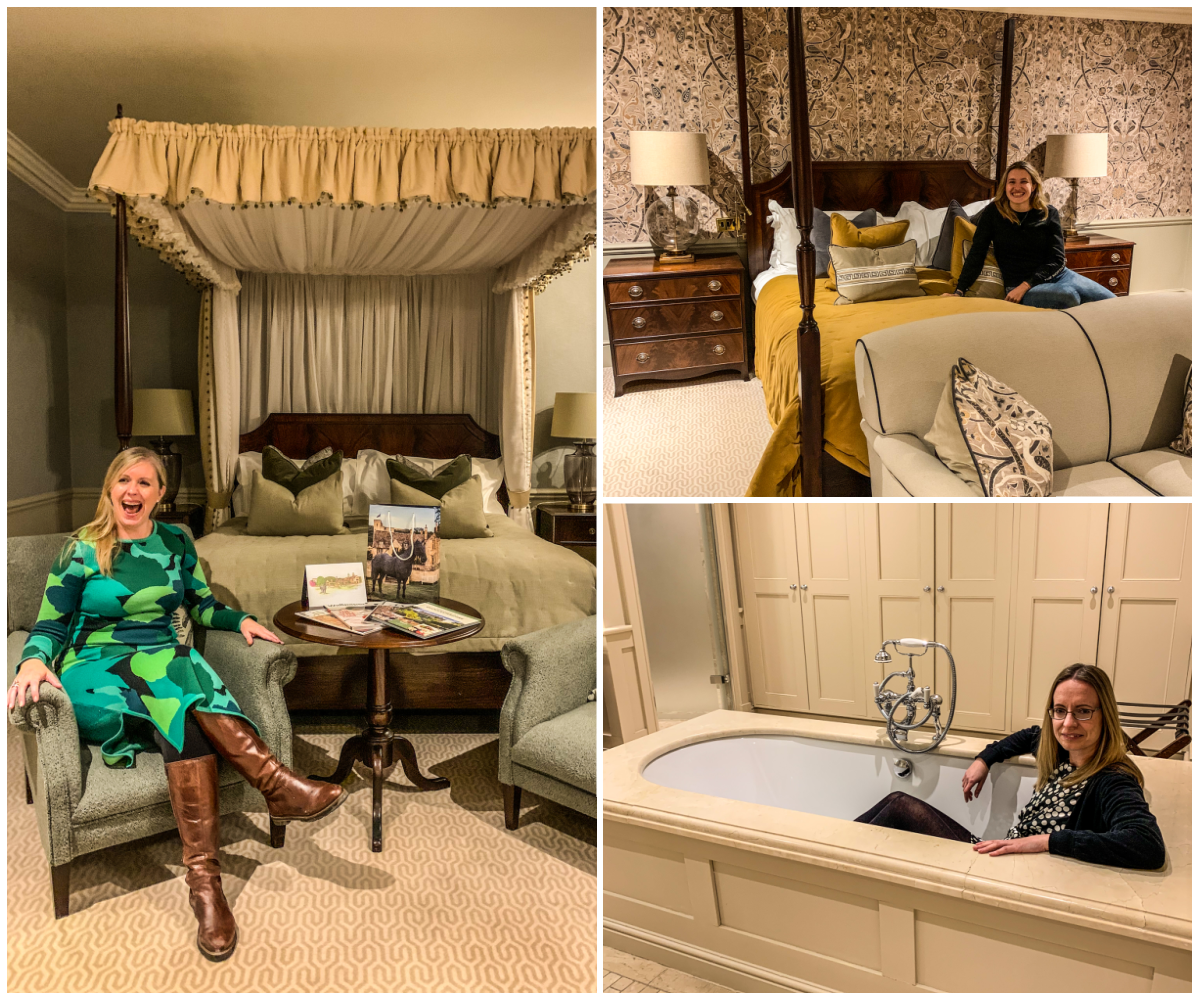 We chatted with the porter Jonathan for an hour before dinner around the Great Hall fireplace, he shared stories of past residents and the fascinating history of the hotel. He pointed out some of the original features, from the coat of arms on the front door, peppered with bullet holes from the Civil War and the stained glass windows commemorating Henry VI and Elizabeth of York.
Dinner was an elaborate affair, served in the wood-panelled hotel restaurant brimming with 15th-century charm. We were seated at a table in the bay window near the fire, at night it created a cosy nook to wine, dine and enjoy the jovial atmosphere, in the day the prime spot provides spectacular views over the private grounds. The seabass main course followed by salted caramel tart for dessert were absolutely divine.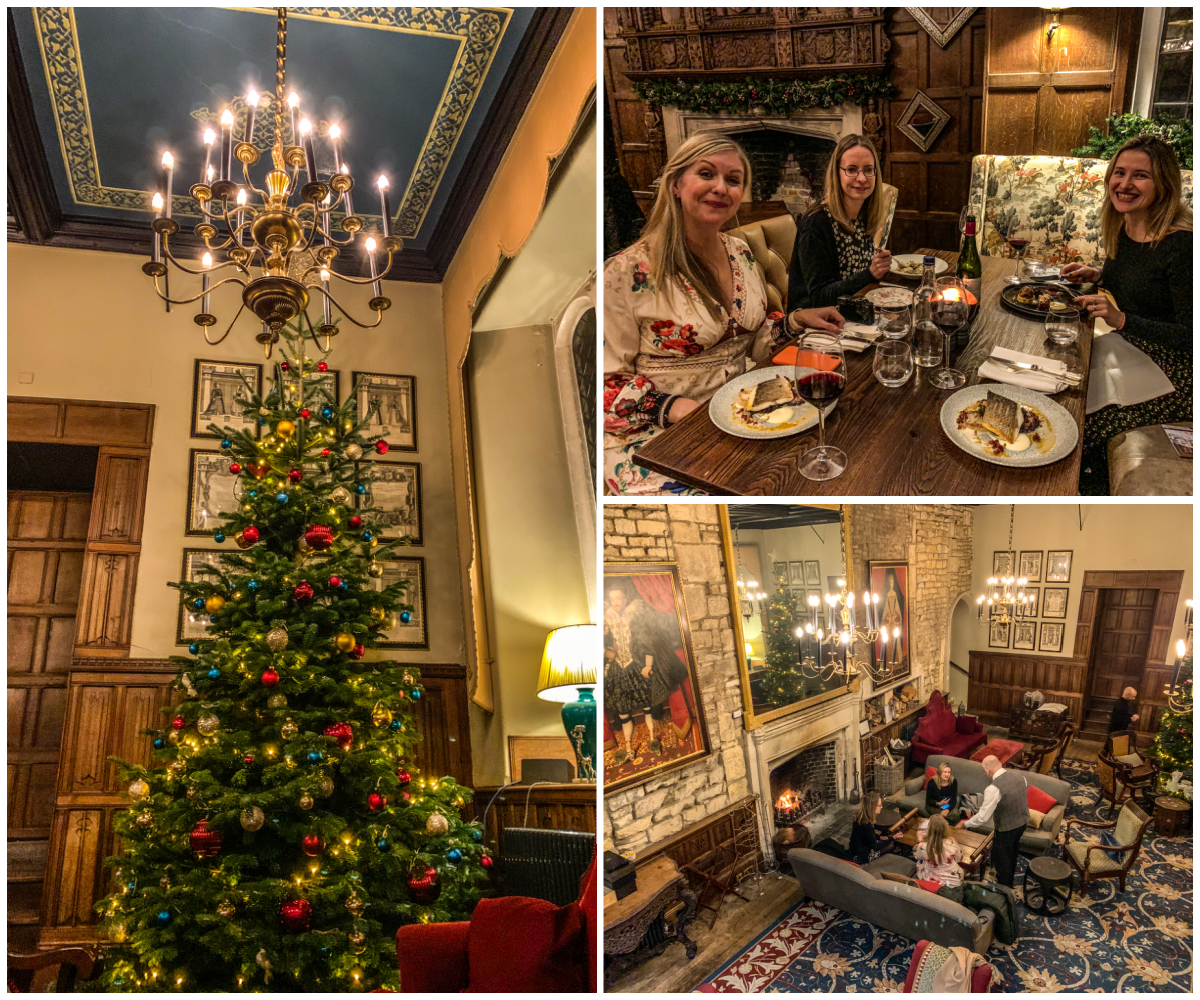 Day two – Winter weekend break in Cheltenham
After a delicious home-cooked breakfast, (the help yourself Bloody Mary cocktail bar was a huge hit with our guests!) and a leisurely morning admiring the spa facilities and enjoying a brisk walk around the hotel grounds, we said a fond farewell to the team at Ellenborough Park and headed to Pittville Park.
This award-winning historic park has acres of green space to explore, and several coffee shops offering festive drinks to warm up visitors on cold winter days.
An unmissable highlight is the Regency jewel of Cheltenham - Pittville Pump Room. A grade one listed historic building which overlooks a large lawn and duck pond on the Eastern side of the park. The Heritage Café next door is a great spot to people watch with a hot beverage and slice of cake.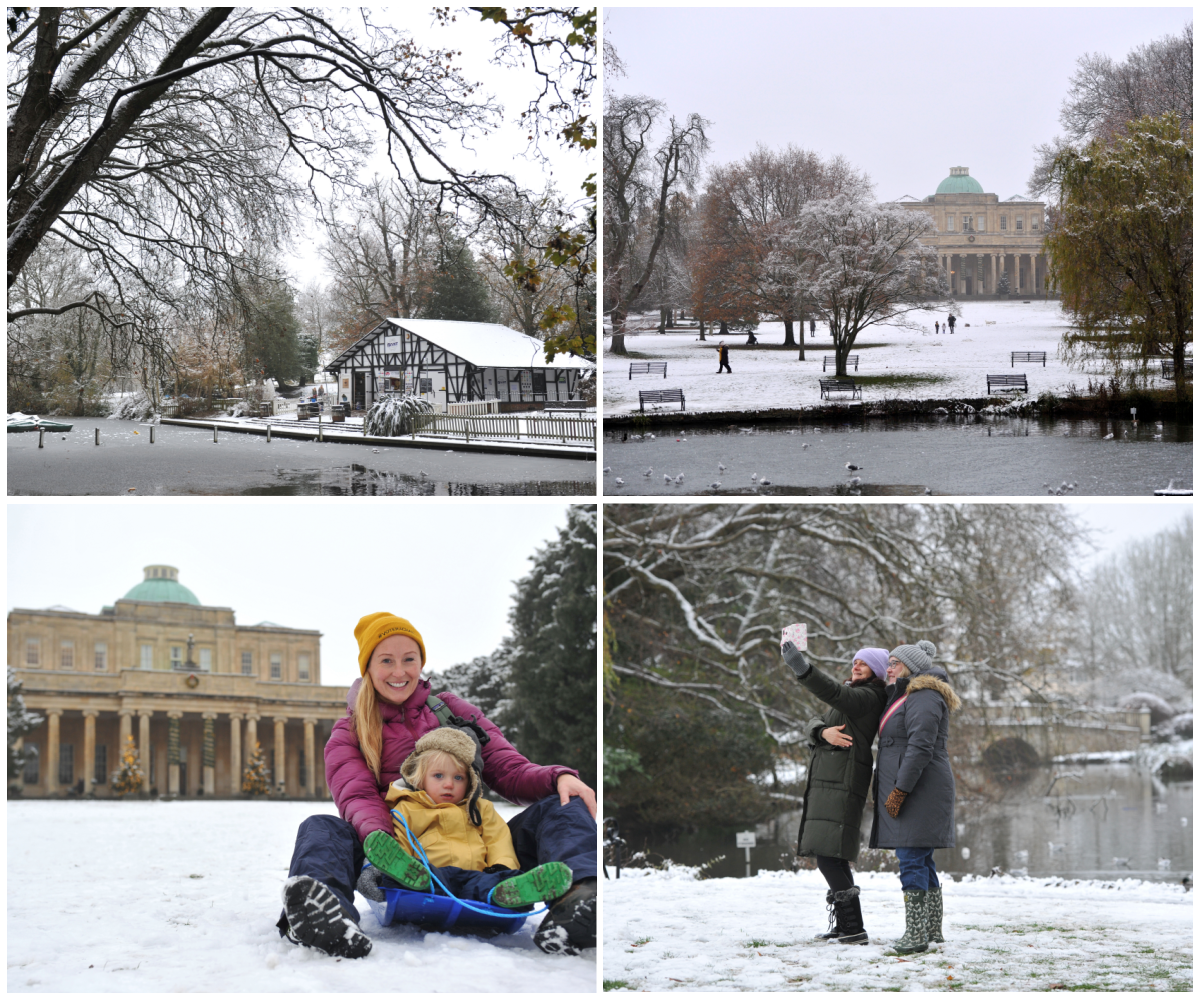 If you are lucky, your winter weekend break in Cheltenham Spa may coinicide with snowfall!
After our caffeine fix we headed into town to check our guests into their home, for their second night in Cheltenham – Neptune Apartments. These luxury apartments overlooking The Promenade opened in March 2021 and are already proving to be a massive hit for leisure and business travellers looking for a town centre base, with the option to cook for themselves.
The 12 apartments are based in a newly refurbished, listed period building. Every apartment is stylishly decorated with its own unique look and feel. Our guests loved the stylish décor and were impressed with all the little extra touches, from keyless entry to underfloor heating and Nepresso coffee machines. Read our full review here - Neptune Apartments Cheltenham review.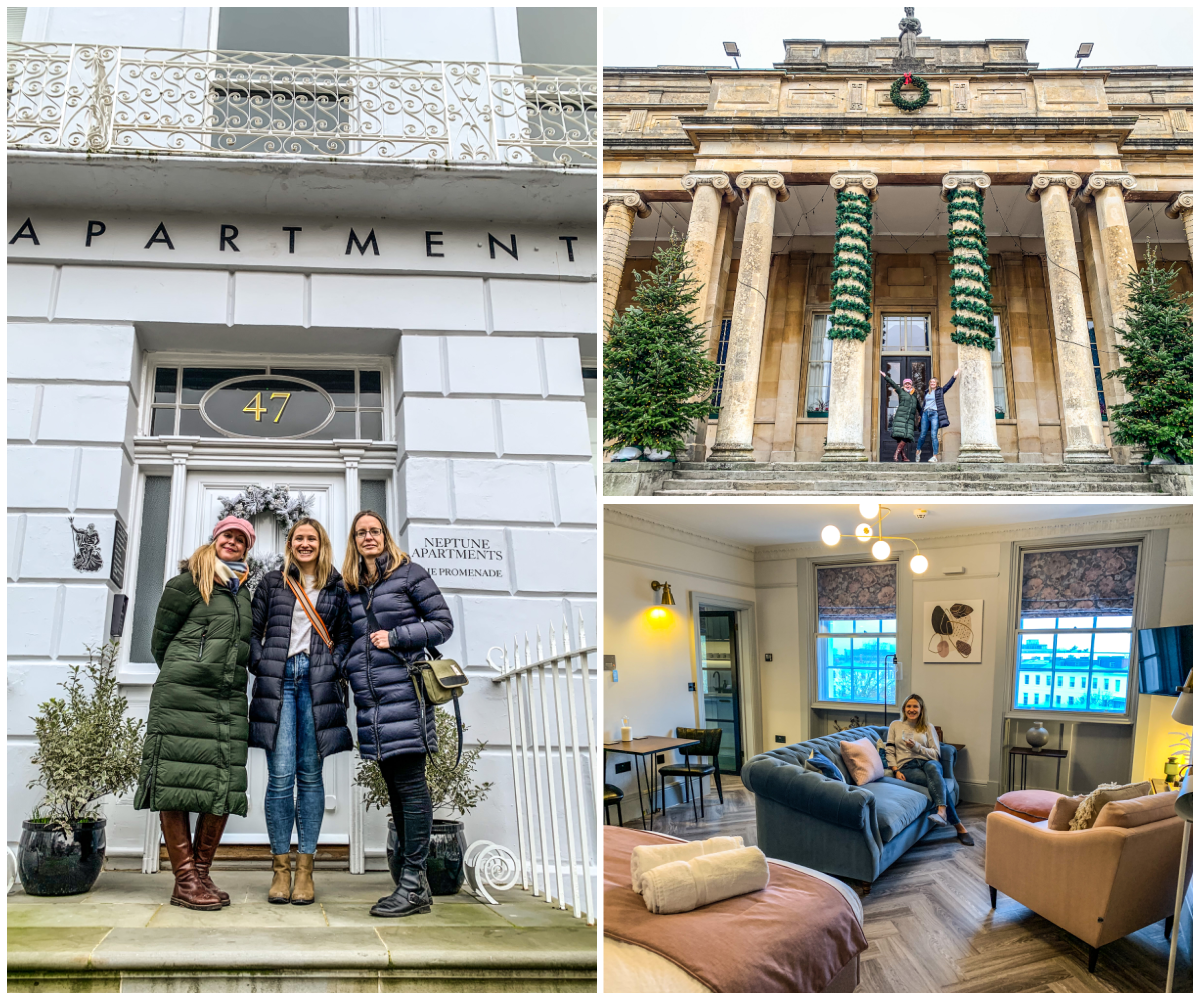 To ensure our guests had the chance to further discover Cheltenham's fascinating history we organised a tour with blue badge tour guide, Anne Bartlett. Starting with a guided walk around a few of the exhibitions in the newly renovated Wilson Art Gallery and Museum,
Anne shared stories and insights into some of Cheltenham's most influential past residents, from Doctor Edward Wilson, the Antarctic Explorer who died with Captain Scott, to Miss Dorothea Beale pioneer of girls' education and Principal of Cheltenham Ladies' College from 1858 – 1906.
Our guided walk took us past the Municipal Office and War Memorial to Neptune Fountain, the statue of Holst in the Imperial Gardens, up to the Queens Hotel and across to Montpellier, to admire the Regency buildings and discuss the history of one of Gloucestershire's most well-known educational establishments – Cheltenham Ladies College, recently voted top Independent School in the South West for the third year running by The Sunday Times.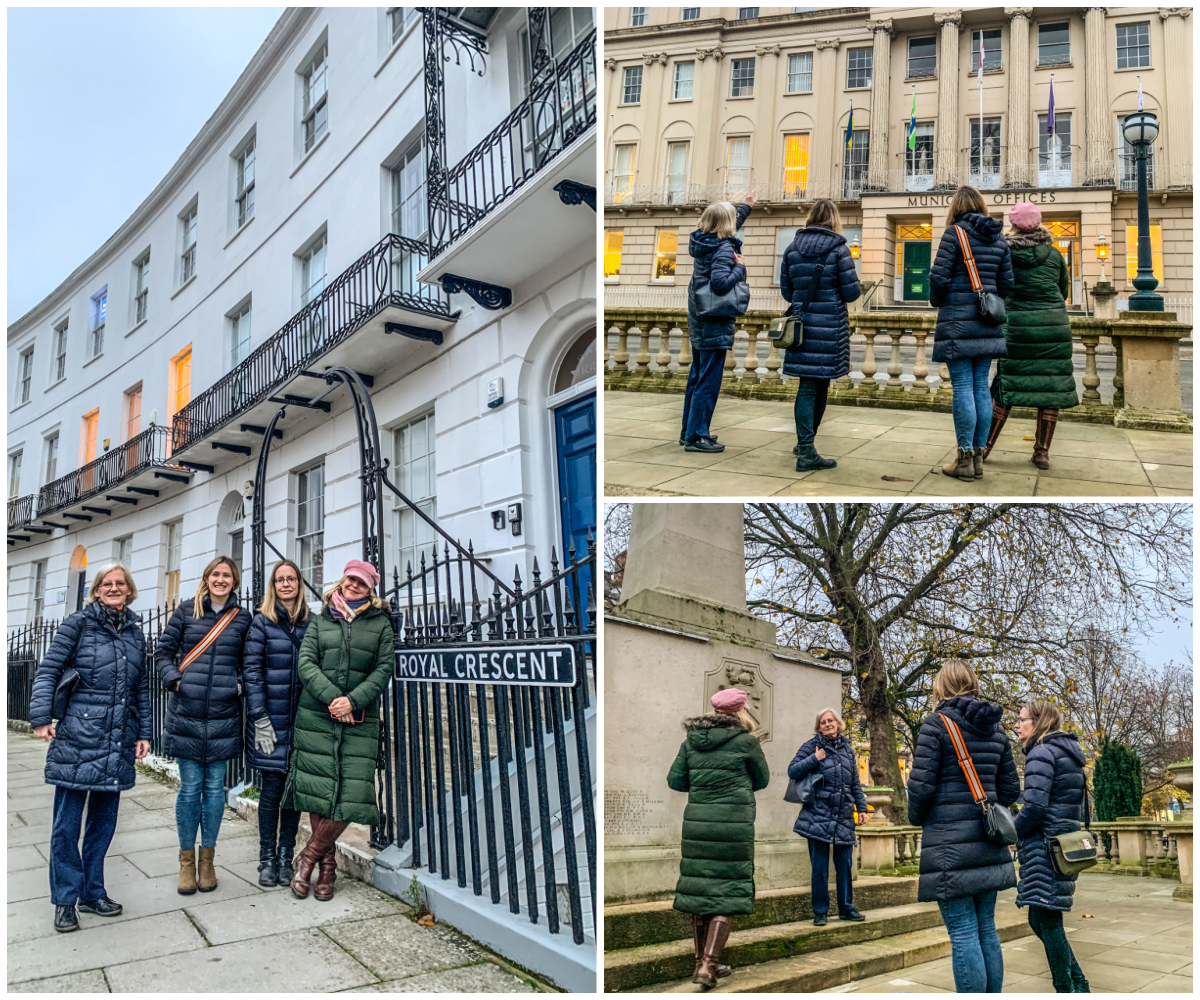 Next we headed to the only private castle in the UK to have a Queen buried within its grounds - Sudeley Castle. The home and resting place of Queen Katherine Parr, the last wife of Henry VIII.
Every year for the last seven years the grounds of Sudeley Castle have been transformed into a magical evening light trail aptly named the Spectacle of Light, which attract thousands of visitors every festive season, many of whom who enjoy the trail every year as part of their Christmas traditions with family and friends.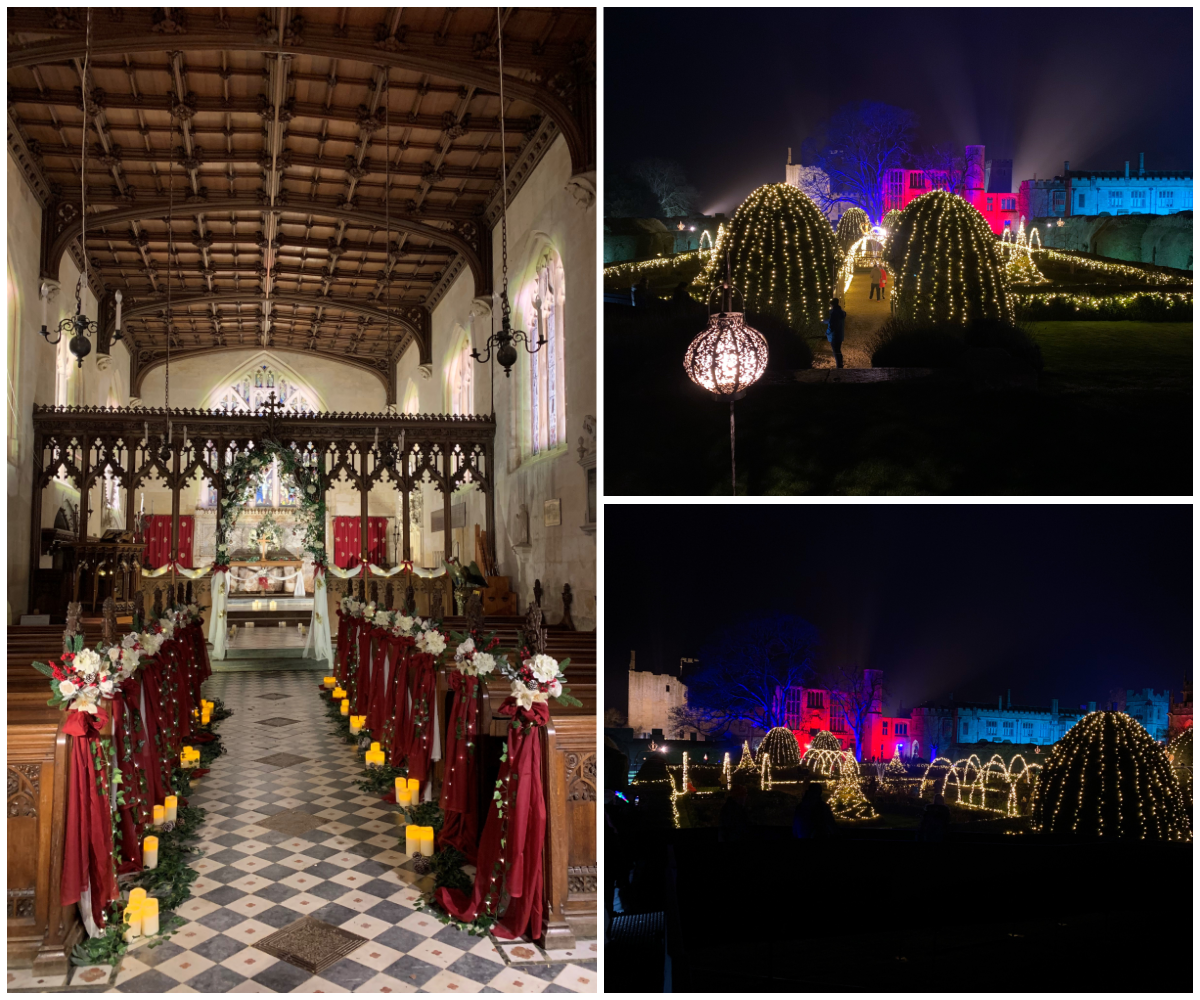 The final stop, on our busy winter weekend break itinerary, was dinner at Cheltenham's only rooftop restaurant – The Nook on Five. The Nook opened just a few weeks ago after months of anticipation and has been delighting foodies ever since. Located on the fifth floor of the Quadrangle in Imperial Gardens, the independently run restaurant can boast of incredible bird's-eye views over the Regency roof-tops of Cheltenham, and across to Cleeve Hill and Leckhampton Hill.
From the grand entrance on the ground floor, through to the sophisticated dining space with pianist and fully stocked cocktail bar on the fifth floor, this truly is the place to be, and be seen!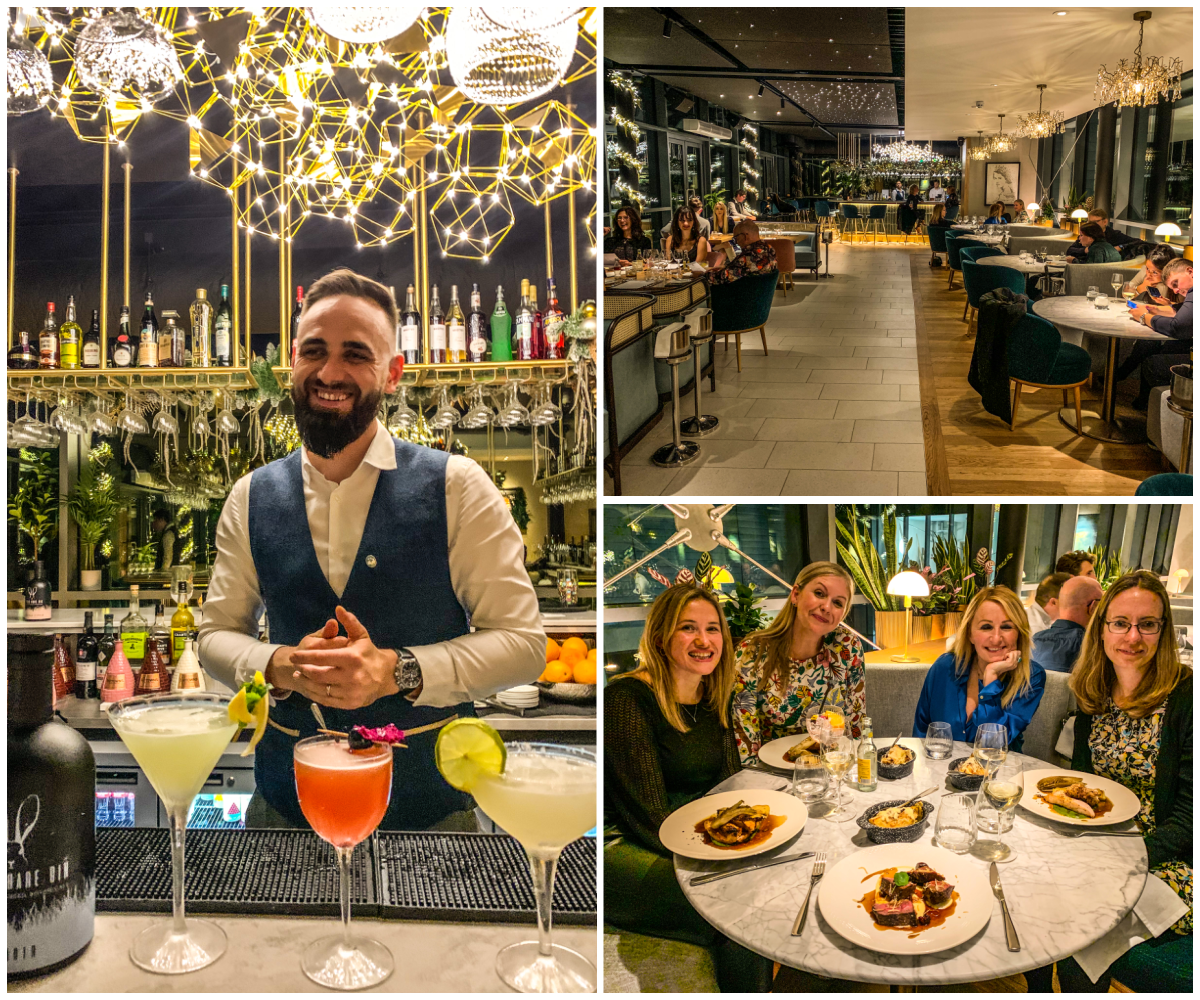 The seasonal menu is created using locally sourced fresh food. The owners pride themselves on buying from food producers within viewing distance of the restaurant, with a good selection of locally produced wines on their extensive wine menu too.
The cocktail bar was a hive of activity all evening, with expert mixologists creating a wide variety of marvellous mixes, from classics margarita's to espresso martinis.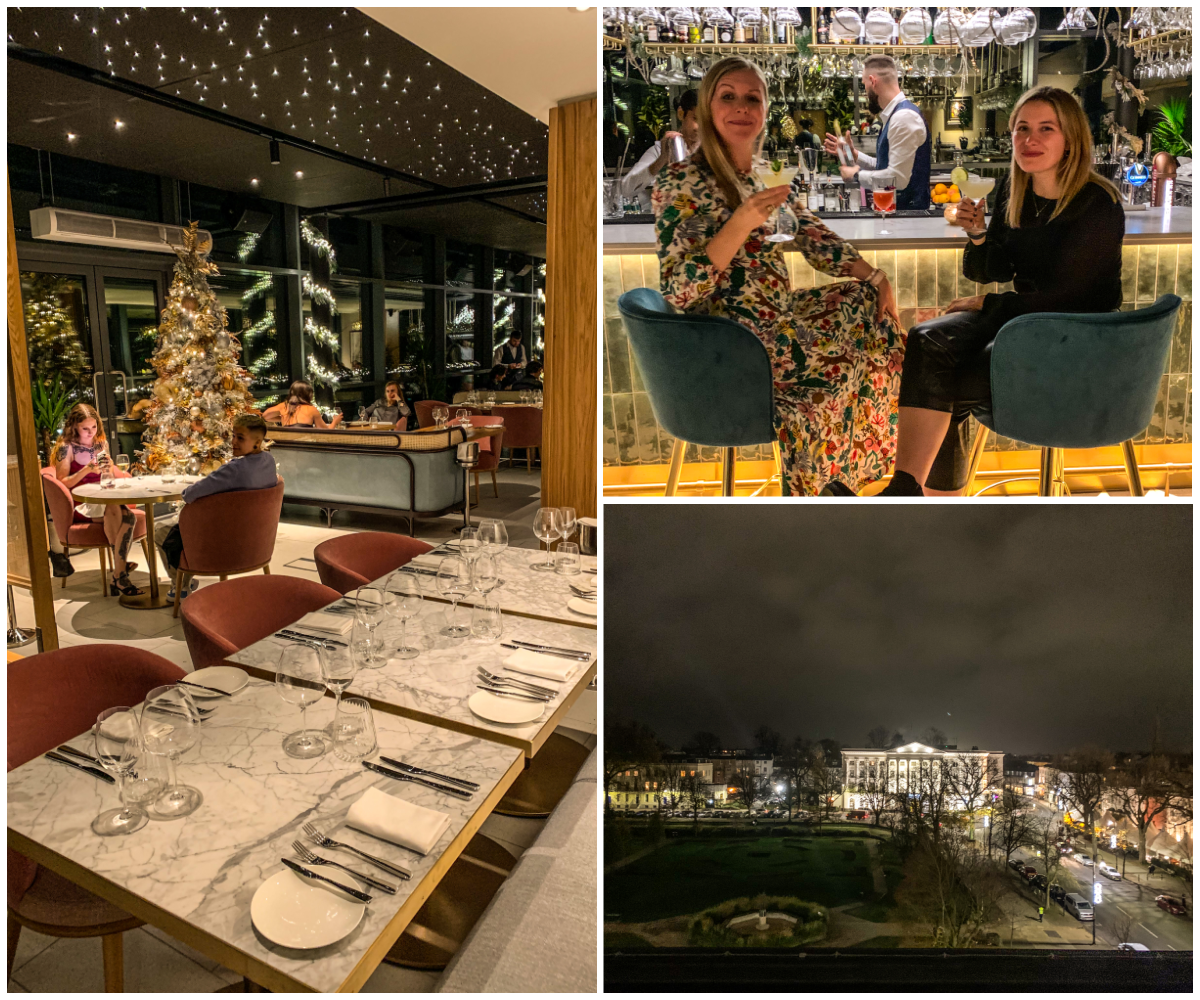 We hope we've inspired you to book a winter weekend break in Cheltenham! We recommend you plan your weekend in Cheltenham Spa around events taking place, with the help of our useful guides –
Events in Cheltenham and Things to do in Cheltenham. For more ideas check out -
Cheltenham weekend itineraries
Christmas weekend break in Cheltenham
Tips to plan your Christmas short break in Cheltenham
---
Check out what our three influencers thought about their action-packed weekend in Cheltenham here -
Lucy at Explore the Cotswolds - 10 festive things to do in Cheltenham
Claire at Weekend Candy - Easy Peasy Festive Weekend in Cheltenham. Also watch Claire's fabulous video highlights.
Danni at Danni Meets World - Winter staycation in Cheltenham