At the weekend we had the pleasure of staying at the Queens Hotel, a luxury boutique hotel located in the heart of Regency Cheltenham. The purpose of our visit was to show a group of travel bloggers around some of the best Christmas attractions and activities in and around Cheltenham.

The hotel had just finished being decorated for Christmas and looked absolutely spectacular! Walking through the front revolving door and seeing the huge Christmas tree in the foyer, truly brought a smile to all of our faces.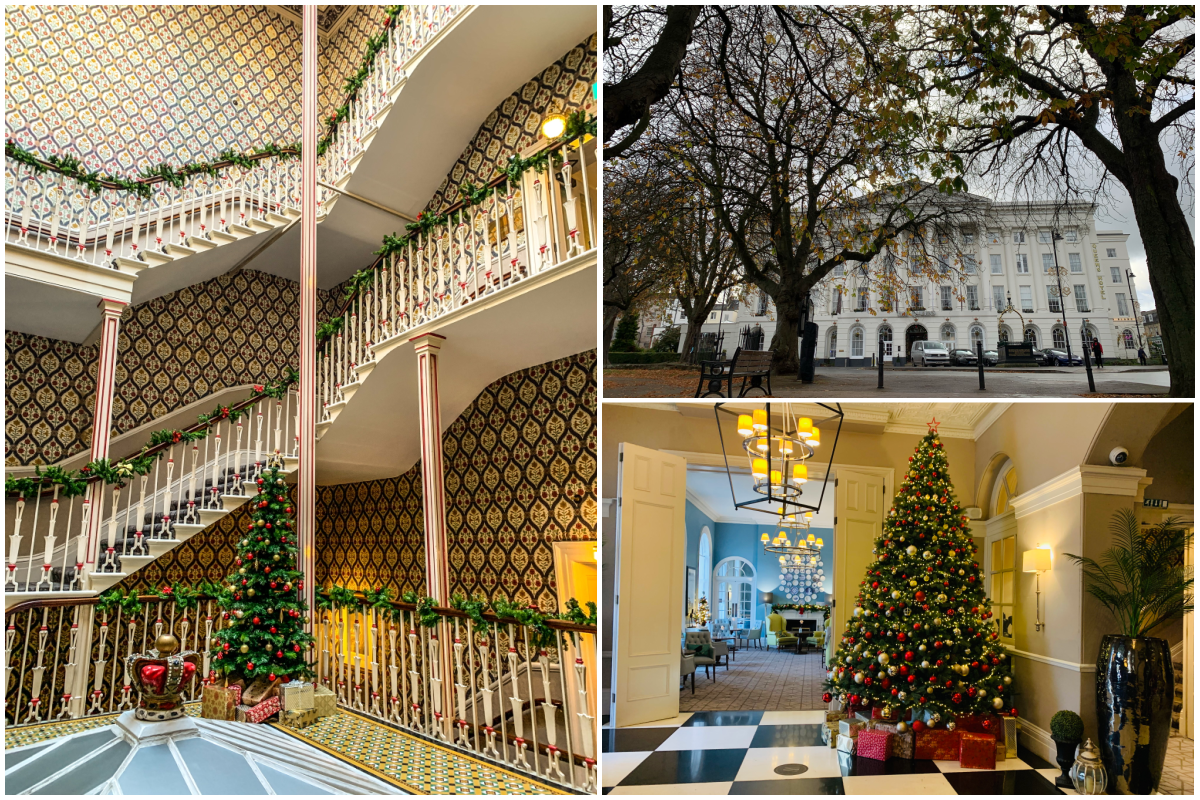 If you are planning a day trip or weekend stay in Cheltenham this Christmas you'll find this article, sharing all of the places we visited, very handy. You can also get more inspiration from our suggested weekend itinerary – Christmas Getaway in Cheltenham and our comprehensive what's on guide – Christmas Events in Cheltenham.
Day one – Christmas hotel staycation in Cheltenham
After checking into the Queens Hotel and admiring the decorations around the elegant foyer and iconic listed staircase we popped next door to the Brasserie Blanc for a late lunch.
The restaurant is located in the old Ballroom of the Queen's Hotel. It is a truly beautiful, authentic French dining space. The menu offers classic French food such as moules, pheasant and escargots plus delicious new dishes inspired by Raymond Blanc's travels. Steaks, burgers, fishcakes are also available for less adventurous diners.
We were too full for dessert and so popped into another hidden gem later in the day, for tasty treats from Edible Art Patisserie. (An unmissable thing to do during any visit to Cheltenham!)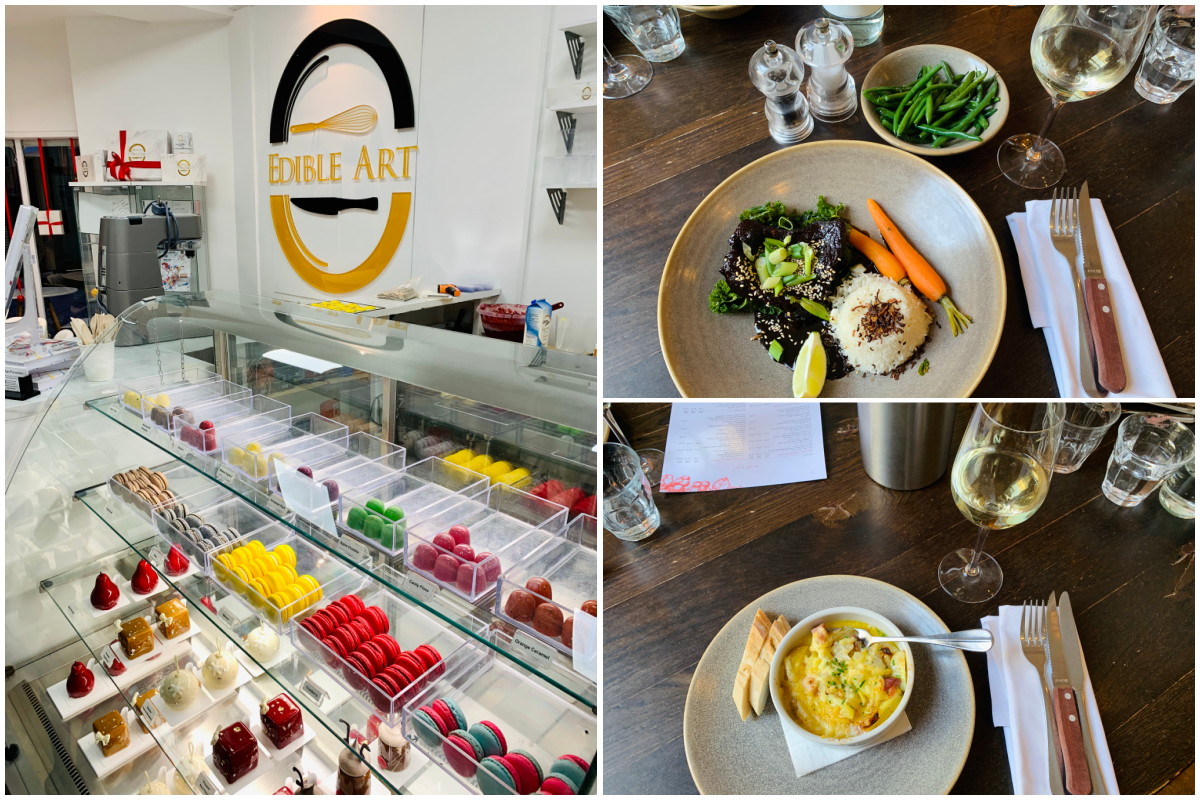 Taking advantage of the Queens Hotel enviable town centre location we took a stroll after lunch around Imperial Gardens, the site of the new Cheltenham Ice Rink, around to Montpellier Gardens and past the boutique shops in Montpellier, which are truly an Instagrammers dream with lots of photo opportunities…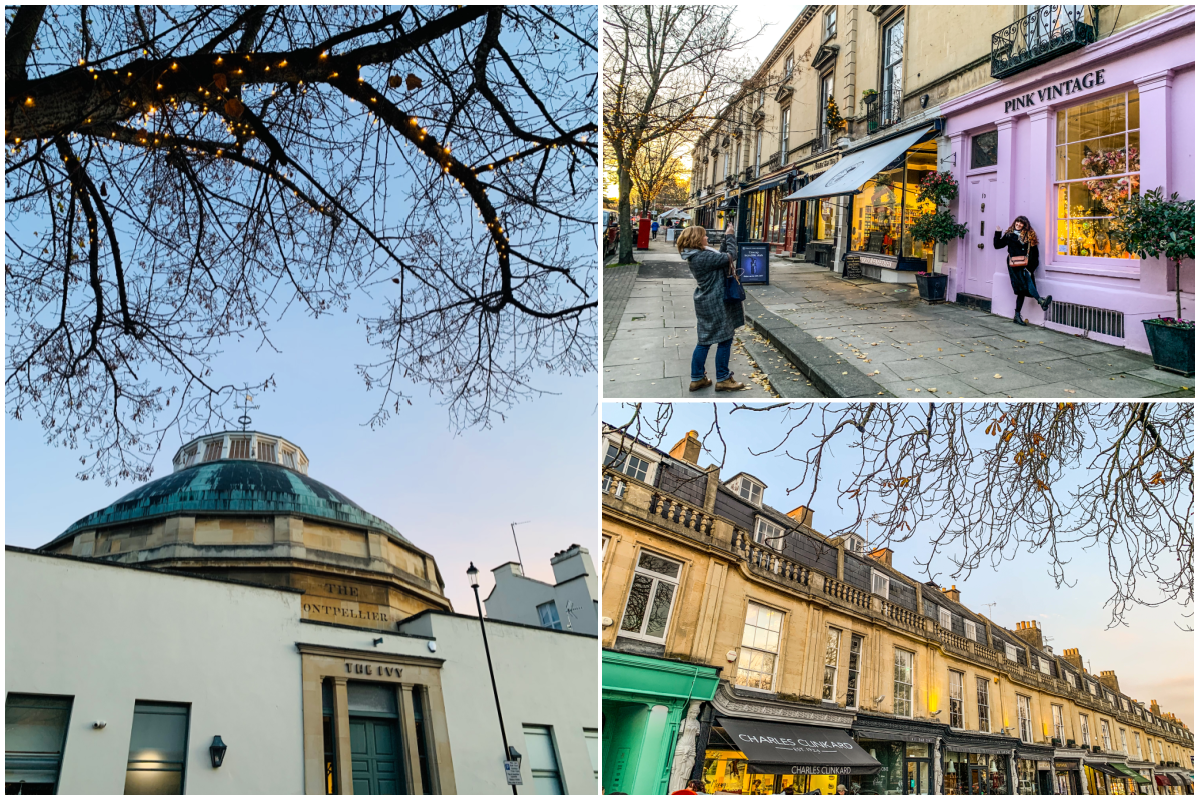 As it turned to dusk we headed to the Cheltenham Christmas Market, located along the Promenade. Here we explored the traditional wooden stalls and admired the Christmas lights and Nutcrackers, which seem to stand guard over visitors enjoying mulled wine and Bailey's hot chocolates!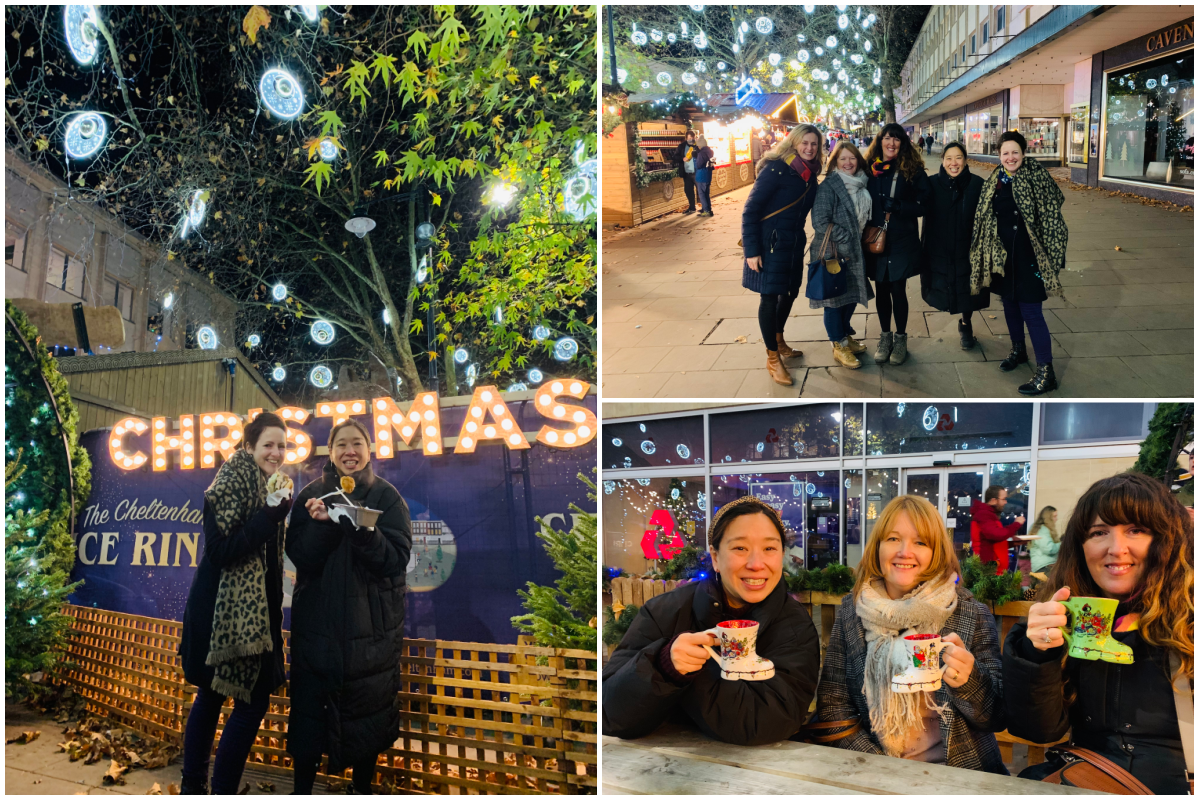 Meet our travel bloggers - Top right photo. Right to left... Cathy at @mummytravels, Ting at @mytravelmonkey, Donna at @likelovedo_london, Sarah at @extraordinary_chaos and Lisa, Digital Marketing Executive for Visit Cheltenham.
Next we continued walking to The Brewery Quarter to proudly show off this town centre entertainment, dining and shopping venue. They were most impressed to hear about the plans to open a BrewDog, Pho Restaurant and Flight Club in The Brewery Quarter in early 2022. They also spotted the impressive street art murals left over as a legacy from past Cheltenham Paint Festivals and couldn't help but take more photos…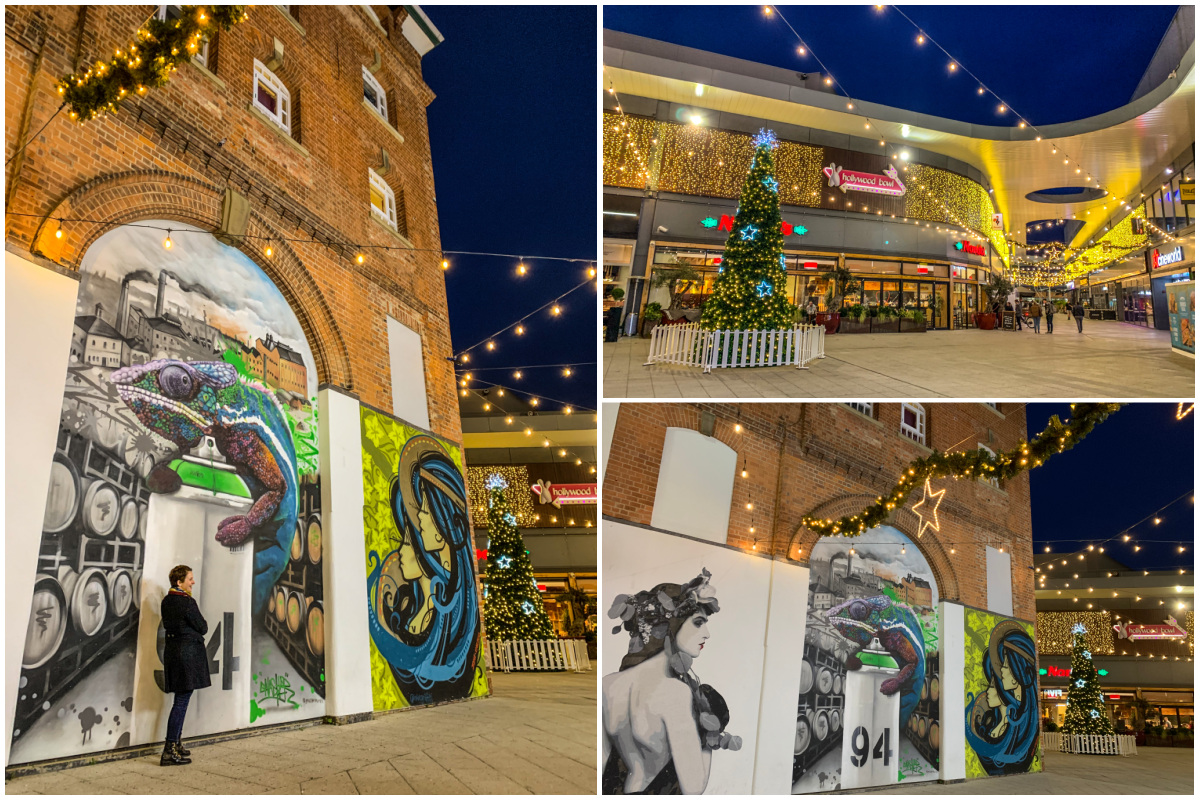 Tempting as it was to nip into one of the many cocktail bars, we continued walking through to Pittville Pump Room to experience the launch night of the Artisan Christmas Market and the Christmas lights being switched on by Father Christmas and the Cheltenham Mayor....
Dinner for the evening was a truly memorable occasion. We dined at Victoria's, a fine dining restaurant at the Queens Hotel. The interior décor is elegant, stylish and inspirational. The main topic of conversation over dinner featured furniture in the restaurant we would all love to buy for our own homes!
In complete contrast to the French food we had at lunch, dinner was a classic British affair with the very best of British seasonal cuisine, made from ingredients sourced locally.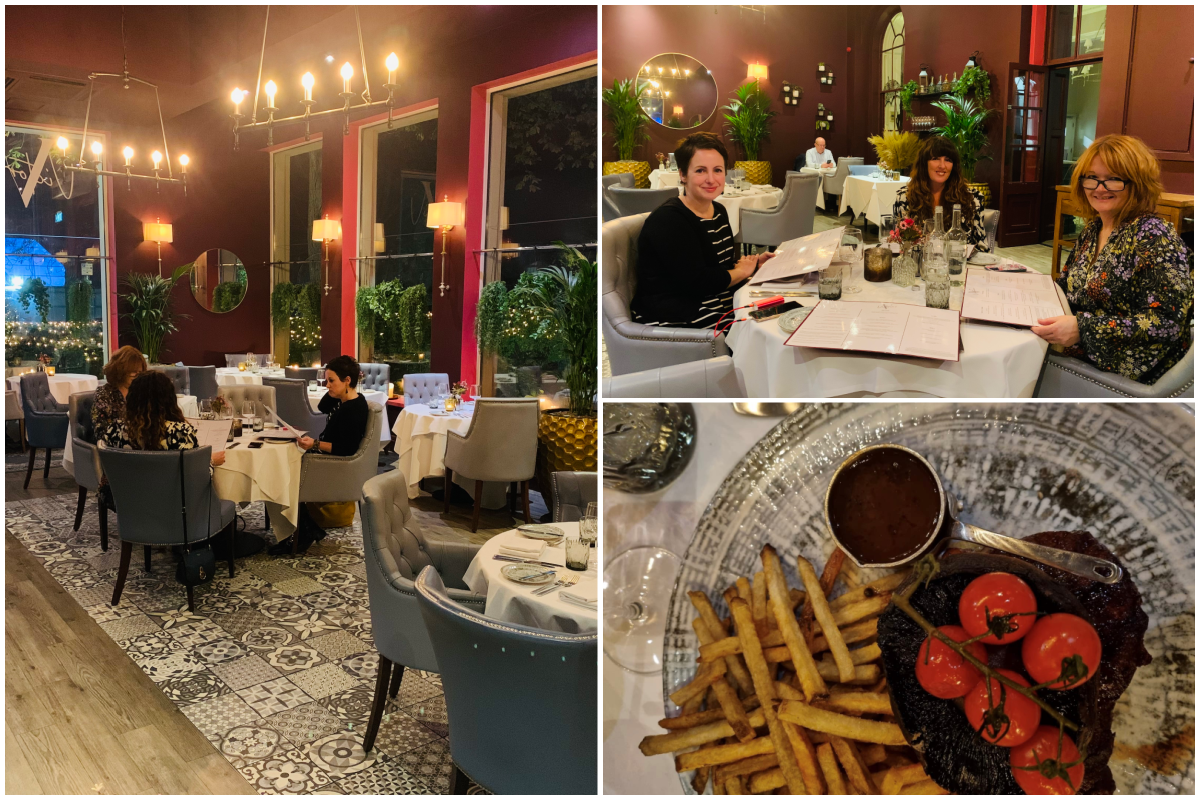 Day two – Christmas hotel staycation in Cheltenham
The following day started with breakfast at the hotel, we were fuelling up for another action packed day of festive fun! The first activity was a guided tour with Sean from Around Cheltenham Walks & Tours, a blue badge tour guide with infectious enthusiasm and incredible local knowledge.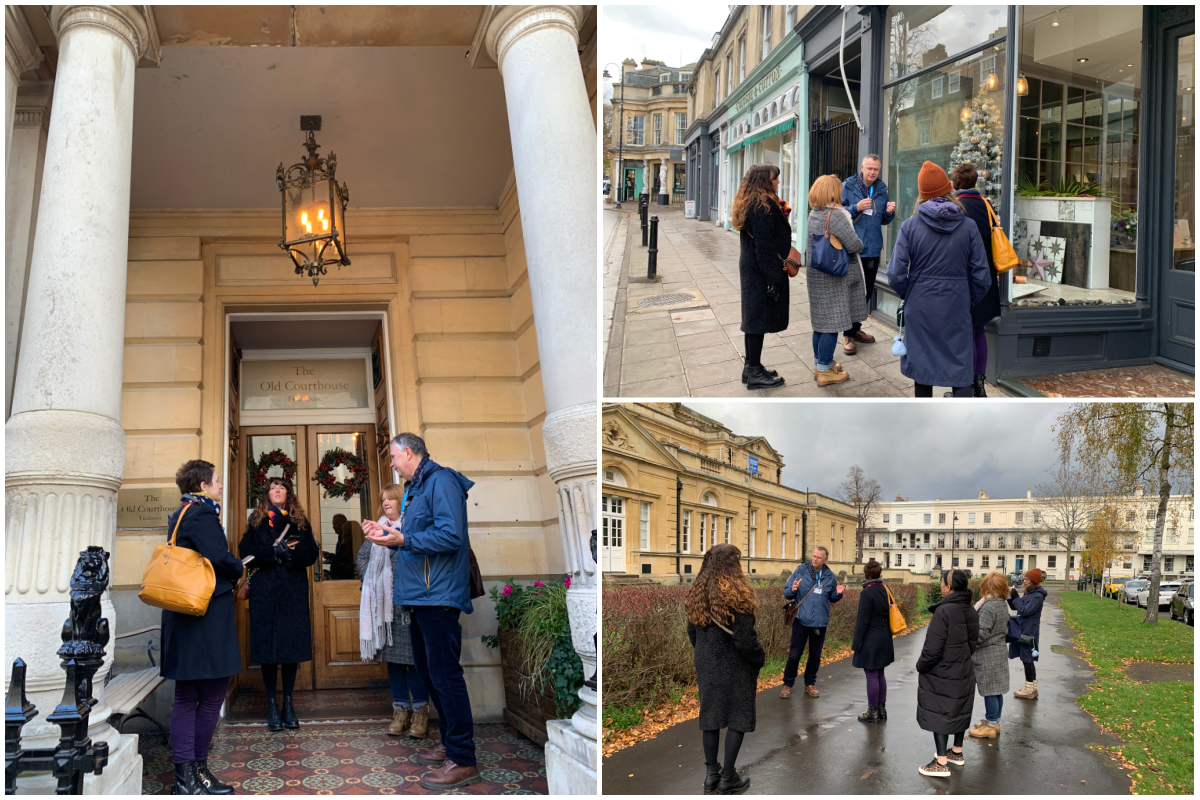 Images feature Sean from Around Cheltenham Walks and Tours
Sean delighted us with Cheltonian Christmas stories, including why the first roller skating rink in the 1800s in Cheltenham shocked the high society. (Who didn't believe that youngsters should be cavorting in public!) He also shared interesting facts about many Christmas customs, such as how Cheltenham's favourite royal gave us the Christmas tree.
Our tour concluded with hot drinks at one of Cheltenham's many hidden gems, Memsahib Gin & Tea Bar, a first of its kind. Inspired by the British Raj period, during which many Anglo-Indian women, known as 'Memsahibs', settled in Cheltenham bringing with them new and exciting flavours and styles of entertainment. The drinks were the perfect end to a memorable morning and the chance to have a breather before our next activity!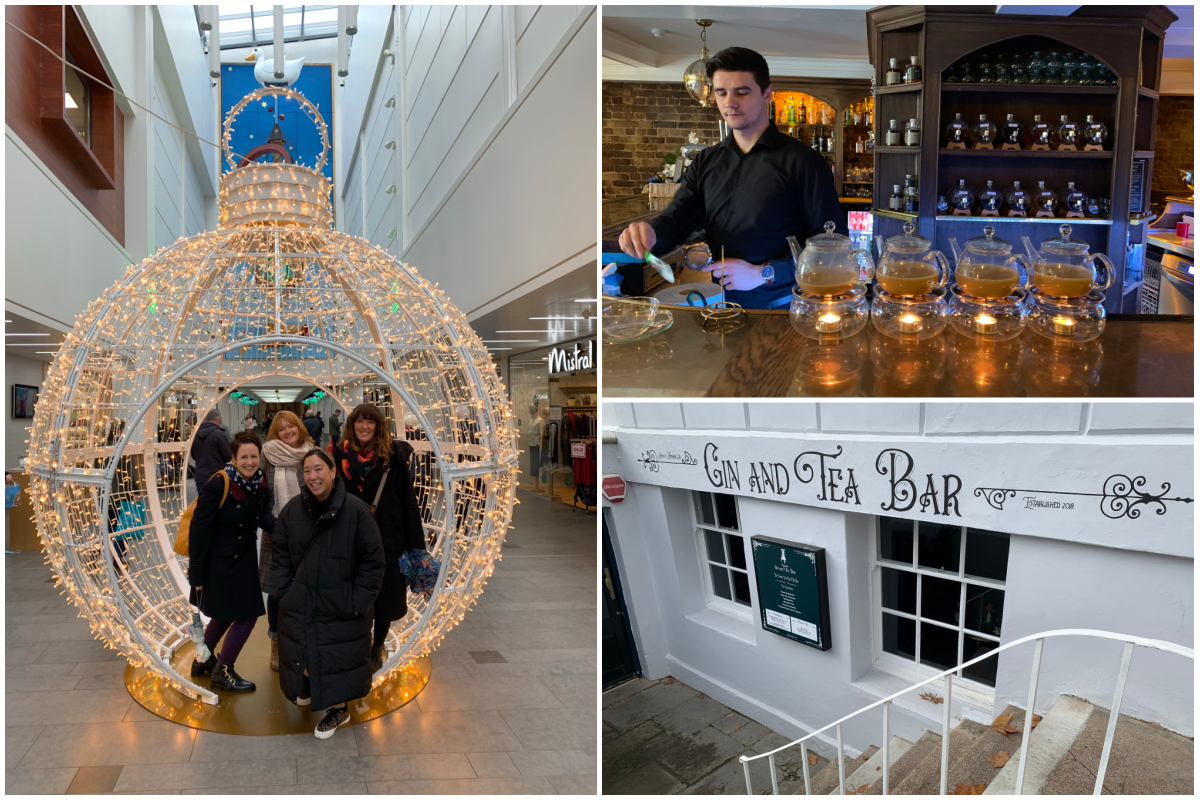 Jumping in the car we headed out of town with a quick stop at the Pittville Pump Room and drive by Cheltenham Racecourse, so the travel bloggers could admire the buildings in the daylight.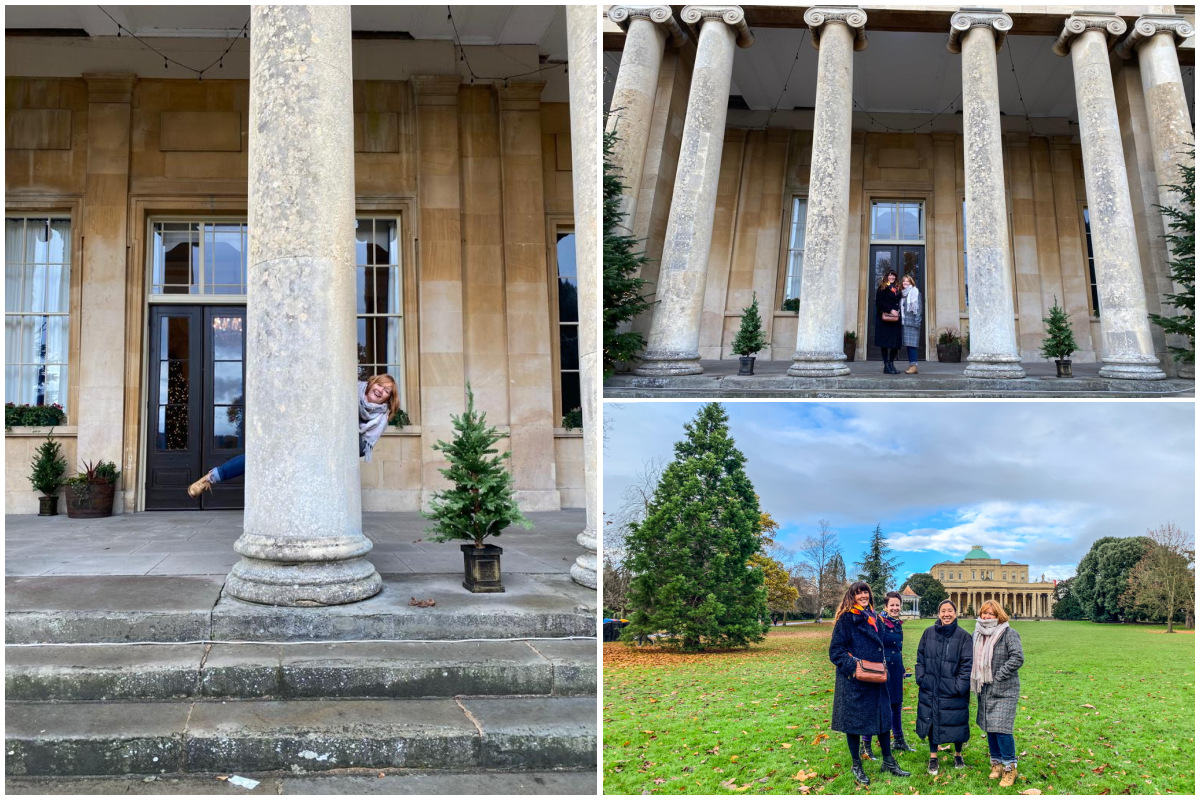 Our next stop was the Ellenborough Park for a tour around Gloucestershire's only five star hotel and festive afternoon tea with the hotel General Manager, Joanne Reeves.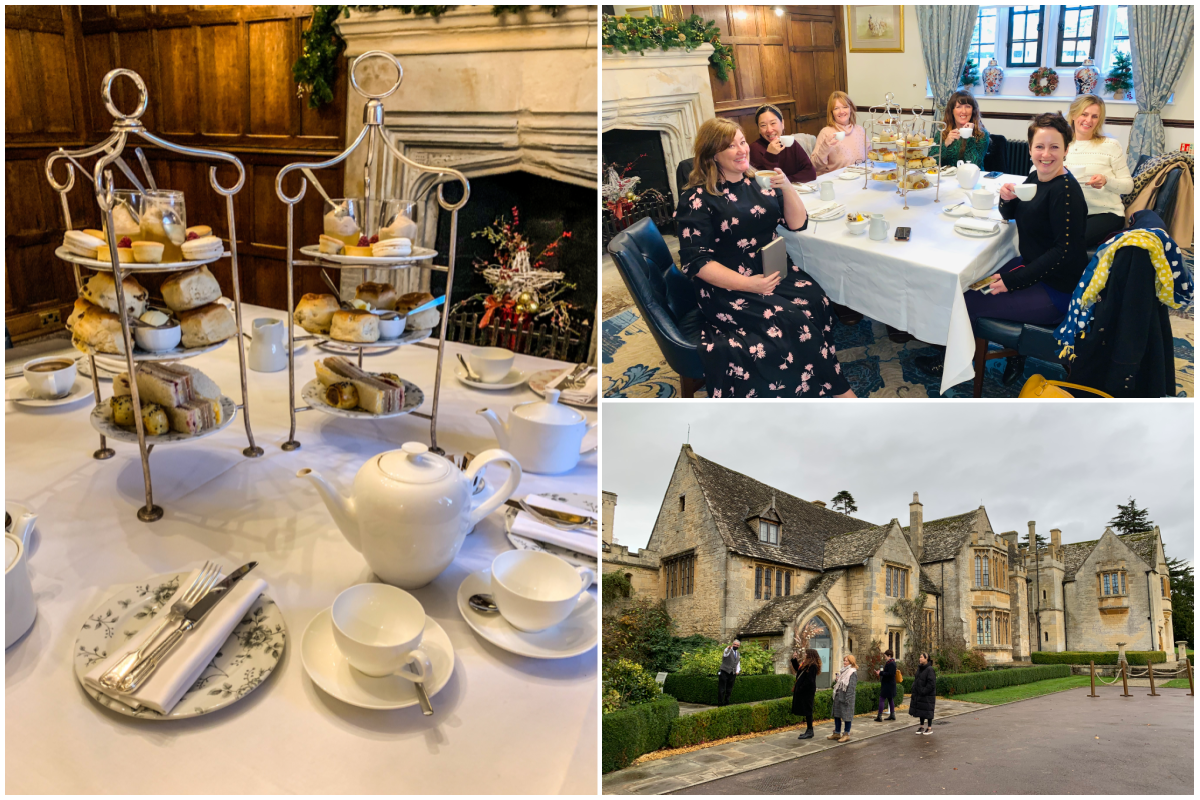 You can't fail to be impressed by this spectacular 15th Century countryside retreat and its enviable location overlooking Cheltenham Racecourse, and within a short hike of the Cotswolds' highest point, Cleeve Hill on the Cotswolds Way.
Steeped in history, this luxury manor house is set in 90-acres of countryside. Around every corner we turned, during our tour of the estate, we were all admiring the stylish décor, features and Christmas trimmings.
We thoroughly enjoyed our afternoon tea in a private room. Equally as impressive is the Great Hall where afternoon tea is normally taken by hotel guests and residents, with its high ceiling and magnificent fireplace.
As dusk turned to night we jumped back in our car for the ten minute drive to Sudeley Castle, for the launch night of Spectacle of Light. This Christmas light trail has been delighting visitors and locals for six years and has become a firm annual Christmas tradition for thousands of people every year.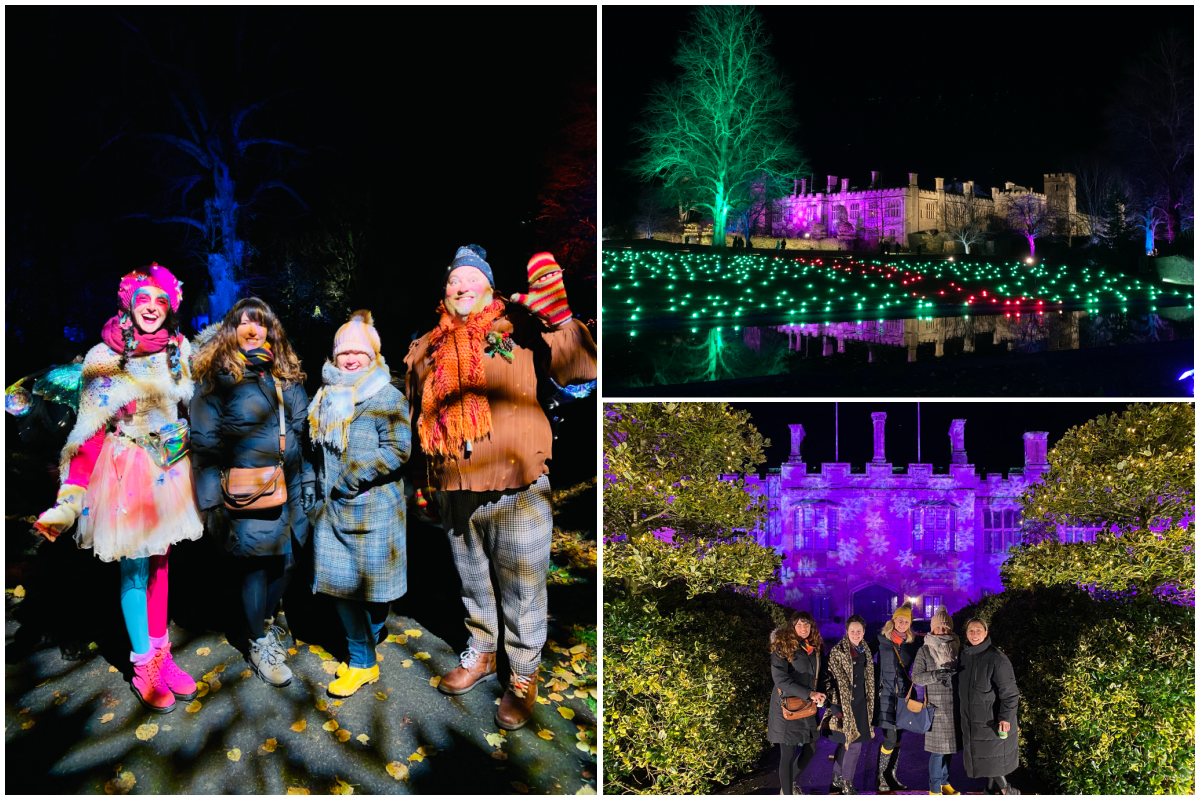 We all thoroughly enjoyed exploring the magical new trail around Sudeley Castle's stunning grounds, marvelling at the majestic trees and romantic ruins, all colourfully lit up under the stars.
To warm up, (it's a great excuse!) we enjoyed a mulled wine and were tempted by the many festive treats on offer by the various refreshments stalls.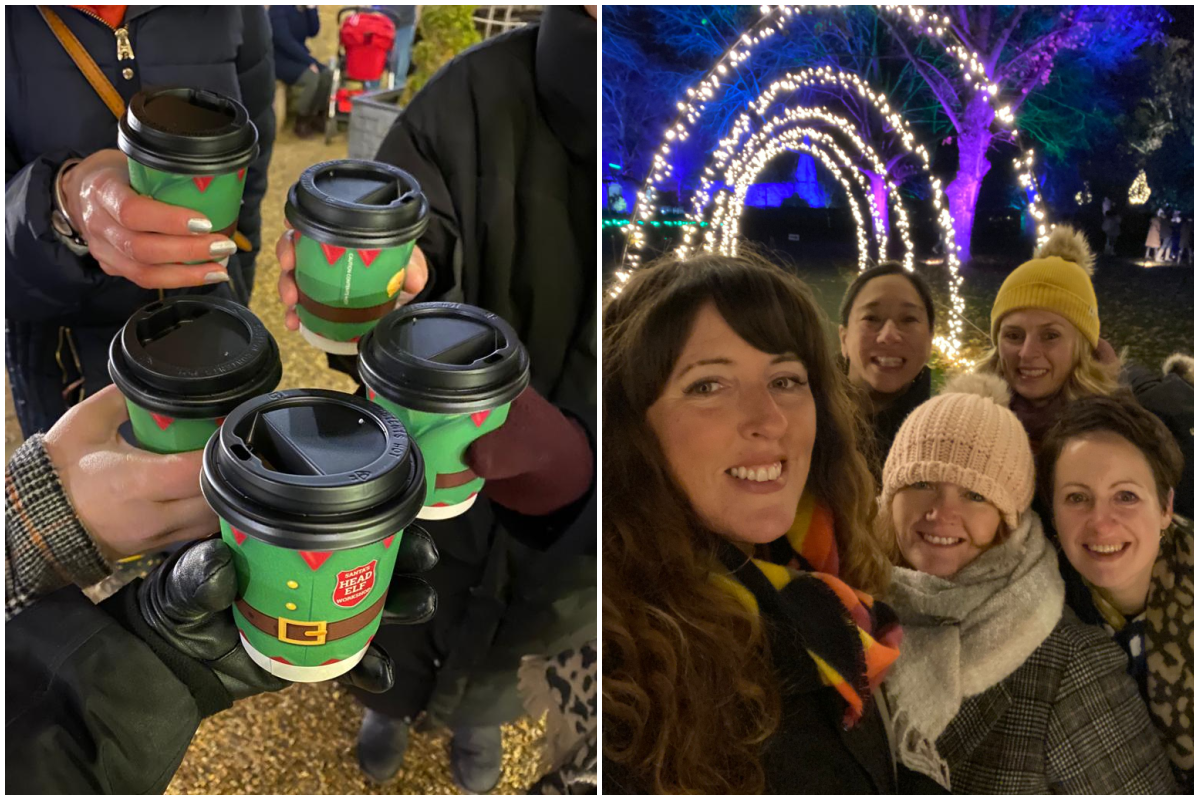 We hadn't stopped all day but there was still much more festive fun to squeeze in! Jumping back in the car we headed back to town to enjoy dinner at the Cheltenham Christmas Market and experience the new Cheltenham Ice Rink in Imperial Gardens.
It's fair to say there was a real mix of skating abilities within our group. Sarah from Extraordinary Chaos whipped around the rink effortlessly, whilst the rest of us shuffled around trying to stay on our feet! Although none of us had the skill of Torvill or Dean it was a fun experience that had us all giggling like school girls…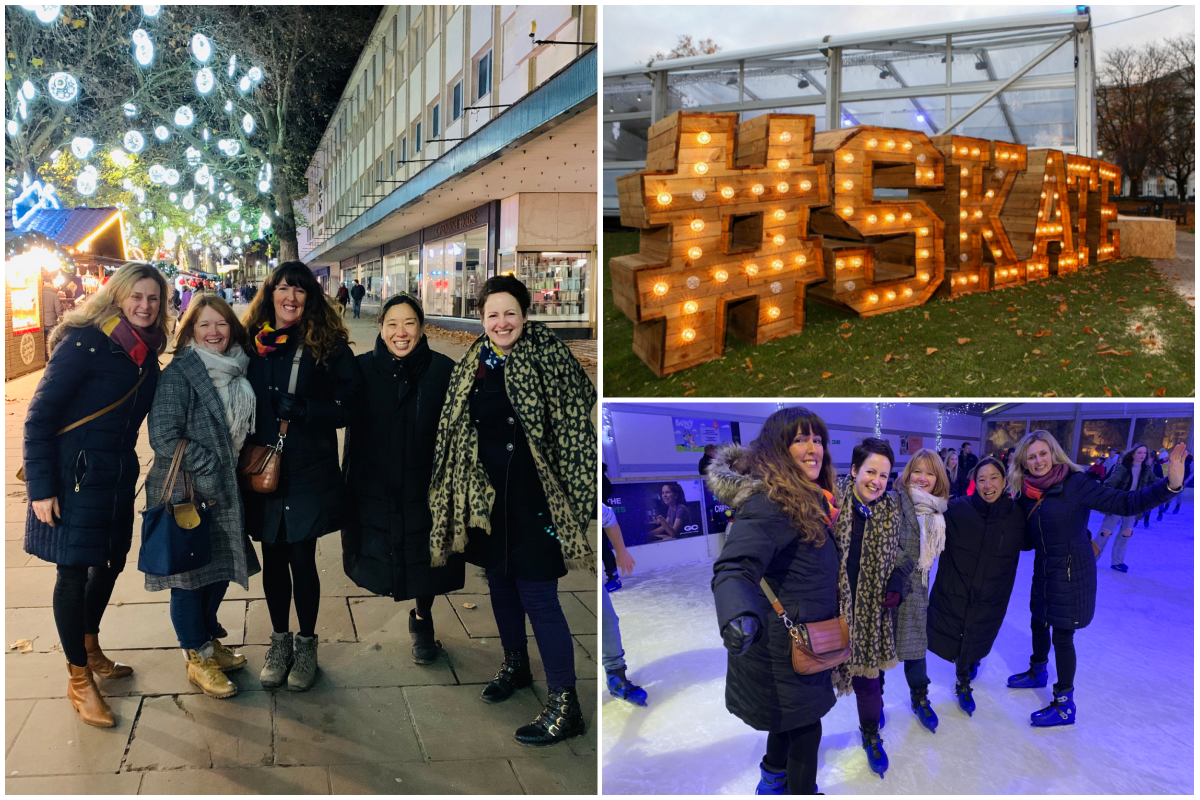 The feedback we received from all four travel bloggers was their surprise at how much there is to do in Cheltenham at Christmas and how much you can squeeze into a two day Cheltenham staycation! They were all impressed with the wide choice of restaurants, bars and shops in the town centre and all plan to return for another visit soon. Read their reviews of our Cheltenham Christmas hotel staycation here...
Cathy at Mummy Travels - Review of the Queens Hotel, Cheltenham and My Festive Stay.
Sarah at Extraordinary Chaos - Amazing Places to Eat in Cheltenham and 10 reasons to stay at the Queens Hotel, Cheltenham.
Ting at My Travel Monkey - 24 Hour Guide: Cheltenham at Christmas
Donna at Like Love Do - Christmas Festivities in Cheltenham and My Luxury Stay in Cheltenham.
---
For more inspiration check out our suggested weekend itinerary – Christmas Getaway in Cheltenham and our comprehensive what's on guide – Christmas Events in Cheltenham.
Related
0 Comments