The ultimate guide to uncovering hidden gems on a visit to Cheltenham & Gloucester
Discover a veritable jewel box of hidden gems when you Escape the Everyday in Cheltenham and Gloucester. Here's an insider's guide to those tucked-away places that provide unforgettable memories, shopping, eating, and drinking experiences.
The historical city of Gloucester and Cheltenham, The Festival Town, are just a few miles apart but proud of their unique characters.
Both have their roots firmly in the past, with Gloucester's importance cemented by the Romans and Cheltenham's position as one of the UK's foremost spa towns confirmed during the early 19th Century's Regency period, yet both are forward-thinking and cosmopolitan places that are constantly developing and evolving.
Both destinations are great for exploring, shopping, eating, and drinking and simply passing the time, with a fabulous selection of independent businesses offering a friendly welcome to visitors and locals alike.
Here's the ultimate guide to the cream of the crop of Cheltenham and Gloucester's hidden gems, curated by the team here at Visit Cheltenham, along with our friends at Visit Gloucester.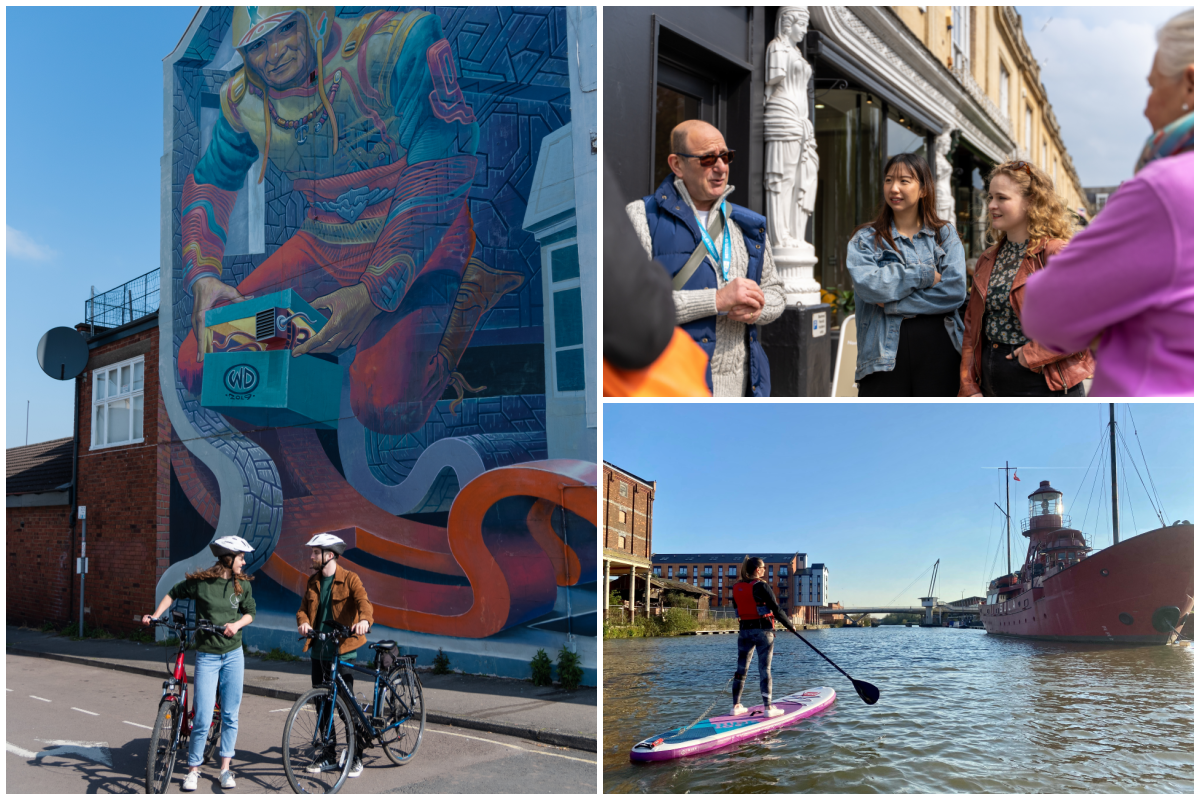 Images feature biking and a guided tour in Cheltenham; paddling boarding in Gloucester Docks.
Hidden gems to book and enjoy in Cheltenham & Gloucester
Explore Cheltenham's hidden gems on two wheels. Cruise along the traffic free Honeybourne Line checking out eclectic street art from the annual Cheltenham Paint Festival, through to a leisurely peddle in the stunning Pittville Park before exploring the many Regency landmarks in the town centre.
Hire a pedal bike or electric bike with self-guided bike tour from The Bicycle Hub. For those with a thirst for speed, get behind the driving seat at Cotswold Driving School and truly soak in the unique landscape, whilst experiencing rally driving thrills.
Prefer to keep your feet firmly on the ground? Take a highly recommended guided walking tour with knowledgeable and entertaining accredited blue badge tour guides - Around Cheltenham and Anne Bartlett.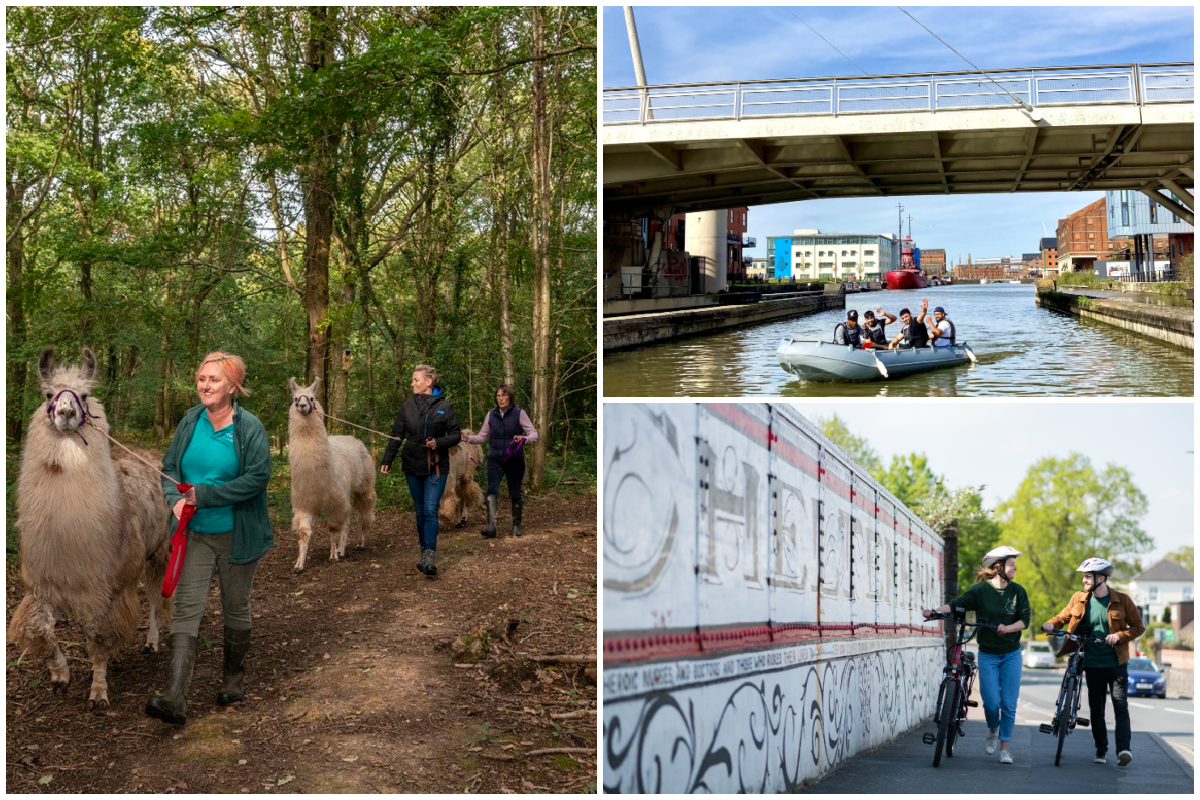 Images feature llama trekking in Newent near Gloucester; self drive boat hire in Gloucester Docks and biking in Cheltenham.
Gloucester is known for its historical attractions, exceptional shopping and varied dining scene, the city also offers a wide range of activities both on the water and land. From paddle boarding in and around the historic Gloucester Docks, to exploring the open canals on a self-drive boat. An unmissable hidden activity located in nearby Newent is llama trekking, a truly unforgettable experience with these playful and loveable creatures.
Discover more bookable experiences in Cheltenham & Gloucester.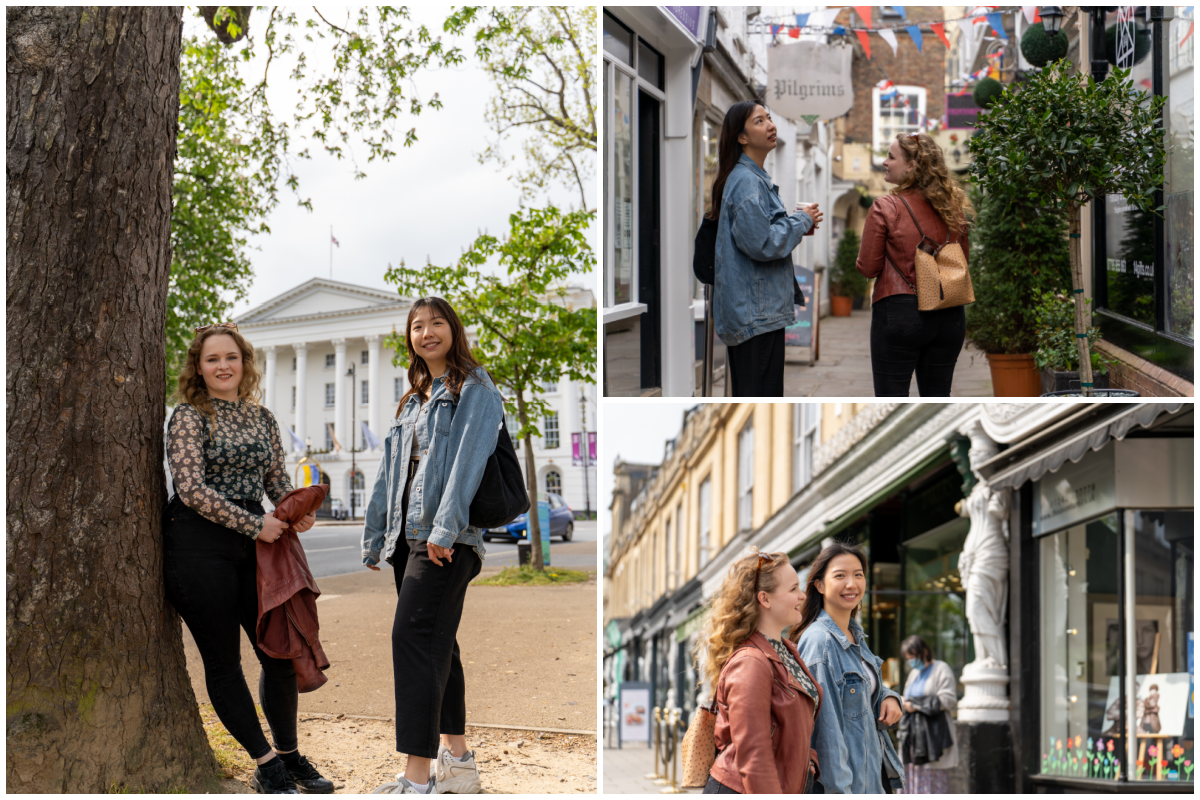 Images feature shopping in Gloucester (top) and Cheltenham (bottom); Queens Hotel, Cheltenham.
Shopping in Cheltenham & Gloucester
A world of brands and a selection of exceptional designer clothing awaits shoppers in Cheltenham. Areas such as Montpellier, The Suffolks and The Promenade are home to a variety of fantastic boutiques and unique shops.
Head for The Courtyard in Montpellier to see the latest designs from Caroline Charles, who worked for Mary Quant and counted Diana Princess of Wales as a regular client. Caroline's range caters for special occasions, cocktails, executive wear, and she's renowned for her signature prints.
Montpellier Walk is a couple of minutes away and home to the flamboyant designs of Beatrice von Tresckow, whose garments for women are easily distinguished by the combination of rich, colourful and highly textured fabrics and hand-finished beading and embroidery.
For clothing inspired by the styles of yesteryear, make a beeline for Bennington Street, home of Monrose Boutique. Just up the road is Monty Smith, an Indie fashion filled with handpicked diverse and interesting women's and men's fashion.
Cambray Place is the location of The Union Project, a contemporary men's clothing shop with an evolving catalogue of brands from around the globe.
Best of the rest
Lovely little homeware shop, Little Interior Co, near The Brewery Quarter that also offers floristry services and eclectic workshops in their basement.
Meanwhile fashion lovers are spoilt for choice at The Gloucester Quays outlet centre, which is home to many designer shops.
Aroid Attic on Bath Road in Cheltenham is home to the loveliest of plant shops and host of the 2022 RHS Chelease Flower Show, Houseplant Studio Design.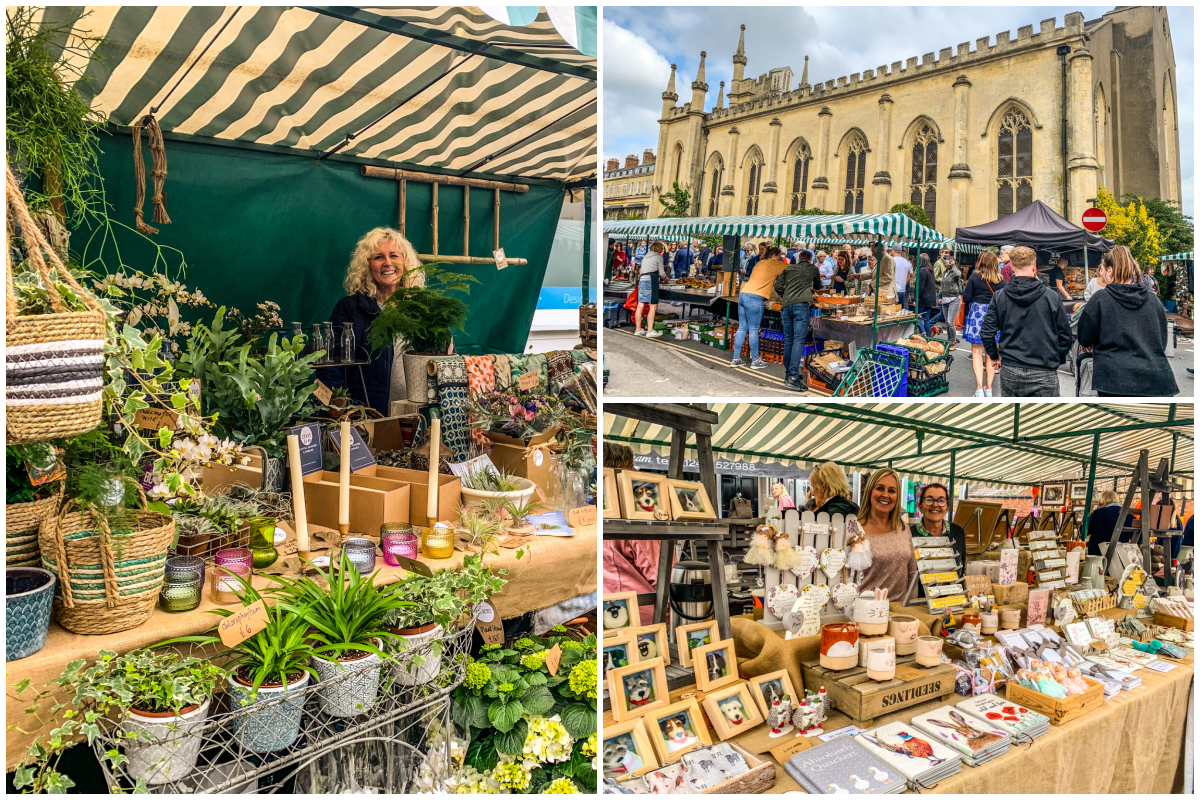 Images feature The Suffolks Sunday Market in Cheltenham.
Markets in Cheltenham & Gloucester
There's nothing like a good market to stock up on delicious goodies to take home. Farmers' Markets are firmly established in both Gloucester and Cheltenham, bringing produce from the surrounding countryside and artisan and speciality delicacies made nearby.
Gloucester Farmers Market is held at The Cross, the point where Northgate, Southgate, Eastgate and Westgate Streets meet, every Friday from 9am to 3pm. The Cheltenham Farmers Market comes to The Promenade every second and last Friday from 9am to 2pm. The historic Eastgate Market in Gloucester is also worth a visit for fresh fish, meat and other items.
For crafts, you can't beat browsing the stalls at the Cheltenham Crafts Market, every third Saturday of the month 9am - 5pm. The monthly Suffolks Sunday Market is also a true delight, with a wide range of independent store holders selling unique products and delicious treats.
Hidden gem bars & pubs in Cheltenham & Gloucester
If you like a great atmosphere, delicious cocktails or artisan beers and ciders, Gloucester and Cheltenham have a fantastic range of bars and pubs from which to choose. These spots are perfect for pre-theatre or dinner drinks, or for partying long into the night.
The Urban Fox in Montpellier Walk in Cheltenham is a great spot to enjoy cocktails and cupcakes in a relaxing space spread over two floors. This elegant new bar works closely with several local distilleries and producers.
The Clarence Social, situated behind The Promenade in Cheltenham, offers classically inspired cocktails, bar food, live music and guest DJs. This beautifully decorated venue has three floors, with a 25ft long bar on the ground level.
Fans of The Apprentice will recognise the face of Sophie Wilding, who has mixed Regency Cheltenham with an enchanted forest to create the vibe within her small but perfectly formed cocktail bar Imperial Haus.
Cocktails are served with a theatrical twist at Botanica Bar on Bath Road, Cheltenham, which is cosy and has vibrant décor, along with live music every Friday.
The Coal Kitchen Cocktail Bar on Merchants Road, Gloucester Quays, has an amazing location on the waterside in the listed Pillar & Lucy Warehouse, with views of the historic docks.
If pubs are more your thing, try the Sandford Park Ale House in the High Street in Cheltenham. It offers a choice of 10 cask and 16 keg beers, along with wine and spirits, and a garden that backs onto the picturesque River Chelt. Don't miss the cheese and cider festival held in July.
The oldest pub in Cheltenham is The Old Restoration, which has stood in the High Street since 1661. It's a great spot for music and 'bottomless brunch'.
The Railway in Cheltenham's New Street supports independent and local brewers and distillers and is home to Smokey Phi Phi's Thai street barbecue. A natural wine festival is held here in August.
Gloucester's fine selection of pubs include Robert Raikes Inn located in Southgate Street, a 16th Century timber-framed town house that was home to the founder of the Sunday School movement.
The Fountain Inn onWestgate Street, just a stone's throw from Gloucester Cathedral, is a 19th Century pub serving real ale.
Craft beer lovers should head to Tank, on Llanthony Road, Gloucester, which specialises in beers from Gloucester Brewery just a minute away.
Images feature Imperial Haus cocktail bar in Cheltenham; chef perfecting his dish at The Mahal restaurant in Cheltenham.
Hidden gem restaurants in Cheltenham & Gloucester
The cosmopolitan vibe running through both Cheltenham and Gloucester is much in evidence in the wide range of fabulous restaurants on offer for visitors and locals.
Purslane on Rodney Road, Cheltenham, offers a creative menu focused on sustainably caught seafood. Fish is also the speciality at The Barn at the Severn & Wye, located at Chaxhill just outside Gloucester.
For food inspired by France, try Le Champignon Sauvage on Suffolk Road, Cheltenham, which has two Michelin stars. MUSE Brasserie on St George's Place, Cheltenham, takes inspiration from both France and India to create delicious dishes.
While The Mahal, tucked away jusy a few moments walk from Cheltenham town centre on Montpellier Drive, offers majestic surroundings, sensational Indian dishes and superior service.
Turkish and Mediterranean-inspired dishes can be found at Daphne Restaurant on Crescent Place, Cheltenham. The Istanbul Kitchen on Winchcombe Street, offers authentic Turkish flavours and Greek on the Docks in Gloucester offers Greek and Mediterranean cuisine and a relaxing atmosphere with great views across the historic docks.
Modern British with a contemporary twist is the offering at Lumiere on Clarence Parade in Cheltenham. Whilst great pizza restaurants in Gloucester include Hooker & Eight in Westgate Street.
For a little touch of luxury, why not take afternoon tea at the famous Queens Hotel in the pretty Montpellier district of Cheltenham.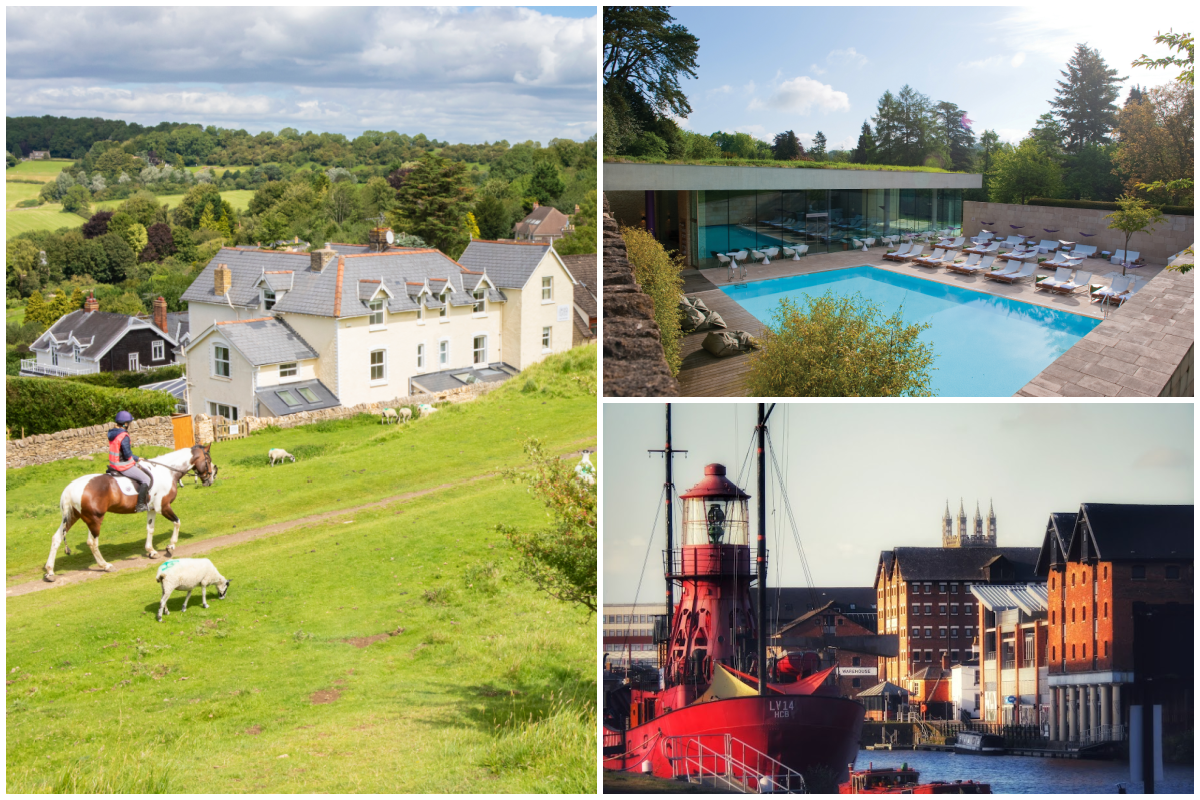 Images feature Cleeve House Hotel in Cheltenham (left); Cowley Manor outdoor pool and SULA lightship in Gloucester Docks.
Accommodation hidden gems in Cheltenham & Gloucester
A walk on the rolling Cleeve Hill, the highest point in the Cotswolds, takes you to a cosy countryside retreat - the Cleeve Hill Hotel.
For a unforgettable adventure, sleep onboard a converted light ship in Gloucester historic docks, as featured on TV!
And finally for the ultimate spa break, experience Cowley Manor. Inspired by the natural beauty of the surrounding Cotswold landscape, which has an award-winning spa and outdoor heated pool. Cowley Manor is the perfect spot for relaxing after rushing around discovering all of the above hidden gems!
For more day trip, or Cheltenham and Gloucester staycation inspiration, check out our helpful guides on Escape the Everyday.