Businesses owned by Cheltenham celebrities & local legends
Ever wonder what celebrities do when they're not making public appearances? Well, several run successful popular businesses in and around Cheltenham. Along with the team at Visit Gloucester we've scoured our Regency town, and neighbouring city of Gloucester, to bring you the cream of the celebrity crop. Read on for our guide to entrepreneurial star talent on our doorstep!
There are lots of reasons why so many Cheltenham celebrities choose to run businesses here, and in Gloucester…
The destinations lie just a few miles apart and are surrounded by spectacular countryside, which undoubtedly helps to get the creative juices flowing, and renowned for attractive buildings and landmarks, many of which have been an inspirational presence for hundreds of years.
All this and a thriving cultural calendar with racing, music and a rich variety of Cheltenham festivals bringing in people from all over the UK and the rest of the world, and it's easy to see why these famous faces don't want to be anywhere else.
So if you fancy rubbing shoulders with the people you've watched on the television or cheered on the sports field, here are a few celebrities for whom Cheltenham and Gloucester are great places to live and work.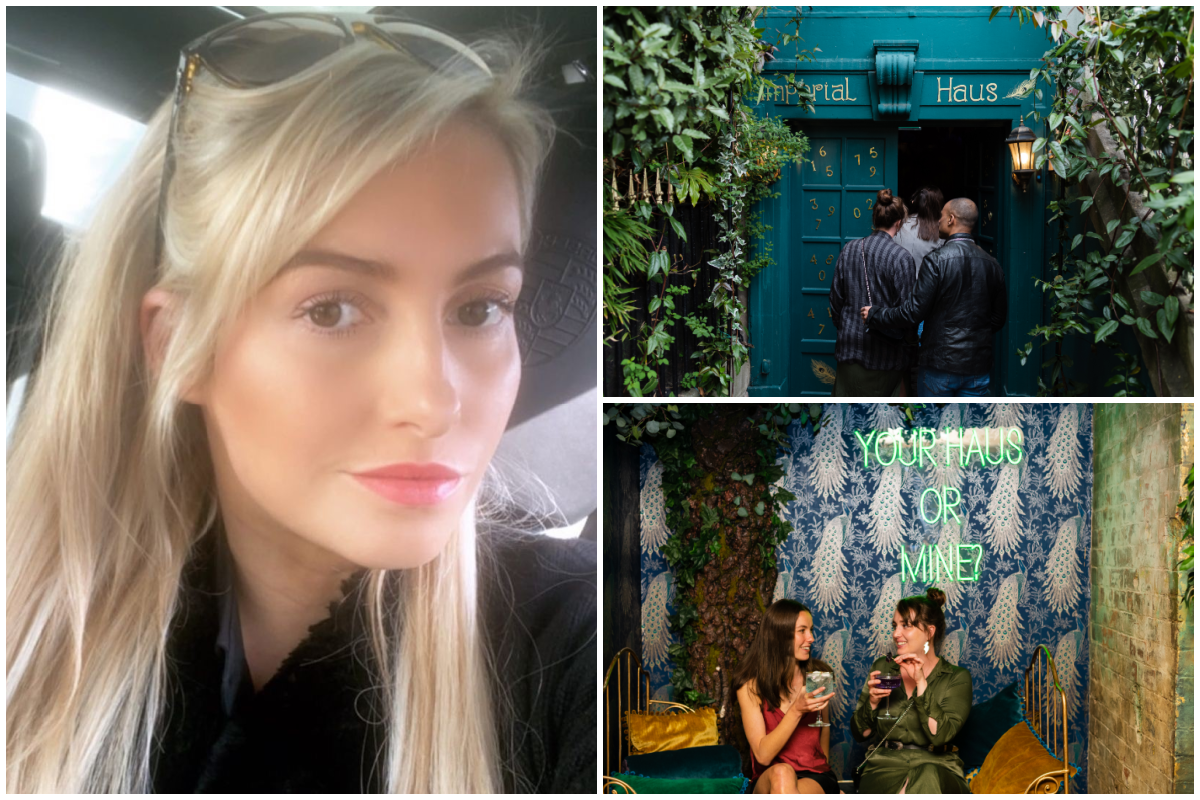 Images - Sophie Wilding credit @sophiewildingxx on Instagram; (right) Imperial Haus, her boutique cocktail bar in Cheltenham.
Sophie Wilding
Fans of the 2022 season of The Apprentice will no doubt recognise ambitious businesswoman Sophie Wilding, owner of Imperial Haus.
This boutique bar is a magical venue that pairs a passion for interior design with a love of cocktails, bringing together Regency Cheltenham and an enchanted forest. Sophie's handcrafted cocktail menu is teamed with an immersive atmosphere and unparalleled service.
Address - Imperial Haus, 1A Imperial Square, Cheltenham. www.imperialhaus.com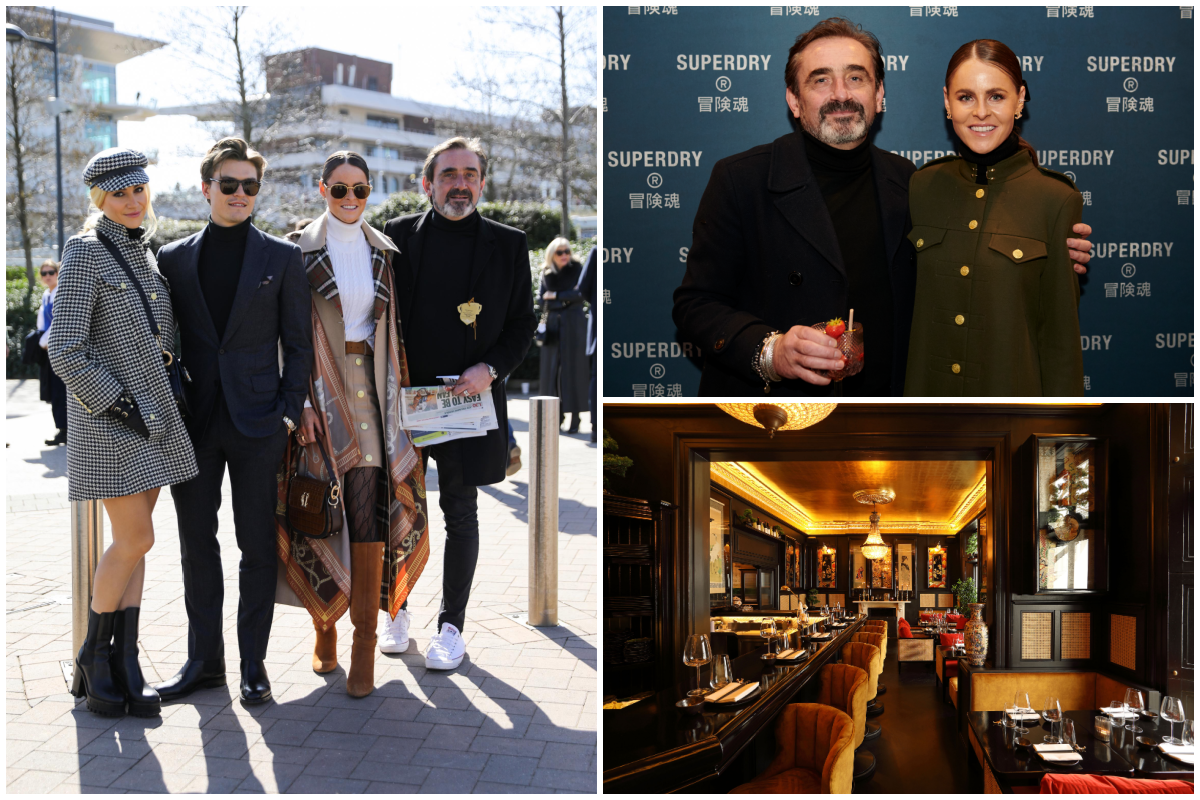 Images - (Left) Julian Dunkerton with wife, Jade Holland Cooper & friends Pixie Lott and Oliver Cheshire at Cheltenham Festival in March 2022; (top) Julian & Jade at the launch of new Superdry store in Cheltenham and (bottom) interior of their new Japanese restaurant - YOKU.
Julian Dunkerton
The co-founder of the fashion label Superdry (which has its HQ here in Cheltenham) runs several businesses in and around the town.
Julian and his fashion designer wife Jade Holland Cooper own The Lucky Onion Group, the company behind the hotel and restaurant No. 131, which combines traditional Georgian architecture and eclectic modern design to offer fantastic all-day dining, one of the best late-night bars in town and 36 beautifully-designed bedrooms that provide a comfortable base from which to explore the surrounding area. Enjoy delicious seasonal food on the No. 131 Terrace or experience Japanese and Asian fine dining at its new signature YOKU restaurant, and enjoy a cocktail at Gin & Juice, named the 2022 hotel gin bar in the UK by Gin Magazine.
Cider is another of Julian's passions and in 2014 he took on an enterprise started by his father Ivor and stepmother Susie more than 30 years previously and moved it from Herefordshire to Cheltenham. Dunkertons Organic Cider at Dowdeswell Park off London Road is now a popular destination, with its taproom providing the venue for a variety of events throughout the year. This award-winning business also offers cider tours and masterclasses.
Julian's contributions to Cheltenham also include philanthropic gestures, such as funding for the new state-of-the-art music school at Balcarras School in Charlton Kings.
Addresses - No. 131, The Promenade, Cheltenham. GL50 1NW. www.no131.com
Dunkertons Organic Cider, Dowdeswell Park, London Road, Cheltenham, GL52 6UT. www.dunkertonscider.co.uk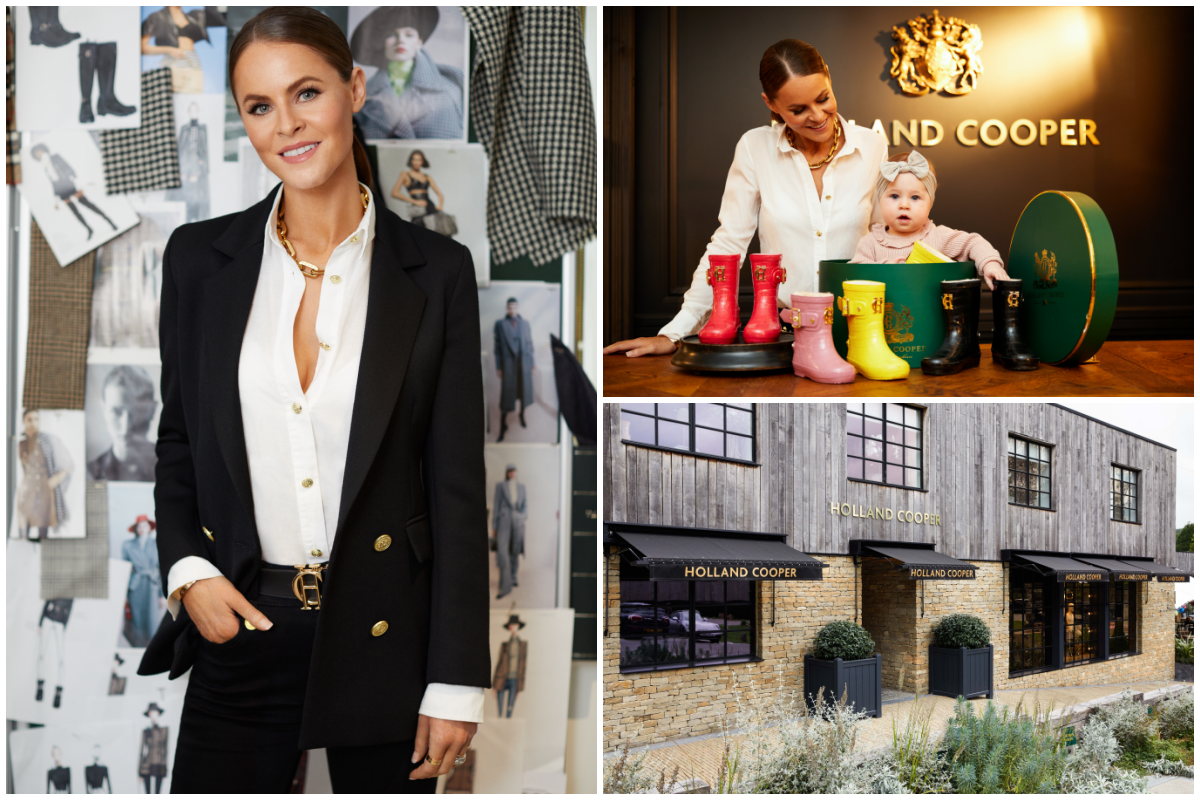 Images - Jade and daughter at her boutique flagship clothing store - Holland Cooper, Dowdeswell Park, Cheltenham
Jade Holland Cooper
Fashion designer Jade Holland Cooper creates beautiful timeless clothes for women. Her company, Holland Cooper, was founded in 2008 when Jade sold 30 tweed miniskirts from a stall at Badminton Horse Trials and is now a global brand, with HRH The Duchess of Cambridge, David Beckham and Love Island's Georgia Toffolo among those who have worn her creations. Holland Cooper's flagship boutique is located in Charlton Kings. In 2018 Jade married the co-founder of Superdry Julian Dunkerton at their Cheltenham home. Alongside her fashion brand, she's involved in The Lucky Onion Group, see above.
Address - Holland Cooper Boutique, Dowdeswell Park, London Road, Charlton Kings, Cheltenham. GL52 6UT. www.hollandcooper.com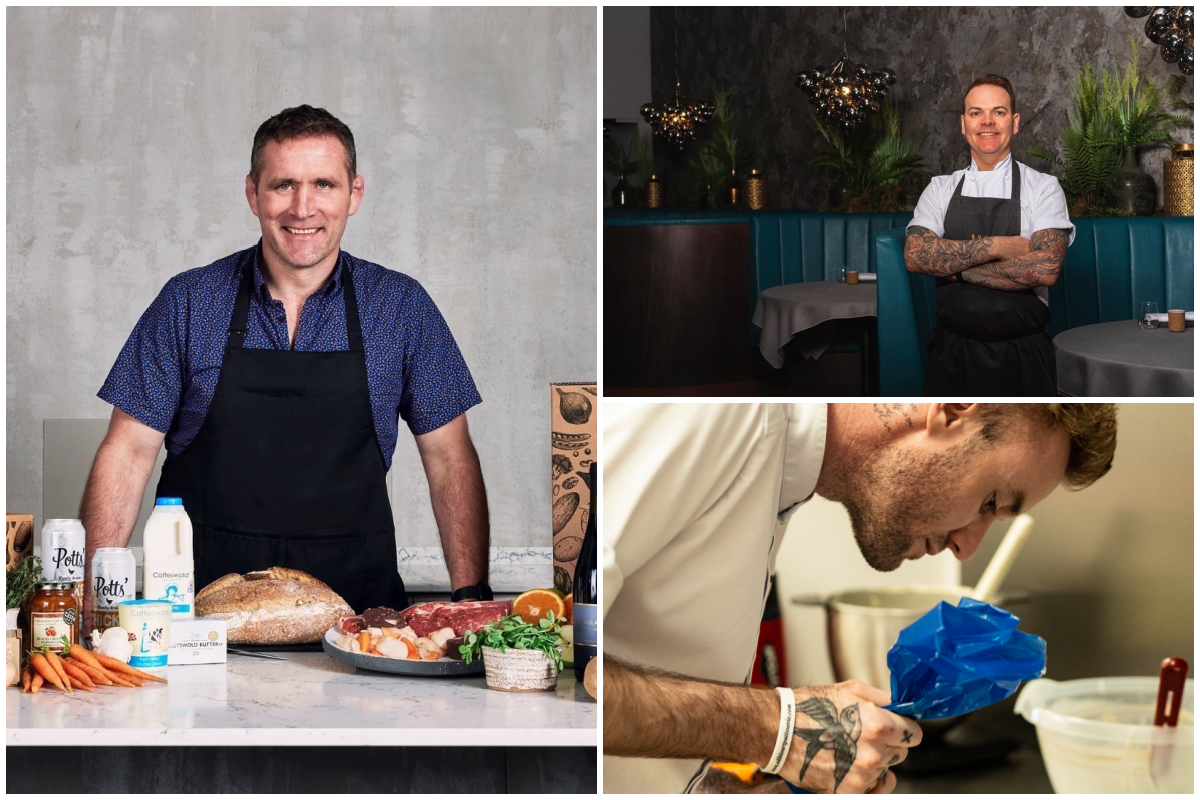 Images - (Left) Phil Vickery, rugy player and owner of No. 3 Restaurant in Cheltenham; (top) Simon Wood, owner of WOODKRAFT and (bottom) Damien Wager author and famous patisserie chef, owner of Edible Art Patisserie.
MasterChefs (and a famous Patisserie Chef!)
Phil Vickery's success on the rugby field earned him 73 England caps and he went on to wow judges to be crowned the winner of the 2011 series of Celebrity MasterChef. Nowadays the farmer's son from Cornwall is involved with Raging Bull Clothing, for which he is the founder and inspiration, and has teamed up with chef Tom Rains to open the restaurant No.3 Royal Crescent specialising in the finest meat and fish and sharing plates.
Other MasterChef contestants to establish businesses in Cheltenham include Simon Wood, who opened his relaxed and informal restaurant WOODKRAFT in 2018, in addition to his WOOD restaurant in Manchester, and Andrew Kojima, a finalist in 2012, who opened his Koj restaurant specialising in Japanese food in 2017, but later closed as a result of the Covid-19 restrictions. He now offers a private chef service, runs cookery classes and has written a book. Mark Stinchcombe, the winner of MasterChef: The Professionals in 2015, is now in charge of the kitchen at The Barn at Severn & Wye in Chaxhill, near Gloucester.
It's not just Masterchef's that are attracted to Cheltenham, famous Patisserie Chef and three times author, Damien Wager, also runs a successful business in town. Edible Art Patisserie is a hidden gem, located in Montpellier Courtyard and a must visit for those with a sweet tooth and an appreciation for fine edible art!
Addresses: No. 3 Restaurants, 12 Royal Crescent, Cheltenham. GL50 3DA. www.no3restaurants.com
Raging Bull Clothing: www.ragingbull.co.uk
WOODKRAFT, 13 Regent Street, Cheltenham, GL50 1HE. www.woodkraftcheltenham.com
The Barn at Severn & Wye, Chaxhill, near Gloucester GL14 1QW. www.severnandwye.co.uk
Edible Art Patisserie, Montpellier Courtyard, GL50 1SR. edibleartpatisserie.com
Lewis Ludlow
Gloucester Rugby captain Lewis Ludlow has gone into business with Adam Balzano and Daniel Snowdon of the Hooker and Eight restaurant in Gloucester to create a mobile pizza unit. The Openside Pizza Company, housed within a converted horsebox, is to be taken to sites and events all over the country. Lewis, who plays in the openside flanker position, says he will leave the actual pizza making to Hooker and Eight staff, but is happy to help behind the counter!
Website: www.hookerandeight.com/openside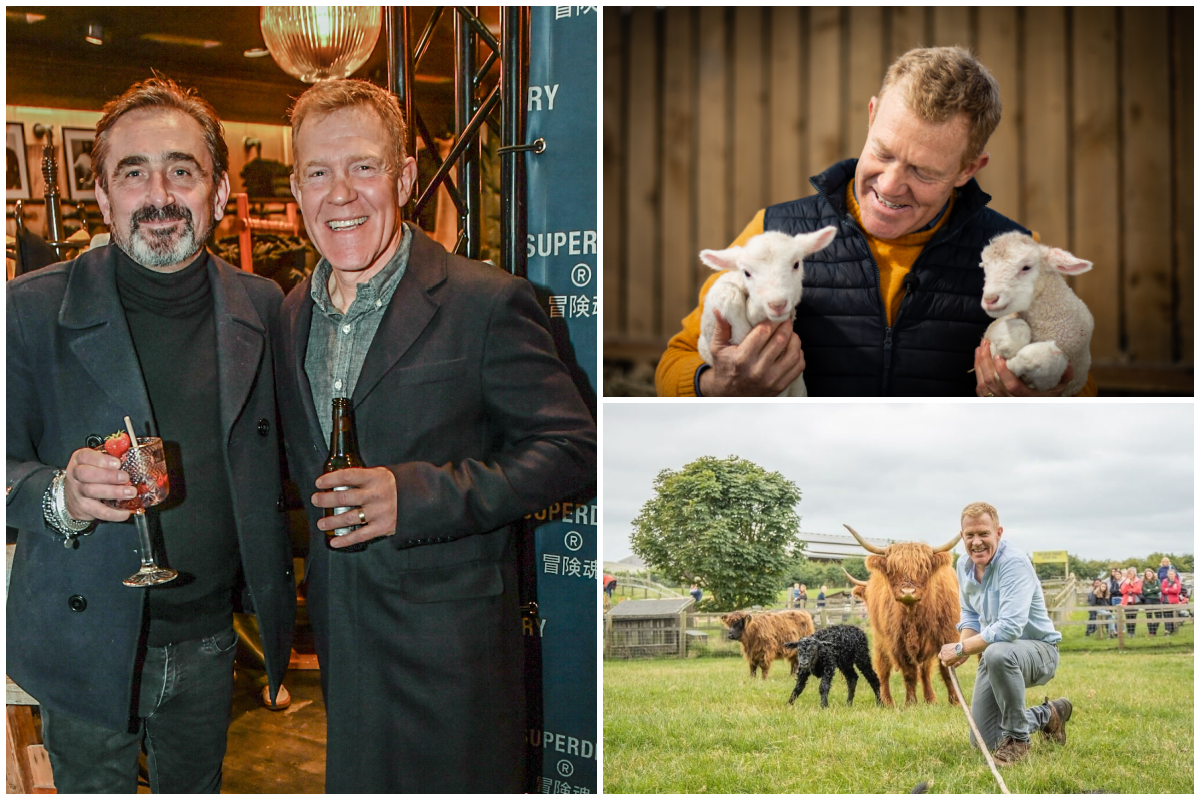 Images - (Right) Adam Henson and Julian Dunkerton at launch party of the new Cheltenham Superdry store; (left) Adam at his farm, Cotswold Farm Park.
Adam Henson
Adam Henson's appearances on the BBC's popular Countryfile programme every Sunday make him one of the best known farmers in the UK. When he's not filming around the UK, he can be found at Cotswold Farm Park near Cheltenham where he grew up, still lives and which he now runs with his business partner Duncan Andrews. Cotswold Farm Park was founded by Adam's father Joe in 1971 to help protect rare breeds of farm animals. It's now a popular attraction for visitors of all ages.
Address: Cotswold Farm Park, Guiting Power, near Cheltenham, GL54 5FL. www.cotswoldfarmpark.co.uk
Chris Beardshaw
Broadcaster and multi gold-medal garden designer Chris Beardshaw is well known to devotees of BBC Radio 4's Gardeners' Question Time, along with Gardener's World, The Flying Gardener, Hidden Gardens and Beechgrove on TV. Chris, who has won 13 coverted gold medals for his gardens at events run by the Royal Horticultural Society, runs his garden design practice in a village near Cheltenham.
Website: www.chrisbeardshaw.com
---
Discover more interesting facts about our Regency town - Cheltenham Hidden Gems, Best Things To Do in Cheltenham, Cheltenham Festivals, Breweries & Distilleries in Cheltenham.