About
Light Up Cheltenham 2020 - 1 to 23 February 2020.
Cheltenham's landmarks and Regency buildings will be dramatically lit up to the delight of visitors in February 2020.

Starting on the 1 February and finishing on 23 February, over 30 buildings will be lit up in a way they've never been seen before. With the backdrop of the most complete Regency town in the UK, Cheltenham is certain to look spectacular.

Returning from the previous year to the launch night of Light Up Cheltenham, the street theatre drumming group Spark! will amaze crowds during the first night of this fantastic three week event. The town will also go red for Valentine's weekend, marking the special occasion for those celebrating.

With half-term in the middle of the three weeks, Light Up Cheltenham offers a fantastic free event for families to enjoy and a chance to see Cheltenham in a new light.

February's Light Up Cheltenham will also see the return of a giant observation wheel in Imperial Gardens, giving visitors the chance to see the lights from a whole new level.
There will also be self guided and guided tours available. Visitors wishing to explore independently can download a self-guide tour map here.
The guided tours are with local blue badge guides and are perfect for locals and visitors wishing to learn more about the history and quirky stories of the buildings lit up for the event. The tour will be take visitors through the town starting from outside the Queens Hotel.
For everything you need to know about Light Up Cheltenham including the launch event and times/prices of the giant observation check out our guide - Light Up Cheltenham 2020.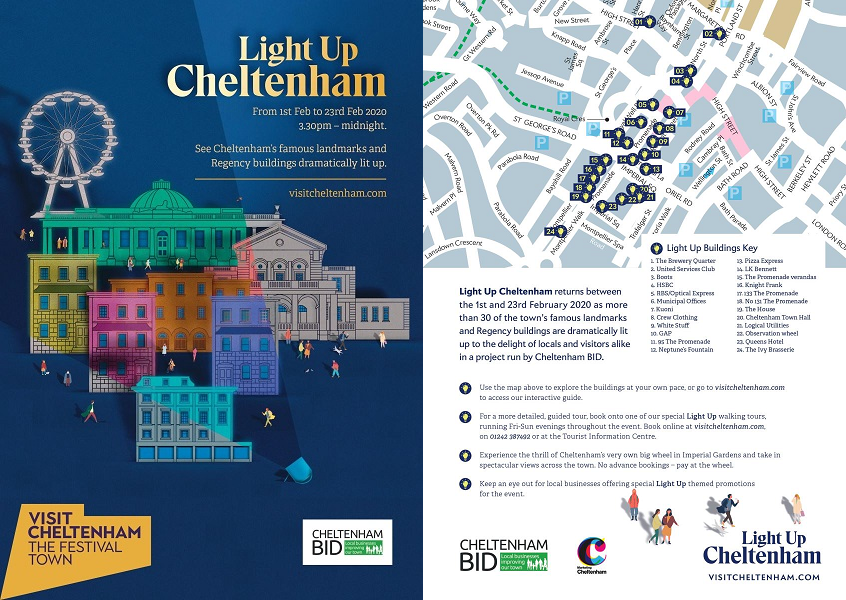 * Images show Light Up Cheltenham in 2018 and 2019 and feature images of the glow up band - Spark who will return to dazzle crowds this year on the 1 February for the launch event.
Book Tickets
Opening Times
Sorry, this event has passed
Directions
Road Directions
Click here for all the information you need regarding car parks in Cheltenham. They are situated in various locations around the town centre.

If arriving by car we recommend that you use Cheltenham's Park & Ride service, this is located at Arle Court (GL51 6SY, near M5 Junction 11) and Cheltenham Racecourse (GL50 4SH). Parking is free, and the service runs every few minutes into the Town Centre; but please note that times vary on Sundays.

Public Transport Directions
Cheltenham Spa is well served by CrossCountry trains, including direct services from many mainline stations including Bristol, Manchester, Leeds, York, Sheffield and Edinburgh. The railway station (GL51 8NP) is located approximately 1 mile from the town centre, and local buses depart into Cheltenham town centre every few minutes.

Stagecoach run regular services locally and to nearby town and villages.

National Express Coaches operate services between many major cities and Cheltenham Spa's Royal Well bus station (GL50 3PD).
For more information about travelling to Cheltenham via public transport click here - Getting to Cheltenham.
TripAdvisor