Celebrate Race Week at The Brewery Quarter
The Brewery Quarter
Henrietta Street
Cheltenham
Gloucestershire
GL50 4FA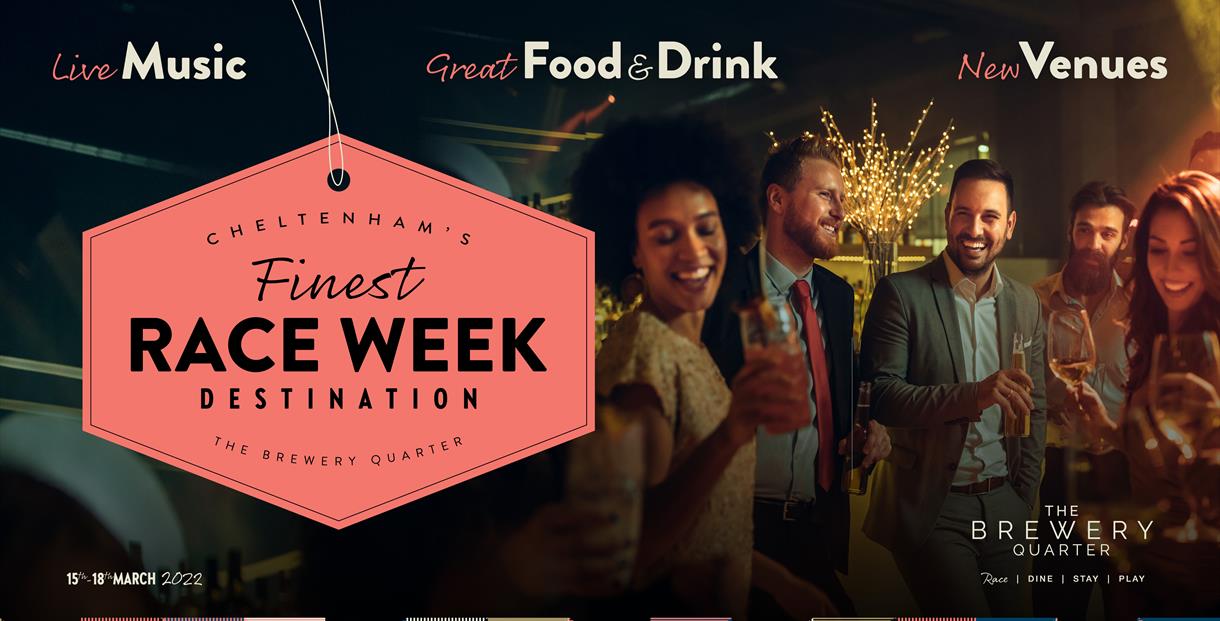 About
The Brewery Quarter is gearing up for its busiest race week, sharing Cheltenham Festival goers' excitement in celebrating the biggest week of the year in the UK's jump-racing calendar!
With a great selection of bars and restaurants, a variety of breakfast offers and plenty of evening entertainment options The Brewery Quarter has everything any racegoer needs to plan around their trip to Cheltenham races.
Plus there are more exciting venues for 2022, including recently opened Brewdog, Flight Club, The Alchemist, Mowgli and Hub Box. Even better, it's your closest one-stop destination in town from the racecourse!
AFTER THE RACING IT'S JUMPING AT THE BREWERY QUARTER
From live music outside the bars every night until 9pm, to live bands and DJs inside several venues, the atmosphere will be happening throughout.
LIVE OUTDOOR MUSIC EVERY EVENING
From 5-9pm each night enjoy outside entertainment with some great local acts.
On Tuesday 15 and Friday 18 March, join Camilla Lewington and her band Just Shut up and Dance in doing what her and her band does best – creating a lively upbeat party with her powerful vocals and foot stomping beats.
On Wednesday 16 and Thursday 17 March, check out The Mark Walby band. The band was founded with one goal in mind: to be the most energetic, crowd pleasing, hand clapping, foot stomping and unrivaled party band in the industry!
Both bands have something for everyone and are guaranteed to pack the dance floor with their wide variety of pop, rock and soul classics.
WHERE TO GO
There's everything you need to keep the celebrations going at The Brewery Quarter, with delicious food, plenty of entertainment and huge choice of cocktails, wine or beer; it's so easy to hop from venue to venue to enjoy several during your visit.
FOR BREAKFAST
Set yourself off to a winning start! From early bird all you can eat breakfast offers in Premier Inn from 6:30am, to champagne or cocktail brunch in The Alchemist, there are lots of options to suit every palate. Other breakfast venues include The Botanist, Brewdog, Brewhouse and Kitchen, Cosy Club, SOHO Coffee Co. and one of our newest venues Hub Box, who will be serving a range of food from full English to full vegan English, salmon and scrambled eggs or smashed avocado on toast. All venues open from 9am.
FOR COCKTAIL AND CHAMPAGNE LOVERS
The Alchemist, The Botanist or The Cosy Club are all specialists in this field, each with their own novel interiors; from sleek art deco at The Alchemist, a garden wall and lots of foliage at The Botanist and cosy quirky quintessentially English interiors at Cosy Club
FOR BEER AND ALE LOVERS
Visit the newest bar Brewdog for its vast selection of craft beers, ciders and ales with 30 taps of Brewdog's famous favourites. Enjoy a huge selection of craft beers – with many made on site at Brewhouse & Kitchen. Hub Box has a great variety of local brewery DEYA's finest on tap and will have its own outside bar for those wanting to enjoy the outside live music.
FOR FAST, TASTY FOOD
Refuel in your choice 13 restaurants/bars. For a quick bite, there's spicy peri peri chicken at Nando's; American style burgers at Five Guys; or Cornish-bred meat burgers, along with amazing vegan options at Hub Box; delicious tapas-style Indian served as and when ready at Mowgli; Italian favourites at Prezzo or steak served your way at Son of Steak.
FOR LIVE MUSIC/PARTY ATMOSPHERE
The Botanist and Brewhouse & Kitchen are both hosting live music bands inside every night. The Alchemist will host a DJ every evening too, along with a designated champagne station to ensure the drinks keep flowing. Hub Box will have an outdoor bar serving local beers for people to enjoy whilst listening to the live music outside, plus customers can get chance to play secret DJ when they download the Secret DJ app and choose from the selection of tunes available inside.
FOR SOMETHING DIFFERENT
We've various entertainment options for those that want to keep the competition going. From our newest venue Flight Club's social darts experience, with oches accommodating up to 12 people, to a thrilling hour of code breaking fun at Escape Hunt. There's indoor golf, darts and shuffle board action at Mr Mulligans, a game of bowling at Hollywood Bowl, or perhaps a movie at Cineworld IMAX.
EASY TO FIND AND ON THE RIGHT SIDE OF TOWN
The Brewery Quarter is the first multi venue destination on your way into town, just 20 minutes' walk from the racecourse. Simply walk straight down Evesham Road, then at St Margaret's Road crossroads turn right – The Brewery Quarter is just ahead of you on the other side of the road.
Book Tickets
Opening Times
Sorry, this event has passed
Directions
TripAdvisor