Perhaps one of Cheltenham's best-kept secrets, which is an absolute must-see on your visit, is the Holst Birthplace Museum. It was here that Gustav Holst was born and went on to compose 'The Planets', and you can catch a perfectly preserved glimpse of life at the time. We catch up with Laura Kinnear, Curator of the Museum to find out more...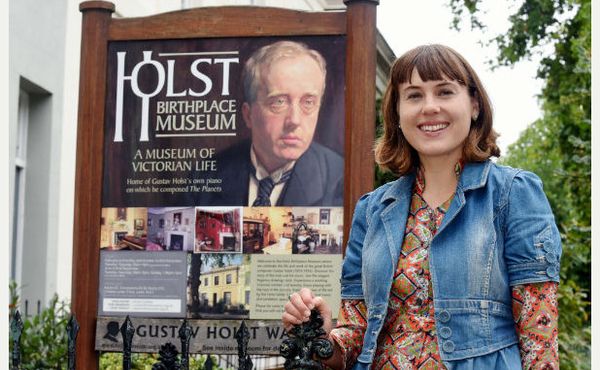 Tell us about the museum; why should people visit, what can they see?
The Holst Birthplace Museum is a museum devoted to the composer Gustav Holst (1874-1934), best known for his work The Planets. Visitors can see and hear the actual piano Holst composed The Planets on, as well as other personal belongings including autographed manuscripts. The museum is also a historic house with preserved period rooms offering a glimpse into ordinary 19th century domestic life. Visitors can walk into the rooms - unlike many museums and houses, there are no barriers – and therefore imagine themselves living in history. It is the only historic house open full-time to the public in Cheltenham and moreover the only one in Gloucestershire on such a modest scale. It is also one of only two composer birthplace museums in England.
For Cheltenham residents, a visit offers a sense of place and collective heritage, Holst's history is their history too. The people of Cheltenham should feel incredibly proud that this internationally famous person was born in their town. It is their museum.
For a visitor to the town, a local museum is a must-see. A museum gives context to the place they are spending a day or a weekend. Cheltenham is rightly proud of its Regency history and many visitors are drawn to the town because of this heritage. At the Holst Birthplace Museum visitors can not only explore the life of a significant composer and see rooms dressed in the Victorian style he knew, they can also walk into an actual Regency Sitting Room.
In addition to the collections and the period rooms the museum also provides a range of activities and events for all ages. Every Tuesday during the school holidays there are free craft drop-ins for children and several times a year the Victorian Kitchen is transformed into a working one with cooking on the Victorian range. Visitors are able to taste a variety of tasty Victorian treats including drop scones cooked on the range, while they are still hot!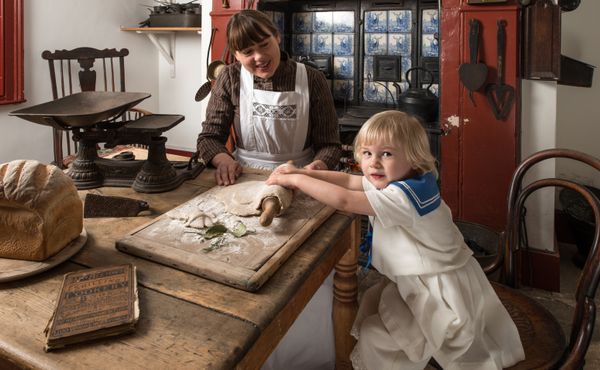 What might we be surprised to learn about Holst and the Holst Museum?
The first Holst to come to Cheltenham was Gustavus von Holst in the 1820s. He was the first Professor of Music at Cheltenham Ladies College and lived and worked in two shops in Montpellier selling harps and pianos. These buildings are now Ladbrokes and The Circus Bar. With regard to the museum, we also attract a large number of Japanese visitors due to the huge popularity of The Planets in Japan.
How can people find out more about the museum?
The best way is to go to our website: www.holstmuseum.org.uk and also to follow us on Facebook and Twitter.
So Laura, tell us about your role at the museum?
I have been Curator at the Holst Birthplace Museum for 11 years (except two years out when I had my two children), following roles at The Wilson, Gloucester Folk Museum, Gloucestershire Archives and Stroud Museum. My role involves caring for the collections in our archive and on display, including presenting them to the general public in an interesting and engaging way. I am also responsible for organising a programme of events and activities. I also manage the forty plus volunteers who help run the museum. Without these volunteers the museum would not be able to open as they staff our reception, giving every visitor a warm welcome. In addition to this I frequently apply for grants to help support the work of the museum. This year we have been lucky to receive our third Heritage Lottery Grant. Grants enable us to do creative projects and support vital work in the museum such as conserving our Regency harp.
I have been fascinated by history and museums since I was a young child, in particular museums which show what life was like in the past in an immersive way. I love living history museums where you can dress up and experience activities which people would have been doing years ago.
I was brought up in Cheltenham, having moved here when I was three years old. I now live in Stroud with my husband and two young children, Mhairi and Seumas, who have both dressed up as Holst and know the museum intimately!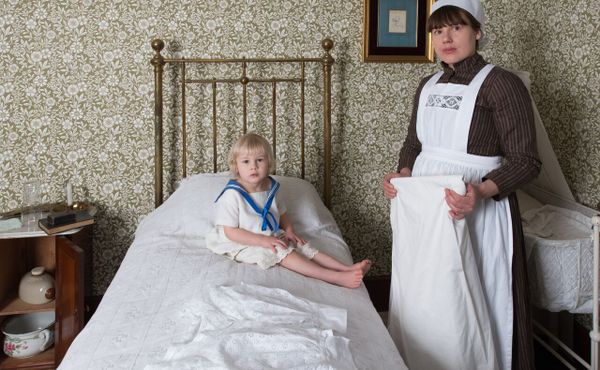 What made you take on the role at the museum?
Having grown up in Cheltenham I was familiar with the museum and proud that such an important composer was born in my home town. I visited as a seven year old and the period rooms made a big impact on me – in particular the tiny maid's bedroom! I still have the postcard of Holst which I bought on that visit. I became a volunteer in my early twenties just prior to studying for a Masters in Museology (Museum Studies). I was working at The Wilson (then Cheltenham Art Gallery & Museum) when the opportunity at the Holst Birthplace Museum arose. I was well aware that the role would be a challenging one as the museum has limited resources. However the role brings a certain amount of autonomy which you don't necessarily always have in a larger organisation. I also enjoy working with volunteers which is fortunate as we are heavily reliant on them to run the museum.
---
Apart from making the Holst museum your first port of call, if you were visiting Cheltenham for the day, where would you go and why?
I would start the day with a swim at Sandford Parks Lido. I am a massive fan of The Lido and count down the days until it reopens every spring. Cheltenham is so lucky to have such a historic lido, with such beautiful art deco details. There is nothing better than going on a summer's day, having a dip and then relaxing on the grass with an ice cream!
I would then follow this with a trip to The Wilson. No one should visit Cheltenham without spending an hour or two in The Wilson's galleries. My favourite bit is the Arts & Crafts gallery with its stunning work by amongst others, Ernest Gimson. One of my favourite exhibits in the main galleries is a very recent one – a painting of the Cheltenham grocer Alan Whitten which was painted on the doors of his grocers shop in the 1960s. I went to school at St James' Primary school just around the corner from the shop and remember the doors in situ as a small girl. Also worth a visit is Hardwick Gallery, a contemporary art project space at the University of Gloucestershire. I love its creative programming.
All this activity works up an appetitie of course. One of my favourite cafes is Well Walk Cafe, which like The Holst Birthplace Museum gives visitors a glimpse of the Victorian period. I love its cream teas but also the general decor – all faded samplers and Staffordshire figures. Otherwise I would pop to Smokey Joe's – full of kitsch memorabilia which is right up my street!
After lunch I would do a spot of shopping and venture to some of the excellent record shops in Cheltenham. I spent many hours as a teenager in Badlands and Vinyl Vault and still enjoy buying vinyl. Badlands is great for new releases and at Vinyl Vault you can browse through an extensive range of second hand rarities.
If there was time before dinner, (a curry on The Bath Road perhaps?) , I would try and make it up to Leckhampton Hill and gaze down to Cheltenham from the famous landmark, Devil's Chimney. If it was the summer perhaps Crickley Hill where you can have a BBQ and watch the sun go down.
Then I would go back into Cheltenham and catch a play at either The Playhouse or The Everyman Theatre. This would be followed by the pub, something cosy and charming like The Kemble or The Beehive.
What are your top five historical must-see places in Cheltenham?
The Masonic Lodge – only ever open during Heritage Open Days weekend but worth it!
All Saint's Church – one of my favourite churches. It has a stunning painted interior and stained glass by Morris & Co. Holst's father was also organist here and the young Gustav sang in the choir.
If you could only do one thing in Cheltenham, what would it be and why?
Apart from visit The Holst Birthplace Museum...swim at The Lido! Every time I go I feel like I am on holiday.
---
Thanks Laura for a brilliant insight! The Holst Museum is top of our list every time and we know you should visit too!
Related
0 Comments