The Hare and the Minotaur
The Promenade
Cheltenham
Gloucestershire
GL50 1PJ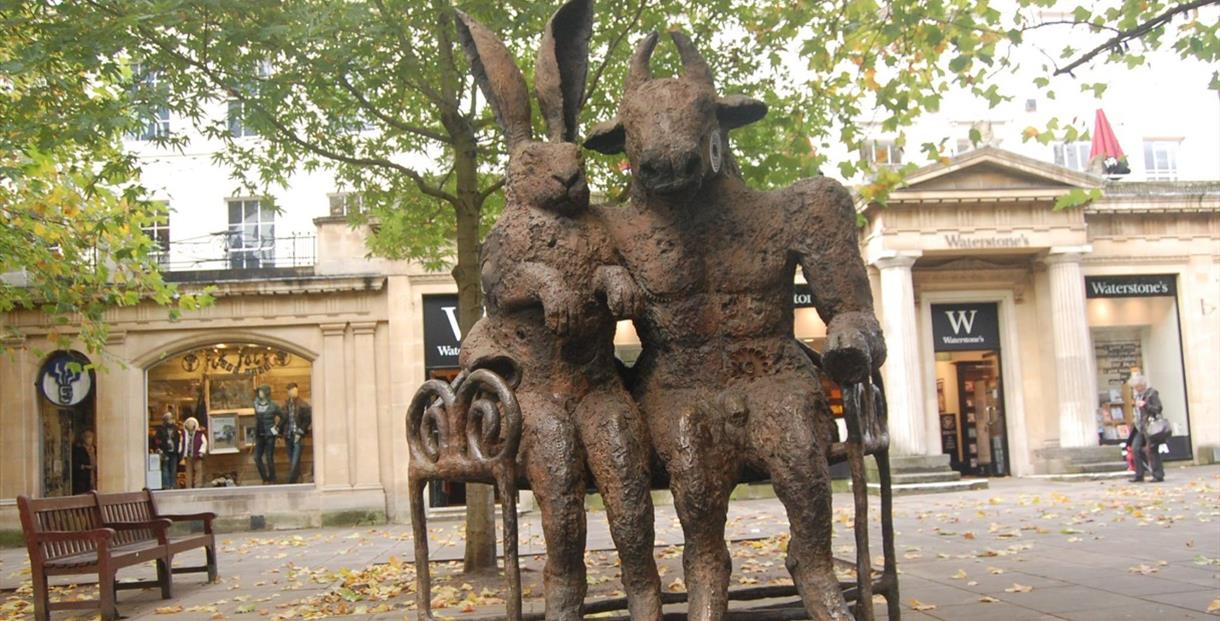 About
The Hare and the Minotaur Statue in Cheltenham can be found on The Promenade, outside House of Fraser. It is a truly remarkable statue, and although not everyone loves it, it is worth a stop on your visit to Cheltenham.
The sculpture was initially part of a temporary exhibition of the work of Gloucestershire based artist Sophie Ryder; it featured at the Cheltenham Museum and Art Gallery and it was created in 1995. The overwhelming public response to the exhibition fuelled the campaign to retain one of Sophie Ryder's sculptures and the Hare and Minotaur was acquired by public subscription in 1998.
The statue itself features a female hare and a male Minotaur seated on an oversized bench. It stands taller than any person and is made of reclaimed scrap metal; up close you can spot cogs and cooker hobs, screws and all sorts, creating a really textured, tactile metal finish. At the end of 2017, the statue was removed for a month and taken for restoration at Sophie's Foundry, where it was returned to its former glory before taking up its place on the Promenade once more. Sophie worked in partnership with Cheltenham Public Art Panel to organise and finance the restoration, after the statue's presence on the Prom for almost twenty years!

Sophie highlights her own inspiration as the works of Picasso and his depiction of the ferocious Minotaur, meanwhile the hare is a combination of a female-inspired body and animal head as a friendly companion for the Minotaur. Sophie described the Minotaur as "not threatening but strong, loving and protective but sometimes quite camp".
Sophie Ryder's work focuses on mythical creatures and hybrids, often hares combined with human features. Her most known piece is the Lady Hare, a hare with a female body, and this creation came about when she was looking for a companion for the Minotaur. She is renowned for her large scale pieces, and for her work in everything from sawdust to wet plaster, old machine parts and toys, and wire among other mediums. You can find out more about Sophie at www.sophieryder.com.
Book Tickets
Directions
TripAdvisor