Dog Friendly Places to Eat Cheltenham
We get a lot of questions from readers about the best dog friendly places in Cheltenham. It seems you all love to take your loyal pooches with you wherever you go, and who can blame you! We've followed Poppy, (aka Cockapops on Instagram) for a long time and have always been impressed with her impeccable taste. We felt she was the ideal dog to take on our important challenge of seeking out the best dog friendly cafes, pubs and restaurants in Cheltenham.
We are very lucky in Cheltenham, many venues welcome dogs with open arms. Poppy (along with a little help from her owners, Cara and Andy, of course!) have recommmened their favourite places below, keep scrolling for a comprehensive list of dog friendly places to eat in Cheltenham.
---
Dog friendly cafes Cheltenham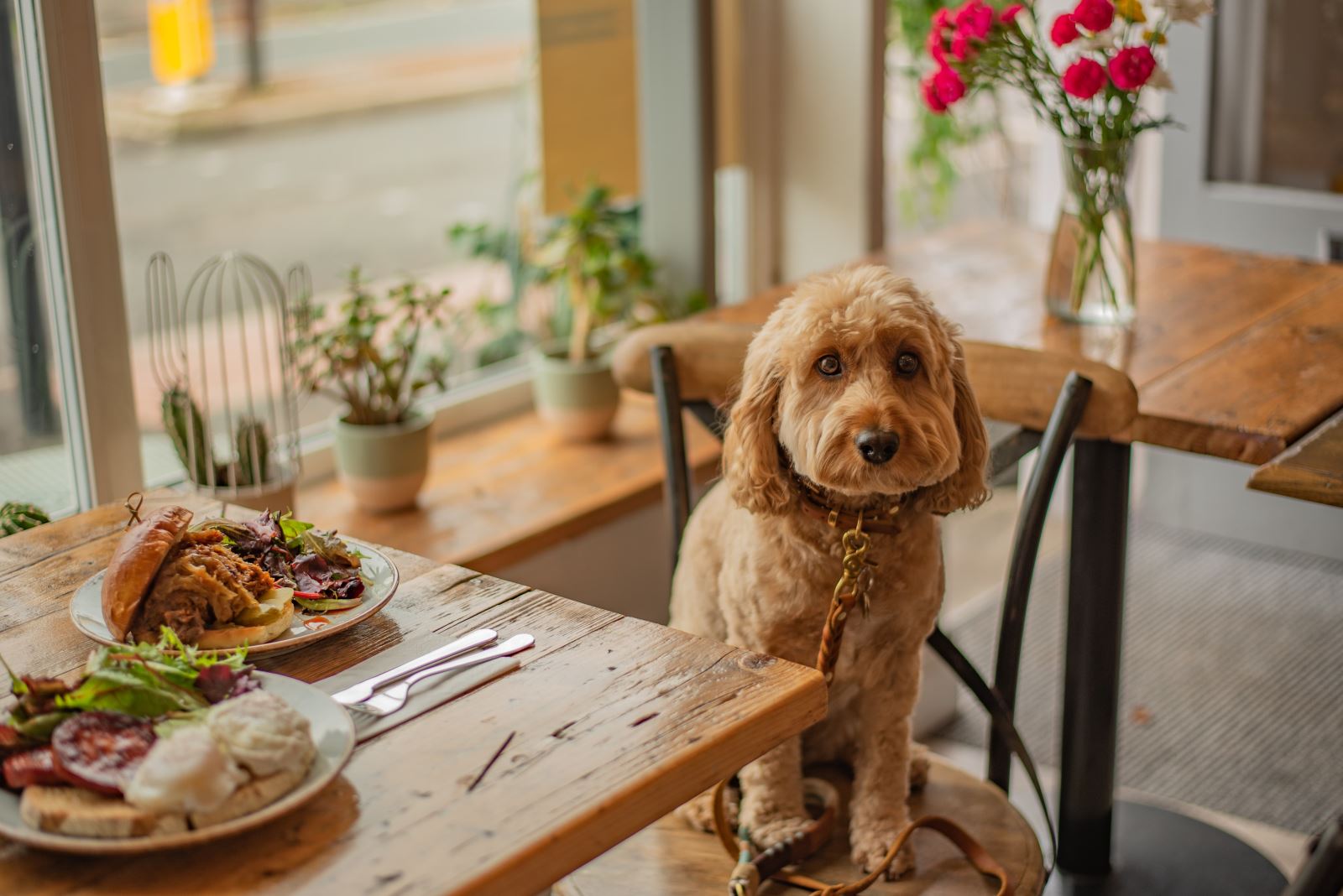 Address: 85 Hewlett Road, Cheltenham, Gloucestershire, GL52 6AJ
We're lucky enough to live round the corner from this hidden gem. It's a great spot for brunch and lunch with great big portions and a regularly changing menu. We love their beef brisket sandwich and avocado toast but they also offer a big (and very tempting) range of cakes and cookies! The owner Steph also makes AMAZING cocktails that are definitely worth a try.
Address: 18 Regent Street, Cheltenham, Gloucestershire, GL50 1HN
Hands down the best coffee in Cheltenham and we've been bringing Poppy here since she was 10 weeks old! They have an incredible selection of cakes, brownies and blondies too. If you're not a coffee drinker, it's worth a visit for their hot chocolates too with at least 5 varieties on the menu!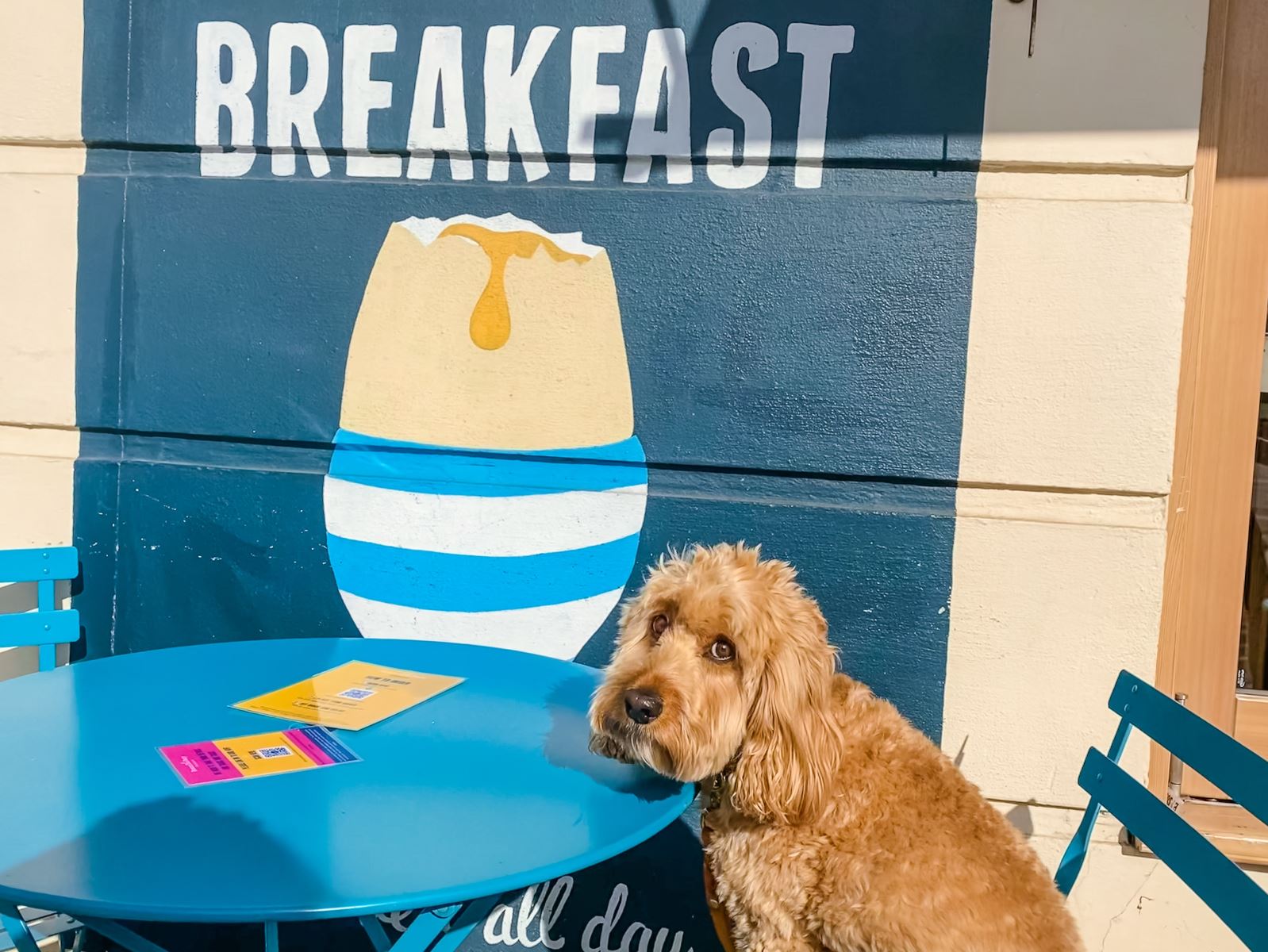 Address: 45-49 Clarence Street, Cheltenham, Gloucestershire, GL50 3JS
A great dog friendly place to visit with plenty of seating and a very popular breakfast spot! Expect your dog to get plenty of fuss from the lovely staff while you agonise choosing from the largest cake selection we've seen - which is definitely a good thing in our eyes. The blueberry and ginger smoothie is a particular favourite and we have been known to detour out of our way just to go past in the morning and grab one.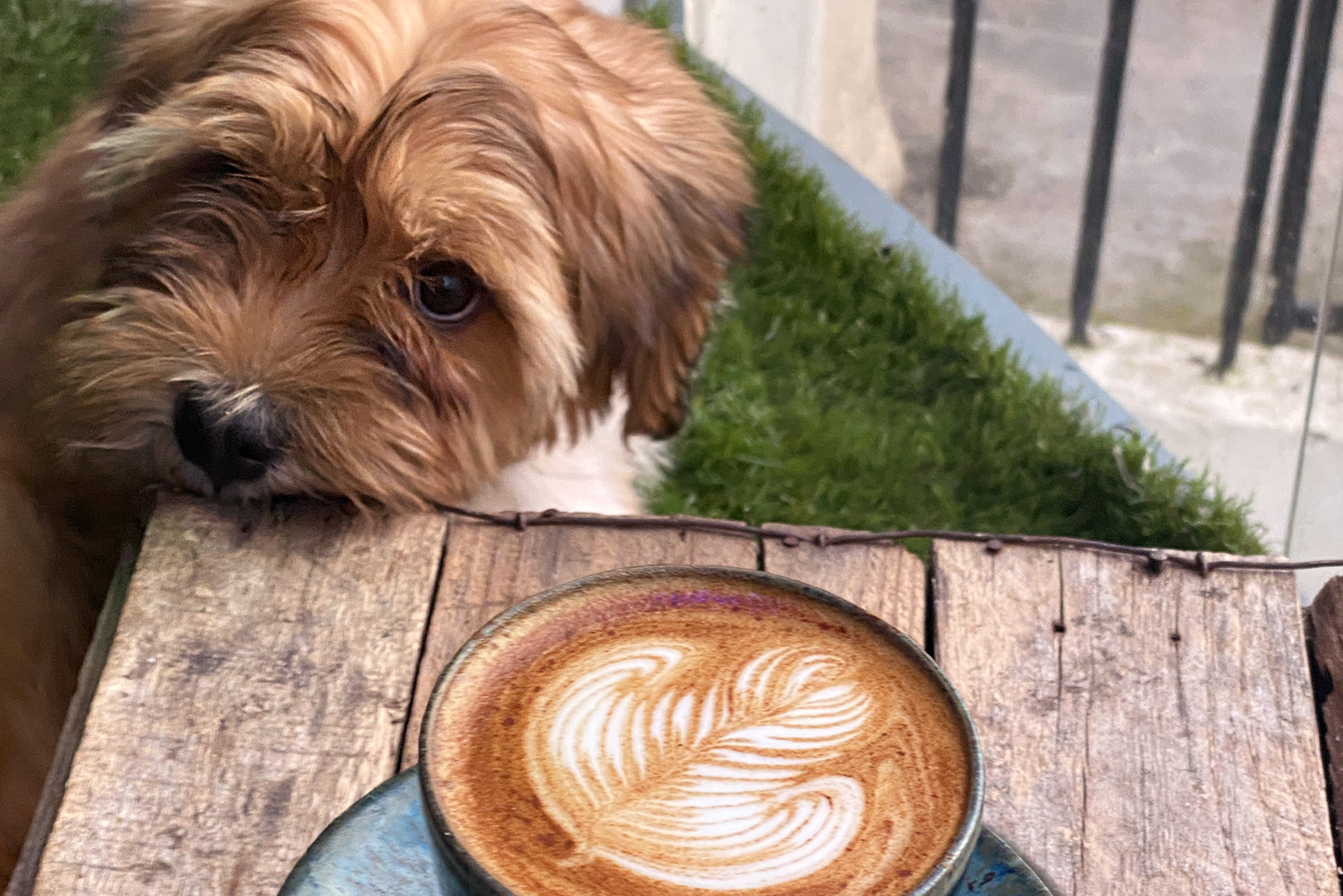 Address: 20 Regent Street, Cheltenham, Gloucestershire, GL50 1HE
Renowned for its breakfasts, brunches, lunches and the most extraordinary array of home-baked cakes and pastries. The Find is is the perfect cosy corner for a quick bite or leisurely lunch. We love their vegan breakfast with falafel when we're feeling healthy, and their pulled sticky beef pitta when we're not.
Address: 24 Rodney Road, Cheltenham, Gloucestershire, GL50 1JJ
One of the newer additions to Cheltenham town centre but already one of our favourites for breakfast or a quick lunch. We love the pancakes with homemade honeycomb for an indulgent breakfast or choosing from their bagel menu at lunchtime.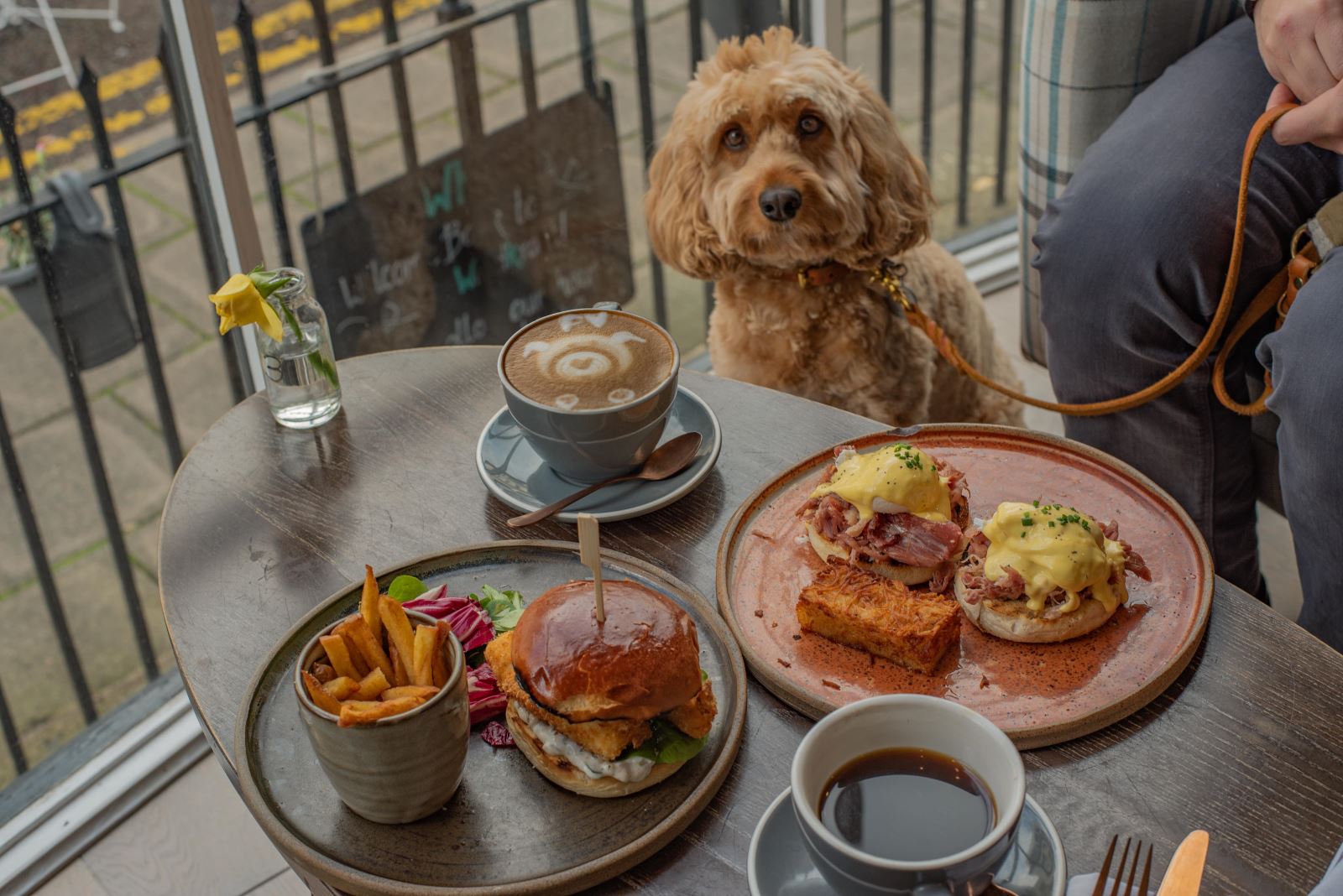 Address: 13 Regent Street, Cheltenham, Gloucestershire, GL50 1HE
Poppy is a much loved regular at Woodkraft and always gets such a lovely welcome, water bowl and a treat or two. The food is consistently excellent and we rarely go a couple of weeks without popping in for brunch and a dog themed latte. Our favourites include eggs benedict and strawberry cheesecake pancakes. Whatever you order, make sure you get a side of hash browns - they are AMAZING!
Address: Alstone Lane, The Bramery Business Park, Cheltenham GL51 8HE
Probably Cheltenham's most instagrammable cafe, Botanica Coffee Kitchen and Botanica Bar, which is equally as beautiful, with house plants adorning every wall and shelf in sight. Everything we've tried from their regularly changing menu of breakfast and light bites is delicious and it's also a great spot for a coffee. Wash it down with one of their incredible sausage rolls or pastries, you won't be disappointed.
Dog friendly pubs and restaurants Cheltenham

Address: 35 - 37 High Street, Cheltenham, Gloucestershire, GL50 1DX
We're lucky enough to have the Swan as our local and their new Indian street food menu is honestly incredible! We love being able to choose from a selection of small sharing plates and are working our way through the menu with each visit. Stand outs for us include the bacon naan (trust us, it works!) and the king prawn kadai. The Swan also has one of the best local independent beer selections in Cheltenham, you're welcome to bring your own board games to while away a few hours on the comfy sofas.
If Thai is more your thing, they have two sister pubs called The Vine and The Railway - both super dog friendly too.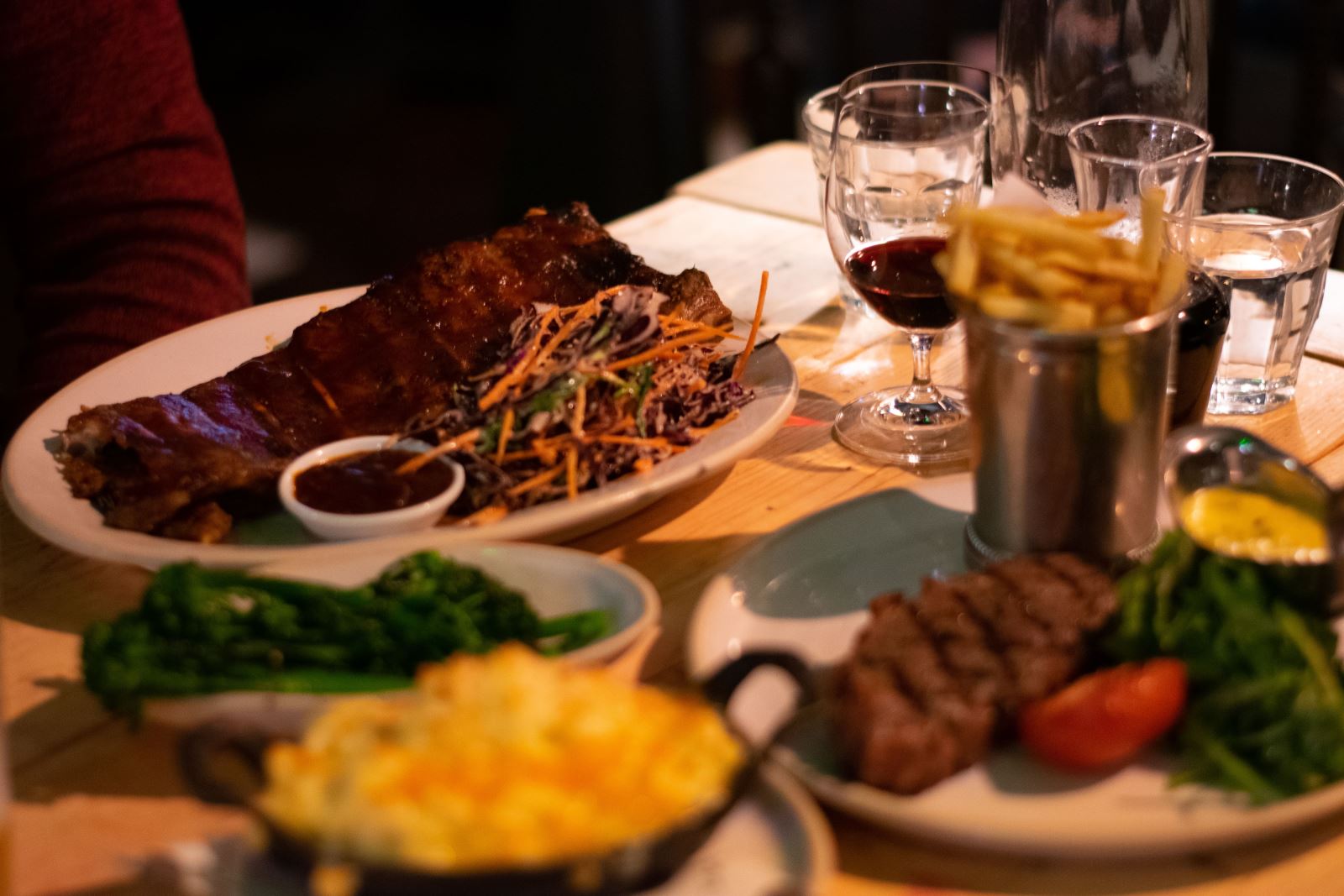 Address: 5 Royal Well Place, Cheltenham, Gloucestershire, GL50 3DN
We love the buzzing atmosphere of the Tavern and Poppy always finds a cosy spot to snooze while we dig into an often enormous dinner. Think American classics meets British gastropub and that's what you'll get at the Tavern. Our favourite place for ribs and dirty burgers in Cheltenham. Insider tip - go hungry and if you can squeeze it in after mains, try their sticky toffee pudding - you won't regret it.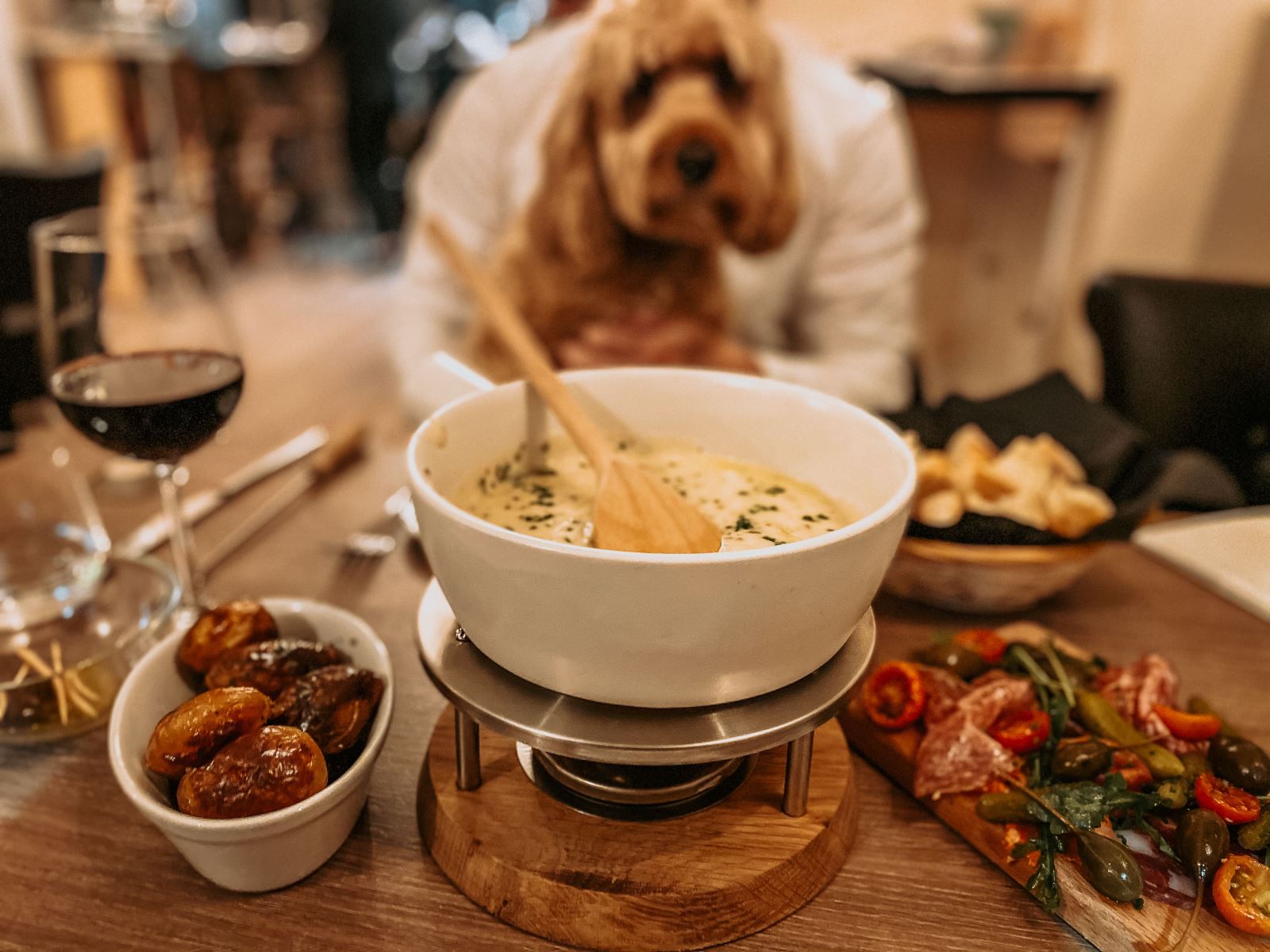 Address: 16 Regent Street, Cheltenham, GL50 1HE
Eating at Domaine 16 is literally like walking into a cheese lover's dream. Think cheese fondues, baked cheeses and artisan meats. The truffle cheese fondue is probably the best fondue we've ever had. Stretchy trousers recommended.
Top tip - Make sure you let them know about your dog on booking as dogs are welcomed on the ground floor only.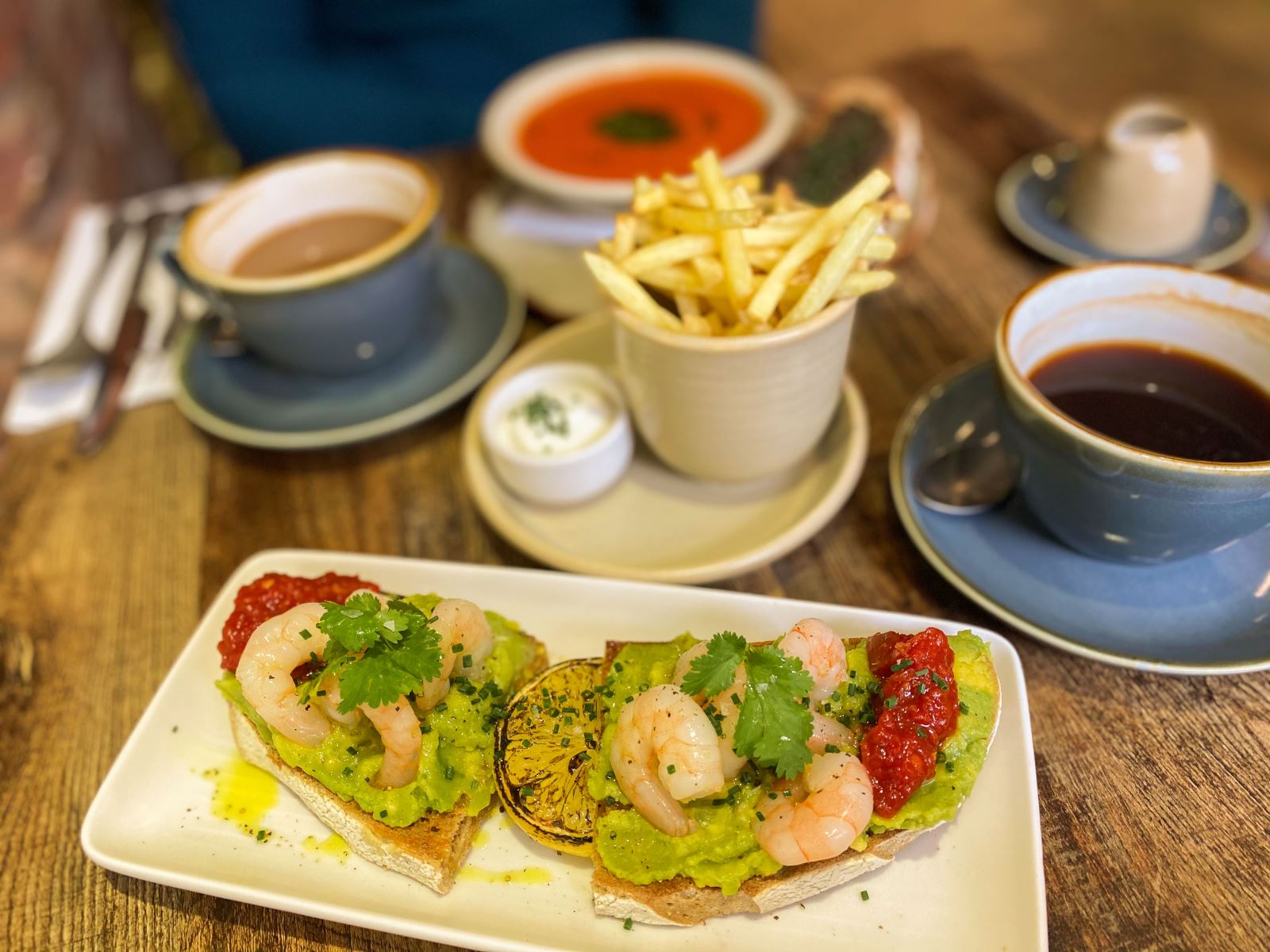 Address: 12 Royal Crescent, Cheltenham, Gloucestershire GL50 3DA
No. 3 Restaurant has fast become one of our favourite regular brunch and lunch spots. The staff are so friendly and we love the daily changing lunch specials offering something different every time we visit. It's worth visiting for their bacon alone, the best we've ever tasted!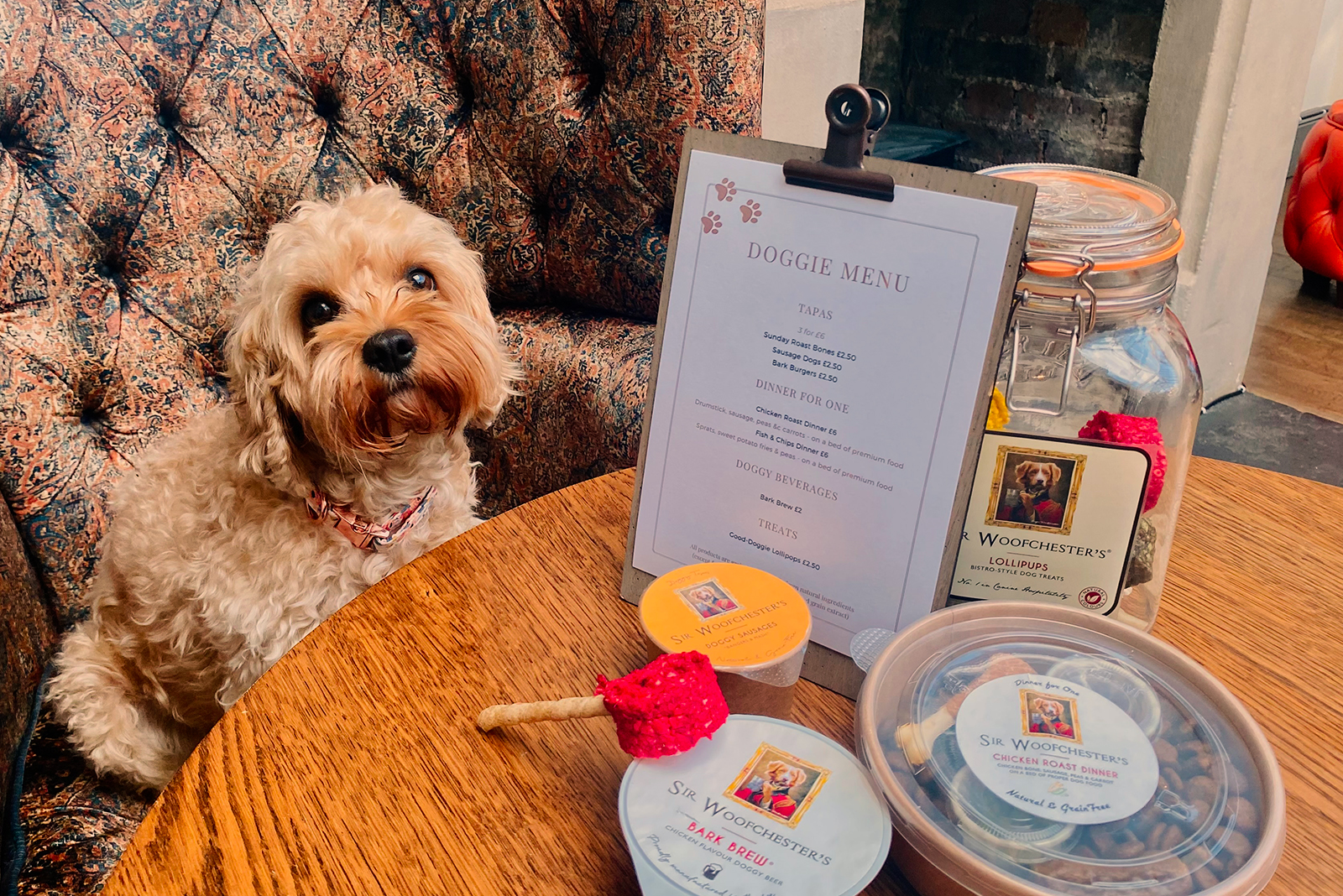 Address: Ellenborough Park, Southam Ln, Cheltenham GL52 3NJ
Situated on the ground floor of Ellenborough Park main house, adjacent to the stylish Atrium, The Horsebox Brasserie is an excellent choice for wholesome, well-cooked pub dishes in a comforting atmosphere. At Ellenborough you can book a 'Pawfect Break' with your four-legged friend or simply enjoy the restaurant. They even have a special Doggie-Menu available.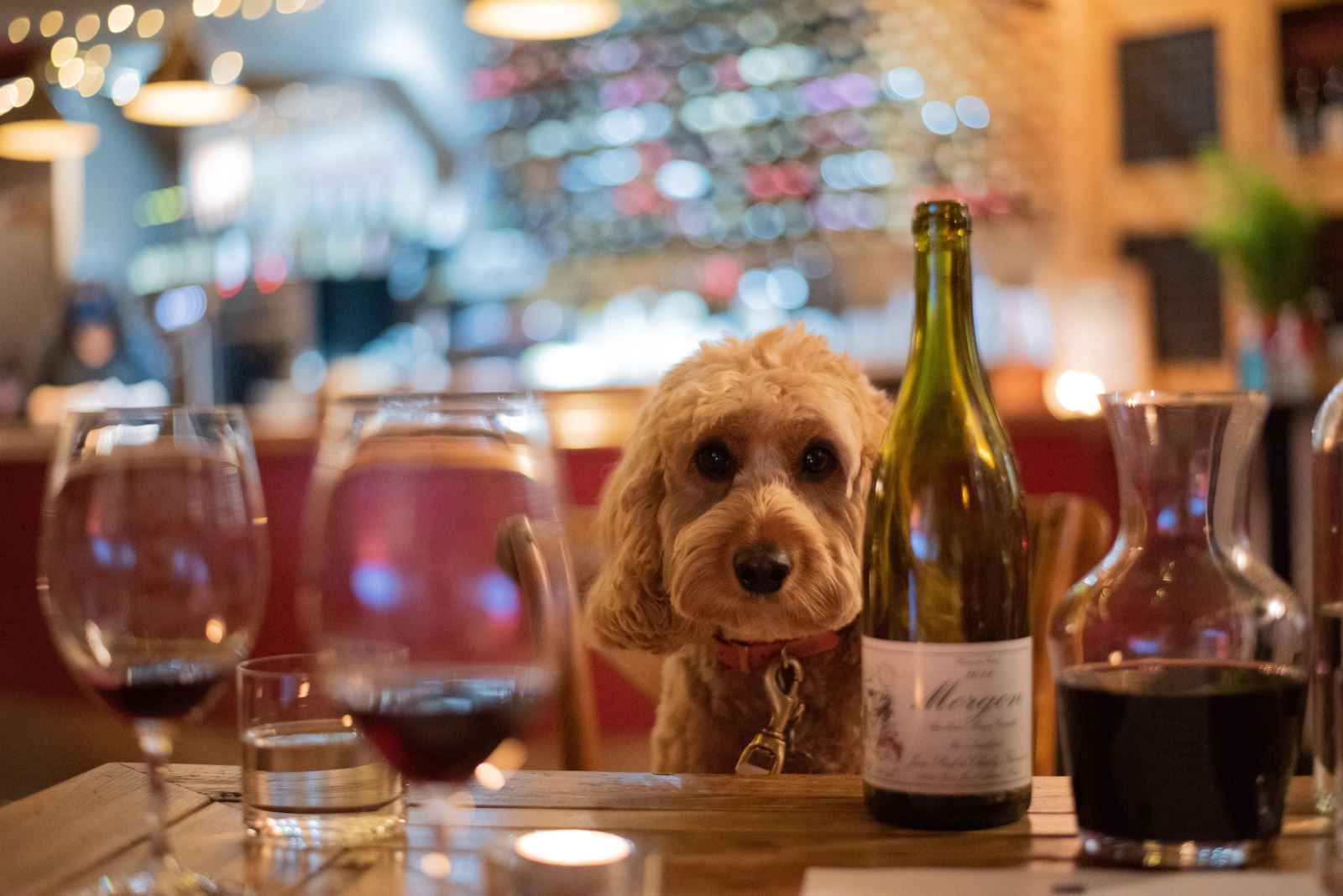 Address: The Grape Escape Wine Bar & Merchant, 15 Regent Street, Cheltenham GL50 1HE
A fabulous wine bar with a huge selection of wines and some lovely accompanying nibbles too. The owners are always on hand to give recommendations and a treat or two to Poppy. They'll also be happy to give you cutlery if you want to take in your own takeaway to enjoy with a bottle of wine.
Keep scrolling for a comprehensive guide to Cheltenham's dog friendly cafes, bars and restaurants...