Cheltenham Race Week is galloping towards us! From the 15-18 March 270,000 racing fans will flock to our Regency town. Below we've shared some of the special promotions and events being offered by local bars, cafes and restaurants. To avoid disappointment we suggest you call in advance and reserve tables.
To plan your visit during Cheltenham Race Week check out our helpful Cheltenham Festival Guide which features everything you need to know, including... where to stay, best places to eat, places to park and most importantly, what to wear for the most prestigious event in the UK horse racing calendar!
Read on for Cheltenham Festival special offers by local bars, cafes & restaurants...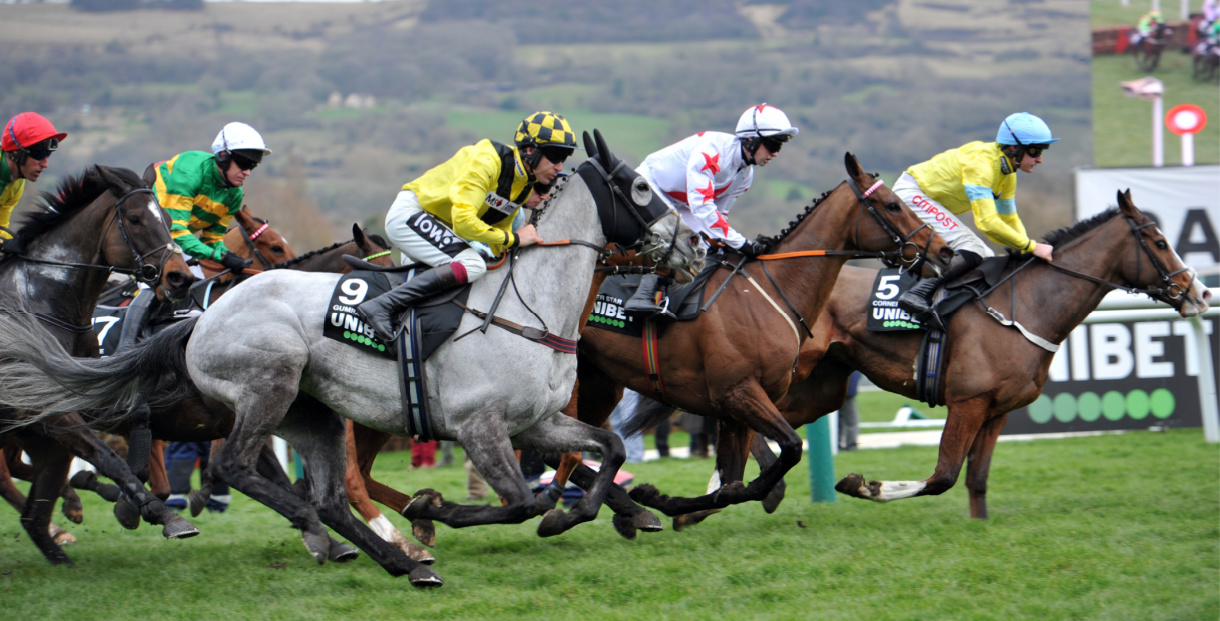 Henrietta Street, Cheltenham, Gloucestershire, GL50 4FA
The Brewery Quarter is gearing up for its busiest race week. With a great selection of bars and restaurants, a variety of breakfast offers and plenty of evening entertainment options The Brewery Quarter has everything any racegoer needs to plan around their trip to Cheltenham races.
With five new venues - Brewdog, Flight Club, The Alchemist, Mowgli and Hub Box and live music outside the bars every night 5pm - 9pm plus live bands and DJs inside several venues, the atmosphere will be buzzing throughout. Click here for full details - Celebrate Race Week at The Brewery Quarter.
7 Pittville Street, Cheltenham, GL52 2LN
A new independent drinks specialist, located in the centre of Cheltenham and specialising in craft spirits and natural wines. During Race Week Merchant + Lab are hosting an event in collaboration with The Drunken Mare. Ground floor shop open for takeaway cocktails and fizz throughout the day, as well as usual "delicious booze." Middle floor will be where you can find the wonderland Drunken Mare Pop-Up bar serving delicious cocktails. Upstairs bar will be open as normal serving a range of Merchant + Lab racing inspire cocktails and wine specials.
To book, call the shop or book via website. Walk ins also welcome but space is limited.
Event taking place Tues 15 – Fri 18 March
County Court Road, Cheltenham, GL50 1ND
Serving breakfast before the races each day. From 08:30-10:30am, book via their website or by calling 01242 500930. Book a table to avoid disappointment.
85 St Georges Place, Cheltenham, GL50 3PP
If you want to feel part of the action but don't feel ready to head up to the racecourse, head to The Bayshill instead!
Over 40 tables inside and out, 12 x 58inch TVs showing the racing all day. Open from 8:30am, book online via their website.
10 Cambray Place, Cheltenham, GL50 1JS
Bringing back their famous "Champion's Brunch" for Race Week 2022. Serving an array of mouthwatering brunch options and delicious breakfast cocktails, helping you to celebrate win or lose.
Book your table via their website.
The Brewery Quarter, Henrietta Street, Cheltenham, GL50 4FA
Skip the queue…throughout the week during Race Week The Alchemist will have a dedicated Moet station. This popular bar located in The Brewery Quarter are also offerign a cocktail and brunch dish for £18pp. Upgrade to a glass of Moet and a brunch dish from just £20pp. Book now via their website.
3 Regent Street, Cheltenham, GL53 7HG
Race Week is the perfect time to indulge in the Bao Master's Feast sharing board. Perfect for groups, especially when paired with a cocktail or two!
£42pp, minimum of two people.
15 Montpellier Arcade, Cheltenham, GL52 3LN
Brand new local distillery which is opening just in time for Race Week! The new bar and micro distillery, serving multi-award winning gin pay homage to the history and heritage of horse racing, will be open 6-11pm each night, 15 - 18 March.
4 Montpellier Walk, Cheltenham, GL50 1SA
From Tuesday 15 – Friday 18 March, The Urban Fox will be open from 4pm-2am with selected cocktails being served throughout. They will also have live music outside on Wednesday 16 and Thursday 17. If you want to keep the party going on Saturday, The Urban Fox is the place to head to! The bar will be open from midday – 2am.
Cheltenham Town Football Club, Whaddon Road, Cheltenham, GL52 5NA
Offering an all-you-can-eat cooked breakfast at Jonny-Rocks Stadium which also includes free parking in the stadium car park.
Priced at £10 per day or £35 for all four days during raceweek, the breakfasts are served from 8am up until 11:30am on Tuesday 15th March, Wednesday 16th March, Thursday 17th March and Friday 18th March in the Robins Nest bar.
ITV Racing will be shown inside each morning, with the bar open for drinks orders as well.
Jonny-Rocks is a short walk from Cheltenham Racecourse and booking the package entitles you to free parking for the day.
---
To plan your stay in town during Cheltenham Race Week check out our helpful guides:
Where to Stay in Cheltenham | Restaurants & Bars in Cheltenham | Shops in Cheltenham | Things To Do in Cheltenham | What's On in Cheltenham | Staycation in Cheltenham
Related
0 Comments