Wandering around the 80 free #CheltLitFest activities and striding between the many varied venues will definitely work up an appetite, so we've pulled together a list of the best places for a snack pitstop and a reviving lunch or dinner...
Festival Village
Eat without leaving the hubbub! The tented festival village has plenty for that 'on-the-go' fuel without setting foot outside event central. These are in Montpellier Gardens (GL50 1UL).
Street Food Stalls: No festival village would be complete without tasty stalls and the heady scent of food wafting your way as you walk, so of course the Festival village in Montpellier Gardens has street food stalls aplenty. You can grab a bite of anything from Pizza to Pie and then stroll around the village taking in the atmosphere. The village also has a picnic canopy set up on site to accommodate those who wish to eat with some shelter from the weather.
Feast Café: Next to the street food stalls is the feast café which serves a variety of food, ranging from sandwiches and BBQ food to pastries and cake. The feast café also serves hot and cold drinks.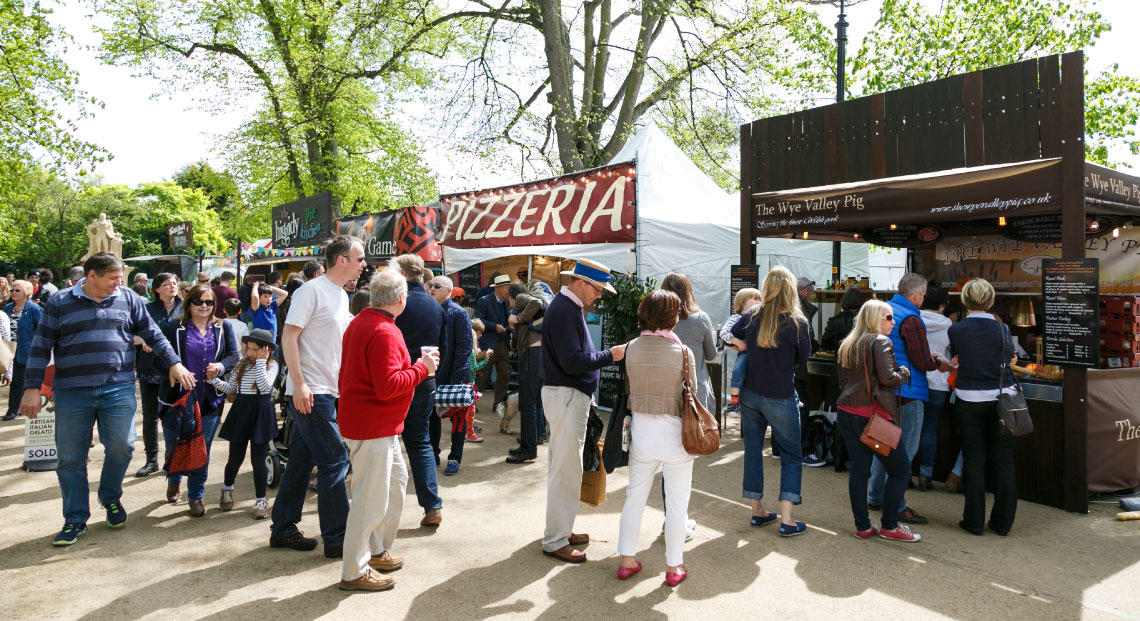 ---
Festival Restaurants
If you're looking for something a bit more leisurely, why not take advantage of the two restaurants that have partnered with The Festival? Both of these fabulous restaurants are hosting sold-out events, but in between they're a great place for delicious food, fantastic cocktails and of course coffee and hot drinks!
The Daffodil
Location: 18-20 Suffolk Parade, Cheltenham GL50 2AE
You can find this sympathetically converted 1920's art deco cinema on Suffolk Parade. Exit the back of the Festival Village and cross the road for a short one-minute walk door to door. Executive Chef Tom Rains has created an exceptional menu with carefully-sourced ingredients, and one of the menu highlights is the Josper Grill dishes including a pretty delicious lobster!
No. 131 & Crazy Eights Bar
Location: 131 Promenade, Cheltenham GL50 1NW
Magestically overlooking Imperial Gardens, exit the front of the Festival village, turn right and head down towards town and No. 131 is on the left hand side. You can't miss it and it should take you less than two minutes to walk.
No. 131 is part of The Lucky Onion group and is a gorgeous converted Georgian townhouse. The varied menu incorporates traditional British classics with a modern European twist and their on-site bar 'Crazy Eights' offers both hot drinks and of course tantilising cocktails. As a Festival partner, the brand has even put together a special Literature Festival Menu, so now is the time to visit!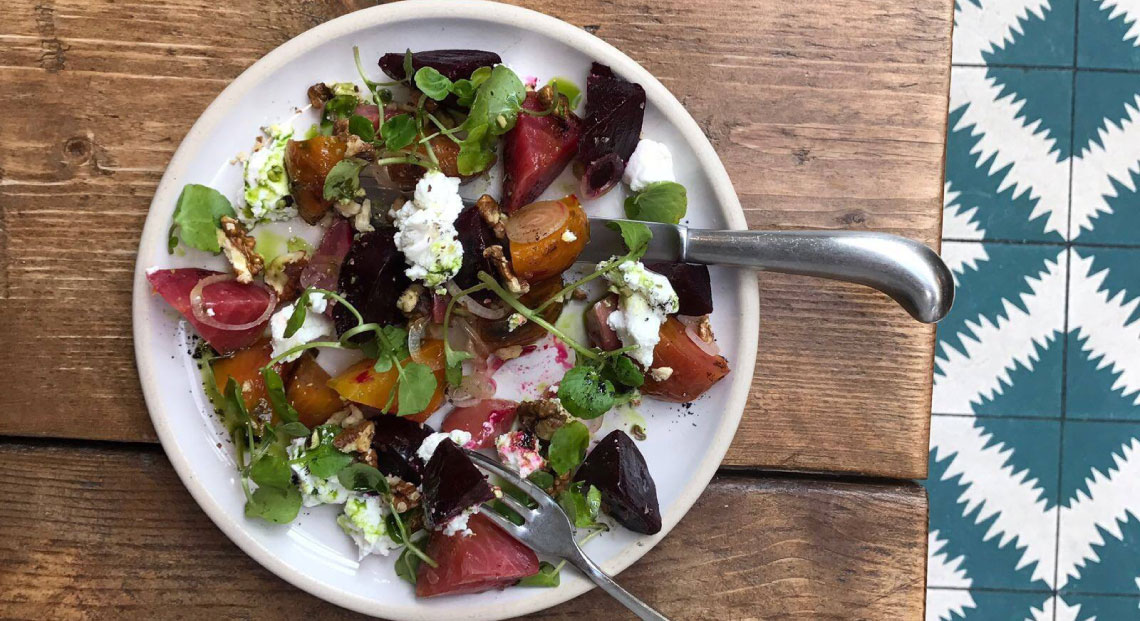 ---
Top ten town picks
Napier Restaurant at The Queens Hotel
Location: The Promenade, Cheltenham, GL50 1NN
With food from local Cotswold producers and food artisans, the menu here is not-to-be-missed. The Queens Hotel is less than a minute's walk from the front of the Festival Village and of course offers a great place to stay too! Read our Foodie profile...
The Old Courthouse
Location: County Court Road, Cheltenham, Gloucestershire, GL50 1ND
For that traditional pub feel in one of the prettiest building's around, the Old Courthouse is the winner. The Menu is warm and inviting and the craft ale and spirits range is fabulous too. Read our Foodie profile...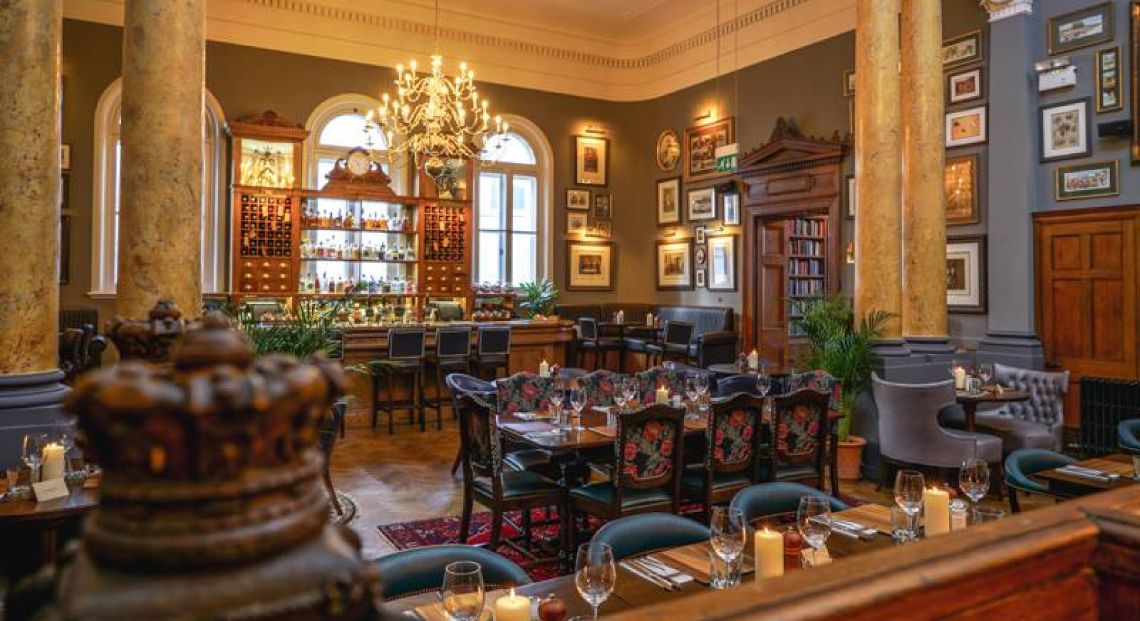 The Coconut Tree
Location: 59 St Paul's Rd, Cheltenham, Gloucestershire, GL50 4JA
Although it's a ten-minute walk from the main Festival hub, The Coconut Tree is worth the walk. Traditional Sri Lankan Street Food, in a quirky restaurant interior and excellent value dishes, there's not much that can go wrong! Read our Foodie profile...
East India Cafe
Location: 103 Promenade, Cheltenham, Gloucestershire, GL50 1NW
An absolutely fantastic twist on traditional Indian, East India Cafe is just a short walk from the Festival Village, down The Promenade. The food is as locally-sourced as possible, and there's a fab Anglo influence for an interesting meal.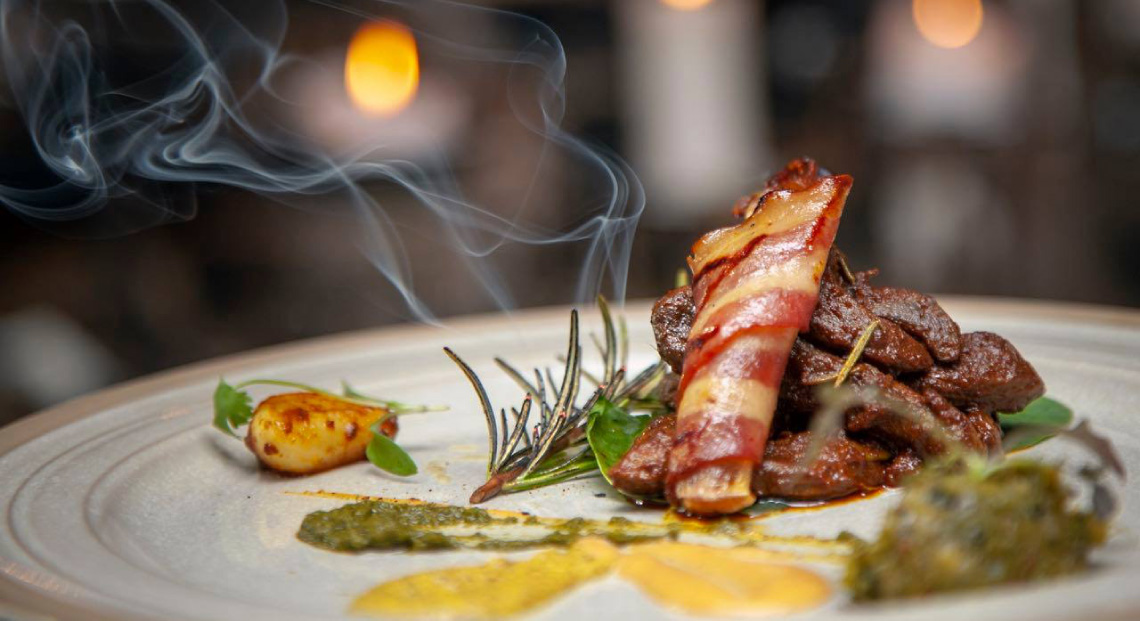 L'Artisan
Location: 30 Clarence Street, Cheltenham, Gloucestershire, GL50 3NX
This french restaurant run by husband and wife team Yves and Elizabeth, L'Artisan is a gorgeous foodie find.
Côte Brasserie
Location: 1 Montpellier Terrace, Cheltenham, Gloucestershire, GL50 1US
Visible from the Festival village, Côte Brasserie is one of the closest and best options for lunch or dinner. Authentic french cuisine is served here!
Lumiere
Location: Clarence Parade, Cheltenham, Gloucestershire, GL50 3PA
Lumiere is a 3AA Rosette Award winning dining experience using seasonal, British produce. Fine dining at its best.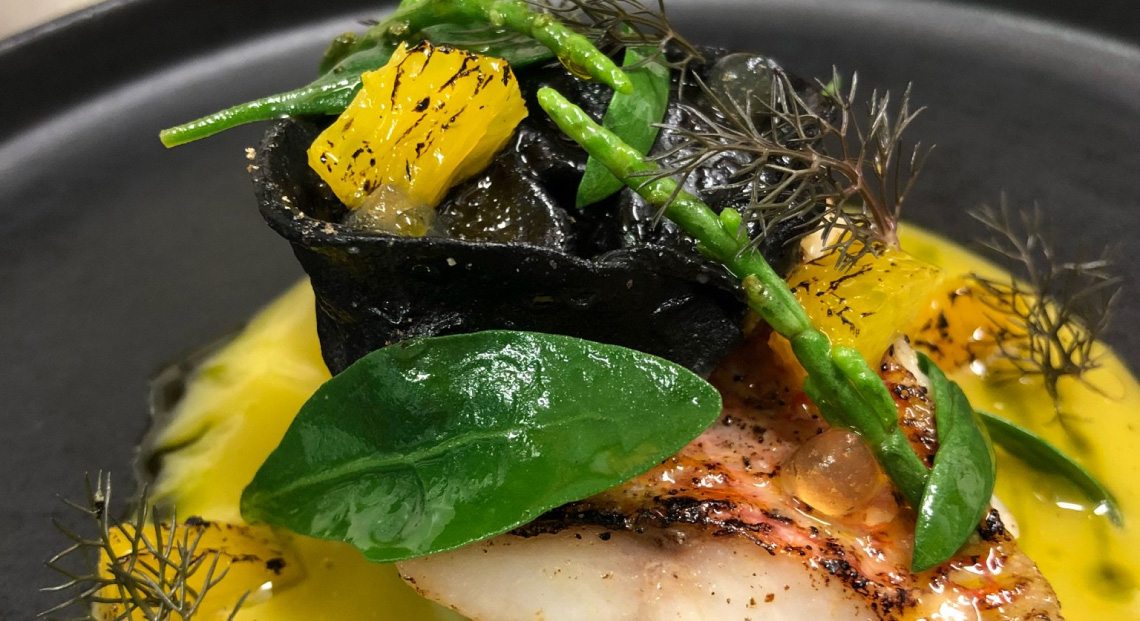 The Tavern
Location: 5 Royal Well Place, Cheltenham, Gloucestershire, GL50 3DN
Delicious food at reasonable prices, The Tavern is good for both lunch and dinner. Their light bites menu is delightful and so too are their sinful desserts! Read our Foodie profile...
Koj
Location: 3 Regent Street, Cheltenham, Gloucestershire, GL50 1HE
Masterchef Finalist Andrew Kojima brings us Koj, the 'No sushi, Japanese Grazing' concept that's located in the town centre. Read our interview with Andrew...
Gloucester Old Spot
Location: Tewkesbury Road, Elmstone Hardwicke, Cheltenham, Gloucestershire, GL51 9SY
This is one for the visitors from out of town as the perfect pitstop on your travels. Gloucester Old Spot is a brilliantly accessible, traditional pub with a fantastic menu. Read our Foodie profile...
Don't forget, you can also pop down to The Brewery Quarter, which is a fantastic hub of food, drinks and entertainment. Outlets include Babel, Brewhouse & Kitchen and Prezzo among others.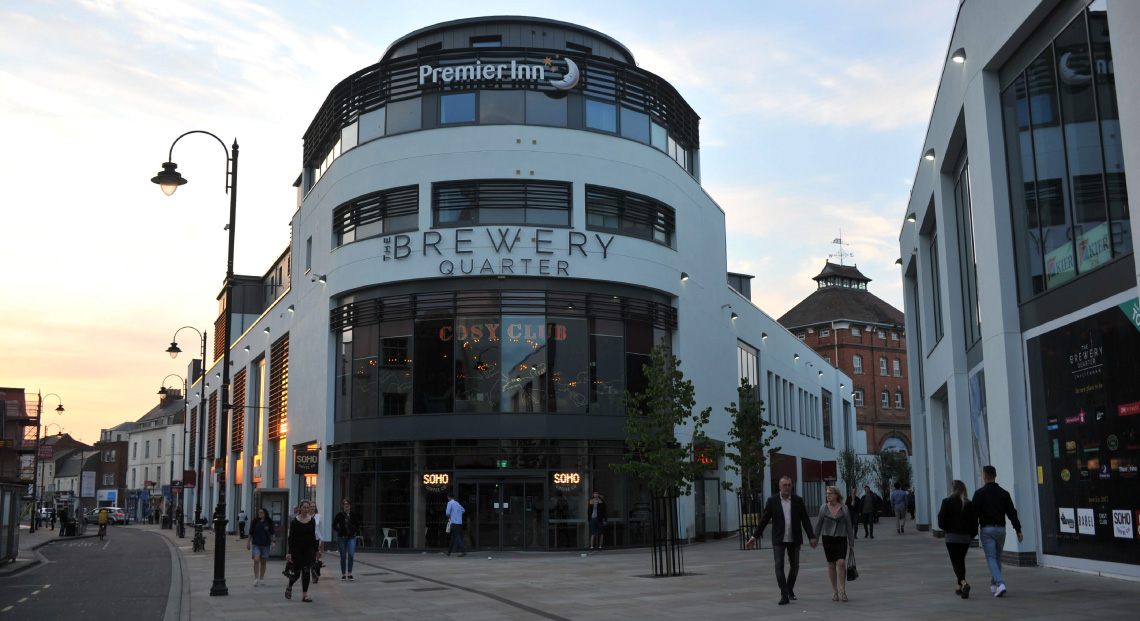 ---
Coffee & Hot Drinks
For a quick pitstop, pastry and a hot drink, then head towards the Town Centre for GCM, Huffkins and Pret, or towards The Suffolks for independent coffee shops including Moka and Cafe Boho.
Related
0 Comments