A Guide to Cheltenham During Lockdown
We've created this page to answer any questions you may have about lockdown restrictions in Cheltenham including which essential shops are open; Cheltenham restaurants offering takeaway and non-essential shops offering click and collect services.
This page will be updated as more information becomes available to us so please bookmark and keep popping back.
Kind regards,
The Visit Cheltenham Team

Page updated 5 January 2020.
The national lockdown in England was announced on the 4 January.
In summary (source Visit England):
The Government has instructed people to stay at home and this will be backed up with legislation.
People are permitted to leave home for limited reasons, including shopping for essentials, work if you cannot work from home, exercise, or to seek medical assistance.
Shielding will begin again, those at risk will receive a letter.
All non-essential retail, hospitality and personal care services must close, or remain closed. Restaurants can continue delivery, takeaway or click-and-collect of food and non-alcoholic drinks, but venues will no longer be able to serve takeaway or click-and-collect alcohol. ** See our Cheltenham Lockdown Takeaway Guide for takeaway inspiration.
Essential shops and garden centres can remain open. ** See our Cheltenham Lockdown Shopping Guide for full details of essential shops open and non-essential shops offering a click & collect service. You can also continue to support local businesses online - Cheltenham Shops Online.
Entertainment venues and animal attractions such as zoos must close, but the outdoor areas of venues such as heritage homes and botanical gardens can remain open, to be used for exercise. Playgrounds may also remain open. ** See our Cheltenham Things to Do Outdoors Guide for daily exercise ideas.
Primary schools, secondary schools, and colleges must move to online learning – except for vulnerable children and children of key workers. Nurseries will continue to be open.
Everyone should follow the new rules from now, and they will become law from 00.01 on Wednesday 6 January. The restrictions are expected to last until the middle of February if the situation in hospitals improves.
The following guidance has been published on GOV.UK for people who are fit and well.

People can exercise in a public outdoor place alone, with the people they live with, with their support bubble (if you are legally permitted to form one), in a childcare bubble where providing childcare or, when alone, with one person from another household.
Public outdoor places still open during lockdown include:
Parks, countryside accessible to the public, forests
Public gardens (whether or not you pay to enter them)
The grounds of a heritage site
Playgrounds
However, outdoor sports venues, including tennis courts, golf courses and swimming pools, must close.
** See our Things To Do Outdoors in Cheltenham for daily exercise ideas.
Travel
People must not leave their home unless they have a reasonable excuse (for example, for work or education purposes). If people need to travel, they should stay local – meaning avoiding travelling outside of their village, town or the part of a city where you live – and look to reduce the number of journeys made overall.
People can only travel internationally – or within the UK – where they first have a legally permitted reason to leave home. In addition, they should consider the public health advice in the country being visited.
People cannot leave their home or the place where they are living for holidays or overnight stays unless you have a reasonable excuse for doing so. This means that holidays in the UK and abroad are not allowed. This includes staying in a second home or caravan, if that is not a primary residence.
Businesses and venues which must close
To reduce social contact, the regulations require some businesses to close and impose restrictions on how some businesses provide goods and services. The full list of businesses required to close will be available shortly in the guidance on closing certain businesses and venues in England, but includes:
Non-essential retail, such as clothing and homeware stores, vehicle showrooms (other than for rental), betting shops, tailors, tobacco and vape shops, electronic goods and mobile phone shops, auction houses (except for auctions of livestock or agricultural equipment) and market stalls selling non-essential goods. These venues can continue to be able to operate click-and-collect (where goods are pre-ordered and collected off the premises) and delivery services.
Hospitality venues such as cafes, restaurants, pubs, bars and social clubs; with the exception of providing food and non-alcoholic drinks for takeaway (until 11pm), click-and-collect and drive-through. All food and drink (including alcohol) can continue to be provided by delivery.
Accommodation such as hotels, hostels, guest houses and campsites, except for specific circumstances, such as where these act as someone's main residence, where the person cannot return home, for providing accommodation or support to the homeless, or where it is essential to stay there for work purposes.
Leisure and sports facilities such as leisure centres and gyms, swimming pools, sports courts, fitness and dance studios, riding arenas at riding centres, climbing walls, and golf courses.
Entertainment venues such as theatres, concert halls, cinemas, museums and galleries, casinos, amusement arcades, bingo halls, bowling alleys, skating rinks, go-karting venues, indoor play and soft play centres and areas (including inflatable parks and trampolining centres), circuses, fairgrounds, funfairs, water parks and theme parks.
Animal attractions (such as zoos, safari parks, aquariums, and wildlife reserves)
Indoor attractions at venues such as botanical gardens, heritage homes and landmarks must also close, though outdoor grounds of these premises can stay open for outdoor exercise.
Personal care facilities such as hair, beauty, tanning and nail salons. Tattoo parlours, spas, massage parlours, body and skin piercing services must also close. These services should not be provided in other people's homes.
Community centres and halls must close except for a limited number of exempt activities, as set out below. Libraries can also remain open to provide access to IT and digital services– for example for people who do not have it at home – and for click-and-collect services.
Businesses and venues which can remain open
Other businesses and venues are permitted to stay open, following COVID-19 secure guidelines. Businesses providing essential goods and services can stay open. The full list of these businesses will be available on GOV.UK shortly but some businesses in the tourism, hospitality and leisure sector that can remain open include:
Outdoor parts of botanical gardens and heritage sites for exercise
Car parks, public toilets and motorway service areas
Outdoor playgrounds
Places of worship
Essential retail such as food shops, supermarkets, pharmacies, garden centres and off-licences, market stalls selling essential retail
Petrol stations, taxi and vehicle hire businesses
---
Which Cheltenham businesses have the 'We're Good To Go' mark?
Cheltenham social distancing guidelines
Parking info - Cheltenham town centre
Is there any free car parking in Cheltenham?
How do I use the park and ride in Cheltenham?
How do I travel by train to Cheltenham?
Guidance to shoppers including public toilets & contact info
---
Cheltenham, along with the rest of England is currently in lockdown. For more information please visit https://www.gov.uk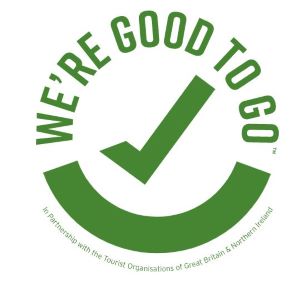 The world has changed considerably since March. To ensure you are prepared for the changes and 'Know Before You Go' about restricted services and facilities we ask that you take the following steps prior to planning a future visit to Cheltenham…
-- Look out for the 'We're Good To Go' mark. This shows that a business has followed the government and industry COVID-19 guidelines. The industry standard launched by Visit England, launched in collaboration with other tourist organisations and the UK government is a way of letting you know which businesses have made necessary changes to their day-to-day workings, including social distancing measures and staff training. Here are the businesses in Cheltenham that have the 'We're Good To Go' mark. This list will be updated frequently as we hear from more local businesses.
---
Whilst visiting our beautiful Regency town and surrounding countryside we kindly ask that you #RespectProtectEnjoy…
Respect – Whilst taking your daily exercise please avoid busy times at our local parks or even better still, please instead consider the surrounding countryside for your exercise where less people will be present.
Protect – Please follow the government coronavirus guidelines… Wash hands regularly and use hand sanitiser when entering a building. Cover face with a covering when in enclosed spaces including when entering a shop and before riding on public transportation. Make space by staying at least 2 metres apart - or 1 metre with a face covering or other precautions.
Enjoy – Please continue to support Cheltenham's local businesses. Many restaurants, cafes and pubs are offering a takeaway service and some town centre shops are offering a click and collect service.
Lockdown carpark closures - from 7 Jan 2021, Town Centre East will be fully closed & Regent Arcade will shut at 6pm, Monday - Saturday and close all day on Sundays. All other council owned car parks will remain open. For information about alternative car parks please visit: https://cheltenham.gov.uk/parking
NHS staff can park free of charge by displaying a valid permit in any council owned car park (with the exception of Regent Arcade car park). NHS staff wishing to take up this offer must obtain/display a permit available through their employer.
Parking is free when you use park and ride (see below for full details).
There is free parking behind Pittville Pump Room and along Pittville Lawn (4 hours maximum) which is walking distance to Cheltenham town centre.
Park and ride is available at Cheltenham Racecourse and Arle Court with increased services. Parking is FREE when you park and ride. The Cheltenham Dayrider bus ticket is £3.70 if purchased via the app for unlimited travel on Stagecoach West services in Cheltenham for one day, a concession return is just £1 and children under 16 are free (if travelling with adults as a family). .
There will be a maximum of 20 people on a double decker bus to allow people to social distance safely. Please check the Stagecoach website for updates on service times before travel. Stagecoach will also be introducing a new feature to the Stagecoach Bus App so travellers are able to see how busy a bus usually is at a particular time, showing when the quieter travel times are. **Please remember to follow government guidance and wear face coverings at all times when travelling on public transport.
Cheltenham is well set up for cyclists so instead of taking the car or bus, why not hop on your bike? There's handy cycle parking across the town centre. Take a look at this map to find the most convenient one for you.
Cheltenham station is open to visitors and there are measures in place to ensure passengers are kept safe. Great Western Railway is advising passengers to travel at quieter times, usually between 10am-3pm or after 7pm. To help with social distancing, you'll find that there are reduced numbers of spaces available on trains so please book in advance, ideally using the GWR app and go paperless with your tickets by using your phone. GWR are also advising to give yourself more time at the station to navigate through the one-way system, which is in place to help with social distancing. Remember that it's mandatory to wear face covering when travelling on any public transport. For more information visit: www.gwr.com
Where can I get a Cheltenham map?
Download a Cheltenham map here.
What social distancing and hygiene measures are in place in Cheltenham?
We're making sure we're following government guidance so you'll see Cheltenham BID 2 metre social distancing markers to help whilst queuing outside essential shops, please follow these. We're also taking special precaution when it comes to hygiene, making sure that public spaces such as toilets, benches and handrails are regularly sanitised.
Please also be aware that during key shopping times, essential shops (i.e. grocery stores) may be busy and queues may be very long. We suggest that, where possible, if queues are too long you return later. Shopping early or late in the day may mean you're less likely to queue.
Once inside you'll find hand sanitiser at entrances and till points and more social distance markers to keep you safe. Please see individual store websites for click and collect information.
The Cheltenham BID ambassadors will be working with an expanded town centre team, the police and other council staff providing advice to shoppers and local workers. If you have any questions or concerns, they will be on hand to help you.
Do I have to wear a face mask / face covering when shopping in Cheltenham?
It is compulsory to wear face coverings indoors and you can face a fine of up to £200 for failure to do so. Children under 11 and those with certain disabilities are exempt.
Which public toilets are open in Cheltenham town centre?
National lockdown update - The main public toilets in Pittville Park, Montpellier Gardens and Royal Well Road are open and winter opening hours apply.
Pittville Park: 8am – 4.30pm
Montpellier Gardens: 8am – 3.45pm
Royal Well Road: 8am – 3pm
For a full list of public toilets in Cheltenham, including those with radar key access for disabled users, please visit the Cheltenham Borough Council website.
Who do I contact if I have questions about visiting Cheltenham town centre?
If anyone has any concerns on the arrangements either on the streets or within businesses, please contact info@cheltenhambid.co.uk and either a member of the Cheltenham BID team or Cheltenham Borough Council's Environmental Health team will respond.