A Guide to Cheltenham During Lockdown
Updated 20 April 2021
We welcome groups of six or two households to enjoy self catering accommodation, shopping, outdoor attractions and outdoor hospitality.
Indoor hospitality, including restaurants, bars, cafes, some indoor attractions and hotels are due to reopen the 17 May.
We've created this page to answer any questions you may have about lockdown restrictions and the easing of lockdown in Cheltenham, including -
This page will be updated as more information becomes available to us so please bookmark and keep popping back. In regards to opening dates of specific businesses in Cheltenham we are able to update the Visit Cheltenham social media channels more quickly than the website. Follow us on: Facebook, Twitter, Instagram and subscribe to our fortnightly newsletter to be kept up to date with the latest news.
Kind regards,
The Visit Cheltenham Team

---
You can find comprehensive information about the new four-step plan to ease England out of lockdown on the BBC News. The summary of the roadmap out of lockdown by Gov.UK is very useful, particularly for planning future holidays and day trips.
Government has made it clear that all the dates in the roadmap are indicative and subject to change. There will be a minimum of five weeks between each step. Four weeks for the scientific data to reflect the changes in restrictions and to be analysed; followed by one week's advance notice of the restrictions that will be eased.
Only when the government is sure that it is safe to move from one step to the next will the final decision be made.
---
A summary of the next steps out of lockdown
Step 2
12 April: At this stage the venues must only be attended/used in line with the wider social contact limits - as a single household or bubble indoors; or in a group of six people or two households outdoors (unless an exemption exists).
Changes: Non-essential retail, hairdressers, beauty and nail salons, spas, libraries and museums can open. Indoor sports and leisure facilities including gyms, leisure centres can open and outdoor hospitality in pubs and restaurants is allowed. Most outdoor settings can reopen, including zoos and theme parks. Self-catering holiday accommodation and campsites can reopen.
The following guides may be useful for you from the 12 April...
Al Fresco Dining in Cheltenham
Reopening Dates of Hotels in Cheltenham
Reopening dates of attractions in Cheltenham
Step 3
No earlier than 17 May: Social contact rules lifted for outdoor activities, up to limit of 30 people. Two households or rule-of-six for indoor hospitality and elsewhere.
Changes: Cinemas, soft play centres, and hotels and guesthouses can reopen including cinemas, theatres, concert halls, museums and galleries, adventure playgrounds and activities, amusement arcades and adult gaming centres, bingo halls, casinos, bowling alleys, skating rinks, games, recreation and entertainment venues. Performances, sporting events and large business events can resume, with restrictions on capacities.
Step 4
No earlier than 21 June: The hope at this stage is to remove all the remaining rules that are stopping people from getting together including to reopen remaining settings such as nightclubs and adult entertainment venues.
Source - Information summarised from Gov.UK
---
Which Cheltenham businesses have the 'We're Good To Go' mark?
Cheltenham social distancing guidelines
Parking info - Cheltenham town centre
Is there any free car parking in Cheltenham?
How do I use the park and ride in Cheltenham?
How do I travel by train to Cheltenham?
Guidance to shoppers including public toilets & contact info
---
Cheltenham, along with the rest of England is currently easing out of lockdown. For more information please visit https://www.gov.uk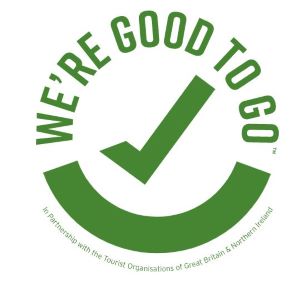 The world has changed considerably since March. To ensure you are prepared for the changes and 'Know Before You Go' about restricted services and facilities we ask that you take the following steps prior to planning a future visit to Cheltenham…
Look out for the 'We're Good To Go' mark. This shows that a business has followed the government and industry COVID-19 guidelines. The industry standard launched by Visit England, launched in collaboration with other tourist organisations and the UK government is a way of letting you know which businesses have made necessary changes to their day-to-day workings, including social distancing measures and staff training. Here are the businesses in Cheltenham that have the 'We're Good To Go' mark. This list will be updated frequently as we hear from more local businesses.
---
Whilst visiting our beautiful Regency town and surrounding countryside we kindly ask that you #RespectProtectEnjoy…
Respect – Whilst taking your daily exercise please avoid busy times at our local parks or even better still, please instead consider the surrounding countryside for your exercise where less people will be present.
Protect – Please follow the government coronavirus guidelines… Wash hands regularly and use hand sanitiser when entering a building. Cover face with a covering when in enclosed spaces including when entering a shop and before riding on public transportation. Make space by staying at least 2 metres apart - or 1 metre with a face covering or other precautions.
Enjoy – Please continue to support Cheltenham's local businesses. Many restaurants, cafes and pubs are offering a takeaway service and some town centre shops are offering a click and collect service.
All council owned car parks are open, apart from St George's Car Park where major/works and improvements will take place 12 April - 19 June. The nearest alternative parking can be found at Royal Well Car Park and Chelt Walk Car Park. Both these car parks accept cash/card/contactless methods of payment along with our PaybyPhone facility. Customers wishing to use this facility can get the app or use the mobile web at m.paybyphone.co.uk.
For information parking in Cheltenham please visit: https://cheltenham.gov.uk/parking
NHS staff can park free of charge by displaying a valid permit in any council owned car park (with the exception of Regent Arcade car park). NHS staff wishing to take up this offer must obtain/display a permit available through their employer.
Parking is free when you use park and ride (see below for full details).
There is free parking behind Pittville Pump Room (two hours free, £1 for an additional two hours) and along Pittville Lawn (4 hours free maximum) which is walking distance to Cheltenham town centre.
Park and ride is available at Cheltenham Racecourse and Arle Court with increased services. Parking is FREE when you park and ride. The Cheltenham Dayrider bus ticket is £3.70 if purchased via the app for unlimited travel on Stagecoach West services in Cheltenham for one day, a concession return is just £1 and children under 16 are free (if travelling with adults as a family). .
There will be a maximum of 20 people on a double decker bus to allow people to social distance safely. Please check the Stagecoach website for updates on service times before travel. Stagecoach will also be introducing a new feature to the Stagecoach Bus App so travellers are able to see how busy a bus usually is at a particular time, showing when the quieter travel times are. **Please remember to follow government guidance and wear face coverings at all times when travelling on public transport.
Cheltenham is well set up for cyclists so instead of taking the car or bus, why not hop on your bike? There's handy cycle parking across the town centre. Take a look at this map to find the most convenient one for you.
Cheltenham station is open to visitors and there are measures in place to ensure passengers are kept safe. Great Western Railway is advising passengers to travel at quieter times, usually between 10am-3pm or after 7pm. To help with social distancing, you'll find that there are reduced numbers of spaces available on trains so please book in advance, ideally using the GWR app and go paperless with your tickets by using your phone. GWR are also advising to give yourself more time at the station to navigate through the one-way system, which is in place to help with social distancing. Remember that it's mandatory to wear face covering when travelling on any public transport. For more information visit: www.gwr.com
Where can I get a Cheltenham map?
Download a Cheltenham map here.
What social distancing and hygiene measures are in place in Cheltenham?
We're making sure we're following government guidance so you'll see Cheltenham BID 2 metre social distancing markers to help whilst queuing outside essential shops, please follow these. We're also taking special precaution when it comes to hygiene, making sure that public spaces such as toilets, benches and handrails are regularly sanitised.
Please also be aware that during key shopping times, essential shops (i.e. grocery stores) may be busy and queues may be very long. We suggest that, where possible, if queues are too long you return later. Shopping early or late in the day may mean you're less likely to queue.
Once inside you'll find hand sanitiser at entrances and till points and more social distance markers to keep you safe. Please see individual store websites for click and collect information.
The Cheltenham BID ambassadors will be working with an expanded town centre team, the police and other council staff providing advice to shoppers and local workers. If you have any questions or concerns, they will be on hand to help you.
Do I have to wear a face mask / face covering when shopping in Cheltenham?
It is compulsory to wear face coverings indoors and you can face a fine of up to £200 for failure to do so. Children under 11 and those with certain disabilities are exempt.
Which public toilets are open in Cheltenham town centre?
The main public toilets in Pittville Park, Montpellier Gardens and Royal Well Road are open and summer opening hours apply from April to September.
Pittville Park: 7.30am – 7.15pm
Montpellier Gardens: 7.30am – 7.00pm
Royal Well Road: 7.30am – 7pm
For a full list of public toilets in Cheltenham, including those with radar key access for disabled users, please visit the Cheltenham Borough Council website.
Who do I contact if I have questions about visiting Cheltenham town centre?
If anyone has any concerns on the arrangements either on the streets or within businesses, please contact info@cheltenhambid.co.uk and either a member of the Cheltenham BID team or Cheltenham Borough Council's Environmental Health team will respond.