Cheltenham Science Festival organisers have revealed today...
- 64 live events with an in-person audience streamed online for free and available via subscription on-demand
- 50+ events for families and schools available online for free
- Digital 'Hands on Discover Zone' with 40+ activities for free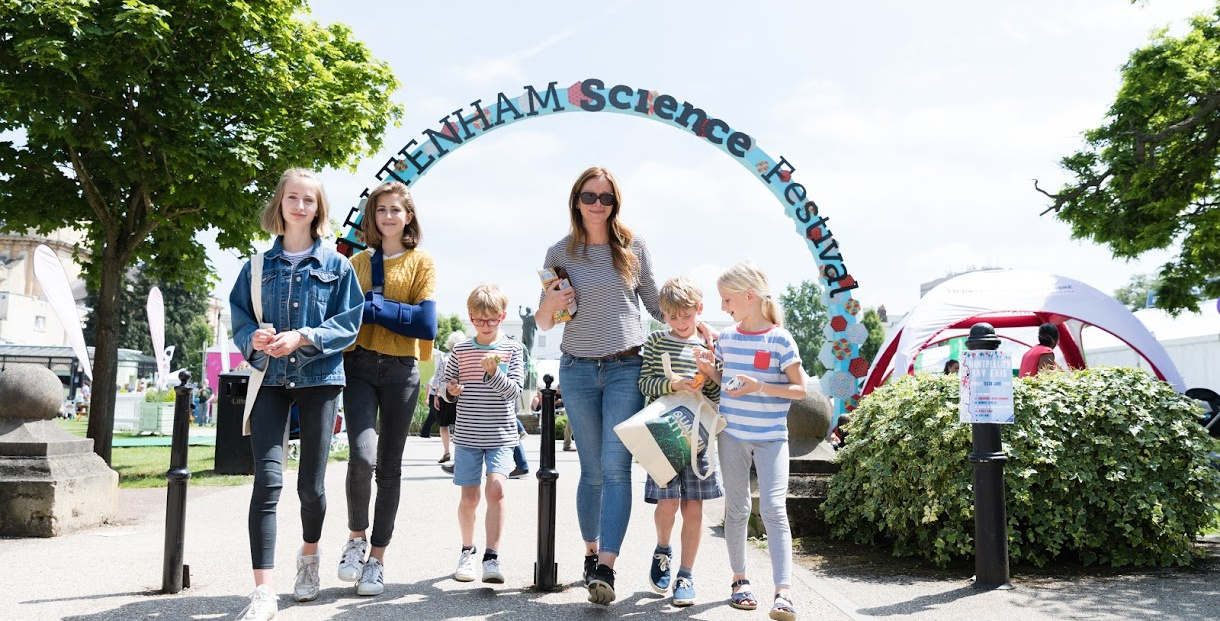 Asking the most important questions about the world today, Cheltenham Science Festival returns from 10-13 June 2021 with a unique hybrid four-day event.
The UK's leading scientists, presenters, writers, artists and activists make their way to Cheltenham for one of the first post-lockdown festivals of 2021. The line-up includes Brian Cox & Jeff Forshaw, Hannah Fry, Adam Rutherford, Gina Martin, Paul Nurse, Camilla Pang, Pushmeet Kohli, Robin Ince, Claudia Hammond, Helen Czerski, Martin Rees, Helen Pilcher, Adam Hart, Ella Al-Shamahi, Cosmic Shambles Network as well as the next generation of STEM professionals and a diverse range of voices who will inform and inspire.
As lockdown eases, audiences will be welcomed in person for socially-distanced talks and workshops at Cheltenham Town Hall and the Apollo Free Stage in Imperial Gardens. People at home can watch the events streamed online for free on Cheltenham Festivals website and catch up until 14 September 2021 by subscribing to the CheltSciFest Player. A schools and family programme of more than 50 events will be available online to watch for free at any time between 13 May and 13 September 2021. The Discover Zone moves online with lots of activities at each virtual stopping off point, opening on 13 May as a warm-up to the Festival.
Guest Curators are Nobel prize-winning geneticist and Director of the Francis Crick Institute, Paul Nurse; scientist, award-winning author of Explaining Humans and autism advocate Camilla Pang; and campaigner and author Gina Martin who will explore the Festival theme Be The Change with a panel of young activists.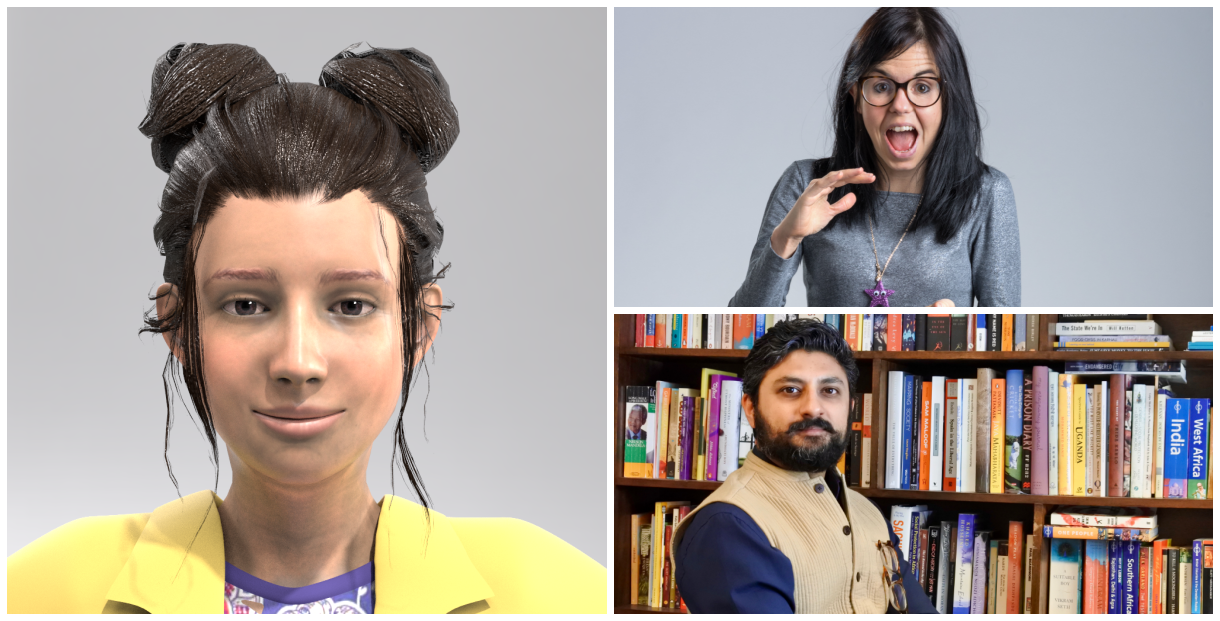 Images show - AI Guest Curator AIDA (left), Jess Wade (top), Jaideep Gupte (bottom).
The Festival's Head of Programming Marieke Navin said: "We've gathered an exceptional line-up of speakers across everything from the climate crisis to cocktails. In a year where science has taken centre stage, we hope Cheltenham Science Festival will spark conversations by taking the temperature of the biggest issues affecting our lives today, as well as entertain through spectacular live shows. We're ready to celebrate as we welcome audiences back into our venues."
AI Guest Curator AIDA returns for a third year and will host the Festival's digital stream with her usual reserves of energy and incessant curiosity. Having previously won Gold at the 2019 Data and Marketing Association in the Best Use of AI, she has dedicated her machine-learning talents since featuring at the 2020 online festival to growing and evolving. Promsing a radical and rather remarkable transformation, AIDA will be interviewing Festival speakers and interacting on social media.
On 9 June at 7pm, FameLab UK will choose the British representative who will compete against finalists from 24 countries in the FameLab International Online Final in November. 2021 marks the 15th and final year of the FameLab International competition delivered worldwide in partnership with the British Council. This year's event will offer an exciting programme of interactive online heats - and a celebration of the partnership which has led to a global science communication phenomenon.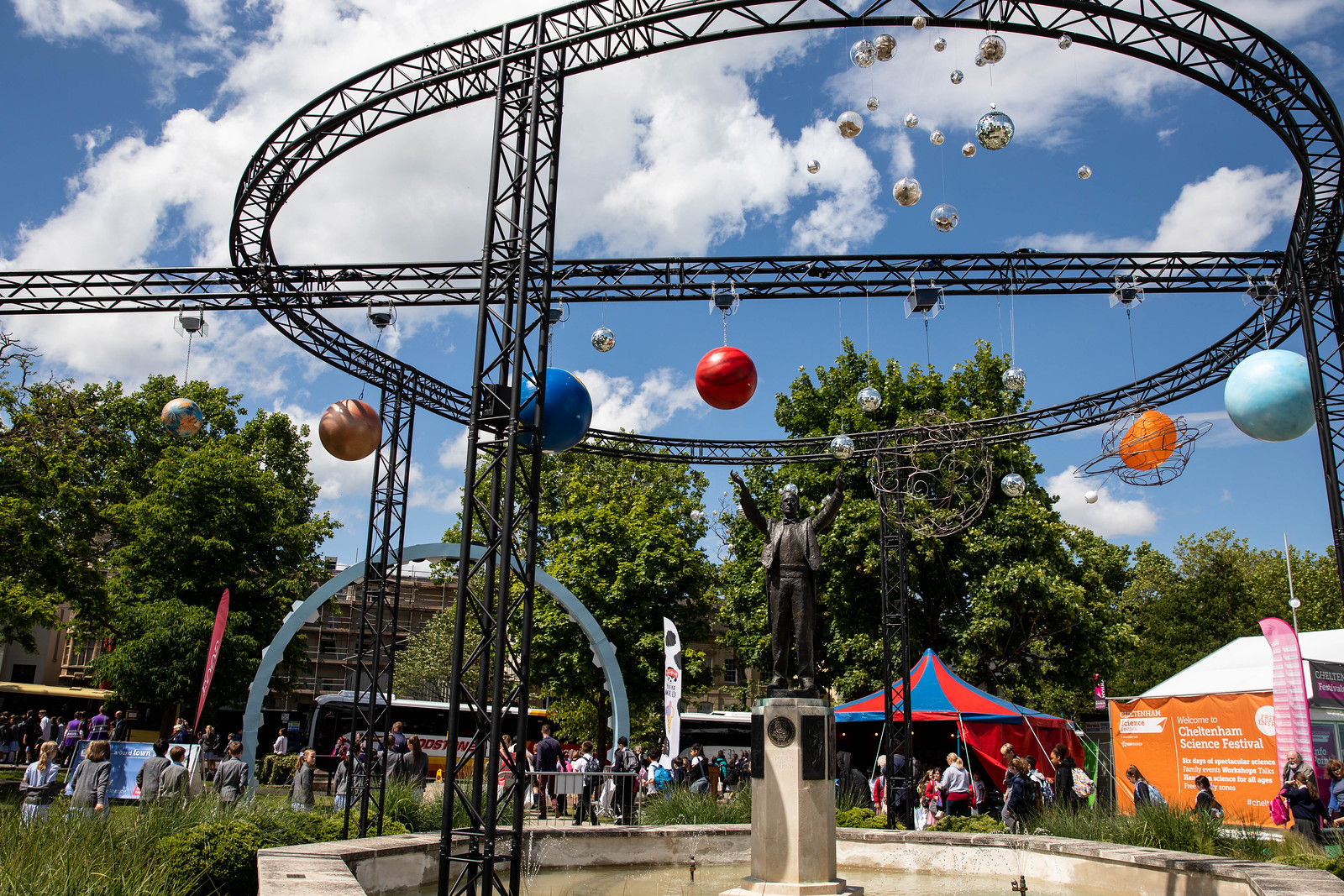 Image - Previous Cheltenham Science Festival scene in Imperial Gardens.

Festival theme – Be The Change
Exploring the Festival theme is campaigner and Be The Change author Gina Martin who will chair a panel of young activists who campaign for change on a range of issues across sustainability, fashion and lifestyle, health and wellbeing, and education and disability rights. They are: climate activist Daze Aghaji; adventurer Alex Staniforth; artist and climate justice activist Tolmeia Gregory; conservationist Bella Lack; ClimateinColour founder Joycelyn Longdon and naturalist and conservationist Dara McAnulty. In a session with the panel, Gina Martin will explore why this generation is taking the lead when it comes to tackling the biggest issues of our time. Afterwards, the audience can meet the young activists in the Cheltenham Science Festival Marquee.
Greg Foot joins subject experts to discuss four of the UN's Sustainable Development Goals for 2021; fashion experts and climate activists calling for a revolution Aja Barber, Tolmeia Gregory and Lauren Bravo discuss ethical fashion; Daze Aghaji, Sarah Bridle and Daniel Webb battle it out to decide what lifestyle change can make the biggest impact in If I Do Just One Thing; Gloucester theatre company Strike A Light explores the climate crisis in a performance of I Stand For What I Stand On; and in a special Facebook Live event (part of the University of Gloucestershire's Living Room Lecture series), psychologist Rachel Sumner reflects on the collective stand against Coronavirus.
Current Affairs
Guest Curator Paul Nurse tackles fake news as he calls for a New Enlightenment where science can reclaim its position at the centre of society. He discusses with Tali Sharot, Alok Jha and Robin Ince the interplay between scientific expertise and political policy.
Ahead of the impending UN Climate Change Summit in Glasgow, economist Dieter Helm, Mark Maslin, Tara Shine, Daze Aghaji and Tom Whipple ask if 2021 could be our planet's year of reckoning in reaching carbon net zero.
The Royal Society's Michael Faraday Prize winner David Spiegelhalter and Stefanie Posavec look at The Art of Data; and Global health policy expert Clare Wenham, Stephen Reicher and ICU doctor Jim Down, go beyond the headlines to consider the future impact of the Covid-19 pandemic on our health, habits and behaviour.
Being Human, Psychology & Neuroscience
Guest Curator Camilla Pang talks to Claudia Hammond about her Royal Society prize-winning book Explaining Humans, her passion for science, and her unique perspective on what it really means to be human. She also reveals her fascination with evolution, gathering Charles Swanton, Christine Orengo and Adam Rutherford to look at evolution on different scales: molecular, cellular and social.
Fellow Guest Curator Paul Nurse contemplates what it means to be alive and describes his Nobel prize-winning work in his book What Is Life; and Helen Pilcher and Adam Hart uncover how humans are shaping evolution as we know it.
Explorer and paleoanthropologist Ella Al-Shamani investigates the 7-million-year-old history and surprising anthropology of the handshake; while comedian Robin Ince examines ghosts, dreams and other problems with reality.
Claudia Hammond with psychologists Rachel Manning, Patrick Tissington and mental health campaigner Alex Staniforth explore the science of courage; Martin Robinson, Ben West, Damien Ridge and Anouska Tate tackle the male mental health epidemic and toxic masculinity; and Mark Freestone, the psychologist who helped create Killing Eve's anti-heroine Villanelle, explains what makes a psychopath.
Moves to make the billion-dollar gaming industry more diverse are discussed by Alysia Judge, Corey Brotherson, Chella Ramanan and Shay Thompson; Elsa Panciroli, Rebecca Wragg Sykes and Ella Al-Shamahi debunk the myths surrounding Neanderthals, and as we gear up for the Tokyo Olympics in July, performance consultant Steve Ingham and sports engineer David James discuss how engineering principles can be applied to sporting success.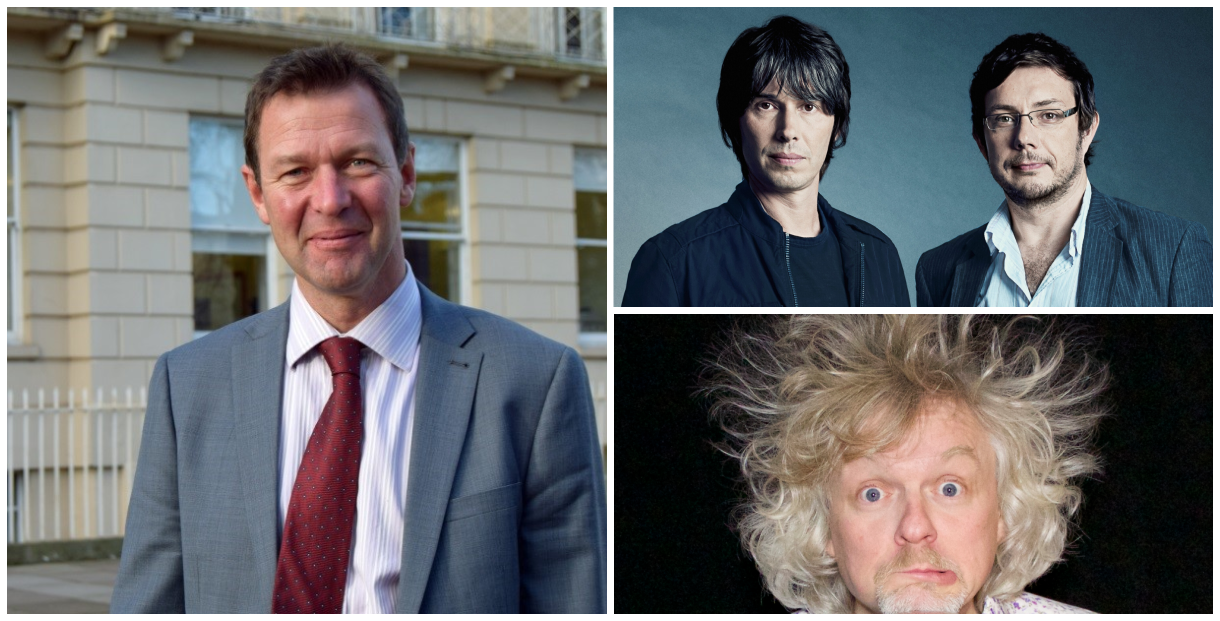 Images show - Tim Atkins from Golden Valley Development (left), Brian Cox & Jeff Forshaw (top), Marty Jop (bottom)
Design, Technology, Engineering & Invention
DeepMind's Head of AI for Science, Pushmeet Kohli tells Hannah Fry about the transformative power AI can wield in scientific breakthroughs; The Rosalind Franklin Institute's Laura Holland and Zoltan Takats, one of the inventors of the iKnife, share the latest cutting-edge treatments for cancer; while Mark Lythgoe and Tammy Kalber give a live demonstration of a new revolution in optical imaging in Inner Selfie: Cell Imaging Live.
Richard Browning started his aviation business from his garage, and his iconic Jet Suit has captured the imaginations of millions. He gives an exclusive first look at his new book Taking on Gravity; architect Richard Sennet and campaigner Pablo Sendra argue for more disorder when designing the spaces and places around us; and Emily Shuckburgh, Mike Hulme, Tamsin Edwards and Dallas Campbell ask if geoengineering could be the answer to the climate crisis.
The team behind I Am Echoborg return to challenge the bravest to take on an Artificial Intelligence in a test of wit versus machines and the Science Museum's Elizabeth Burton unearths treasures from the Top Secret! exhibition in GCHQ: From Ciphers to Cybersecurity.
Schools and Family programme
More than 50 events in the Schools and Family programme are available to watch online for free.
Stefan Gates makes an explosive entrance in Weirdology, while the BBC One Show's Marty Jopson goes Zap, Crackle And Pop.
There's plenty to inspire young environmentalists including a brand-new citizen science project for schools to take part in launched by Everyday Plastic founder Daniel Webb. Stella and the Seagull based on the book by Georgina Stevens; Plastic Fantastic? with materials scientist Jamie Gallagher; Russell Arnott and Elizabeth Mills find fun ways to tackle A Sea of Plastic and there's Fun Science Cheltenham will set the record for the world's biggest slime with help from Festival goers in Diatom Dave; Katie Steckles sharpens up the family's gaming skills in Spectacular Strategy: Maths and Games while FameLab alumnus and mathematician Kyle Evans shares his love of maths in a series of fun videos.
More family favourites include Science Storytime with Rohini Chintha and a bewitching journey into the magical world of Harry Potter with entertainer Jon Chase; find the mighty and elusive waterbear with Jules Howard. Discover Amazing Illusions with Ginny Smith from Braintastic! or listen to the sound of science in Making Waves. Science and adventure combine in The Great Immune Escape; discover the comet show Snowballs in Space; an exploration of nanotech in The Spectacular Science of the Very (Very) Small; and a water clock workshop: Drip Drop Tick Tock Challenge.
Get arty with Hana Ayoob as she draws the Ridiculous Diversity of Life on Earth; and take on design challenges like materials for Space Shuttle Re-entry or protective headgear for an egg in Saving Humpty Dumpty.
Entertainment
There is no shortage of entertainment for all ages: including the ever-popular Overambitious Demo Challenge, gaming strategy with Katie Steckles, a scientific whodunnit in The Mirror Trap and body-part bingo courtesy of the Vagina Museum.
Rutherford And Fry bring their Complete Guide To Absolutely Everything and Foxdog Studios return with their hilarious Robot Chef: Second Course. Comedian Robin Ince hosts Cheltenham Shambles: A Night of Science and Comedy and stand-up Simon Watt appears in Universilly Challenged and The Ugly Animal Preservation Society.
For sophisticated silliness that's shaken not stirred, make a date with Andrea Sella and Mark Miodownik for The Science of Cocktails and enjoy science-inspired songs and stories in the Open Mic Night. DeepMind host workshops on chess and shogi and Rowan Hooper issues an invitation to join the debate on How To Spend A Trillion Dollars.
Health, Wellbeing and Lifestyle
Andrew Steele and pharmacologist Lauren Walker reveal the revolutionary new drugs and medical interventions that can help to slow down the ageing process; the lab-grown meat scientist Neil Stephens and Sarah Bridle talk about the future of food and how our diet can help combat the climate crisis; while nutritionist Giles Yeo explains why all the calorie counts you see everywhere today are wrong.
Alex Staniforth shares his experience of overcoming mental and physical challenges through his love of running and leads a 5k mindful run around Cheltenham. Ellen Mary and Bob Gilbert describe how getting outdoors and gardening can transform our wellbeing and mental health and Paul Klenerman explores the human bodies' greatest protector in A Very Short Introduction To The Immune System. There's also a series of Head Talks with mental health hygiene tips from the BUPA Foundation, a Mental Health Mates Walk and an invitation from Age UK Gloucestershire to drop in to the Connect Café on site for a cuppa and a chat.
Nature and Wildlife
Bella Lack talks to BBC Countryfile and social media sensation Dara McAnulty about his life as an autistic teenager navigating homework, friendships and environmental activism, while Lydia Gibson and Dan Hoare take a more in-depth look at what can be done to protect some of the world's most endangered animals. Helen Scales shows how the Earth's oceans have a huge effect on our daily lives and how deep-sea discoveries are rewriting our understanding of life on land; and Helen Czerski looks at rivers and waterways and leads a walk exploring the River Chelt. Wildlife filmmaker Dan O'Neill describes his hunt for the world's most elusive jungle creatures; and Festival-goers can join Tom Kemp in the Marquee tent for A Very Short Introduction to Reptiles and Amphibians.
Astronomy and the Universe
Brian Cox and Jeff Forshaw explain the significance of black holes and what they mean for our understanding of space and time; Astronomer Royal Martin Rees and cosmologists Amelie Saintonge, Laura Wolz and Andrew Pontzen explore the best way to view the cosmos in The World's Biggest Telescopes; marking 70 years since the first spaceflight, Dallas Campbell examines the fascination behind the spectacular images and perceptions of our home planet; and exoplanet experts Nora Eisner and Ingo Waldmann interrogate the reality of discovering A New Earth. Meanwhile everyone can have a go at creating their own with Lego: Build Your Universe.
Tickets for a socially distanced audience are available at www.cheltenhamfestivals.com/science
Cheltenham Festival Members can buy them from 5 May 2021, and they go on general sale on 13 May.
Find out more about the Cheltenham Science Festival 10-13 June 2021 here - www.cheltenhamfestivals.com/science
Follow on social media - #cheltscifest @cheltscifest
Related
0 Comments