Beginning with a prize-winning Fanfare for Three Trumpets to announce Cheltenham Music Festival's 75th birthday, Imperial Gardens will be jam-packed with free music over the weekend of 5 to 7 July. Featuring crowd-pleasing carnival, soul and jazz bands, up-and-coming singer songwriters from BBC Introducing in the West and Decca Showcase Artists, gospel and world music, the new Cheltenham Music Festival Free Stage will offer a feast of music for people of all ages to enjoy. Free family activities on Saturday and Sunday include circus performers, face painting, balloon modelling and lots of bubbles.
The Opening Weekend is presented in partnership with Cheltenham BID and Classic FM, the UK's most popular classical music station, who will broadcast the Opening Night Concert with the London Symphony Orchestra live across the UK from Cheltenham Town Hall on Friday 5 July.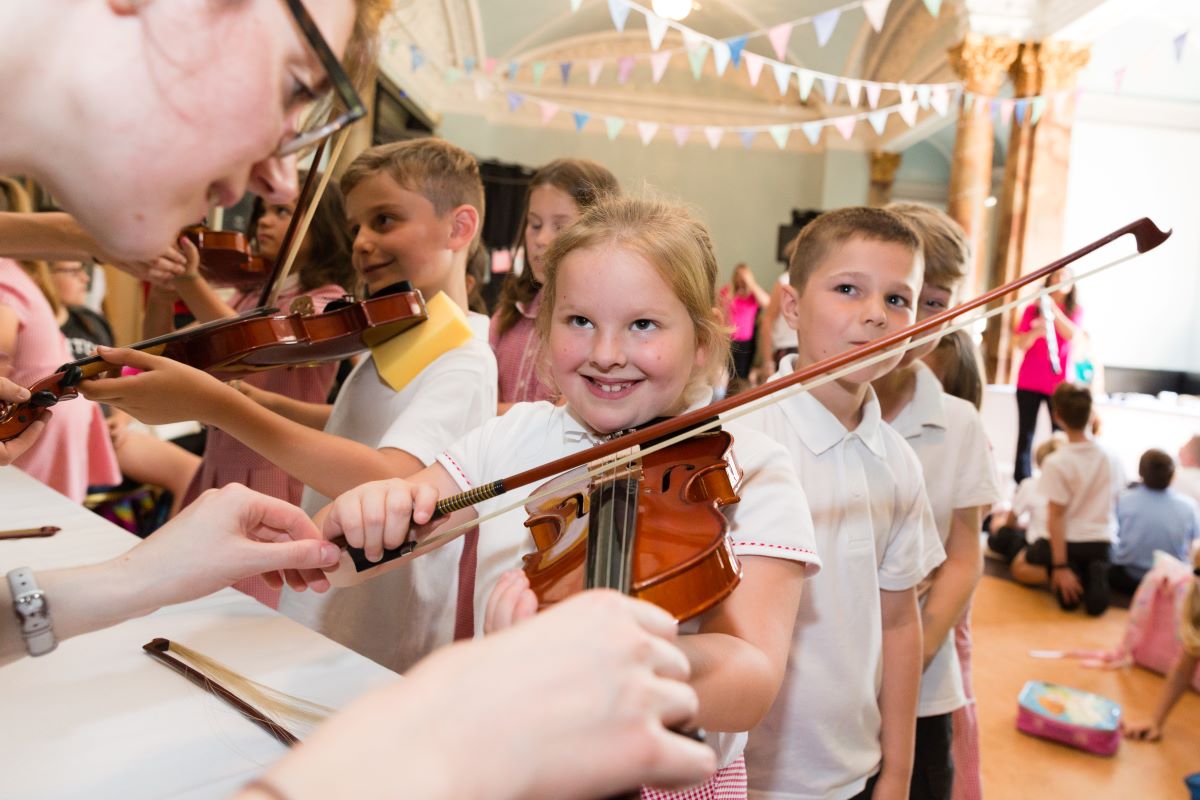 Head of Programming at Cheltenham Music Festival, Camilla King, said: "We've had a huge amount of fun putting together a weekend of free music that's going to create a real party atmosphere for all ages, which we know Cheltenham will love. We'll also have delicious food and drink from Cotswolds Distillery, Dunkertons Cider and Nyetimber."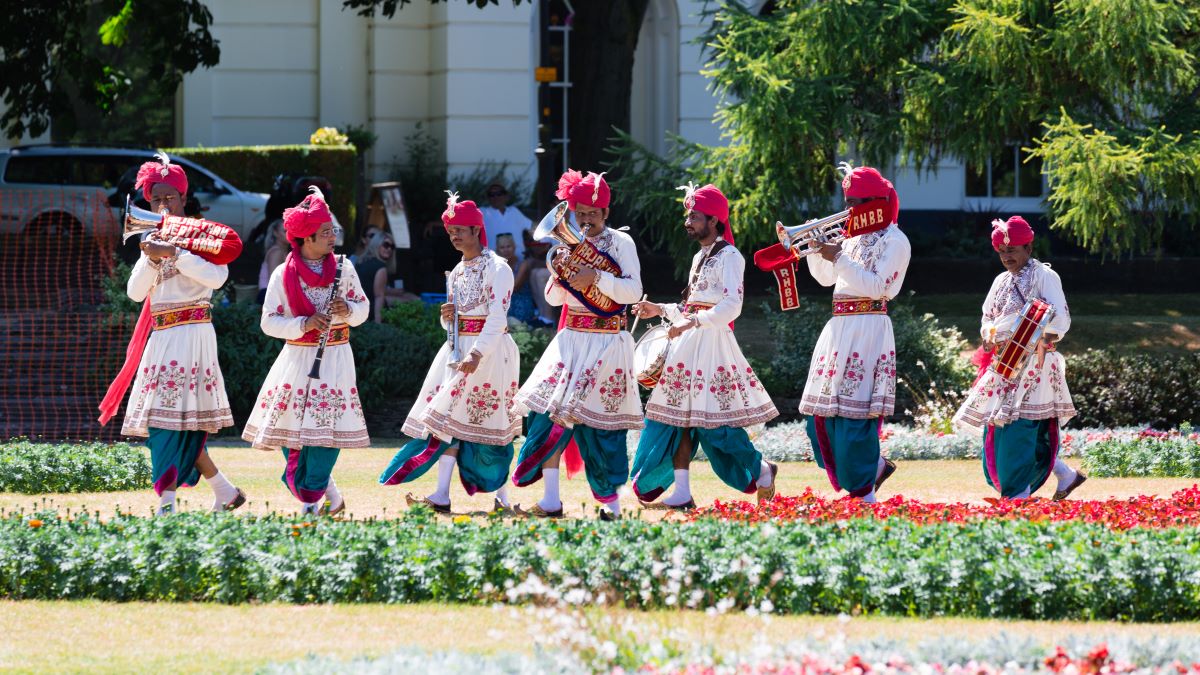 A few lucky ticket holders will experience an intimate and immersive experience in Schumann Square, supported by Savills. Inside three elegant Regency town houses, which as private residences are never normally seen, are a series of chamber music concerts celebrating the 200th anniversary of composer Clara Schumann.
When the music on the Free Stage finishes the party continues late into the night at Lucky Onion's No 131.
Full listings for the Opening Weekend Free Stage are below and full festival details can be found at www.cheltenhamfestivals.com/music
Cheltenham Music Festival Opening Weekend Free Stage (NB timings subject to change)
Friday 5 July
17:00-17:05

Festival Fanfare

To herald the Opening Weekend - a rousing performance of the winning fanfare from Cheltenham Music Festival's public competition plus pop-up performances around town

17:05-17:20

17:20–18:00

Ola Samba

Getting the Festival party started with the traditional sounds of a Brazilian Carnival with modern western twists.

Ola Samba take the party to the streets with a procession around Cheltenham town centre

17:35-18:20

The Soul Destroyers

A 14-piece line up with 7 awesome horns, 3 singers and a rock solid rhythm section The Soul Destroyers provide soul covers from all the usual suspects but with some unexpected musical destinations.

18:35-19:20

Bostin Brass

A New Orleans style brass band who have created their own brand of Brummie-infused second-line soul music for the best part of a decade.

19:35-20:20

Ayanna Witter Johnson

The definition of eclectic soul, singer, songwriter and cellist Ayanna Witter Johnson shows that classical and alternative R&B music can successfully coexist. Ayanna performs music from her newly released debut album Road Runner which pays tribute to her Jamaican roots with its authentic urban grittiness against the backdrop of incredible musicality.

20:35-21:30

Afro Cluster

Cardiff based Afro Cluster are renowned for their unique and exciting blend of afro funk and hip hop. Utilizing cuts, big brass sounds and rhythm section as well the MC stylings of Skunkadelic, they've been frequently described as having a colossal sound and an explosive live show.
Saturday 6 July
| | | |
| --- | --- | --- |
| Various | Around town | Brass for Africa bring their joyful Ugandan music-making to Cheltenham in a series of pop-up busking sessions. |
| 10:30-11:00 | Hands and Feet | Hands and Feet bring a mix of latin, jazz and popular music and tap dancing featuring 2018 Gloucestershire Young Musician of the Year Lydia Kenny alongside tap dancer Lucas Bailey and bassist Neil Bennetts for a fun family friendly start to the weekend. |
| 11:15-11:55 | ABC of Opera | The Academy of Barmy Composers will be presenting their fun and interactive family show to explore five hundred years of opera to captivate, inspire, enlighten and empower children of all ages, based around their first book BAROQUE. |
| 12:10-12:40 | G-Mizz | Harry and Mizza introduce a world of percussion in an interactive and engaging family workshop. From rhythm games to creating a brand-new piece of samba music, it will have the family grooving for the rest of the day. |
| 12:50-13:35 | Avygale | Avygayle Smith is a 17 year old singer-songwriter and multi-instrumentalist based in Gloucestershire. Singing covers of songs in her own style alongside original music. |
| 13:50-14:30 | Colwell Arts Jazz Ensemble | Colwell Arts Jazz Ensemble will perform a selection of jazz and swing music, conducted by Richard Fitton-Perkins. |
| 14:45-15:45 | Wilding | Bristol-based Wilding have cultivated their own distinct brand of psychedelic Britpop, weaving rough punk edges with grandiose choruses and ballads. |
| 16:00-17:00 | Katie Doherty & The Navigators | Singer songwriter Katie Doherty performs with her trio of award-winning musicians The Navigators to present heart-swelling, memorable folk songs. |
| 17:15-18:15 | 3D Brass | Expect screaming trumpets, shredding saxophone improvisation and pumping drum from Cardiff-based riot-jazz brass band 3DBrass. Performing pop, jazz, Motown and dance music. |
| 18:30-19:30 | Rob Green | Nottingham-based singer songwriter draws on soul, RnB, indie and rock to inform his own distinctive sound and style. With performances at the BBC Proms, a support tour with Earth Wind and Fire and his debut album out later this year, Rob is definitely one to watch. |
| 19:45-20:30 | Town Hall Gospel Choir | Town Hall Gospel Choir is an award-winning outfit from Birmingham frequently appearing on national TV and UK's main stages as well as at international choir festivals. From traditional sweet harmonies to foot-stomping, hand-clapping power songs. |
| 20:45-21:45 | Mama Jerk and the Ladyfingers | A seven-limbed party animal native to Bristol Town. Armed with wailing psych rock guitar lines and heavy dub rhythm and horns, they deliver gravelly messages of LOVE, DEATH and FITTED KITCHENS! |
Sunday 7 July
| | | |
| --- | --- | --- |
| 10:30-11:00 | Kate Wakeling | A playful interactive workshop exploring the music that fizzes through poetry. Listen to Kate's poems for children, concoct sonic moon juice, race a comet across the sky, conjure a soundscape to accompany a rascally jungle cat and compose an uproarious pirate chant. |
| 11:15-12:00 | Shirley Smart's Eastern Grooves | Cellist Shirley Smart and her band perform an interactive show for all the family, bringing infectious grooves from her background in both jazz and Middle Eastern music. |
| 12:15-13:15 | Rosita | A pop/soul singer songwriter from Gloucestershire, currently studying Pop Music at the Royal Northern College of Music. |
| 13:30-14:30 | Tell Tale Tusk | An award-winning, contemporary-folk ensemble reimagining folktales old and giving light to folktales new. Spellbinding three-part vocal harmonies weave around melodious instrumentals to create a take on folk that is bold and original. |
| 14:45-15:45 | Shirley Smart Trio - 'Long Story Short' | 'One of the UK's leading improvising cellists' (The JazzMann) performs with her trio, interlocking the worlds of and jazz and Middle Eastern music. |
| 16:00-17:00 | Alina | An up and coming indie singer-songwriter based in Bristol, influenced by artists such as dodie and Maisie Peters. Personal, heartfelt lyrics with powerful imagery delivered with emotion and depth. |
| 17:15-18:15 | Luzzey | Unique and dynamic urban commercial artist inspired by reggae, country, soul, R&B, gospel, house, grime and Motown. |
| 18:30-19:30 | Manouche Etcetera | Versatile trio whose repertoire includes everything from fiery gypsy dances to curious klezmer and retro swing. With tunes you'll know, others you won't, and some original material too, they'll take you everywhere from the sultry slums of Buenos Aires to 1920's London or Paris. |
| 19:45-20:45 | Alex Mendham | Prepare to be transported to the Great Gatsby world of opulent music and high voltage glamour from the Roaring Twenties Jazz age. Hot jazz and sweet dance band music from the art deco era with a modern energy, passion and zest. |
Do you plan to go to the Cheltenham Music Festival? Let us know in the comments below!
Related
0 Comments