This month will see the launch of the first ever Cheltenham Wellbeing Festival, a week-long celebration from the 9th – 15th September 2019, packed full of talks, workshops and events focusing on all areas of wellbeing which aim to help local people across the Cotswolds live life well.
The festival will see over 2000 fitness classes and 70 events happening all over the town, from some of the county's most exciting studios, experts and venues.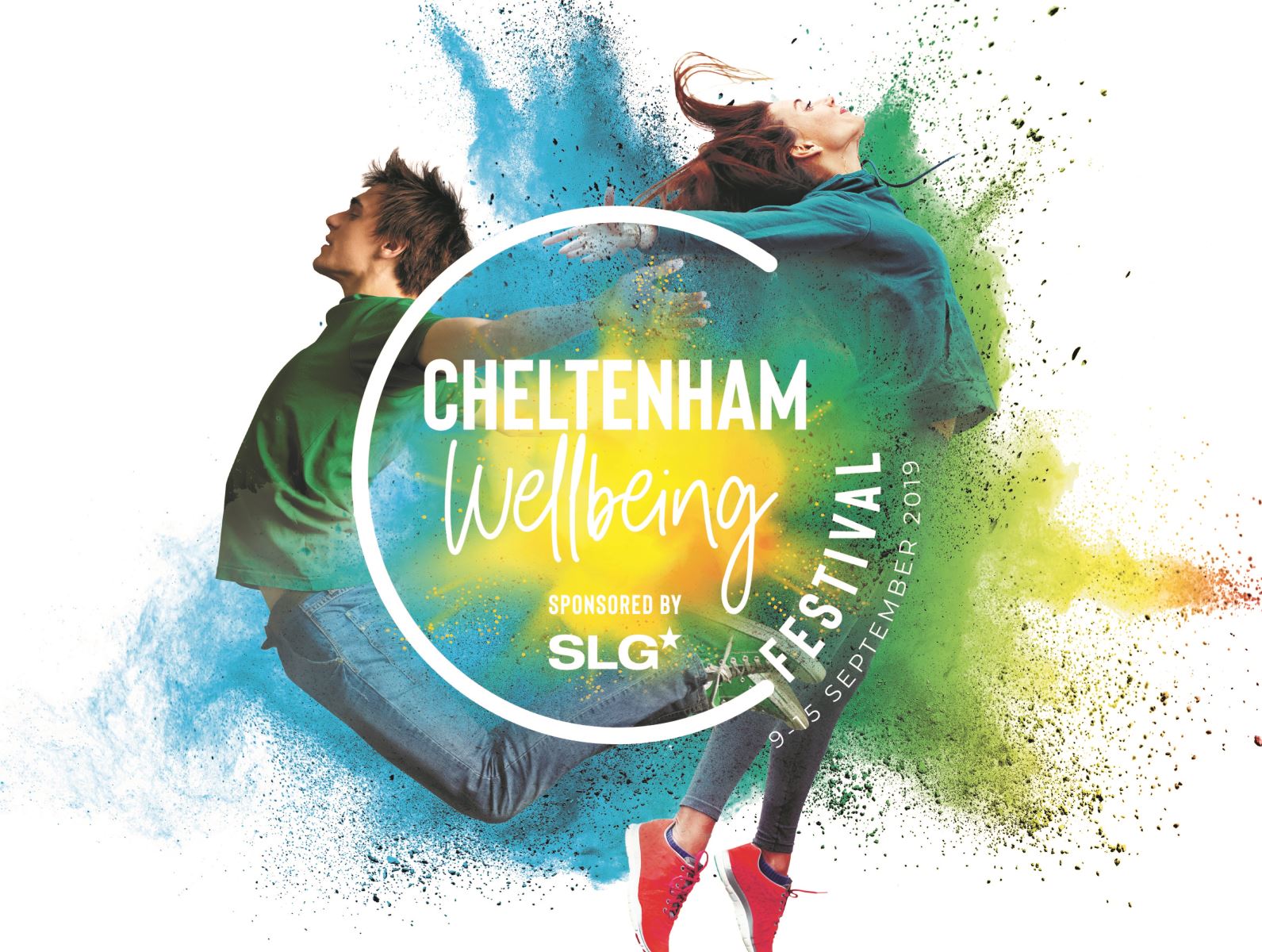 ---
Who is involved?
Unique to any other festival experience, the Cheltenham Wellbeing Festival has partnered with over fifty local businesses to bring together a community of experts from the local area and beyond, to inspire, educate and entertain visitors across all aspects of well-being.
Whether it's trying a new fitness class, finding an activity group, seeking support on a health issue, achieving more balance, or to simply indulge, the Cheltenham Wellbeing Festival will open the doors for you to explore every area of health and wellness on your doorstep in a fun, approachable and immersive way.
Why has this new festival been launched?
There are worrying statistics being released every day around health, depression and physical activity across the UK, which show the increasing need to provide credible information, events, support and access to the resources people need to look after their own wellbeing. The Cheltenham Wellbeing Festival is being organised by a collective of local event professionals, wellbeing experts and local businesses passionate about raising awareness of wellbeing, with the aim of having a positive impact on the community.
The festival, we will shine a light on local wellbeing champions and those charities and social enterprises working hard in their own specific areas of wellbeing every day. We want to celebrate our local resources and those already making a difference in this sector, with the aim of building a supportive community that will encourage greater physical activity and better access to nutritional education, health advice, mental health support, outdoor activities and creative events in the area, beyond the festival.
What is the theme for the first ever Cheltenham Wellbeing Festival?
The aim of this year's festival is to explore all of the different areas that wellbeing incorporates. The theme for 2019 is 'community', working to bring people together to listen, learn and be more supportive of one another, partnering with the national 'Campaign to End Loneliness' and their 'Be More Us' campaign. The organisers want to show that by building a supportive community and giving people access to resources locally and nationally, there will a more stable and supportive future for all.
What's on across the week?
Split across four sections, the Cheltenham Wellbeing Festival will explore all pillars of wellbeing, from fitness, nutritional, mindfulness, mental health, self-Identity, relationships and lifestyle, to people, places and the environment in which we live.
Visitors will get the chance to access a variety of exciting fitness sessions with an Active Pass, explore physical treatments and local pamper and grooming practitioners with a Treatment Pass, hear the latest trends and opinions from some of the UK's leading wellbeing experts via Talks and Seminars, and learn new skills from local and national wellbeing experts and creatives through interactive Workshops and Events. Not to mention the opportunity to feast on a host of breakfast, lunch and supper clubs, in some of the town's best restaurants, cafes and venues.
Poster images below show just 4 of the 70 events taking place...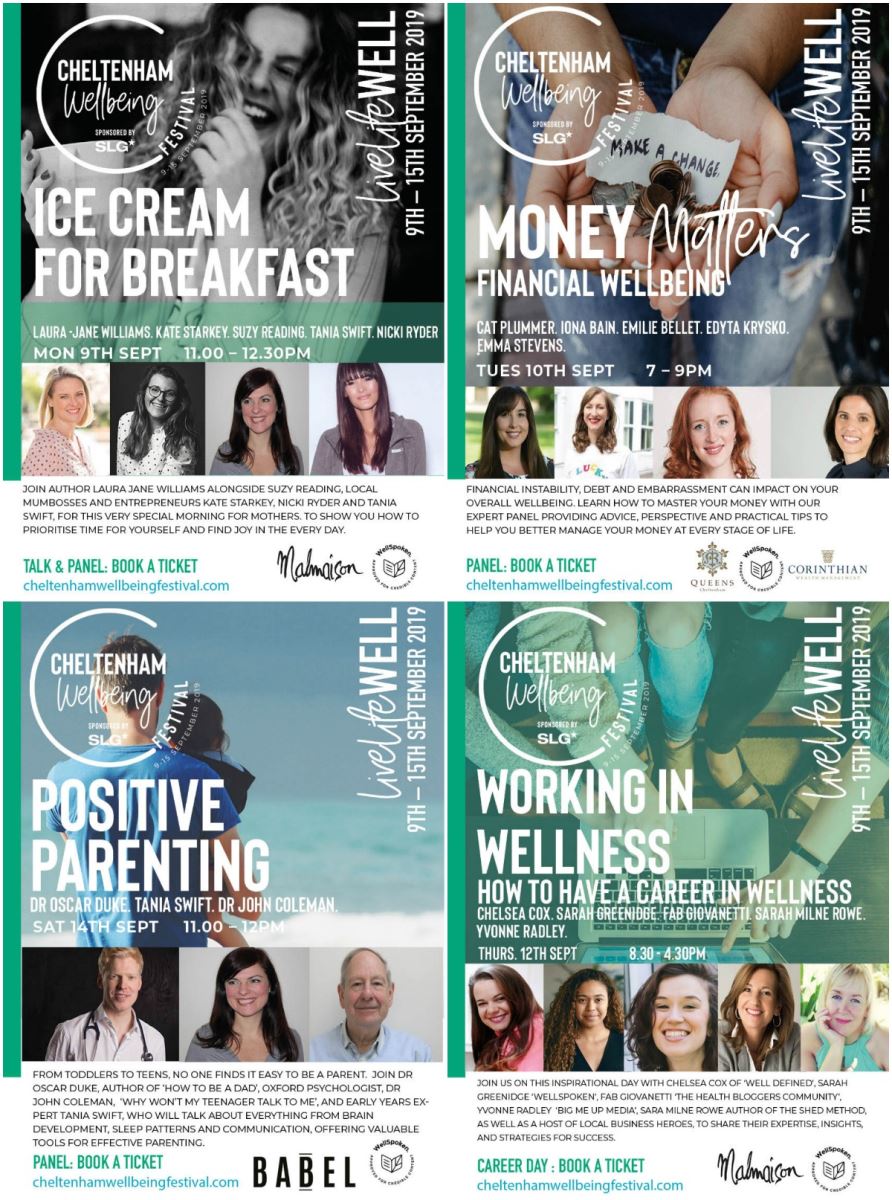 1. GET YOUR BODY MOVING WITH THE ACTIVE PASS
An exciting programme of fitness, movement and dance classes with an Active Pass will give you the chance to sample Cheltenham's best workouts and ways to move with some exciting festival exclusives.
Whether you're looking to push yourself to new limits, stretch and tone, or move your body in different ways, the organisers have partnered with over 25 fitness clubs, private trainers and studios across Cheltenham who will open sessions for you to try across the week.
Choose from: Yoga, Pilates, Barre, Climbing, Martial Arts, CrossFit, HIIT, Spinning, Running, Swimming, Tennis and much more. Get ready to take part in a range of activities guaranteed to raise the heart rate.
2. LEARN FROM THE EXPERTS VIA TALKS & SEMINARS
The Cheltenham Wellbeing Festival will play host to a unique line-up of talks, panel discussions and seminars, hosted by some of the UK's leading industry experts: from' Live 101' with Dr Dawn Harper, 'Too Many Pills' with Dr James Le Fanu, 'The Science of Self-Healing' with Dr Jeremy Howick, 'The Mask of Masculinity' with Ben Bidwell, 'How to Find Your Inner Joy' with Laura Jane Williams, 'How to be a Dad' with Dr Oscar Duke, 'Building Sound Minds' with Marksteen Adamson, moving though the 'Menopause' with Dr Louise Newson, 'The Power of Connection' and much more.
An intimate series of evening events, our 'In Conversation With' series tackles the every-day topics that affect our overall wellbeing, including: 'How to Find Your Inner Joy' with Laura Jane Williams, 'How to be a Dad' with Dr Oscar Duke and 'You're Not Mad You're Menopausal' with Dr Louise Newson, our FREE 'Money Matters' evening with Emilie Bellet of Vestpod and a host of experts, how to 'Achieve Optimal Health' and the future of personalised medicine, as well as learning to feel empowered as a woman at any again with our 'Invisible Woman' talk and many more.
There is also advice on how to manage grief with 'Good Grief' author Dipti Tait, as well as offering an incredible career wellbeing strand on 'Working in Wellness' with Sarah Greenidge, Fab Giovanetti and Sara Milne Rowe.

The exclusive Yellow Kite Author Series at No.131: will also bring together a range of the UK's best lifestyle, wellbeing and mindfulness authors in a unique series of evening events, to explore their works and share lively conversation on how to live life well. Hear from Jonathan Hoban about 'Walking Therapy' – how to switch off and find calm every day, Kimberley Wilson, on 'How to Have a Healthy Brain', and Buddhist monk and meditation expert to the stars, Gelong Thubten, for an hour of meditation exploration including a live meditation session.
And finally, the exciting Adventure Series with Chief survival officer to the British Military John Hudson and local adventurer Pip Stuart, as well as elite performance neuroscientist Leanne Simpson providing an evening of mindset, exploration and resilience.
You are guaranteed to feel enlightened, educated and entertained in every area of well-being.

3. CREATE, LEARN AND HAVE FUN: WORKSHOPS & EVENTS
Gain practical advice and learn new skills from local and national experts via the exciting programme of interactive Workshops and Events. Discover an exciting schedule of workshops and events that bring together the very best wellbeing services and experts from across Cheltenham. Enjoy a wide range of exclusive experiences, learn new skills, and hear from some of your local experts on a variety of subjects across the whole spectrum of wellbeing.
You can expect inspirational breakfast and brunch events from The Find, Woodkraft, No.131, FLUID and Cheltenham Yoga & Pilates, afternoon tea with our authors, as well as incredible pop-up supper clubs that will explore a variety of cooking methods, ingredients and spices, as well as organic and sustainable dining with Russell James, a Shri Lankan feast at The Coconut Tree, and a Mindful Supper with Intuitive Eating consultant Laura Thomas at The Find, all to help you nourish and feel well.
There will also be a chance to explore areas of health and wellbeing from a host of professional practitioners, on-hand to assist with your requirements. From physical health, mindfulness, sex and relationships, as well as your career and financial wellbeing, we have something for everyone.

4. INDULDGE & TREAT YOURSELF WITH OUR TREATMENT PASS
Discover some of the very best practitioners, therapists, injury clinics, holistic therapists, treatments, pampering, beauty, spa, hair and grooming boutiques across Cheltenham with the Treatment Pass, giving you 15% off a range of services when you book between the 9th – 15th September for a treatment to be redeemed up to six months after the event.
More details
The full Cheltenham Wellbeing Festival 2019 line-up of speakers, schedule of events is live on: www.cheltenhamwellbeingfestival.com. Tickets to the Cheltenham Wellbeing Festival will vary across each area of the event, with some tickets individually priced. There will also be a range of FREE events open to the public so everyone can get involved during the week.
For more events taking place in September check out our guide - Things to do in Cheltenham this September
Related
0 Comments