Cheltenham Heritage Open Days (taking place 13 - 22 September) is a popular annual event held as part of the UK's largest festival of history and culture with buildings across the country opening their doors to celebrate heritage, community and history.
For the first time this year Cheltenham Heritage Open Days will be running for the full ten day duration. The organisers, all hard working volunteers, have organised a fantastic programme of open buildings, walks, talks and events for locals and visitors to enjoy.
Below we have shared some of the highlights. We hope they capture your interest!
---
9 reasons to attend Cheltenham Heritage Open Days...
1. Lots of new events for 2019
The world-famous Cheltenham Racecourse will be open for tours. This is sure to be an unmissable event for any racing fans. Also new this year are two more classic Cheltenham business premises, the Queens Hotel and Lloyds Bank, opening their doors for visitors to experience the spectacular architecture.
2. Learn about our Regency heritage
The ten day event will well and truly highlight Cheltenham's unique Regency heritage. Visitors will have the opportunity to visit the iconic Pittville Pump Room, The New Club which is a fantastic Regency house, and Normandy House, a former gentleman's residence that has had many fascinating uses. The Municipal Offices with its splendid façade will also be open with an interesting talk on 'Twin Towns' and Cheltenham Masonic Hall will be open for self guided tours.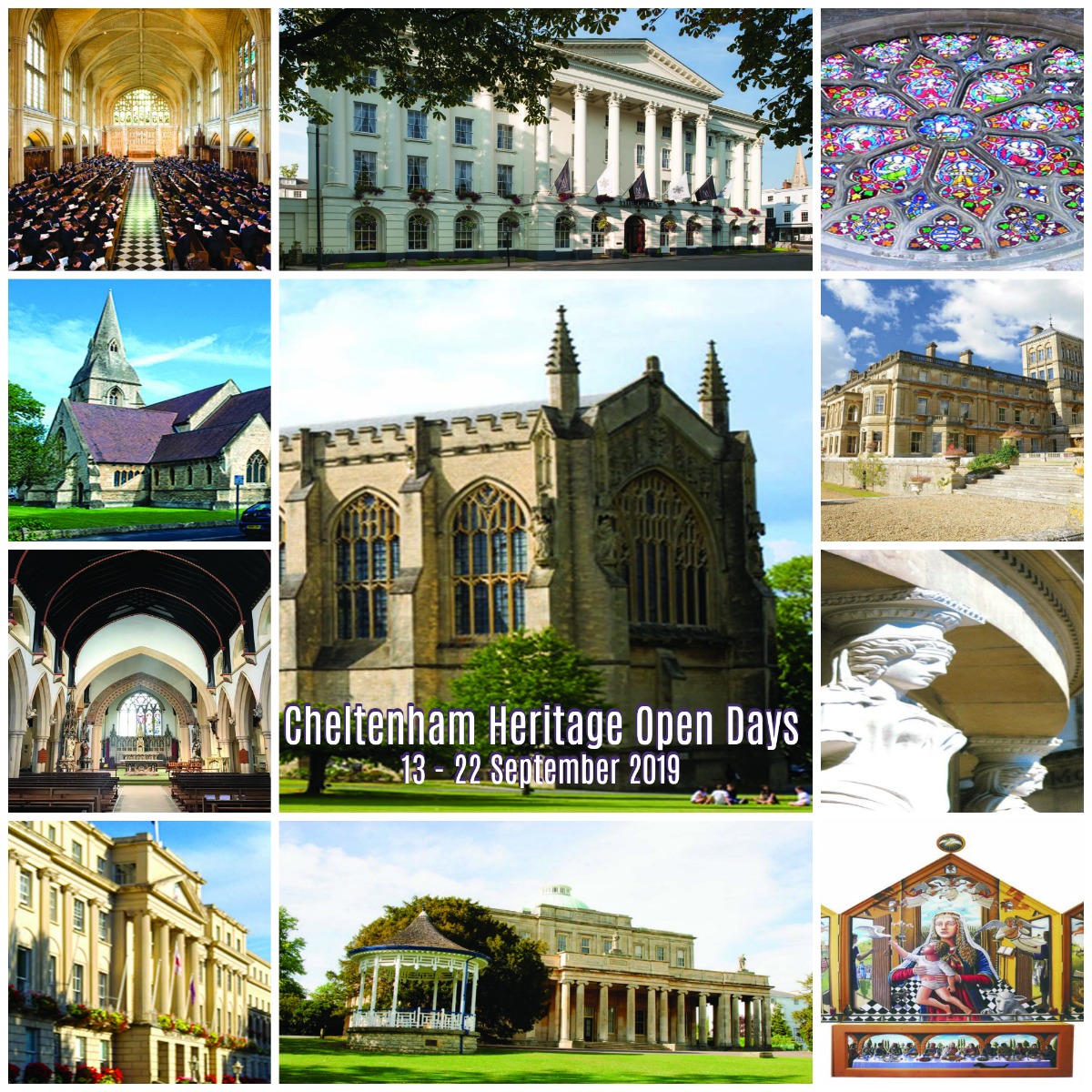 3. Be wowed by our world class educational establishments
Cheltenham schools are known far and wide with great buildings, artefacts and stories to tell. Don't miss the chance to explore Cheltenham Ladies College, Cheltenham College and Dean Close School.
4. Explore our churches, chapels and synagogues
From the medieval to the modern, religion has played an integral part in the town's history. Many buildings will be open for visitors to not only marvel at the architecture but also learn about their history and the numerous activities that take place today. Don't miss the chance to take a wander with a knowledgeable guide around Cheltenham Minister St Mary's, All Saints Church, Cheltenham Synagogue, St Gregory the Great Catholic Church plus many religious buildings.
5. Be blown away by the history of our spa town
Informal guided tours at Cheltenham Playhouse theatre will give a fascinating insight into the importance of water to Cheltenham which is continuing to this day at the 'Lido' a perfect example of an Art Deco style and a delight to visit.
6. Experience around and about Cheltenham
As well as a full programme of events in the town centre, there are plenty of chances to explore further afield in nearby residential areas/villages too. The Church of St Michael and All Angels in Bishop's Cleeve, Rendcomb College and St Peter's Church, St Christopher's Church, Warden Hill and the renowned Sue Ryder Leckhampton Court Hospice are all opening their doors to join in with Heritage Open Days.
7. Discover our fascinating past and exciting plans for the future
Visit The Wilson Art Gallery & Museum, full of history and art and with activities for both children and adults. Another unmissable open building is Parmoor House, home to the Cheltenham Civic Society, working to promote and improve the town for future generations of residents and visitors alike.
8. Take an insightful walk
There are 11 free self-guided tours you can pick up from the Cheltenham Tourist Information Centre (Wilson Art Gallery) in addition to free walking tours with expert guides covering various aspects of Cheltenham. As a first this year, one of the free tours is being led by a colourful character from the past, Captain Skillicorne, the founder of Cheltenham. These tours are sure to be in heavy demand, so get your ticket booked!
9. Attend events in unique venues
On top of walks and talks there are a range of other events you can enjoy. Just a few of the unmissable events include - Organ recitals at Cambray Baptist Church, ringing of bells at The Minster and a play, Rotten Luck, being performed at Chapel Arts. (Note this is a chargeable partner event; see programme for details).
10. Check out characterful pubs with many original features
Three public houses are ready to welcome visitors to find out about their varied and interesting histories, (best enjoyed with a refreshing drink in hand!) The Jolly Brewmaster, The Old Courthouse and St Georges Vaults.
---
We hope this summary of highlights for the Cheltenham Open Heritage Days have piqued your interest in this wonderful ten day free event. For more information check out the featured events below or check out the full programme on the Heritage Open Day website.
Related
0 Comments