My Favourites - Itinerary Planner
Light Up Cheltenham self guided tour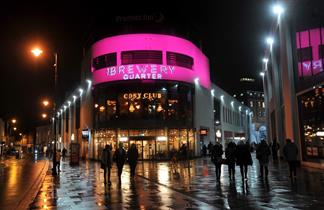 Experience Cheltenham's famous landmarks and Regency buildings dramatically lit up with this free self guided tour.
For just £12 per person you can take a guided tour with a professional and highly knowledgeable Blue Badge tourist guide.
Afterwards why not take to the skies to experience Cheltenham from the 35m observation wheel in Imperial Gardens, or enjoy a themed Light Up cocktail at the Garden Bar or The Ivy Montpellier?
Full details about this annual free event running from the 1 - 23 February can be found here - Light Up Cheltenham 2020.
Product Information
Contact Details:

Henrietta Street
Cheltenham
Gloucestershire
GL50 4FA

Tel:

+44 (0) 1242 574378

Contact Details:

Nibley House
7 North Place
Cheltenham
Gloucestershire
GL50 4DW

Tel:

+44 (0) 1242 521172

Contact Details:

197 - 199 High Street
Cheltenham
Gloucestershire
GL50 1DB

Contact Details:

HSBC
2 The Promenade
Cheltenham
Gloucestershire
GL50 1LR

Contact Details:

43 Promenade
Cheltenham
GL50 1PY

Contact Details:

Promenade
Cheltenham
Gloucestershire
GL50 9SA

Contact Details:

50 Promenade
Cheltenham
Gloucestershire
GL50 1LY

Contact Details:

96 Promenade
Cheltenham
Gloucestershire
GL50 1NB

Contact Details:

102 - 104 Promenade
Cheltenham
Gloucestershire
GL50 1NB

Contact Details:

102 - 104 Promenade
Cheltenham
Gloucestershire
GL50 1NB

Contact Details:

95 Promenade
CHELTENHAM
Gloucestershire
GL50 1PJ

Contact Details:

Promenade
Cheltenham
Gloucestershire
GL50 1PJ

Contact Details:

Belgrave House
7 Imperial Square
Cheltenham
Gloucestershire
GL50 1QB

Tel:

+44 (0) 1242 253896

Contact Details:

112-118 Promenade
Cheltenham
Gloucestershire
GL50 1NL

Contact Details:

Promenade
Cheltenham
Gloucestershire
GL50 1NW

Contact Details:

23 Promenade
Cheltenham
Gloucestershire
GL50 1NW

Contact Details:

131 Promenade
Cheltenham
Gloucestershire
GL50 1NW

Contact Details:

The House
131 The Promenade
Cheltenham
Gloucestershire
GL50 1NW

Contact Details:

Town Hall
Imperial Square
Cheltenham
Gloucestershire
GL50 1QA

Tel:

+44 (0)1242 227979

Contact Details:

20 Imperial Square
Cheltenham
Gloucestershire
GL50 1QZ

Contact Details:

The Promenade
Cheltenham
Gloucestershire
GL50 1NN

Contact Details:

Rotunda Terrace
3 Montpellier Street
Cheltenham
Gloucestershire
GL50 1SD

Tel:

+44 (0) 1242 894200
Itinerary Distances
From
To
Distance * (metric)
The Brewery Quarter

(51.90345,-2.07657)

United Services Club

(51.90148,-2.07268)

0.31
United Services Club

(51.90148,-2.07268)

Boots

(51.90058,-2.07413)

0.13
Boots

(51.90058,-2.07413)

HSBC

(51.89968,-2.07413)

0.09
HSBC

(51.89968,-2.07413)

Royal Bank of Scotland & Optical Express

(51.89878,-2.07558)

0.13
Royal Bank of Scotland & Optical Express

(51.89878,-2.07558)

Municipal Offices

(51.89788,-2.07703)

0.13
Municipal Offices

(51.89788,-2.07703)

Kuoni

(51.89878,-2.07558)

0.13
Kuoni

(51.89878,-2.07558)

Crew Clothing

(51.89788,-2.07703)

0.13
Crew Clothing

(51.89788,-2.07703)

White Stuff

(51.89788,-2.07703)

0
White Stuff

(51.89788,-2.07703)

Gap

(51.89788,-2.07703)

0
Gap

(51.89788,-2.07703)

95 The Promenade

(51.89788,-2.07703)

0
95 The Promenade

(51.89788,-2.07703)

The Neptune Fountain

(51.8988,-2.07843)

0.13
The Neptune Fountain

(51.8988,-2.07843)

Pizza Express

(51.89698,-2.07558)

0.25
Pizza Express

(51.89698,-2.07558)

LK Bennett

(51.89698,-2.07703)

0.09
LK Bennett

(51.89698,-2.07703)

The Promenade verandas

(51.89698,-2.07848)

0.09
The Promenade verandas

(51.89698,-2.07848)

Knight Frank

(51.89698,-2.07848)

0
Knight Frank

(51.89698,-2.07848)

Kings House at No.131

(51.89698,-2.07848)

0
Kings House at No.131

(51.89698,-2.07848)

The House at No. 131

(51.89698,-2.07848)

0
The House at No. 131

(51.89698,-2.07848)

Cheltenham Town Hall

(51.89767,-2.07769)

0.08
Cheltenham Town Hall

(51.89767,-2.07769)

The Logical Utilities Company

(51.89608,-2.07703)

0.16
The Logical Utilities Company

(51.89608,-2.07703)

Cheltenham Observation Wheel | Light Up Cheltenham

(51.89608,-2.07703)

0
Cheltenham Observation Wheel | Light Up Cheltenham

(51.89608,-2.07703)

Queens Hotel - MGallery

(51.89518,-2.07993)

0.2
Queens Hotel - MGallery

(51.89518,-2.07993)

The Ivy Montpellier Brasserie

(51.89518,-2.08139)

0.09
Total Distance *
2.14 miles
Estimated Journey Time
4 minutes
* Approximate distance by road