The nationally recognised award is given to towns and cities that provide a vibrant and diverse mix of evening and night-time dining, entertainment and culture between the hours of 5pm and 5am, while promoting the safety and wellbeing of visitors and local residents.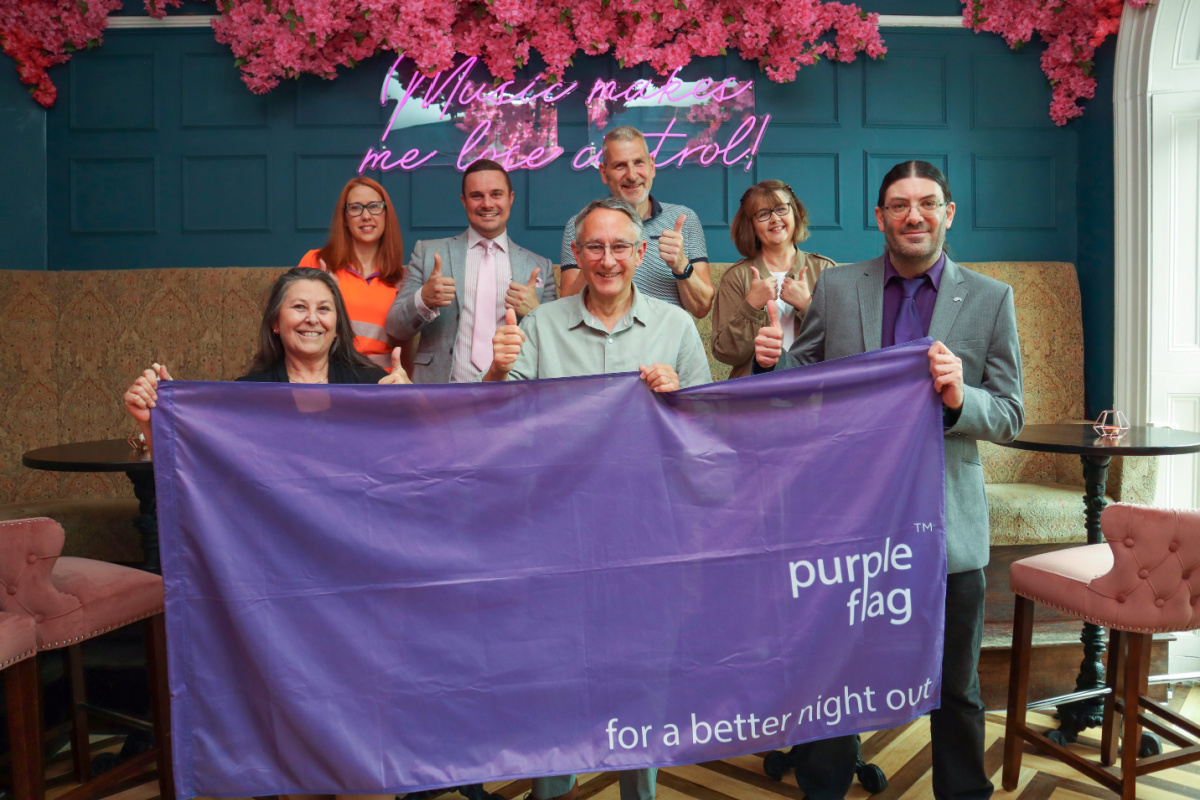 Image features (left to right) - Belinda Hunt, Operations Manager at Cheltenham BID, Emma Cook, Deputy Operations Director at Cheltenham Guardians,Philip Jordan, Chair of Cheltenham Nightsafe/Deputy Chair at Cheltenham BID, Councillor Martin Horwood, cabinet member for customer & regulatory services at Cheltenham Borough Council (CBC), Colin Pilsworth, Night-time Economy Coordinator at CBC, Sarah Chad, Administrator at Cheltenham Street Pastors, Councillor David Willingham, night-time economy champion at CBC.
The assessors praised Cheltenham's latest Purple Flag renewal, saying the town should be applauded for the breadth and scope of support it has provided to the evening and night-time economy (ENTE) and the businesses within it to support business survival and town centre recovery from the Covid 19 pandemic. Highlights and examples of excellent practice in the submission included:
- The speed and scale of reaction to the pandemic, Cheltenham being the first Local Authority to publish a licensing and ENTE recovery strategy. Of particular note is the consideration within the ENTE strategy for ancillary ENTE businesses such as the security and transport sectors.
- The multifaceted approach to dealing with the pandemic (grants, website, video seminars, newsletters etc) and provision of support was detailed, fast and widespread.
- The town centre cultural hub is a pioneering and exciting new project – the ideal investment to bring life and hope to Cheltenham as it recovers from the pandemic.
- The TURF collective of independent businesses is a great example of strength, adaptability and partnership during a challenging time for hospitality businesses.
- Innovative use of barriers to extend pavement areas to facilitate queues but also to enable businesses to extend their operation into the public realm shows a real focus on business support and progressive thinking.
- Both the Street Pastors and Cheltenham Guardians hold important roles in the ENTE, positive to see the continuation of the Stable safe space to further support patrons in town at night.
- The Visit Cheltenham 'Find your Happy Place in Cheltenham' marketing campaign, praised as a clever, targeted interactive initiative, which highlighted the hospitality and retail sectors as key reasons for customers to return to the high street.
- The investment and upgrade into the town centre CCTV system, adding CCTV to previously uncovered areas and achieving the full Surveillance Camera Commissioner Accreditation.
- Some great work on safety in the ENTE. This spans from the anti-drink spiking trial to Operation Nightingale's comprehensive approach to tackling spiking issues, to the survey on ENTE safety. It is brilliant to see the continued passion and focus of listening to women in Cheltenham and working towards making them feel safer. The engagement extending to the University should also be highlighted as an example of strong partnership working.
Councillor Martin Horwood, cabinet member for customer and regulatory services said: "Cheltenham is a fabulous place for a night out whether you're eating out, clubbing or going to a show. That makes a vital contribution to our local economy too as local businesses fight back from the pandemic. But we also work really hard in Cheltenham to make those nights out safe.
" I want to congratulate TURF and all our local businesses as well as the council team and all their local partners on winning the Purple Flag again. I'm particularly pleased the council's fast, clear support for the hard-hit hospitality sector in Cheltenham has been recognised. We're really bouncing back from the pandemic now and looking forward to more and more fun, safe nights out in Cheltenham."
Colin Pilsworth, night-time economy coordinator for Cheltenham Borough Council and coordinator for Purple Flag in Cheltenham commented: "The last couple of years have been particularly challenging for the hospitality sector and we have had to tread new territory in dealing with the COVID pandemic. The Purple Flag standards have been instrumental in our reopening policies and strategies as our evening and night-time economy adjusts to a new way of life post-pandemic. This latest award demonstrates that our town centre continues to be a safe and exciting destination in the evening and into the night."
---
To plan your night out in Cheltenham see our helpful guides - Bars & Pubs in Cheltenham, Cocktail Bars in Cheltenham, Beer Gardens in Cheltenham, Restaurants in Cheltenham, Live Shows in Cheltenham.
Related
1 Comments