We are delighted to announce that Cheltenham has successfully retained its Purple Flag for a sixth consecutive year. The nationally recognised award is given to towns and cities that have an appealing, safe and welcoming evening and night-time economy.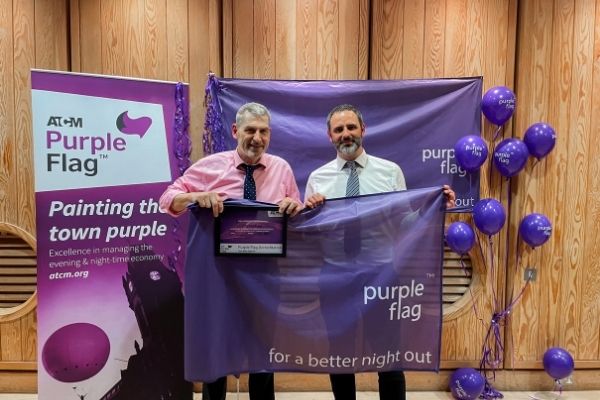 Image shows - (L to R) Colin Pilsworth, night-time economy coordinator for Cheltenham Borough Council and Louis Krog, licensing team leader for Cheltenham Borough Council.
Similar to the Blue Flag for beaches, the Purple Flag award aims to raise the standard and broaden the appeal of town and city centres between the hours of 5pm and 5am. Areas awarded the Purple Flag are recognised for providing a vibrant and diverse mix of dining, entertainment and culture while promoting the safety and wellbeing of visitors and local residents.
Purple Flag accreditation is an annual award and having successfully applied for accreditation for the first time in 2016, Cheltenham has had to demonstrate a continuing commitment to developing and maintaining a safe evening and night-time economy (ENTE) which appeals to all.
Cheltenham's renewal application received high praise from the assessors who commented:
The Cheltenham Recovery Plan and Licensing Recovery Plans have received national recognition and will be used by other towns – the work here should be recognised as exceptional.
Cheltenham has been a national leader in positive and proactive licensing and regulation, supportive of venues and providing clarity.
Coordination in Cheltenham's ENTE "has been exemplary through the Covid-19 phase."
All indications are for a very strong partnership continuing in Cheltenham, a real commitment to a 'support each other' philosophy, and keeping the momentum on their Purple Flag status.
Relationships between agencies have remained positive and productive during the highly stressful and fluid circumstances of the pandemic.
Mike Redman, director of environment, said: "For a sixth consecutive year Cheltenham's evening and night-time economy has been assessed as safe, welcoming and inclusive. Through positive partnership working, a proactive approach to supporting businesses and a strong focus on recovery, the work done in Cheltenham has been upheld as exemplary and recognised as an example of national best practice."
Colin Pilsworth, night-time economy coordinator for Cheltenham Borough Council and coordinator for Purple Flag in Cheltenham commented: "A thriving evening and night-time economy is crucial to the vitality and economic viability of our town."
"Our new partnership strategy for the management of Cheltenham's night-time offer has a vision that it should be accessible and appealing to every sector of the population and above all safe. The renewal of our Purple Flag accreditation for a sixth year is confirmation that we are consistently and successfully achieving this."
---
Planning a night out in Cheltenham? You'll find our guides useful...
Cheltenham restaurants | Cheltenham bars & pubs | Cheltenham cocktail bars | Cheltenham wine bars | Cheltenham award-winning restaurants
Related
0 Comments