The Times & The Sunday Times Cheltenham Literature Festival reveals spectacular line-up for pioneering digital instalment of the world's oldest literature festival
2 – 11 October 2020
MARILYNNE ROBINSON | ELIF SHAFAK | SHAMIL THAKRAR | EDNA O'BRIEN | RICHARD OSMAN | DOLLY ALDERTON | SAYAKA MURATA | CAITLIN MORAN | RUPERT EVERETT | ANN PATCHETT | ELIZABETH STROUT | CHARLIE MACKESY | TAYARI JONES | NICK HORNBY | BOLU BABALOLA | IAN HISLOP | RUTH JONES | COLM TÓIBÍN |HASHI MOHAMED | BEN FOGLE | CALEB FEMI | NIKESH SHUKLA | CLAUDIA WINKLEMAN | MALCOLM GLADWELL |CANDICE BRATHWAITE | ANDREW O'HAGAN | JOHN LANCHESTER | TARA JUNE WINCH | KILEY REID |ASHLEY 'DOTTY' CHARLES | JESS PHILLIPS | INUA ELLAMS | SATHNAM SANGHERA | NAOISE DOLAN |RAYNOR WINN | ANDREW MARR | LAURA BATES | MARK BILLINGHAM | NIKITA GILL | CHRISTIE WATSON|BOBBY SEAGULL | MARCUS BRIGSTOCKE | VIV GROSKOP | LESLIE VINJAMURI | VICTORIA HISLOP |ANTHONY HOROWITZ | BEN MACINTYRE GAVIN FRANCIS | ROGER ROBINSON | JAMES NAUGHTIE | JANE HARPER | MEG MATHEWS | SEBASTIAN FAULKS | JENNIFER NANSUBUGA MAKUMBI | KIM DARROCH | MARY BEARD |AND FROM THE FAMILY & SCHOOLS PROGRAMME:
GREG JAMES | CHRIS SMITH | LAUREN CHILD | MATTHEW SYED | HUMZA ARSHAD | CARRIE HOPE FLETCHER | LIZ PICHON | JASBINDER BILAN | LAURA ELLEN ANDERSON | M.G. LEONARD | ROB BIDDULPH | DAPO ADEOLA | SOPHY HENN | OLIVER JEFFERS | JOSEPH COELHO | ANTHONY MCGOWAN | SOPHIA THAKUR | ALEX T SMITH | SIMON FARNABY | KATHERINE RUNDELL | ELIZABETH ACEVEDO | & MANY MORE…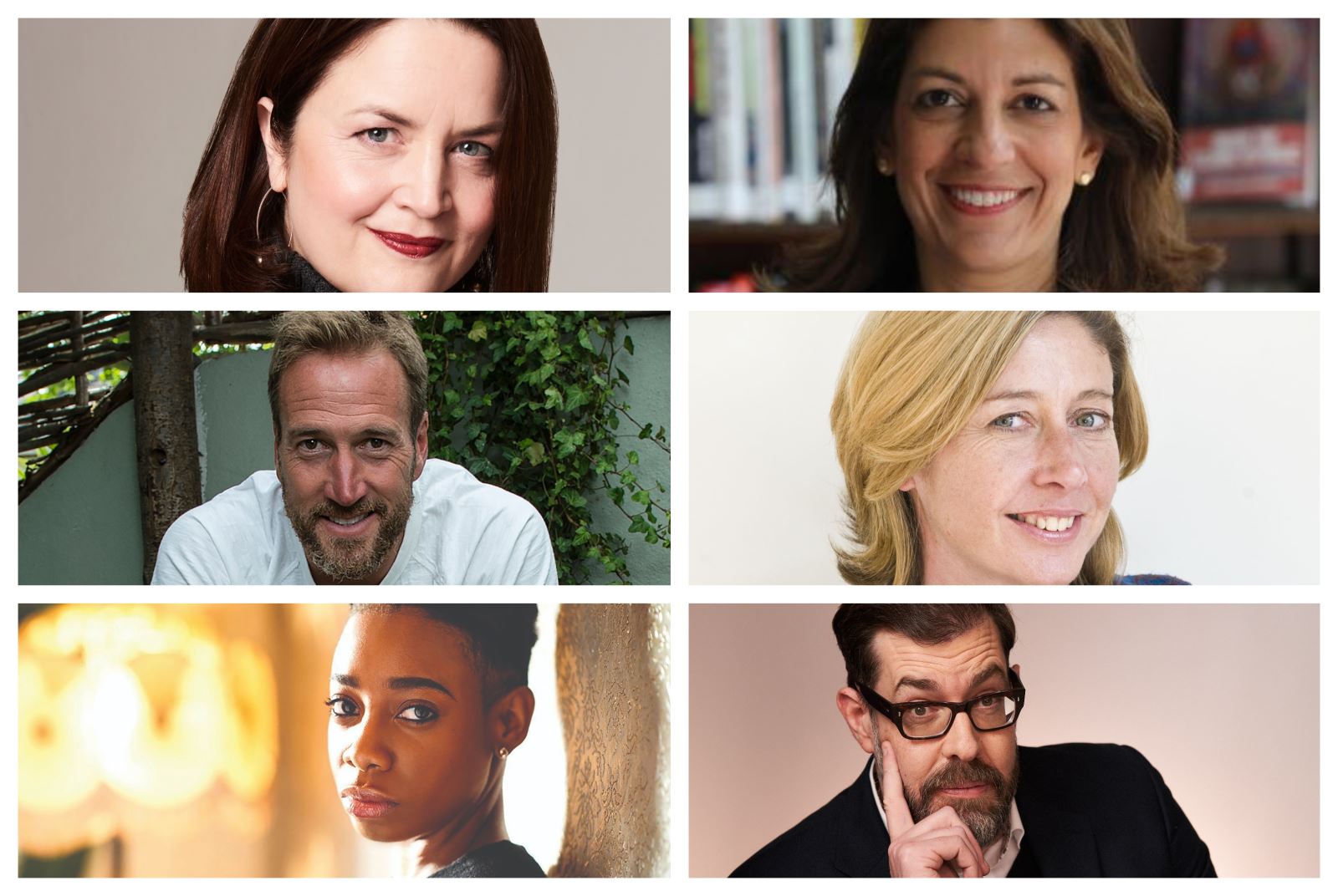 The Times and The Sunday Times Cheltenham Literature Festival is thrilled to announce the spectacular programme for 2020, which will be live streamed from Cheltenham for the first time in the history of the world's oldest literature festival.
An unmissable autumn highlight, this year's pioneering hybrid Festival – combining digital and in-person events – features a unique line-up of the world's greatest writers, thinkers, performers and dynamic new voices. From 2 – 11 October, the Festival will include over 160 events with over 100 broadcast live from Cheltenham's Town Hall and the Everyman Theatre in front of a socially-distanced live audience.
The Festival programming team – joined by Guest Curators British-Turkish novelist Elif Shafak and Dishoom's Shamil Thakrar – have pulled out all the stops to celebrate what is set to be an astonishing season of publishing. The line-up offers something for every book-lover, featuring literary greats and fresh talent, travel and adventure, food and drink, lifestyle and psychology, history and science, art and classic literature, alongside a powerful collection of current affairs events drawing in expert insight from the Festival's title partner The Times and The Sunday Times, with over 24 journalists and columnists from the two papers featuring in the programme.
New for 2020, the Festival will present 'The Citizen's Manifesto', bringing together young activists, politicians and key thinkers with the Festival audience to shine a political, social, economic and cultural light on a year like no other, exploring the ways in which society could and should change in the wake of COVID-19. The audience will be invited to suggest ideas for panellists to discuss on stage and visit the digital Pledge Wall to make a promise to their future self.
Even with world travel restricted, the programme won't lose its international flavour, with a dedicated series of exclusive interviews with leading writers filmed at home entitled The World is Waiting. Providing an insight into writers' lives in lockdown and a glimpse into the literary culture of Japan, Australia, Nigeria, the US and more, audiences can hear intimate conversations with writers such as Marilynne Robinson, Sayaka Murata, Tayari Jones, Akwaeke Emezi and Miles Franklin Award-winner Tara June Winch. The World is Waiting will form part of the Festival programme selection set to be broadcast by Official Streaming Partner Marquee TV.
Cheltenham Festivals is also delighted to reveal that partner Sky Arts will return to Cheltenham broadcasting free-to view highlights, as well as an exciting new partnership with audio innovators Audible and award-winning independent publisher Jacaranda, who this year are publishing 20 works by 20 black writers in a trailblazing initiative. Events will explore the power of the spoken word, giving readers a glimpse into how these powerful audio stories are brought to life, discuss the publishing industry's response to Black Lives Matter, and showcase Jacaranda's authors including Tolu Agbelusi, Njambi McGrath and Shola Von Reinhold.
This year, the Festival's infamous Lit Crawl will be part of Lit Crawl Global, a historic event coordinated by LitQuake San Francisco which will see Lit Crawls around the globe collaborating for a border and time zone-defying celebration of the written and spoken word.
Set to entertain, educate and inspire children of all ages, this year's digital family, young adult and schools programme gives the opportunity and flexibility to curate your own Festival with almost 40 free events packed with bookish conversation, creative challenges, draw-alongs and read-aloud sessions from the best in the business. There's even a Create Your Own Festival Pack which includes a Beano Comic Trail, Book Quiz and a recipe for a dapper Festival hat.
Virtual visitors can explore Cheltenham's Festival site on www.cheltenhamliteraturefestival.com interacting with speakers, browsing the bookshop, and taking part in activities for book-lovers of all ages. Tickets to attend the Festival in person are available to a limited socially-distanced audience, including Patrons of Cheltenham Festivals. Tickets go on sale online initially to Cheltenham Festivals Gold Members from 10am on Wednesday 16 September, Silver Members on Friday 18 September, Bronze Members on Monday 21 September and 16-25 Members on Tuesday 22 September at www.cheltenhamfestivals.com.
COLLECTION HIGHLIGHTS:
FICTION
Fiction fans will be spoilt for choice with an unparalleled line-up of literary superstars including Nick Hornby on his first novel in six years, Just Like You, Andrew O'Hagan with Mayflies, his most personal novel yet, John Lanchester will give a taster of his Black Mirror-esque upcoming story collection Reality and Other Stories, and breakout debut Naoise Dolan will reflect on the runaway success of Exciting Times. Presenter of the phenomenally popular podcast The High Low, and Sunday Times Style magazine agony aunt Dolly Alderton, launches her big-hearted debut Ghosts, Bookerwinner DBC Pierre returns with Meanwhile in Dopamine City, his caustic satire about trying to bring a child up in the digital age, and Victoria Hislop will take the audience back to Spinalonga island with her new novel, One August Night.
As part of an exciting new partnership with Audible and Jacaranda, the Festival welcomes Tolu Agbelusi, Njambi McGrath and Shola Von Reinhold to hear about their work, writing lives, and hear insights of the publishing process.
Authors taking to the digital stage as part of The World is Waiting – an innovative, international series of filmed events supported by the Festival's global network of festival partners and publishers – include Pulitzer Prize winner Marilynne Robinson in conversation with Colm Tóibín about her return to the world of Gilead, Kawai Strong Washburn and C Pam Zhang with their bold takes on the American Novel (Litquake, San Francisco), Canadian poet and historical fiction author Michael Crummey (Toronto International Festival of Authors), and Nigeria's Akwaeke Emezi. This year's Dylan Thomas Prize winner Bryan Washington discusses his celebrated short story collection Lot and looks ahead to his soon to be published novel, Memorial, one of the most celebrated of the new generation of Japanese writers Sayaka Murata will present her highly anticipated new novel Earthlings (Japan Foundation), Aboriginal Australian writer Tara June Winch will share her Miles Franklin award-winning novel The Yield (Sydney Writers' Festival) and the virtual audience will hear from 2019 Women's Fiction Prize champion Tayari Jones.
Further pre-recorded talks and interviews with the book world's biggest names include The Sunday Times: Must Reads series featuring Kiley Reid, Ann Patchett and Elizabeth Strout, alongside the one and only Edna O'Brien who will receive this year's prestigious The Sunday Times Award for Literary Excellence.
The Cheltenham audience will be spoilt for choice with a plethora of unique literary pairings including: Caroline O'Donoghue and Emma Jane Unsworth reflecting on capturing the highs and lows of 30-something lives; Carys Bray and Andrew Hunter Murray exploring how climate change has inspired their work; Carys Davies and Rachel Joyce celebrating friendship and bold midlife adventures; Sophie Mackintosh and Jennifer Nansubuga Makumbi on shared themes of feminism, motherhood, fate and free will; Megan Hunter and Booker-shortlisted Daisy Johnson giving a glimpse into their dark, new novels; and further unmissable moments from two of this year's boldest debuts Paul Mendez and Okechukwu Nzelu.
For crime aficionados, mathematician Alex Pavesi and Stuart Turton will reveal how they're shaking up the genre with fiendishly clever writing, Queen of Outback Noir Jane Harper joins Chris Whitaker to explain why sense of place is so important, the best-selling Anthony Horowitz will introduce the intricate and original Moonflower Murders, and brothers Richard Osman (TV producer and presenter) and Mat Osman (Suede guitarist) will share their fiction writing experience for their debuts The Thursday Murder Club and The Ruins.
Throughout the Festival there will be a host of events taking you behind the scenes of the book world including a masterclass from Audible on the art of audiobooks and narration with voice actress Imogen Church and crime favourite Mark Billingham, authors from The Sunday Times Short Story Prize – including this year's winner Niamh Campbell – reflecting on the art of the short story, and a chance to hear from The Times and The Sunday Times Literary Editors Robbie Millen and Andrew Holgate about what to read this autumn. The Festival will also cast a spotlight on the issues of representation in publishing in the wake of Black Lives Matter in an exclusive panel hosted by award-winning podcast developer Clarissa Pabi.
POETRY & OFF THE PAGE
Virtual visitors will be treated to vibrant voices from the poetry and spoken word scene including a dynamic performance from superstar poet and playwright Inua Ellams, plus exclusive poetry pairings and performances from T.S Eliot Prize-winner Roger Robinson together with rising star Romalyn Ante, and founder of Octavia Poetry Collective Rachel Long with 2019 Nan Shepherd Prize winner Nina Mingya Powles.
Star of last year's infamous Lit Crawl, Nikita Gill – the most-followed poet on Instagram – will perform her powerful one-woman show Great Goddesses giving a voice to Hera, long-suffering queen of the gods of Olympus. While writer, broadcaster, stand-up comic and classicist Natalie Haynes continues the mythology theme via a fast-paced, choose your-own-Greek-adventure featuring the stories of famous females; Pandora, Medusa and Eurydice.
CLASSIC LITERATURE
From Dickens to Dante, forgotten folk tales to lessons in French Literature, the Festival will celebrate some of our most loved classics. Sebastian Faulks leads a Literary Top Trumps debate, asking authors to nominate a character from literature they think could do a better job in The White House seat, and comedian Marcus Brigstocke asks an all-star cast to admit which famous novel they've never read.
Ahead of the 700th anniversary of Dante's death, Professor Emeritus of Dante Studies at University College London John Took delves into his fascinating life and work to discuss why the great Italian poet is still very much for our times.
Robert McCrum will be analysing Shakespeare's dazzling body of work and why we turn to literature and language in times of disruption, historian AN Wilson follows Dickens from cradle to grave to discover why his novels continue to resonate today, and writer, comedian and broadcaster Viv Groskop takes a light-hearted look at how to bring joie de vivre into our lives through French literature.
Publisher Lennie Goodings and author Cathy Rentzenbrink will be sharing how their lives have been lived and shaped by the world of books, and Diana Souhami will take to the stage to argue that 20th century's pioneering lesbians fostered the birth of the Modernist movement, plus Irenosen Okojie and Daisy Johnson will reminisce on forgotten folk tales and writing engaging modern fables with a feminist bite.
CURRENT AFFAIRS
A veritable feast of key thinkers, incisive commentators, political voices and international activists will set the tone for an explosive Current Affairs collection of events at this year's Festival, exploring the global response to COVID-19 and the vast political, economic and social issues facing the UK and the world.
Leading barrister Hashi Mohamed explores the complex issues facing social mobility, drawing on his journey from being raised on benefits to becoming a key legal figure, whilst Laura Bates, founder of the Everyday Sexism Project, examines the rise of secretive, extremist communities who despise women, and award-winning reporters Azadeh Moaveni and Christina Lamb offer a woman's view of warfare, from those that leave their lives behind and join the Islamic State to the brutal experience of female victims. Behavioural scientist Pragya Agarwal and women's rights advocate Elif Shafak will discuss how addressing our own unconscious biases can work towards a fairer, more inclusive society, Shalina Patel, Founder of The History Corridor, and Shamil Thakrar will discuss the history of colonialism and the importance of remembering and celebrating the nationalist heroes of the time, and Nikesh Shukla, Ravinder Bhogal and Dina Nayeri reflect on bringing together cultures in food, fashion, and literature that can break down borders politics has created.
Joining Malcolm Gladwell, 'Undercover Economist' Tim Harford and Robert Winder on the programme is a series of events curated in partnership with Director of Chatham House, Robin Niblett. Chinese foreign policy expert Yu Jie,vpolitical scientist Rana Mitter and Rosemary Foot will consider how changing transatlantic narratives on China could cause a global shift in our world order. In the wake of the pandemic, international relations expert Leslie Vinjamuri and psychologist Adrian Furnham will explore the qualities that make a good political leader, and globalisation expert Ian Goldin and economist Stephen D. King examine what's next for the global economy. LBC presenter Iain Dale and Ashley 'Dotty' Charles talk flash activism, cancel culture and free speech, plus Danny Finkelstein of The Times will present a selection of his personal and political writing, whilst The Sunday Times editor Emma Tucker – will add her expert voice to the arena, joined by Sky TV's Political Editor Beth Rigby.
Turning the Festival's eye to the US, broadcaster James Naughtie will draw on his 40 years of encounters in the Land of the Free to tell the story of a country grappling with a dream. Former British Ambassador to the US, Kim Darroch, reveals for the first time his time spent in Washington as the age of Trump dawned and Brexit unfolded. This year's The Times and The Sunday Times debate will focus on US politics ahead of the upcoming election with the expert panel of 'America-watchers' including The Times and Wall Street Journal columnist Gerard Baker and Professor of American Literature Sarah Churchwell.
The Festival presents a new series – The Citizens' Manifesto – that brings together young activists, politicians and key thinkers with the Festival audience to share experiences and examine how society should change after COVID-19 as we navigate our way through the chaos and face the future. The series will explore: what lockdown has exposed about the education system and attitudes and approach towards learning with teacher and University Challenge star Bobby Seagull and poet and teacher Kate Clanchy; our evolved way of working and what this means for our mental health, productivity, office culture and even relationships with Bruce Daisley and James Suzman; if the pandemic has changed our sense of community with author Madeleine Bunting; how we might rethink arts and culture to maintain excellence, ensure accessibility and better reflect diversity with Caleb Femi, the first young people's laureate; and what elements of our new lives we may want to keep with Julian Baggini.
Further events on the Current Affairs roster include Labour MP Jess Phillips, journalist Helen Lewis and former Detective Constable Kevin Maxwell on how we might implement change to deconstruct entrenched inequalities facilitated by our social and political systems; global security expert Claudia Aradau and Pulitzer prize-winning journalist James Ball on the impact of state control on surveillance, privacy and other civil rights; Sunday Times political editor Tim Shipman and The Times's science editor Tom Whipple on the scientific narrative of the virus; Chris Hopson, Chief Executive NHS Providers, and GP and coronavirus survivor Clare Gerada on the remarkable way the NHS was forced to instigate huge change almost overnight; sustainability expert Chris Goodall, political economist Ann Pettifor and Natalie Fee on the consequences of neglecting climate change whilst we deal with the fallout of coronavirus; psychotherapist Owen O'Kane and psychologist Punit Shah on the psychological and mental health impact of lockdown; award-winning columnist for The Times Sathnam Sanghera on his experience of spending lockdown with his two nieces, Jasveen Kular and Simran Kuran; and Jonathan Calvert and George Arbuthnott from The Sunday Times' insight team give the inside story to the investigative journalism holding the government to account.
STAGE & SCREEN
Stars of the stage and screen adding even more sparkle to the unparalleled line-up include Gavin & Stacey creator Ruth Jones on her new novel about life's complications and the power of friendship Us Three. A decade on from her game-changing feminist manifesto, How to Be a Woman, The Times columnist Caitlin Moran returns with More Than a Woman to explore the new challenges mid-life brings, and Rupert Everett recalls how the ten-year quest to make a film of Oscar Wilde's last days almost destroyed him. The Festival will welcome lockdown internet sensation Andrew Cotter and his pet pooches Olive and Mabel, national treasure Ian Hislop will celebrate his milestone 60th birthday by looking back on his career, plus Emma Freud will be joined in conversation with the unstoppable Claudia Winkleman.
There will be musical insights from Scottish author John Niven and music writer Pete Paphides as they discuss their latest books, comedian Ian Stone pays tribute to The Jam, plus Kadiatu Kanneh-Mason – mother of seven classically trained musicians who all attended a state comprehensive in Nottingham – opens up about what it takes to raise a musical family in a Britain divided by class and race in a special evening of conversation and live music.
LIFESTYLE, MIND & BODY
Celebrating romance in all its forms, Bolu Babalola, author of Love in Colour, is joined by social activist Florence Given to discuss decolonising tropes of love in stories throughout the ages, from West African mythology to famous Ancient Greek legends. From millennials to motherhood and middle age, cultural commentators Pandora Sykes and Otegha Uwagba consider the pressures and stigmas facing modern women, Candice Brathwaite, Jen Brister and Louise Pentland will present a call to arms to scrap the parenting rulebook, and Sam Baker and Meg Mathews share their experience of life in one of society's most ignored demographics: women over forty. In what is set to be a deeply moving event, former nurse Christie Watson, Penny Wincer and Madeleine Bunting will weave personal experiences, cultural insights, expert research and political commentary to take a look at the strengths and pitfalls of the care system.
Addressing issues at the forefront of social action, this year at Cheltenham behavioural and data scientist, activist and writer Dr Pragya Agarwal will unravel how this impacts our decision making with Elif Shafak, while biochemist Camilla Pang and Naoise Dolan consider how neurodiversity in writing styles can impact creativity. In events exploring coping strategies for when life throws a curveball, psychotherapist Juliet Rosenfeld and former NHS clinical lead for mental health Owen O'Kane explain how we can thrive through our most challenging experiences, and podcaster Emma
Gannon, activist and writer Stephanie Yeboah and Comparison Coach Lucy Sheridan provide a roadmap for building self-esteem and challenging negative thoughts.
NATURE, TRAVEL & ADVENTURE
In a year of many challenges, the Festival celebrates how reconnecting with nature and the outside world can provide solace and hope. Writer and photographer Tamsin Calidas and Katherine May share their stories of solitude and survival, and the incredible ability of the natural world to provide when everything else has fallen away. Explorer Ben Fogle explains what we can learn from nature about living well, both physically and mentally. Raynor Winn discusses what came after her and her husband's walk of the 630 mile South West Coast Path in the wake of a terminal diagnosis in her follow up to The Salt Path, The Wild Silence, and Gavin Francis draws on his travel experiences to explore the power islands hold in literature, psychology and our imagination. The Sunday Times travel team look at the impact of COVID-19 on travel and ask what the future might hold in these uncertain times.
HISTORY & ANCIENT WORLD
Reflecting on Britain's history, author and broadcaster Andrew Marr traces how radically the nation has changed since the Queen's coronation in 1953. Paul Lay explores the rise and fall of Cromwell's Protectorate alongside Leanda de Lisle and Kate Williams, and Peter Stothard talks to Mary Beard about his new book about Caesar's adopted son, Octavian, and the vengeance he exacted on his father's assassins. Professor of History of Slavery at Bristol University Olivette Otele and curator Aindrea Emelife will lead an examination into the 'official' accounts of history and how we can move away from a singular narrative towards one that belongs to us all.
On the 75th anniversary of the start of the Nuremburg Trials, historical heavyweights William Shawcross, Allan Mallinson, Anne Sebba and Dan Todman come together to discuss this pivotal moment in history and its legacy.
Elizabeth Braw will be joined by BBC correspondent and military historian Mark Urban and leading The Times diplomatic editor Roger Boyes to mark the 30th anniversary of Checkpoint Charlie's dismantling. Monsignor Roderick Strange and Ruth Gledhill will explore the history of England's first Saint in over three hundred years – John Henry Newman – on the first anniversary of his canonization, and Ben MacIntyre will tell the exhilarating story of the greatest female spy in history, Agent Sonya.
ART & DESIGN
This year's exploration of the art and design world spans millennia, taking in Francis Bacon and The Female Gaze, Raphael to Ravenna – but begins with the simple and succinct beauty of a boy, a mole, a fox and a horse in an event with Charlie Macksey reflecting on how his extraordinary words and illustrations have captured the hearts of the nation. Celebrating the new generation of women taking the art world by storm and bringing female experience to the fore, presenter of Dior's Female Gaze podcast series Charlotte Jansen, Big Art Herstory Project founder LuisaMaria MacCormack and Grazia UK Fashion Director Kenya Hunt, will consider the powerful potential of the female gaze to portray and challenge preconceived notions of gender, beauty, class and race.
Curator and writer Martin Harrison and archivist Sophie Pretorius join forces to illuminate Francis Bacon's creative process with the help of newly unearthed diary entries. National Gallery Curator Matthias Wivel guides the audience through the life and work of Raphael, Master of the High Renaissance, from dramatic frescoes to serene Madonna's.
British Archaeologist Judith Herrin and historian Peter Frankopan will unearth the dazzling mosaic collections of Ravenna, accompanied by a specially commissioned series of photographs of this spectacular Italian city.
FAMILY, YOUNG ADULTS AND SCHOOLS
This year's action-packed programme features 30 free events to be released throughout the Festival, and eight livestreamed events across the Festival weekends – all brimming with a marvellous multitude of authors, poets and illustrators. Helping host proceedings will be M.G. Leonard, the award-winning author of the Beetle Boy trilogy – and acclaimed poet and author Dean Atta.
Highlights include super-authors Greg James and Chris Smith and their high-flying, horse-summoning, stormgathering, mind-blowing Kid Normal show, Tom Gates creator Liz Pichon introduces her brand new adventure Shoe Wars, Alex Rider returns to Cheltenham with the new thrilling instalment from best-seller Anthony Horowitz, and actress and author Carrie Hope Fletcher presents her children's debut inspired by Noel Streatfield's classic Ballet Shoes.
Table tennis maestro and inspirational speaker Matthew Syed will explain why it is so brilliant to be different, the one and only Oliver Jeffers will explore the power of storytelling, former Children's Laureate Lauren Child will celebrate 75 years of the strongest girl in the world, Pippi Longstocking, Horrible Histories actor, film writer and author Simon Farnaby introduces the cast of hilarious characters in his new book The Wizard in the Shed, and comedian and writer Humza Arshad will bring even more laughs and mischief.
Authors and illustrators opening up imaginary worlds include Anna James and her magical book shop Pages & Co, the award-winning Katherine Rundell will whisk children on an adventure from the Amazon to Russia, Dutch author Annet Schaap dives into a world of mermaids and pirates, and Costa Book Award winner Jasbinder Bilan will transport the audience to the Himalayan mountains for a thrilling adventure.
This year's programme is packed with the best illustrators in the business, and virtual visitors will need pencils and paper at the ready for interactive draw-alongs from the likes of Alex T Smith, world record breaking Rob Biddulph, Sophy Henn, Dapo Adeola, Katz Cowley, the BAFTA award-winning The Brothers McLeod, and the TOAD-ally terrific Laura Ellen Anderson.
For history lovers, Tom Palmer will explain how he researched his new WWII story After the War, and Maria Isabel Sánchez Vegara will tell the true stories of how some of the most amazing people in history achieved their childhood dreams, plus for nature enthusiasts Nizrana Farook will delve into the incredible world of jungles, and author Jennifer Bell and illustrator Alice Lickens will reveal fantastic facts about the wildlife we share our planet with.
For older readers, Carnegie Medal winners Anthony McGowan and performance poet Elizabeth Acevedo discuss their critically acclaimed work, Liz Hyder invites the audience to consider how words have the power to inspire change, and renowned spoken word poet Sophia Thakur makes a case for powerful performances.
There will be poetry from Matt Goodfellow and Joseph Coelho, sharing ideas and performance tips on reading poems aloud, plus – in a new partnership with CLPE, the winner of the only UK children's poetry award – CLiPPA – will be announced live at the Festival on Friday 9 October, with the shortlist announced on National Poetry Day, Thursday 1 October.
Full details of the - Family events at Cheltenham Literature Festival.
---
A reminder of the key dates for your diary - Tickets go on sale online to Cheltenham Festivals Gold Members from 10am on Wednesday 16 September, Silver Members on Friday 18 September, Bronze Members on Monday 21 September and 16-25 Members on Tuesday 22 September
We look forward to seeing you there!
Related
0 Comments