As we excitedly announced a few weeks ago, the Holiday Inn Express Cheltenham recently benefited from an £800,000 investment. Located in a perfect spot opposite The Brewery Quarter entertainment complex, this town centre hotel already ticks lots of boxes for both leisure and business tourists so this investment is just the icing on the cake.
Last week we attended the launch evening and had the opportunity to check it out for ourselves. This is how we got on...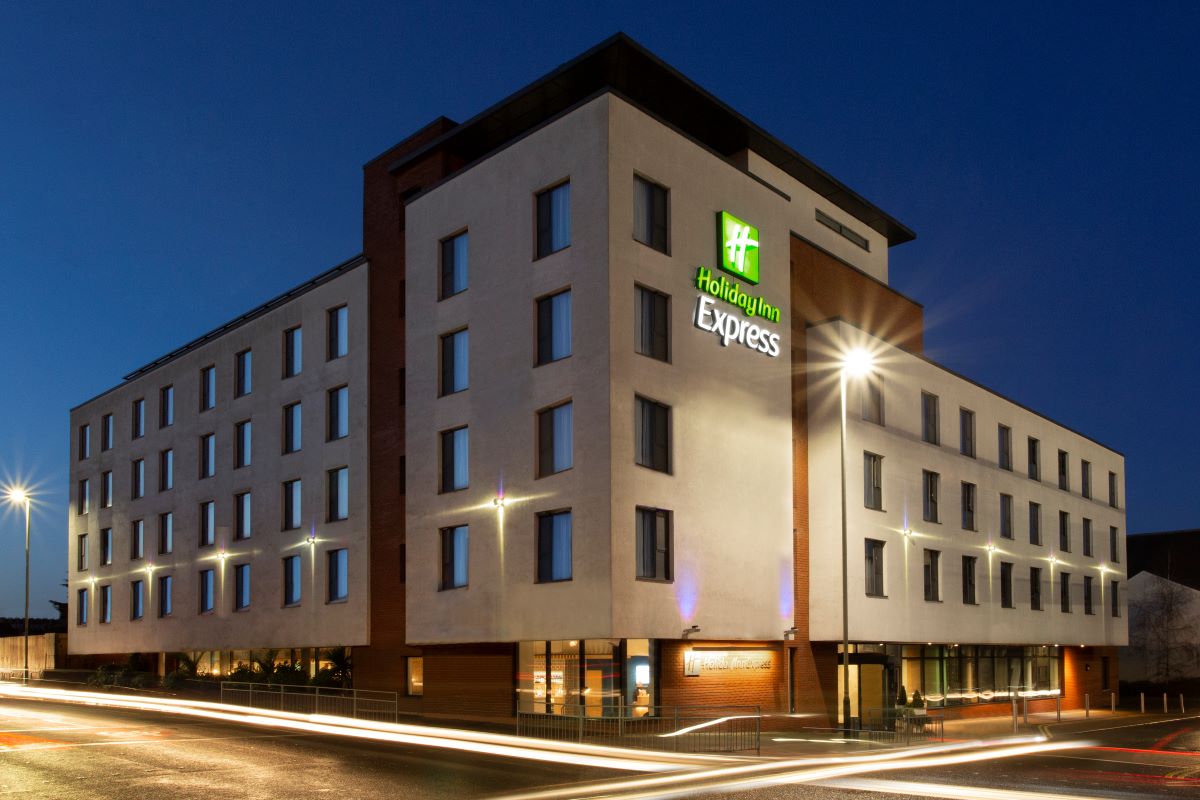 They say first impressions count and it is so true! We arrived to a red carpet leading us through the front door, happily accepted a glass of fizz before being greeted by friendly staff and management. The newly refurbished ground floor has been stylishly decorated with modern furniture and art plus a fully stocked bar. (When word gets out, this bar will be rivaling any of the popular bars in town as a great spot to enjoy a cocktail or two!)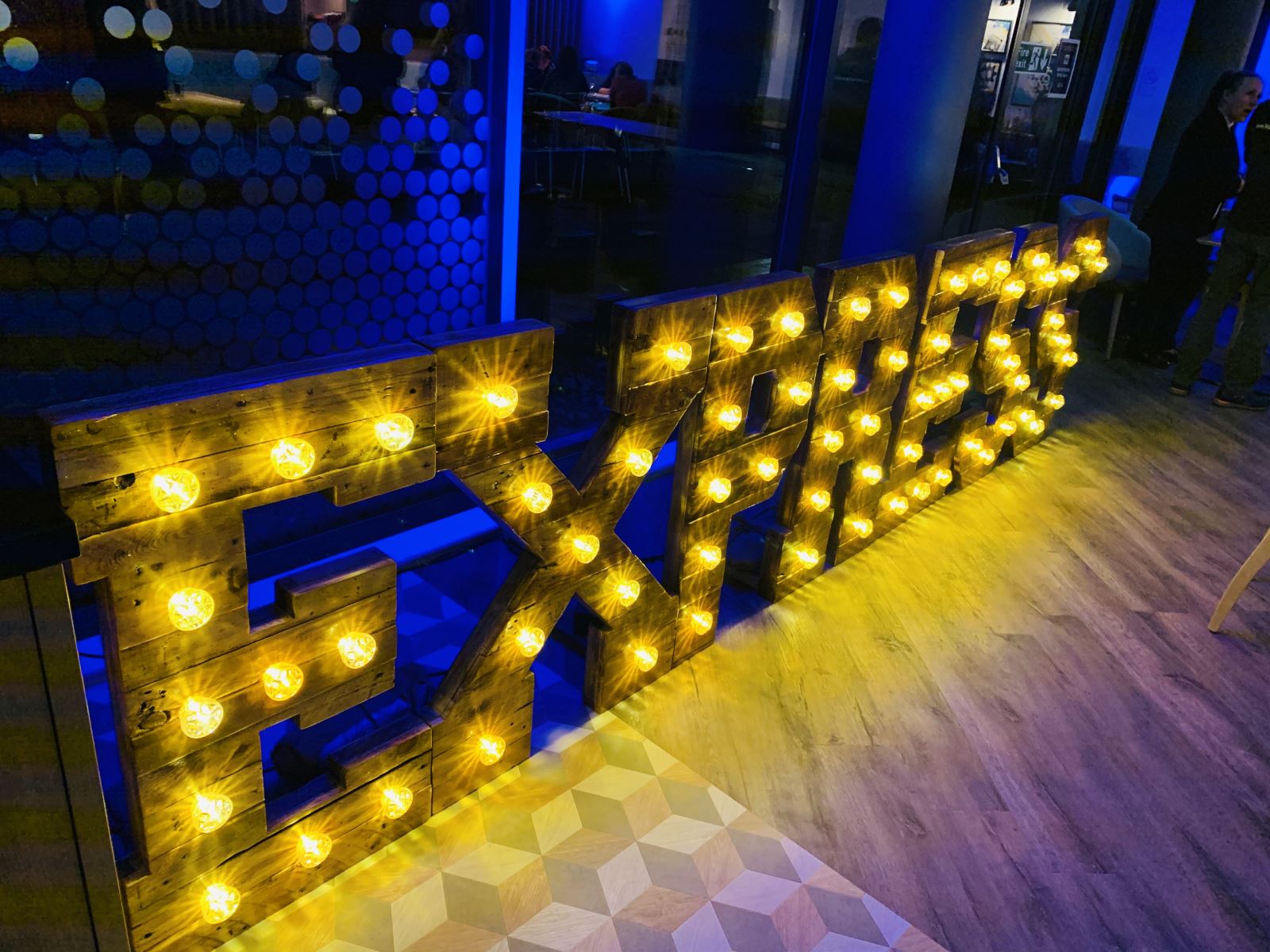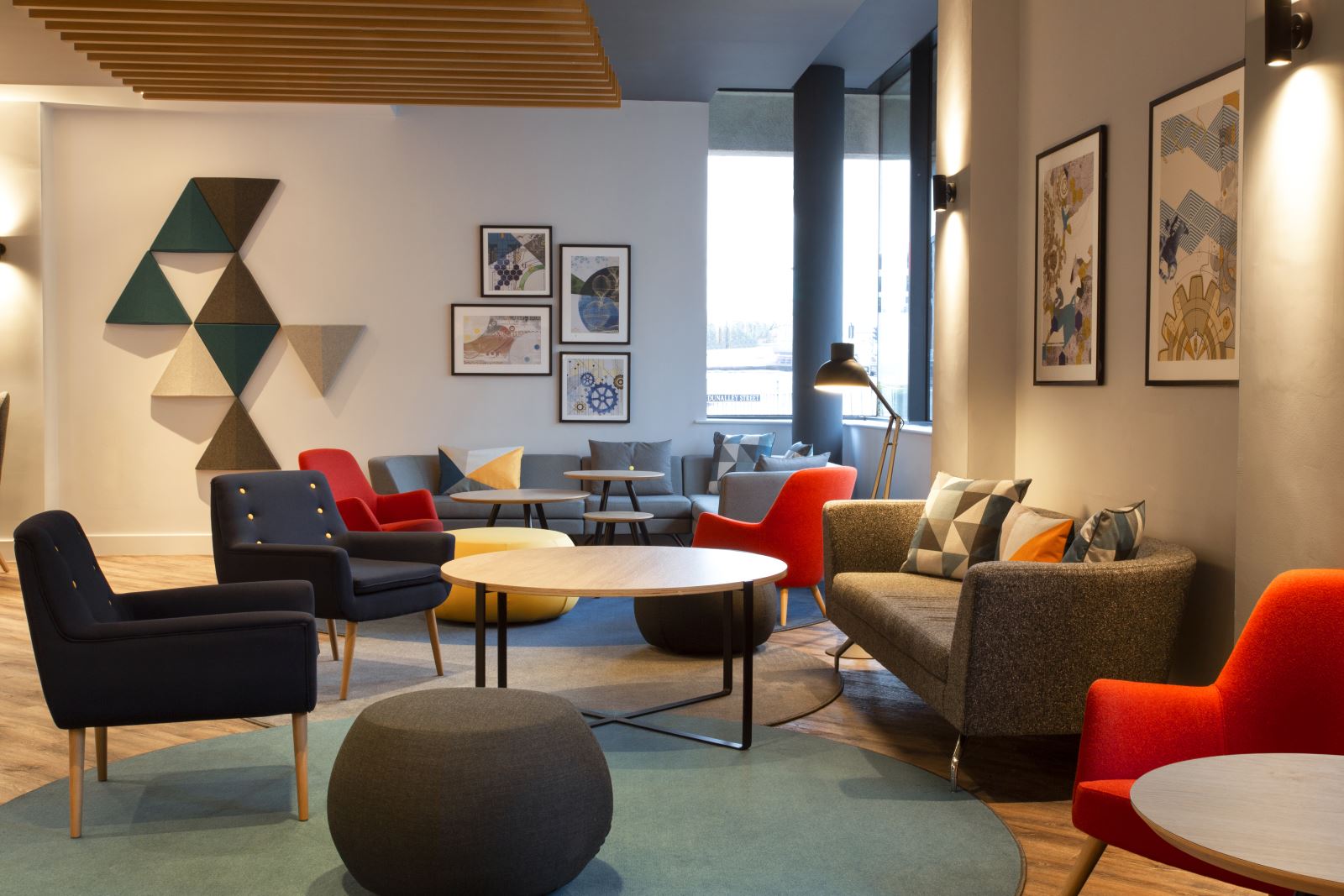 The chain are known for being business hotels and all of the mod cons that business visitors need are provided at this newly refitted hotel. However what impressed us the most, was the contemporary and yet comfortable design, including a state of the art fire place and chairs you could happily lounge in for hours that clearly have been provided with leisure visitors in mind.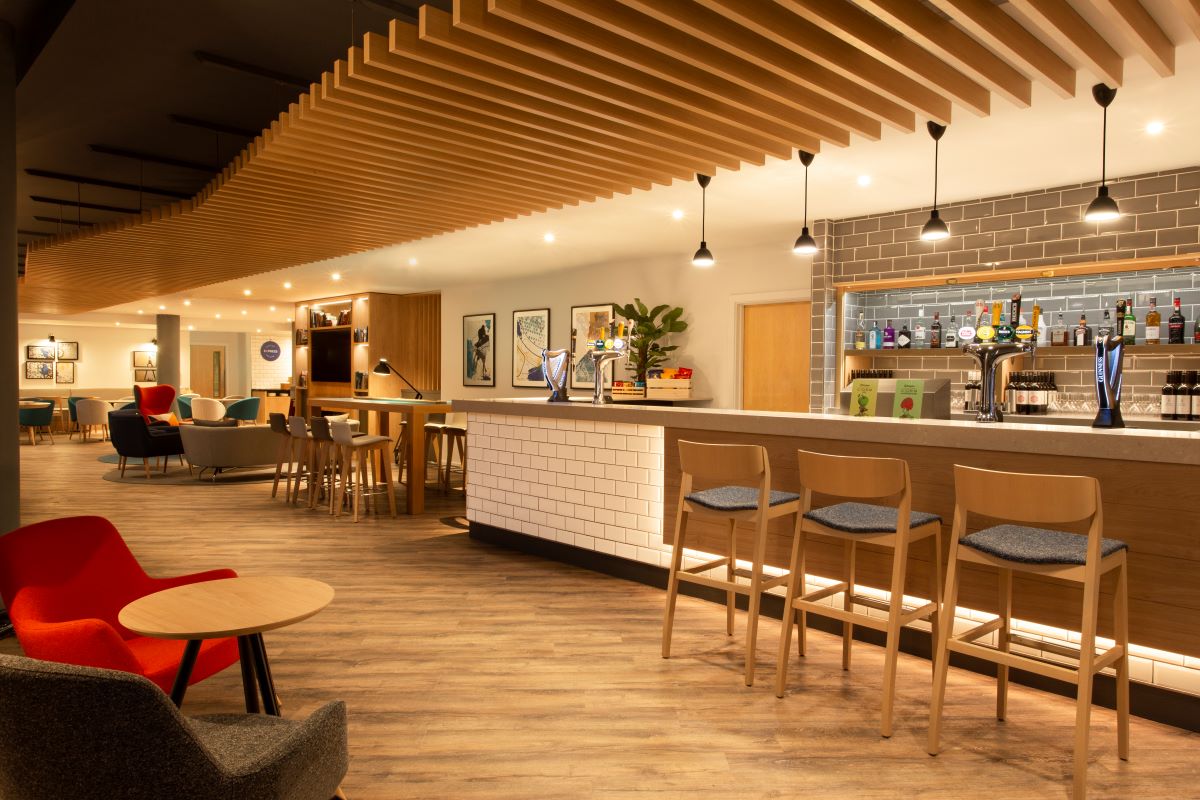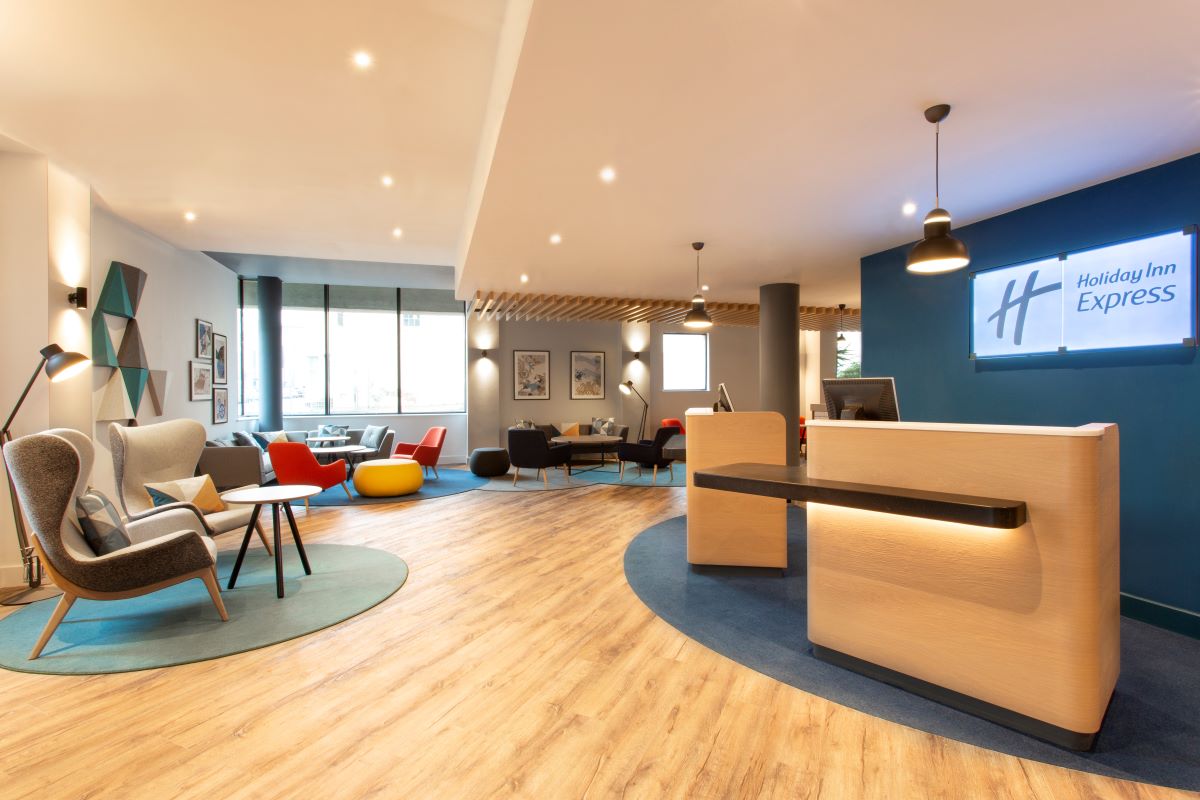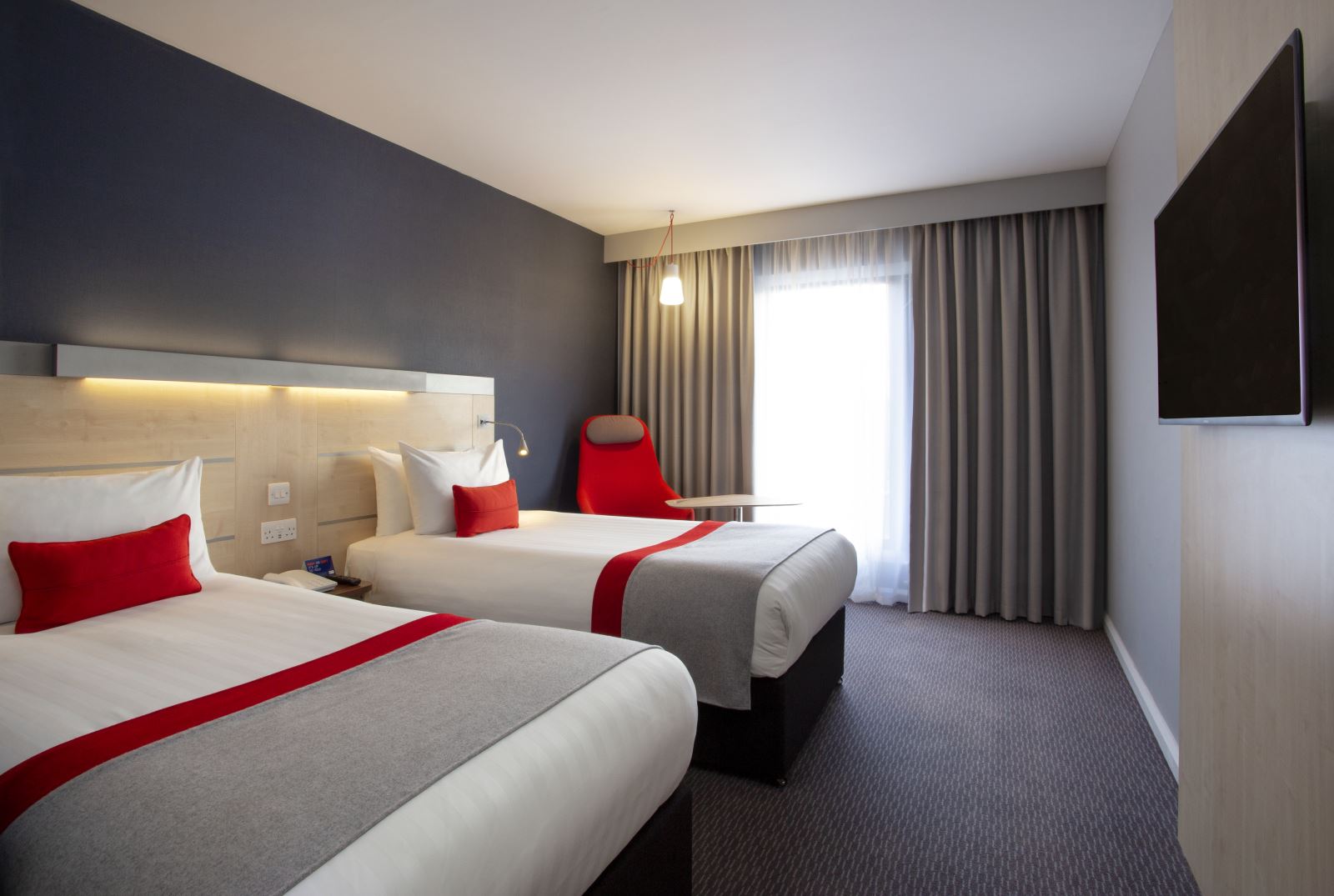 The hotel had invited a few local businesses along to the event to demonstrate the services they offered. It was fun to have a go of pitch and putt with Mr Mulligans and a real treat to have a manicure by local day spa, Chapel Spa.
Of course it's impossible to fully experience a hotel without staying over for the night. Local influencer Lesley from Cotswolds Creative Media was up for the challenge of testing out the bedroom facilities and breakfast service on our behalf. In fact she jumped at the chance to enjoy a rare child-free evening and was most looking forward to a good nights sleep!
Keep reading to see how Lesley got on...
High on my list of priorities when staying at a hotel are:
1) It needs to be quiet at night – I can't sleep with any noise – including any kind of generator or banging of doors.
2) It needs to be clean and dust-free.
3) It needs to provide a good cooked breakfast.
It's really not too much to ask but actually some hotels just don't get that combination right! Even the posher ones I've stayed in over the years.
My one-night stay at the revamped Holiday Inn Express Cheltenham fulfilled all of the above criteria and I was pleasantly surprised. I guess with any hotel, you can have noisy guests or events going on but the night I stayed was very peaceful. The hotel was busy. I was expecting lots of businessmen but there was a combination of business people – both men and women along with leisure guests too.
The £800,000 investment at the hotel has really paid off. The bedrooms are clean with a new modern look. I found my bed to be very comfy and it had all the conveniences I needed from tea and coffee to hair-dryer. (Although no fridge, which would probably be handy if you were staying longer).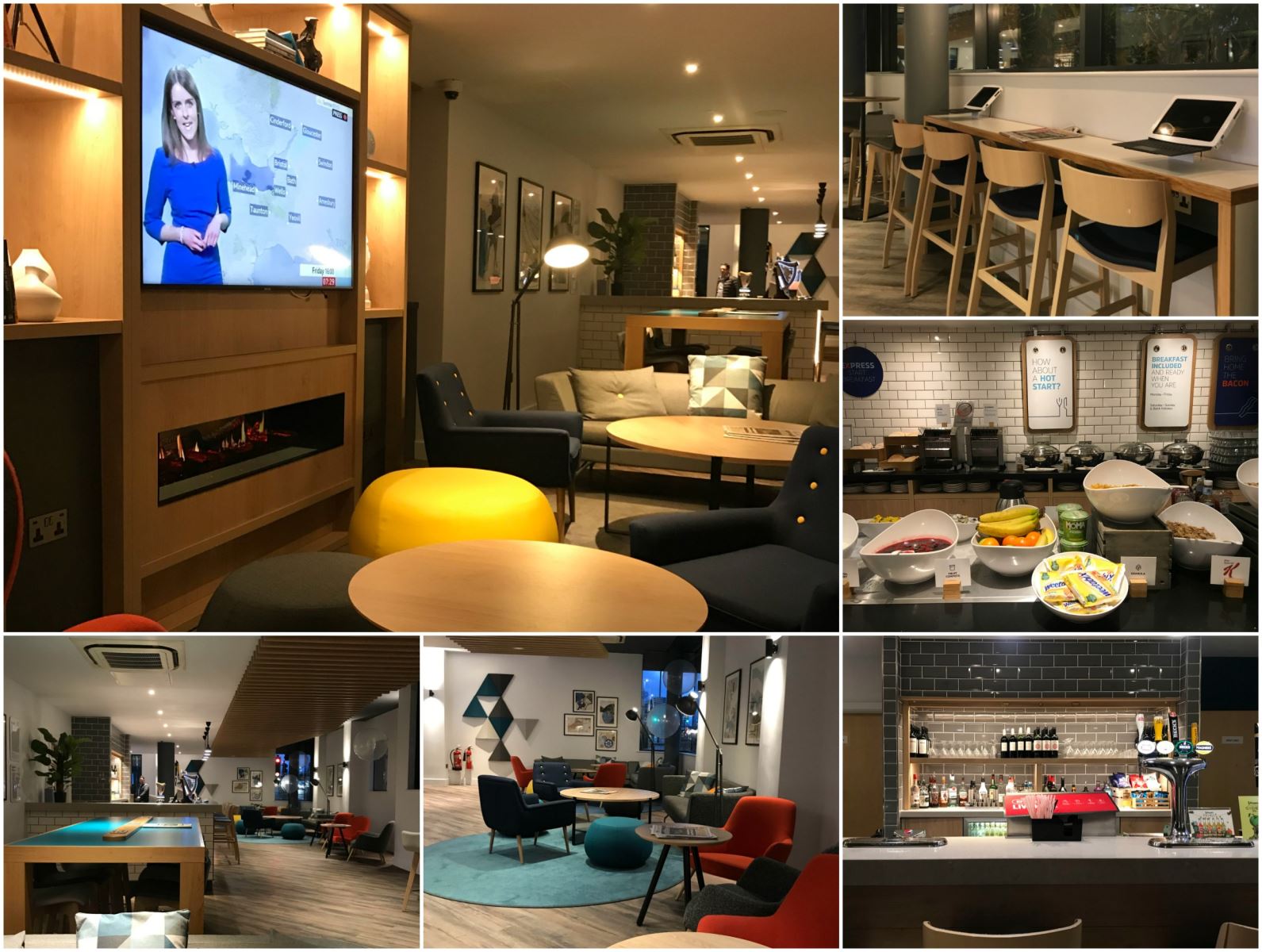 Photos taken by Lesley during her stay.
The Holiday Inn Express is the ideal base in Cheltenham as it's right next to The Brewery Quarter with restaurants and entertainment on your doorstep. This leisure destination offers exclusive discounts for hotel guests – including complimentary access to DW Fitness gym, classes and pool during your stay.
It suits both business and leisure guests and the ground floor refurbishments with modern furniture and art, would also be convenient for non guests who wanted to pop in for coffee or a drink at the bar.
Guests can now work from the new high stools and tables with connectivity or integrated iPads, watch news or the latest sporting events from the wall mounted LED TVs or simply relax in front of the new feature fireplace.
There are no evening catering options in the hotel, but I was impressed with the breakfast offered. Everything was fresh and tasty with both cooked and continental options. The new buffet island on the ground floor provides catering from morning until late alongside the new Generation 4 fixed coffee station.
With 132 spacious contemporary rooms, including new family rooms, the Holiday Inn Express is the ideal base for family breaks to explore the Cotswolds. Plus, children under 16 stay for free when staying with an adult.
Major employers such as GCHQ and GE Aviation are less than 15 minutes away by car, and the hotel is 20 minutes from the M5.
I would highly recommend staying here!
---
To read another review of the renovated Holiday Inn Express check out This Bristol Brood. Angharad and her family stayed at the hotel this weekend to enjoy the launch night of Light Up Cheltenham. They found the hotel to be - 'really convenient for families doing a one-night stop-over. The location is excellent, the hotel staff are friendly and helpful, and the rooms and communal areas feel spotlessly clean and fresh.' Read the full review here.
Related
0 Comments