We are delighted to announce that Cheltenham Business Improvement District (BID) has been successful in securing the votes required for a second term, having received the overwhelming backing of businesses in the town.
The BID's second term will now commence on 1 August 2021 and run through to 31 March 2026 and will see a further £2.8 million invested in Cheltenham town centre.
The BID secured its second term with a yes vote totalling 86% from the more than 300 businesses (a 46% turnout) that responded to the ballot and a 90% yes vote by rateable value.
The BID will immediately commence work on delivering the priorities set out in its new Business Plan which focuses on four key areas – Business Support, Marketing & Promotion, Town Centre Events and Townscape Enhancements.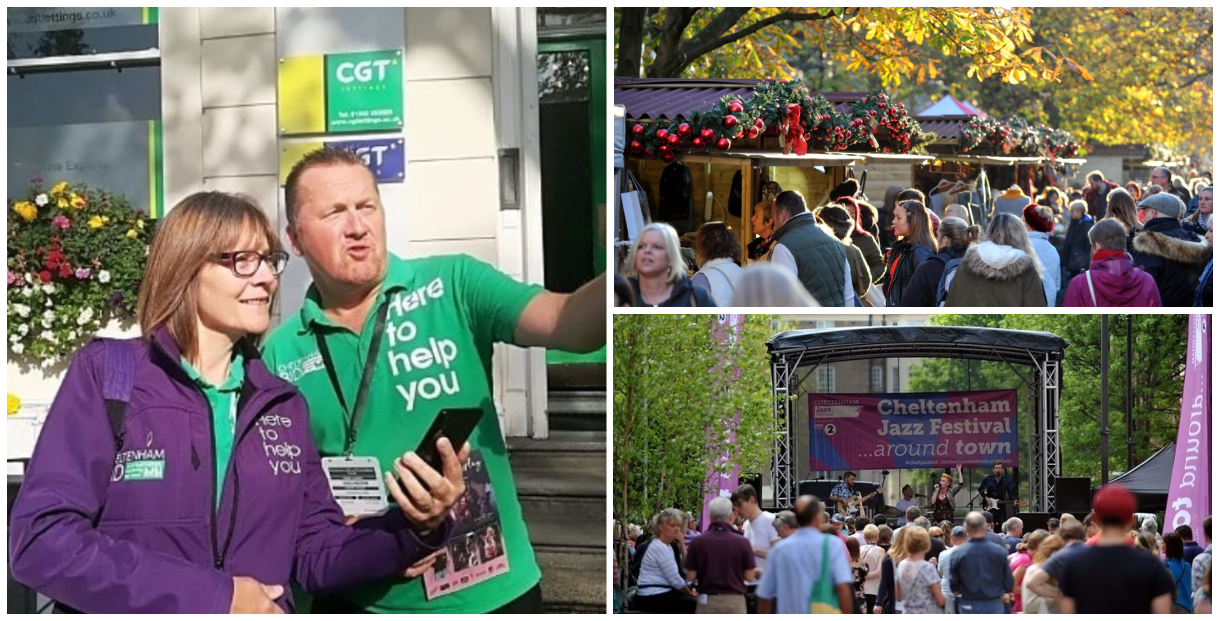 Images - Deb and Phil, two of the BID Ambassadors (left), Christmas Markets (top right), Around Town Jazz (bottom right).
Originally created in 2016, the BID was voted in to represent and support over 600 levy paying businesses in the town centre and went on to invest over £2.1 million into the town over the course of its first term.
During its first five years the BID established several annual events including Light Up Cheltenham and the Big Wheel, the Around Town programmes that bring Cheltenham's famous Jazz, Music, Science and Literature Festivals onto the town's streets and an enhanced Christmas Lights switch on and Christmas market.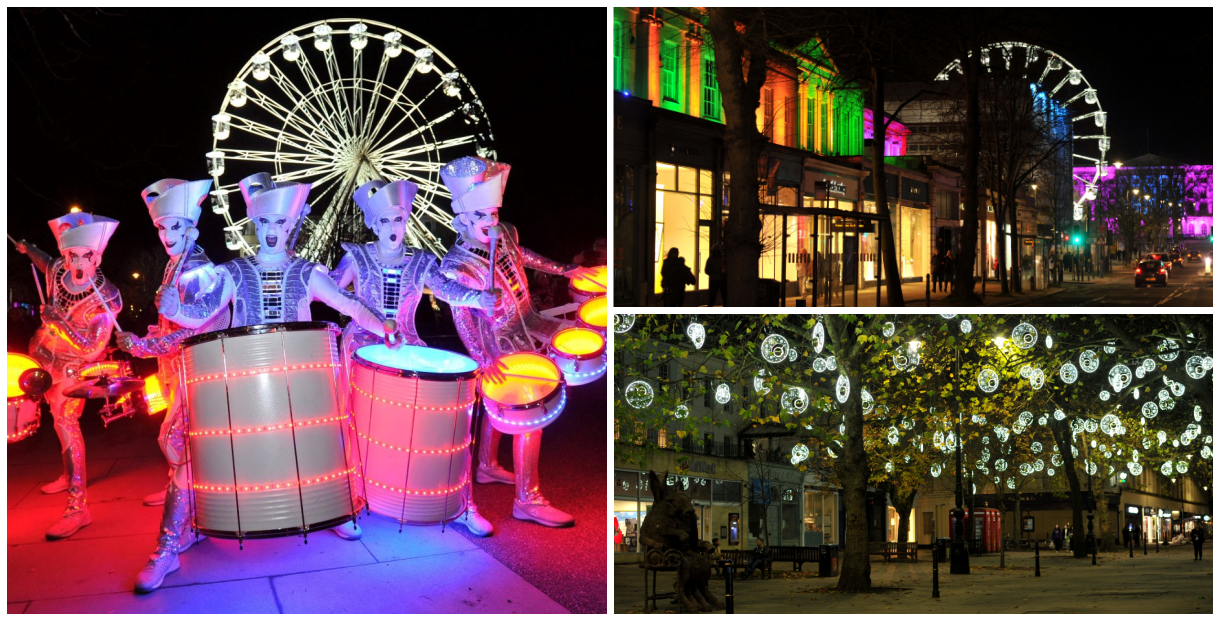 Images - SPARK at Light Up Cheltenham (left), Promenade buildings lit up for Light Up (top right), Christmas Lights 2020 (bottom right).
As well as events the BID has been a vital support for businesses, facilitating partnerships, providing guidance, representing and championing town centre businesses and delivering cost saving initiatives. They have been responsible for initiatives such as BID in Bloom and Tidy Up Cheltenham which have both enhanced the look of the town centre for residents and visitors. Their Ambassadors have also facilitated partnerships and played an important role in welcoming visitors to the town centre.
As part of the renewal ballot the BID zone has been extended and will now include an additional 250 businesses which will benefit from its support.
Alex Rose, Chair of Cheltenham BID says, "I'm delighted to have a successful reballot, it speaks volumes about the work the BID does. I'm proud to have been part of the BID for the last five years and am hugely grateful to Belinda and the BID team as well as the Directors who all give up their time for the BID. We also can't forget the enormous role our friend and colleague, former Director Kevan Blackadder, had in forming the BID and in leading so much of our success during the first term."
We've learned a lot, overcome some major challenges and I look forward to seeing the BID deliver for its members and the whole of Cheltenham over the years to come."
Belinda Hunt, Operations Manager at Cheltenham BID says, "Everything we have done over the past five years, particularly in the last 18 months, has been done to support BID businesses and Cheltenham as a whole. We are so looking forward to extending that support to a larger number of businesses.
On behalf of the BID staff, I'd like to thank everyone for their support and encouragement."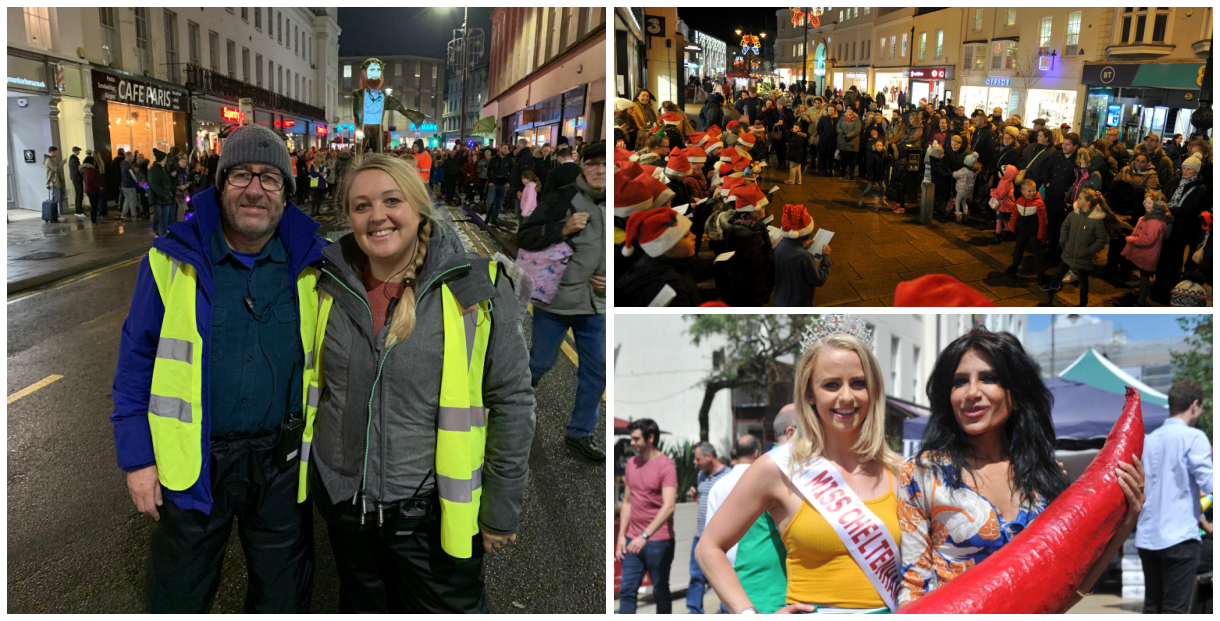 Images - Former BID Director, Kevan Blackadder with Events Manager, Jess Goodwin at the Christmas Light Switch On (left), Late Night Christmas Shopping (top right), Chilli Fiesta (bottom right).
See more photos of these events and the support work of the Cheltenham BID team in the BID photo gallery.
For more information about the vital work of Cheltenham BID visit - cheltenhambid.co.uk
Related
0 Comments