Full trains and a good head of steam marked a successful 'return ticket' for the Gloucestershire Warwickshire Steam Railway (GWSR) which, from Tuesday 13th April, resumed services over its 14-mile line through the Cotswolds.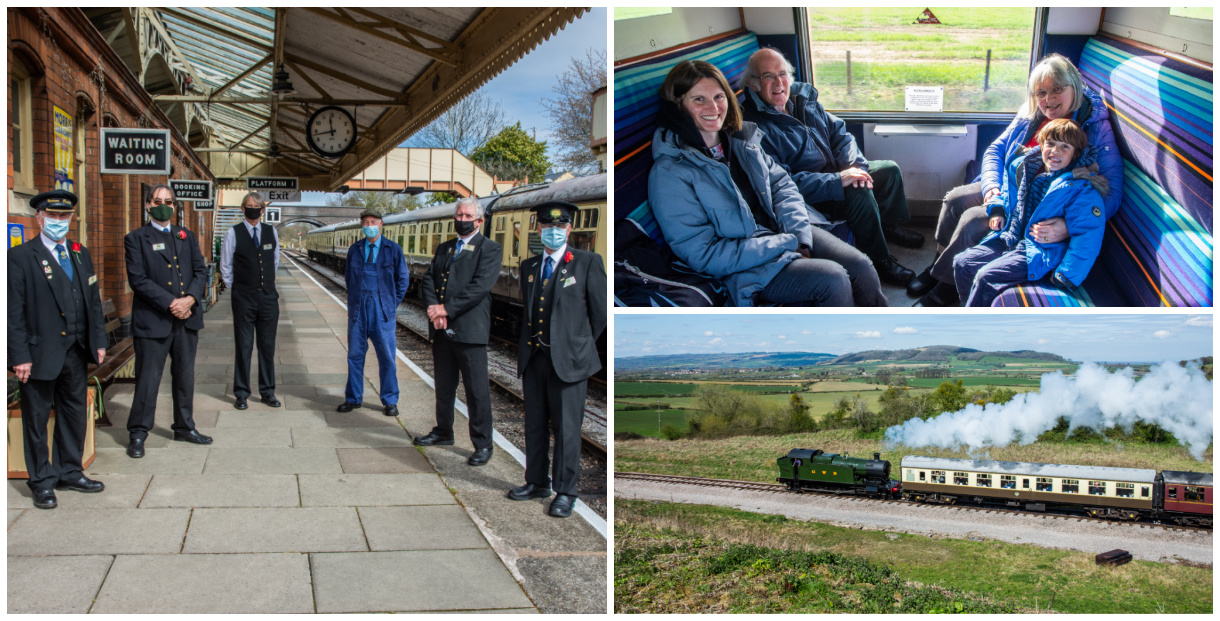 But, at a time when Covid restrictions remain, the railway – which this year celebrates its 40th Anniversary – is operating pre-bookable round-trip trains only, from its Toddington station. The service runs south to Cheltenham Racecourse before retracing its route via Toddington to Broadway, then returning to Toddington – a full 28-mile journey behind steam.
Richard Winstanley, the voluntary Finance Director of GWSR Plc, commented: "I am delighted with the way that our volunteers, the public and our supporters have responded to the railway's resumption of services, following the first stage in the Government's roadmap to lifting of Covid restrictions.
"We expect this Covid-secure service to continue until the beginning of July, of course subject to any further announcements from the Government.
"It's wonderful to see our beautifully-restored locomotives steaming through the glorious Cotswold countryside after so many months of lockdown, which has brought real financial difficulties: not just for us, but every other cultural and historic organisation."
The railway has however, benefited from two life-line funding grants from the Culture Recovery Fund for Heritage. These could amount to nearly £390,000 and are designed to help meet essential maintenance and overhead operational costs which would normally be met from ticket revenue.
Mr Winstanley says: "These are not, as many people assume, lump sum payments but are there to meet the bills that still come in when there is little or no revenue from ticket sales. We are of course, deeply grateful to the Government for recognising the importance of underpinning the security of Britain's rich and diverse heritage, including the GWSR, in this way.
Round trips of the railway starting and finishing from Toddington station GL54 5DT are bookable online from www.gwsr.com but the trains are of reduced capacity to permit social distancing. The coaches being used are mostly of the 'old fashioned' corridor type which have compartments for up to six people, each accessed through a sliding door from the side corridor.
As a discrete compartment forms a natural 'social bubble', passengers in the same social group can remove their masks while travelling.
Trains are operating at weekends, bank holidays and Tuesdays, Wednesdays and Thursdays until further notice and at least to the 5th July when the GWSR hopes restrictions will have eased sufficiently to re-open all of its stations between Cheltenham Racecourse and Broadway.
Adds Mr Winstanley: "Although our trains are carrying fewer people, they are paying their way. This means we that they are helping meet the ongoing overheads of running the railway. Hopefully, we can start rebuilding our depleted finances once we resume normal running from July and are able to stage the range of special events for which the GWSR is rightly famed.
"It's been a very difficult time but the spring sunshine and clearly happy travellers on our first trains of 2021 is certainly filling our volunteers with confidence for the future.
"It's so good to be back in business!"
Everything you need to know about travelling with GWSR from April 2021...
One train timetable (steam)
Tuesdays, Wednesdays, Thursdays to the end of April
Trains depart Toddington at 10.00 and 13.20 (round trip takes approx. 2.5 hours)
Two train timetable (steam)
Saturdays, Sundays and Bank Holiday (2 May) and from 4 May, Tuesdays, Wednesdays and Thursdays until 30 June (except 25 April, 23 May and 27 June**),
Trains depart Toddington at 10.00; 11.40; 13.20 and 15.00 (round trip takes approx. 2.5 hours)
Heritage Diesel Days Sundays 25 April, 23 May and 27 June
Trains depart Toddington 10.00, 12.30 and 15.00 using a variety of diesel motive power
Details of train services from the end of June will be published on www.gwsr.com when available.
Related
0 Comments