By Lisa Kowalkowski - Digital Marketing Executive, Visit Cheltenham
At the weekend my family and I had the pleasure of attending the opening night of Tweedy's 'Reduced' Pantomime at the Everyman Theatre. Like many other panto and Tweedy fans we were very excited to hear a few months back that the theatre team had found a way to ensure the 'show must go on' this year. It just wouldn't be Christmas without a few hours of belly laughing along to the antics of our local legend, Tweedy and his talented cast mates.

The Everyman had hoped to perform Jack and the Beanstalk, this season (this has been rescheduled to 2021). To comply with social distancing guidelines they came up with a completely different show - Tweedy's 'Reduced' Pantomime 'guaranteed to have more laughs then cast' which it certainly does! The panto is utterly, utterly brilliant; my face ached from laughing so much. I've shared a few of the highlights below whilst trying not to give away any of the main surprises. It's fair to say, if you've booked tickets you are in for a real festive treat, if you've not booked yet you'll need to be quick!
Quite simply, Tweedy and his seven fellow cast members are comedy geniuses. The script writers deserve an award. They had the audience roaring with laughter (behind their quickly forgotten face coverings) as they performed partial scenes from 13 (yes 13!) different pantos. We were treated to Tweedy dressed up as Snow White and Rapunzel, Trump building walls and recounting votes, even the flying carpet scene from Aladdin. It felt like all the pent up energy, from not being able to perform together since March, was 100% thrown into delivering big hit song and complex dance routines, highly amusing Boris & Hancock jokes, silly traditional British panto humour and some rather rude and sarcastic banter. (This went straight over my 6 year old's head and made my 9 year old smirk knowingly!)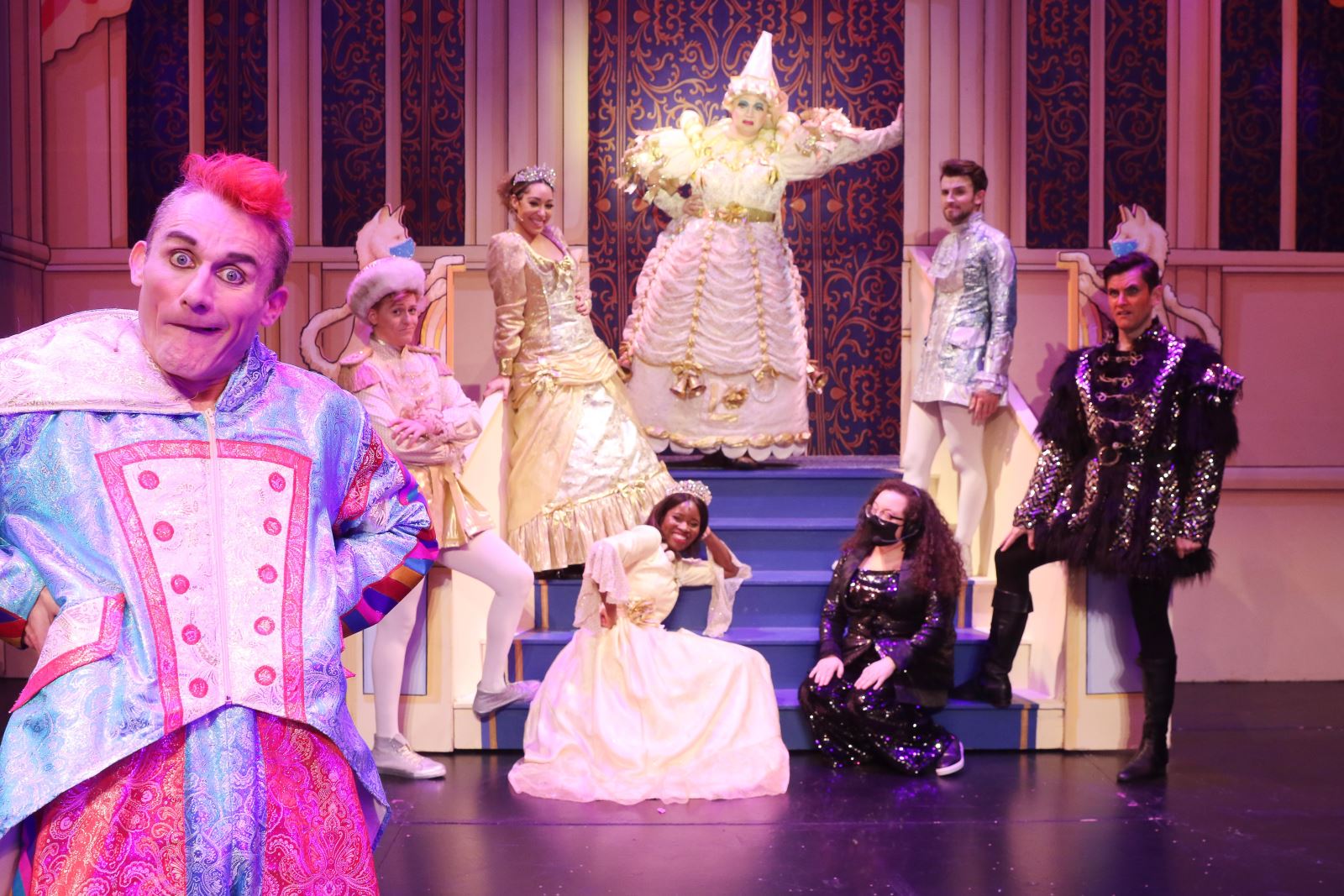 All images - TWM, Antony Thompson
The whole performance was hilarious pulled together by the actual assistant stage manager, Alys Robinson. She stropped around the stage throwing around props and making it feel that the performance was just thrown-together when it is anything but.
My boys have been Tweedy fans for years, even more so since lock down and watching him weekly online at the Barn Theatre. Tweedy managed to weave in all of the popular jokes his young fans are familiar with (like 'poo poo paper' and 'it's dirty, I'll have to wipe it off again!') whilst amusing new fans too. Even his pet iron, Keith, had a new friend, Steven the social distancing broom!
The panto opened with 'Simply the Best' by Tina Turner and included some absolutely cracking songs to sing along to including 'We're All In This Together' by High Street Musical. I'll be honest; I found this one really emotional. Not the normal emotion I would expect to experience during panto but watching the cast belt out the song, after the tough year we've all had, made me really appreciate the challenges everyone has faced. I just felt so much appreciation for being able to experience some festive normality with my family and overwhelming gratitude that we have this incredible theatre and all of its talented actors in Cheltenham.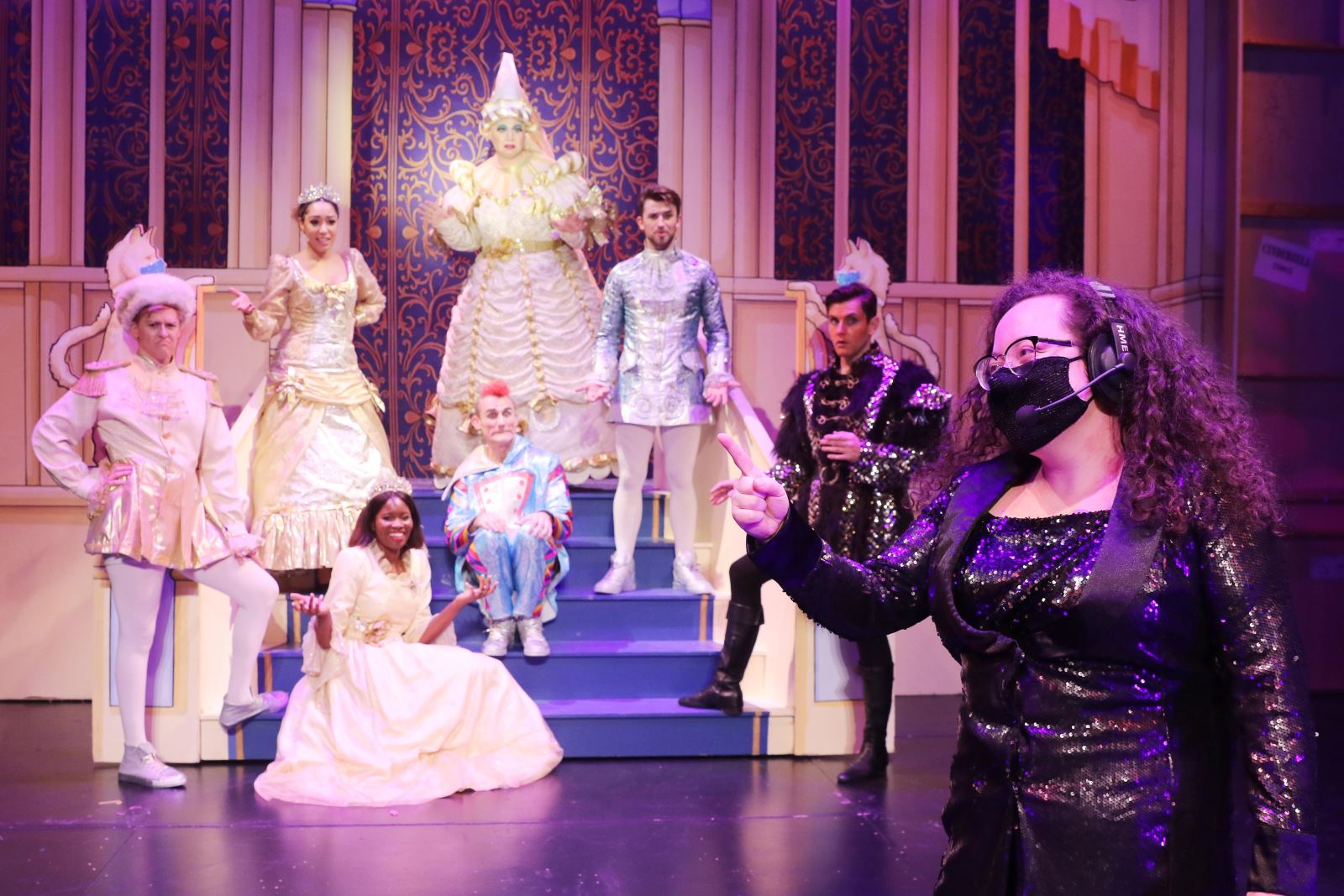 Although the audience can't participate in the traditional panto way this year the cast creatively got us all involved without breaking any social distancing guidelines. Shouting out names and booing was replaced with loudly stomping our feet and putting our thumbs in the air in our 'tiers' (stalls tier 1, circle tier 2, etc.). Instead of shouting out Tweedy's name we whispered for him instead. (It felt very odd to be asked to whisper 'even quieter!') The cast managed to respectfully make light of the COVID situation whilst also encouraging everyone to play their part in keeping our community safe. A difficult balancing act and one they managed perfectly.
Understandably my family and I felt a little apprehensive prior to visiting the theatre. Watching Tweedy's safety video really helped. The theatre has taken away half of the seats, you sit in socially distanced pods with your family and everyone is asked to wear a face covering. Temperatures are checked upon arrival and drinks are delivered to your seat during the interval. They really have gone all out to ensure that everyone is as safe and comfortable as possible.
Thank you to the brilliant cast (Tweedy, Kane Verrall, Casey Al-Shaqsy, Ben Darcy, Sam Homes, Kevin Brewis, Tsemaye Bob-Egbe, Alys Robinson) and the Everyman Theatre creative team led by Samuel Holmes and Nick Winston for a truly hilarious, memorable festive evening.
If you're reading this and you've already experienced Tweedy's 'Reduced' Panto let us know via our social media channels if you loved it as much as we did. If you've yet to book your tickets (you would be foolish not to!) you can do so here - www.everymantheatre.org.uk Panto taking place from 4 December until 3 January 2021.
For more Christmas inspiration check out our Christmas What's On Guide - Christmas Events in Cheltenham.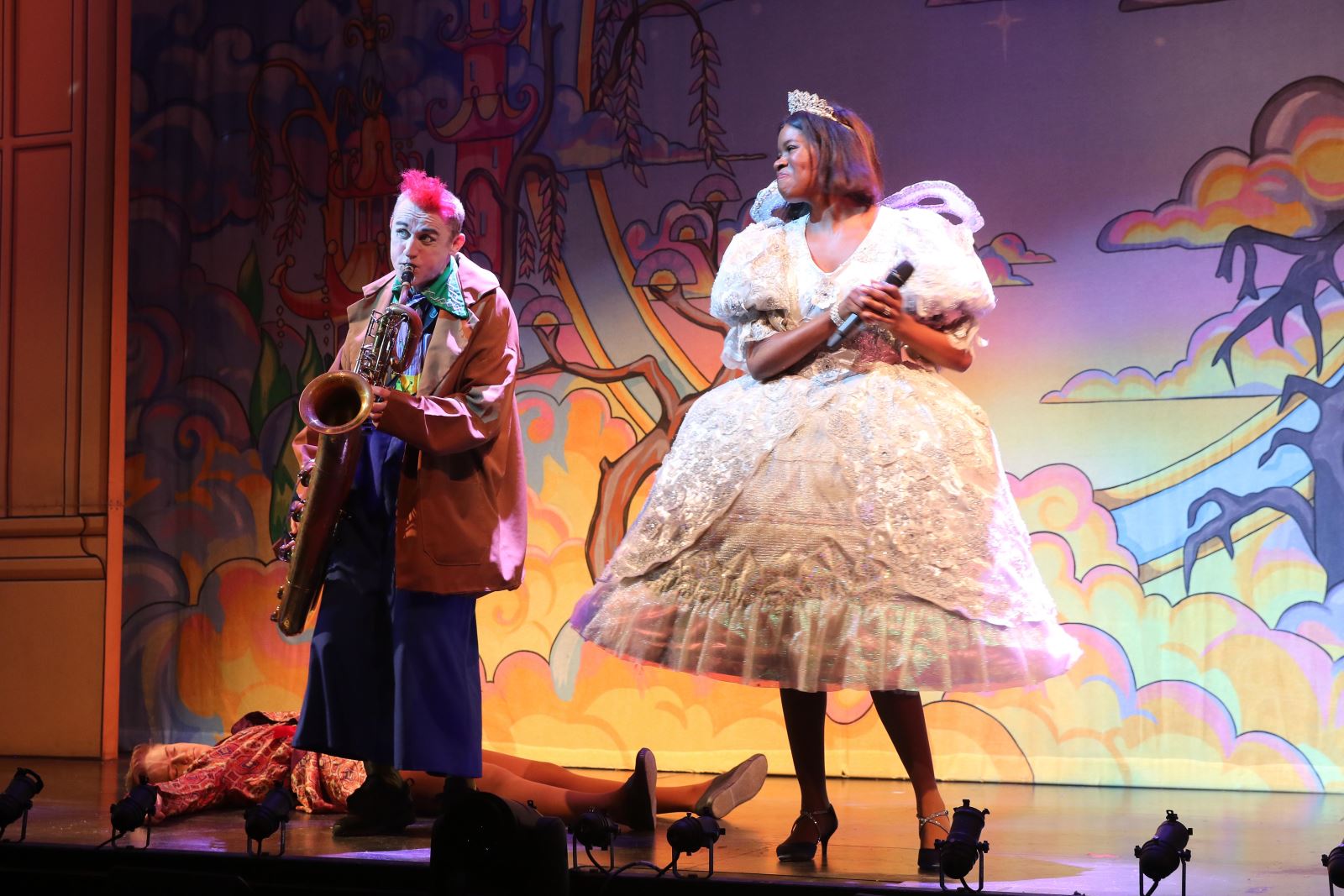 Related
1 Comments