The secret is out... David Attenborough is coming to Cheltenham as part of The Times and The Sunday Times Cheltenham Literature Festival, but who will be joining him? With the full line-up being announced on Friday 17th August, and tickets on sale to members on Wednesday 29th August, we thought it was about time to catch up with Nicola Tuxworth, Literature Festival Head of Programming to find out just what's involved in creating a stellar event. We've had to censor the interview just a little to avoid telling you exactly who's coming, but trust us - this year is exceptional!
---
Nicola started work at Cheltenham Festivals in 2007 after a career in teaching, publishing and writing. She now works full time on the Literature Festival with a team of four creative programmers, each of whom have particular skills and areas of interest. Nicola graduated in International Relations from Sussex University and her personal passion is news and current affairs. She programmes this area of the Festival herself, as well as being responsible for the overall content of the programme each year. In her spare time she cooks, reads (of course) travels as much as possible, and walks her three dogs. She considers herself extremely lucky to be paid for doing the best job in the world.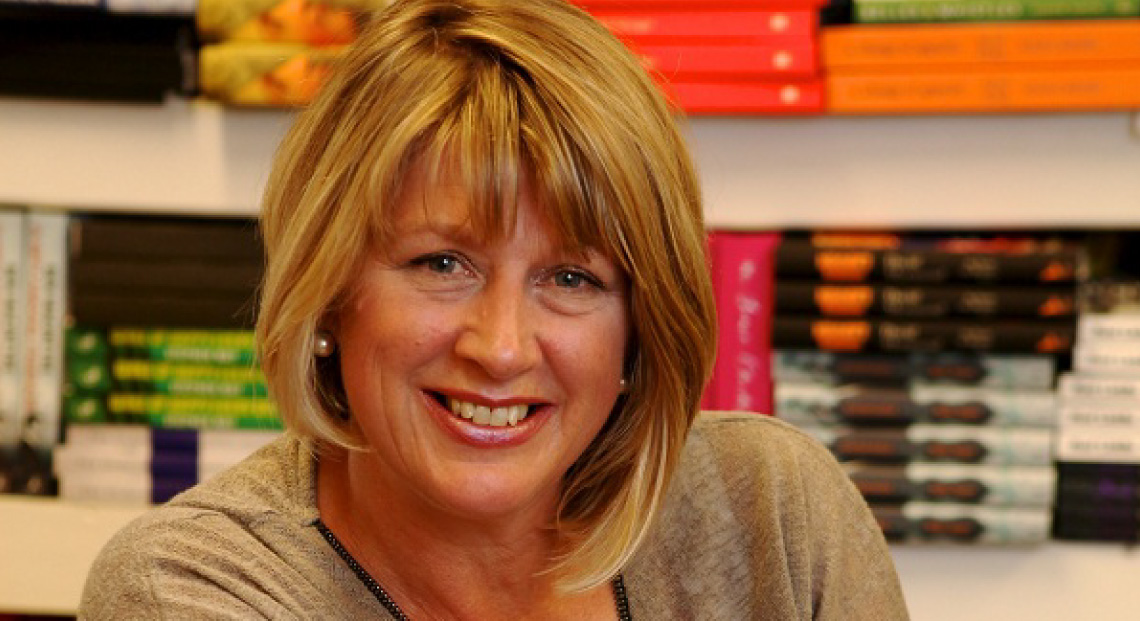 So where do you start with planning a festival of this scale? Are you just looking at trends? Is it personal taste? Do you ask for suggestions?
The Literature Festival always has a core theme, which becomes the creative platform for the programme and supports curators with forming the line-up and selecting appropriate content. If you like, this is the 'corners for the jigsaw'. Selecting the theme is always exciting and there's a lot of debate that goes on, but by the end we usually have a consensus. For example, two years ago, the theme was America because it was the end of the Obama term and the Trump-Clinton election was looming. Last year, off the back of the Europe / Brexit decision the theme was 'who do we think we are' and everything was about who we are as British people, exploring whether we really do have a stiff upper lip and things along those lines. This year, we felt we should be looking well beyond our own borders to the countries we are increasingly visiting, trading and developing relationships with - Japan, Korea, China and the east. We've entitled it 'East meets West' and will use it to explore the links and connections along the way.
The programme is a bit born out of context (what's happening in the world) and a bit born out of what people will find interesting. Country-theming is really popular and important, but it isn't programmed to the exclusion of what else is happening in the world of Literature. This year we have about 40 events that fit the 'East meets West' theme, scattered throughout the programme, but of course there are the core events that fall in every year too and provide opportunity to blend leading authors with more emerging writers too.
Once the theme is decided, we invite guest curators and contributors onto the programming team. Guest curators help to provide a bridge between our team and the leaders in a particular field, helping with the necessary contacts, introductions and recommendations. This is crucial to ensuring the programme is innovative, not cliched and not stereotyped but of course still accessible and representative of the theme we are exploring. At all stages, we involve critics, writers and field leaders, and of course many for this year are coming from Korea, Japan and China. It's not just a token gesture - we are really doing it and creating a programme which is centred specifically on this theme and will share the very best of what is available at the moment, including much which is emerging and cutting edge. Obviously, choosing Asian countries has meant that there is sometimes a language barrier that isn't always there when curating the programme, but it's a chance to hear some really exciting and unusual voices and of course to explore rich topics around translation and how texts move between countries and why.
Literature. Is it all about the books?
Yes and no. Although books and authors are the essential component, we don't build the event around the books, we build the books into the event. That might sound like we're splitting hairs, but for us it's really important to consider how the event comes together as a whole and who is best to fit into that mould. Of course we will include new releases and bestsellers, but having a theme and inserting books into the pre-planned event means we get to explore and showcase new writing - authors which just aren't being showcased anywhere else.
So, without letting slip who's coming, what events are your personal favourites?
I shouldn't have favourites and everyone should come to everything, but realistically you just can't help having a personal connection to some events. I think visitors should check out our 'Fiction at 7' evenings, where you get a glass of wine and meet two authors you probably don't know about or are only vaguely on your radar. These events have a pot luck feel (despite choosing them yourself) and are a great way to broaden your reading horizons and find new favourites, plus see the 'not yet famous' authors you'll be reading about in the next year or two.
For the big, mainstream events, you need to go to the Times Debate which is this year entitled 'Is Liberal Democracy dying?'. It's taking a look at the rise of the strong man leading and what this is doing to politics on a global scale. Aside from this, select a big debate event - they are interesting and accessible and even if you're not fascinated by the subject already, they're great for challenging your perceptions and getting you thinking in new ways.
I'd also recommend seeing one of the events programmed by one of this year's guest curators, writer and activist Scarlett Curtis. I highly recommend 'find your tribe' which is taking a look at how social media can be a force for good and an engine for support. It's a very interesting new take on social media, considering its power for good rather than evil.
I also have a real soft spot for the 'off the page' stuff. The spoken word, performances etc. which bring literature to life. There's also the annual Lit Crawl - a 'pub crawl with books' that provides an interesting and new way of engaging with books and new authors.
It sounds like a big job. When do you start planning in earnest?
It is huge, and believe it or not, we've started planning for next year already, before this year's festival is even fully announced. Next year is the 70th anniversary of the Festival too, so we're looking at some extra special events to celebrate. This is my favourite time of planning, where everything and anything is still possible and the whole team is excited about what it will bring and how we can challenge, educate and excite. It is however very topline at this stage, and we'll really start in earnest as soon as the festival finished in October - after lying in a darkened room for a rest of course. Now is also the time when we're getting a lot of recommendations and suggestions from publishers early on, who are keen to show us what is important, emerging etc. and what they have planned for next year too. Despite having a theme which accounts for 40-50% of the programme, we of course cannot ignore the bigger picture and we will always programme around significant literary anniversaries too.
January is perhaps one of the most interesting times of our calendar, when we go and meet over 70 publishers and find out what is coming up, what they are excited about, the new and emerging authors that are special and who is a must-have. Once we've done that, then we start weekly programming meetings on a Wednesday each week when the team meets for several hours to hash things out, come up with ideas and all get to contribute.
We start with a blank 'venue grid' which lays out all of our venues, big and small, and grids the time that they have available. We then start programming into these ten days of empty slots. It often comes down to minute juggling acts, where we are switching one event with another, tweaking the time, moving something forward or back, changing its venue based on how popular we think it will be, and then checking all over again. As a team, we have to be really determined and methodical and often cajoling and encouraging when we need agents etc. to help us out. It's a careful balancing act to ensure that there aren't 'audience clashes' where you have multiple events with a similar scope - we'd get a lot of complaints if we failed at that! By the end, we're pulling out and reviewing the venue grid every single day and often several times a day.
As an audience member, we're usually engaging with just one event at a time, while your team is juggling hundreds. Give us an idea of the scale of the event?
Starting with the venue grid, on the site of our festival 'village' itself there are 10 venue spaces, then of course we have all the ones that support across the town. Each venue ranges from 70 to 1,500 seats, so we have thousands of audience members at any one time. Add to this the sheer amount of organisation involved and my team deals with daily challenges to align author diaries - try getting multiple authors in the same room at the same time for a panel when they all have conflicting commitments and their own promotional programmes.
The Festival brings nearly 1,000 speakers to Cheltenham every year. Just take a minute to think about the logistics of this - we have to know every train, every taxi, where they plan to stay, where they will be when, and where they need to be. Don't forget, we also have to feed them all!
Add to this the audience members and box office (thankfully not my team's responsibility) and we are managing thousands and thousands of visitors to the town. At last check, we have visitors from every single postcode in the UK apart from two - strangely. We also have some patrons who come from as far as Australia every single year which is wonderful and shows just how well-respected the festival is globally.
Wow! That sounds exciting and exhausting in equal measure. Now we want to know what someone might be suprised to learn about the Festival?
Strangely, a lot of people are surprised to learn that being a programmer for the festival is a full time job. I don't know what they think is involved, but perhaps they think we turn up and dabble in it for a few weeks!
Anything else to add?
Ultimately, the Festival is a massive team effort. The whole organisation - even those working on the other festivals - stop their other work to help and support us, and then we have event managers who come in to look after each venue, and of course hundreds of volunteers who never stop smiling despite it being so busy and exhausting. Thanks must go to all of them too!
---
Well, we're definitely excited and can't wait to attend. Don't forget, here's the key dates to remember:
Friday 17th August: full programme announced on Visit Cheltenham
Wednesday 29th August: tickets on sale to members
Wednesday 5th September: tickets on general sale.
To maximise your chance of getting tickets, we recommend considering a Festival membership...
Related
1 Comments