Dubbed by both Kerrang! Magazine and Total Guitar as Britain's coolest festival, 2000Trees is a raucous, rough-edged and joyous three-day extravaganza that any fan of rock, punk and anti-mainstream society would be foolish to miss out on.
As soon as you arrive at Upcote Farm, a beautiful site set against the backdrop of rolling Cotswold hills, you know you are in for a special weekend. From the car park to the main entrance, we followed a winding path across a tiny bridge and through a copse whose canopy is crisscrossed with lightbulbs like a scene from an alternative fairy tale.
We arrived in good time that morning (we recommend getting there as early as you can) and the queue was moving quickly so we did not have to wait long to get in. Once past the gate, you are pretty free to find yourself a spot to pitch. We set up camp and were quickly welcomed by our campsite neighbour for the weekend, a drum technician for one of the Saturday headliners who gave us the low-down of the festival.
Once pitched we set about to get our bearings, drawn to the first sign of music coming from a forested area near the main campsite. Set amongst the trees, the forest stage has grown from humble beginnings to a fully-formed timbered stage that oozes character. There are hammocks to lie in, and a ground sprinkled with woodchips and pine needles that provide a wonderfully-scented, soft bed to sit in. We are met by the dulcet tones of Gaz Brookfield, a folk-rock artist from Bristol who creates an atmosphere that is both relaxed and inviting.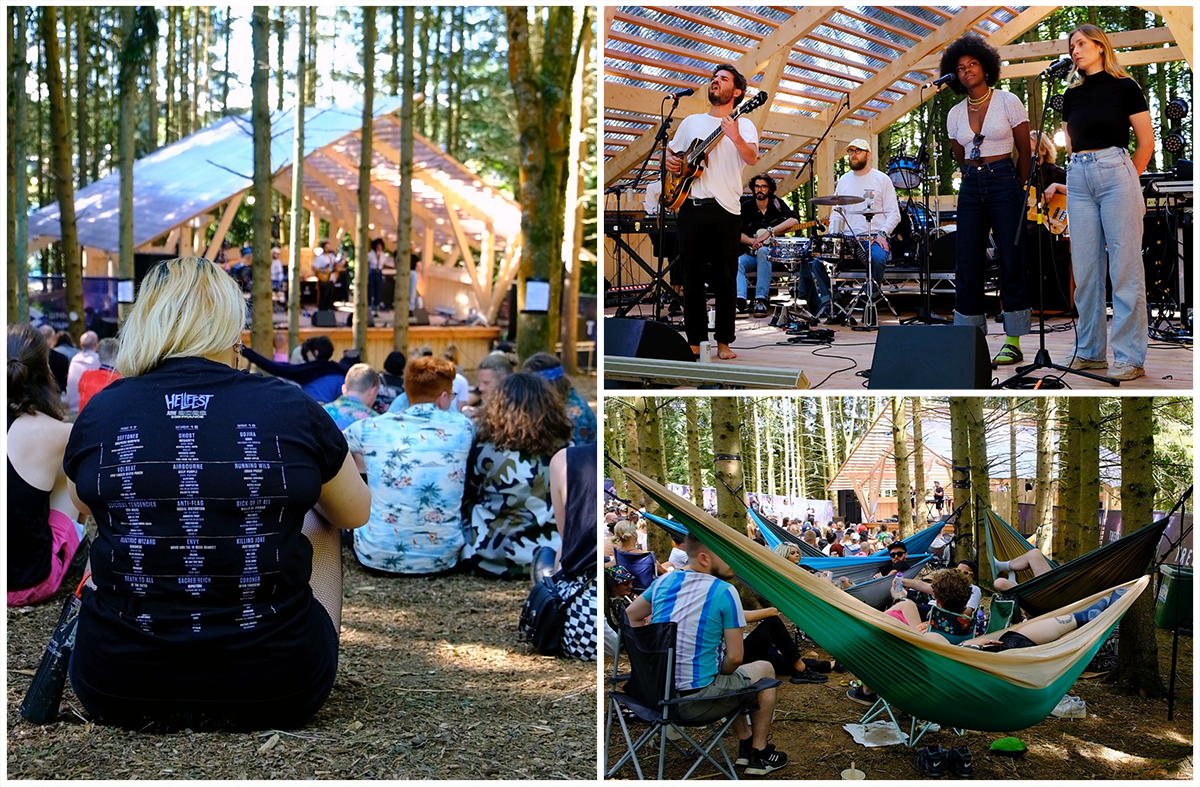 As we leave the Forest Stage, we are met by a large class of festival-goers attending an early-morning yoga session, as well as a small group of percussionists inviting passer-by's into their drum circle. What struck me most about 2000Trees right from this first morning was how friendly and welcoming everybody is. Wherever you looked people were smiling and getting to know one another, with activities that anybody and everybody could partake in.
The second thing that struck me about the festival was its size. You could do a lap of the site in around ten minutes and no matter where you are you are always a stone's throw away from something to see and do. This, coupled with the affable and colourful patrons, creates an intimate and charming atmosphere that is arguably unparalleled by any other UK festival.
We moved on to catch up with some friends for a barbeque at their pitch, the early-morning clouds had burned off and the day has turned gloriously sunny. Like our own, our friend's campsite neighbours were all cordial and up for sharing their space. We topped up our tans (and our drinks) and fuelled up on burgers ready for the day ahead. Creating a game-plan of bands we wanted to see. Our friend then demonstrated the best way to find out what the time is at a crowded festival: simply shout it out to the heavens. Five strangers responded.
Our next stop on our tour was The Cave, situated in the centre of the site this is the place to be for head-banging fanatics. Caught somewhere between metallic hardcore and death metal, Grief Metal greeted us with a fierce punch to the chest as bass ripped through the small marquee. They're loud, angry, and cathartic and the crowd ate up their purgative lyrics with enthusiasm.
We visit the nearby merchandise tent to peruse a variety of creatively adorned shirts, caps and posters. Picking out a bright enamel pin featuring a skull with stars in its eyes. Grief Metal has been replaced by Technicolor in The Cave as we wander back around, playing fuzzy alt-rock riffs and psychedelic melodies that provide a stark contrast to the roaring soundscape before it.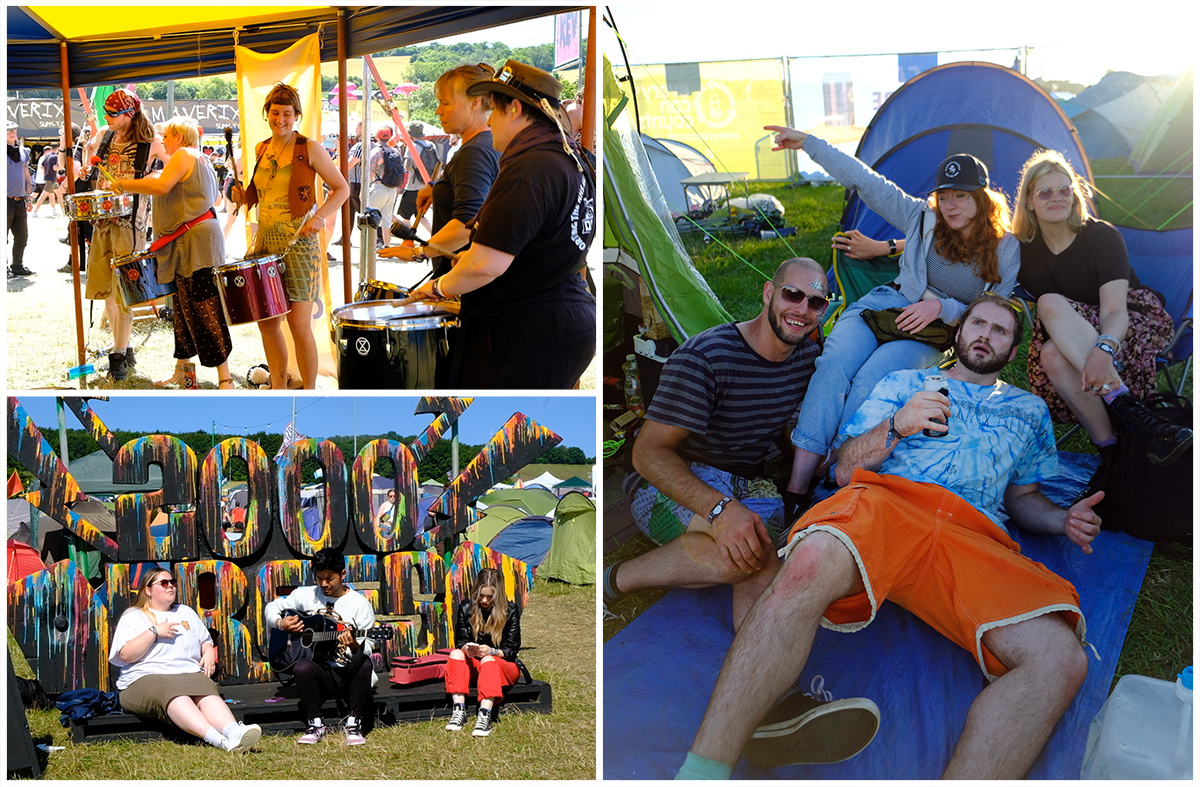 If you're looking for a change of pace from the music, then the voice tent is a great place to recoup and see something different. The few times we headed over there we were met with an acoustic beatboxing duet paying tribute to their graceful host Debbie Bishop. A spoken word poem about the terrible cycle of violence and control, and a stand-up comedian riffing on everything from the rising prices of butter to Partygate.
We stop at the nearby Purity bar on our way to the NEU Stage. Taking in crowds enjoying drinks in the sun, couples playing mini-golf, and groups of friends competing at axe-throwing and slinging beanbags in a game of corn-hole. The air is filled with the sounds of strings and drums vying for dominance, and the mood is jovial.
The NEU stage, surrounded by all of these good vibes, quickly became one of my favourite spots within the festival and is usually filled with an excitable crowd. Colourful arrays of light bounce off bubbles and cut through a haze of smoke as bands deliver sets that crackle with energy. As we arrive, Marisa and the Moths are offering up a cocktail of modern hard rock and 90s grunge reminiscent of Evanescence and Halestrom.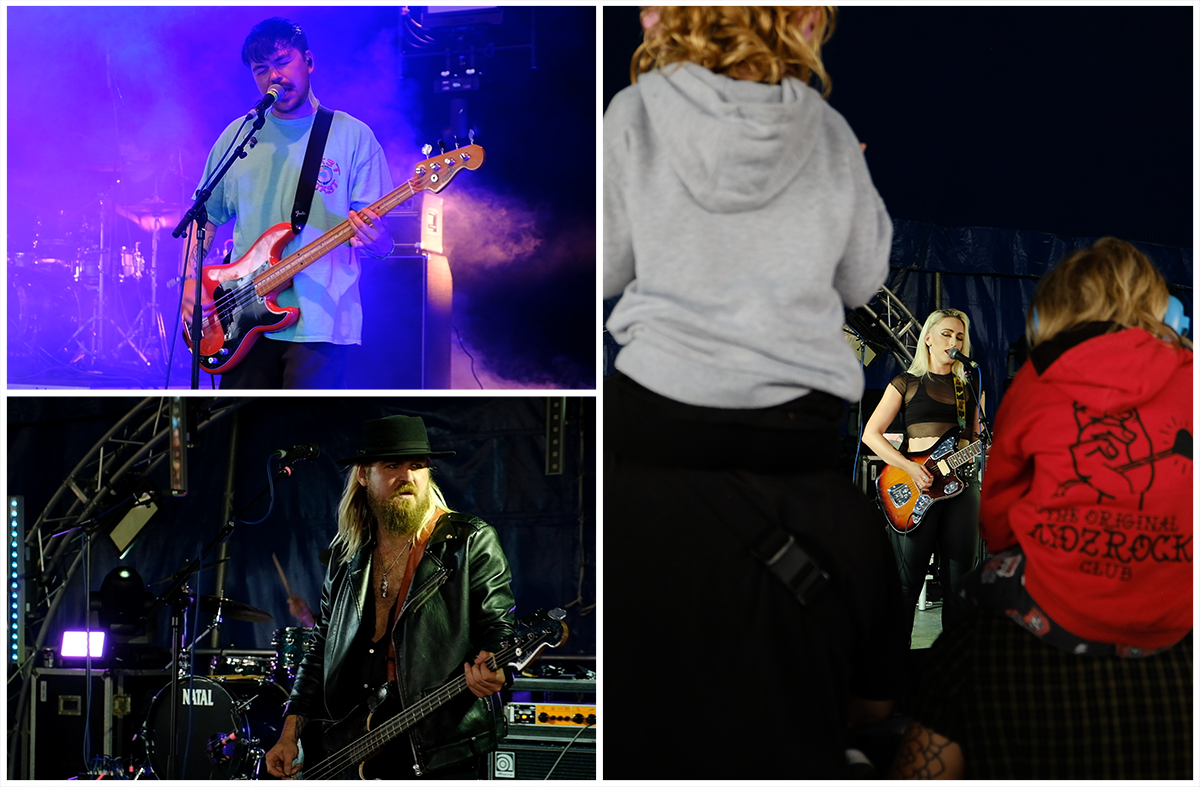 The main stage is where everything great about the 2000Trees festival culminates into a powerhouse display of firecracker spirit and verve. We were just in time to catch alt-rock band Dinosaur Pile-Up, complete with fans in inflatable dinosaur costumes, rock the stage before Jimmy Eat World closed out the first evening to an exuberant audience. Although we weren't around long enough to experience the headline acts, Thrice and Idles, perform on Friday and Saturday, up-and-coming pop-punk icon Kennyhoopla was a brilliant highlight from day two. Storming the stage and hopping the security fence to get right in amongst the packed crowd.
2000Trees is a small festival with a big attitude and larger-than-life energy. From the intimate acoustic sessions of the forest stage to the rumbling fervour of the cave and jam-packed main stage shows, there is a little something for everyone to enjoy. Outside of the music, there is fun to be had wherever you look, inexpensive food to enjoy and new friends to make. The community is kind and cool without a sense of pretension and you are guaranteed a warm welcome. For fans of rock, metal, emo, punk and everything in between, this is the place to celebrate the love of music that brings us all together.
Tickets for 2000Trees 2023 are on sale now here. Make sure to get yours in early before the prices go up!
---
For more of the best festivals, gigs, performances and events happening this summer and beyond in Cheltenham see our helpful guides: Summer in Cheltenham, Cheltenham Major Festivals & Events, Live Performances in Cheltenham.
Related
0 Comments