We are on official countdown to the biggest horse racing event of the year! The four-day Cheltenham Festival returns 15 – 18 March, after a year behind closed doors due to the pandemic.
With less than three weeks to go, now is the time to shop for the all-important outfit, hat and accessories.
What to wear for Cheltenham Festival 2022?
From feathers to tweed, dresses to hats, anything goes at The Festival. Gentlemen usually wear a suit or similar, and ladies often opt for hats, in all enclosures and the restaurants and hospitality facilities.
Although there isn't an official dress code for The Festival, The Jockey Club website states that smart is preferable and is often adopted by racegoers. See our photo gallery below from The Cheltenham Festival 2020 for race wear inspiration.
The weather in March can be unpredictable, so we would advise you to check the forecast and dress accordingly. You also need to keep in mind ladies that two-thirds of racecourse car parks are on grass, so plan ahead and wear suitable footwear for the conditions.
Can you wear fancy dress for Cheltenham Festival?
Fancy dress is permitted as long as the outfit is not offensive. The Jockey Club reserve the right to decline entry should the need arise. Please note, fancy dress is not permitted in the Club enclosure.
Photo gallery from Cheltenham Festival 2020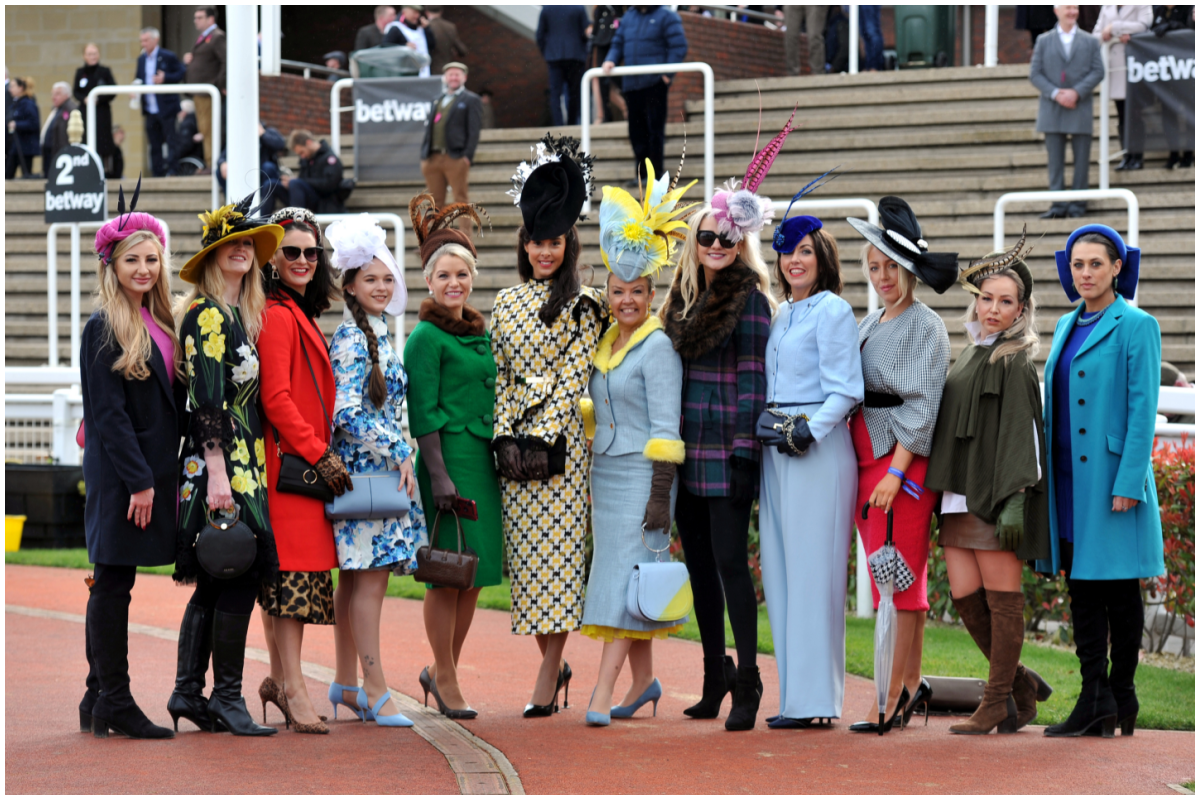 From feathers and dresses...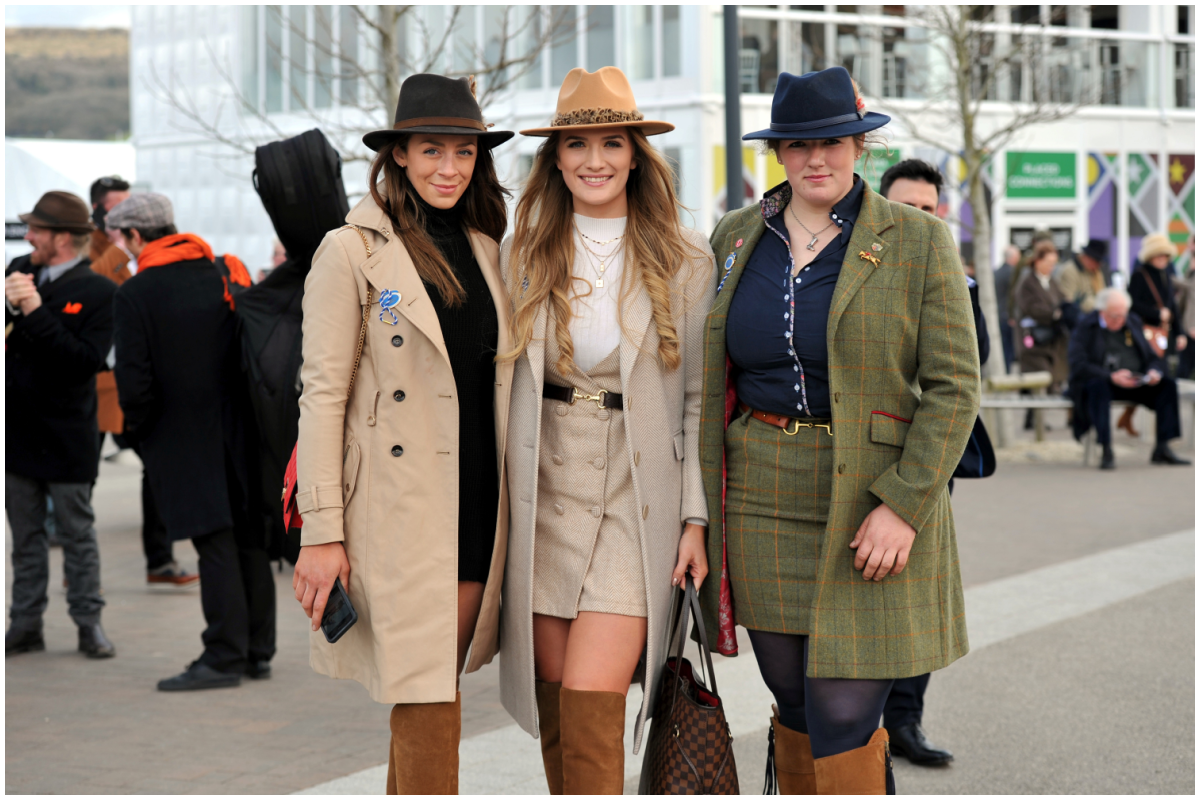 ...to tweed and hats! Anything goes at The Cheltenham Festival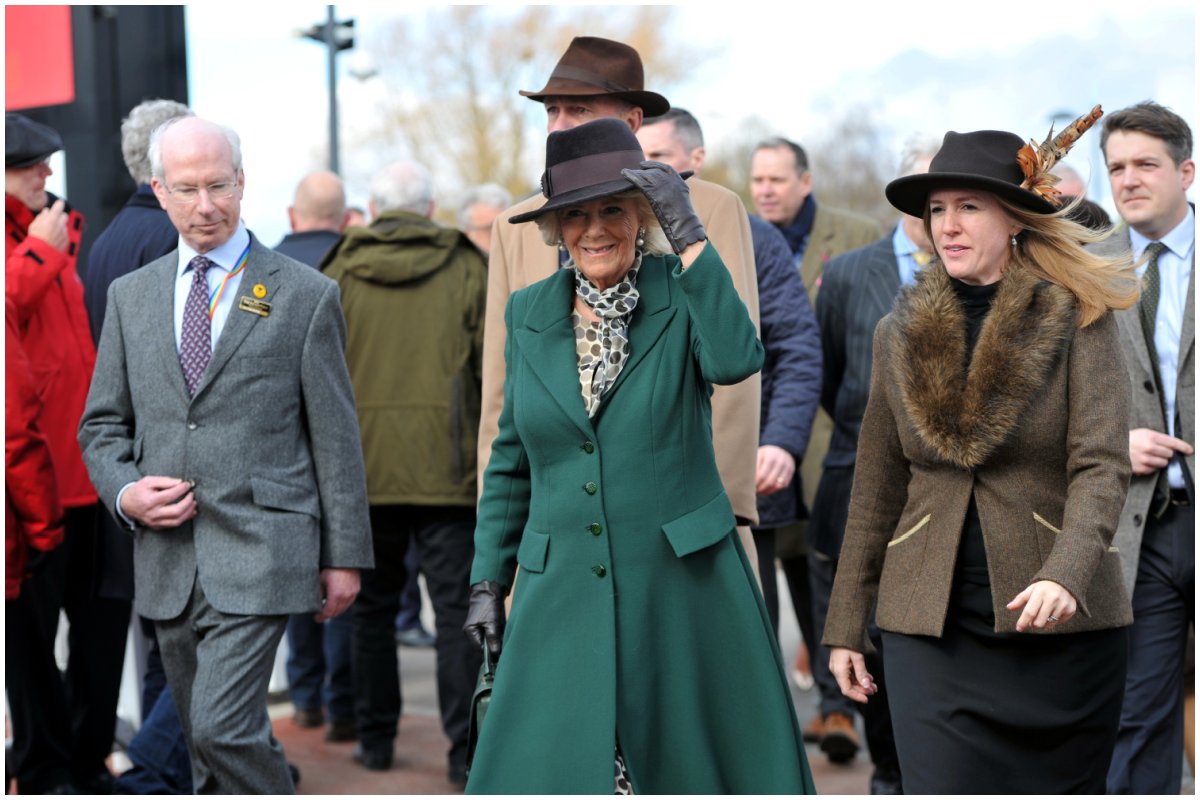 Camilla, Duchess of Cornwall arriving at The Cheltenham Festival 2020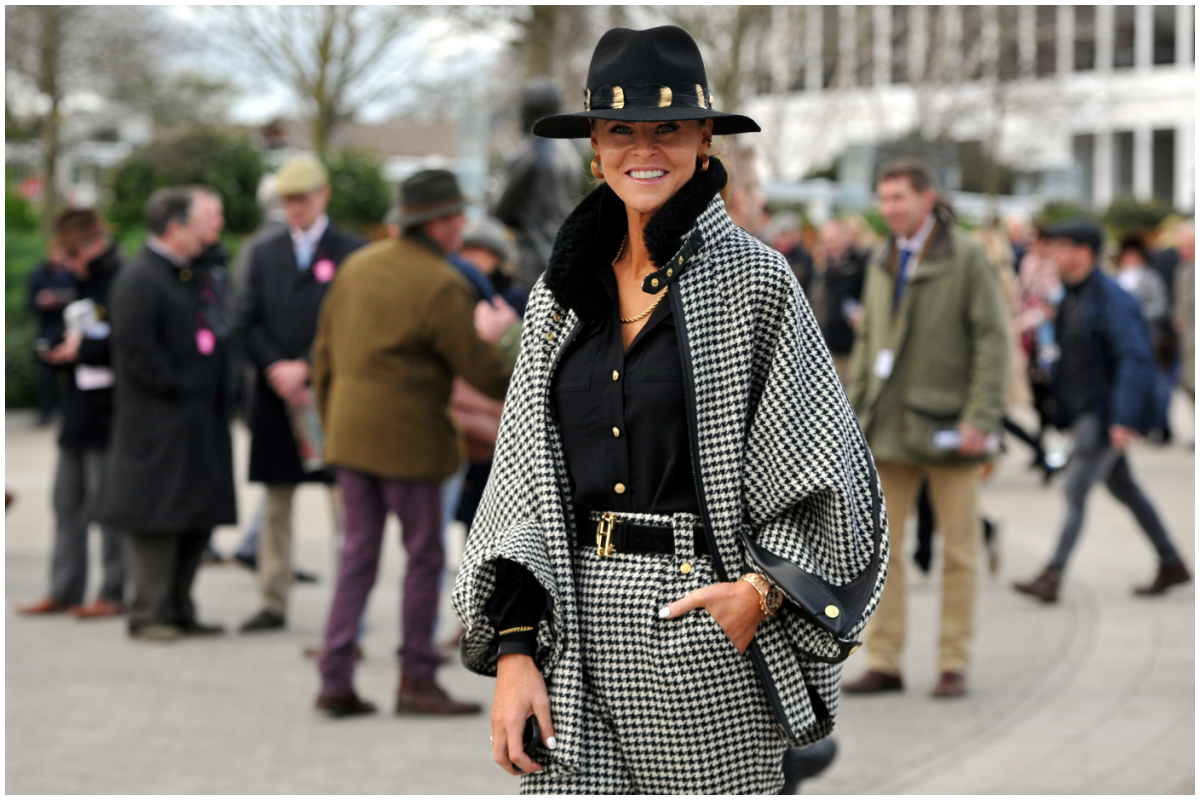 Jade Holland Cooper, founder of Holland Cooper, showcasing her ladies wear clothing range at Cheltenham Festival 2020
---
7 recommended Cheltenham womenswear stores for Cheltenham Festival outfits, hats & accessories
Ladies you are spoilt for choice when it comes to shopping for the perfect outfit for The Cheltenham Festival. To help narrow down your choices we've shared 7 stylish womenswear stockists in Cheltenham. Our handpicked recommendations will guarantee you'll buy an outfit that will turn heads, and make you stand out from the racing crowds!
123 High Street, Cheltenham, GL50 1DQ
Book your free personal styling appointment and let the experts work their magic whilst you sip on a glass of bubbly! The seven strong team of Personal Stylists have had extensive colour and fashion styling training. Your personal stylist will use her experience to create a race day look that's unique to you. Select your stylist and learn more here.
John Lewis Cheltenham is a style destination on the High Street with a wide range of brands in stock from Ralph Lauren and Ted Baker to Reiss, Tommy Hilfiger, Boden Clothing and more, in addition to a bustling beauty hall.
From 28 February two exclusive pop ups will be in the John Lewis store. The first by Keith Scarrott Shoes – a local online luxury footwear brand…
The second Jessica Anstey Designs – a Cotswolds designer of handmade hats and sustainable accessories… which you can purchase or hire for the races.
The Courtyard, Montpellier St, Cheltenham, GL50 1SR
An elegant ladies clothing boutique, now in its 35th year of helping ladies look their best. Located in the exclusive Montpellier Courtyard, this popular boutique stocks every day designer wear and occasion wear for wedding, special occasions, race days and events. Brands stocked from many leading designers including Ronald Joyce, Luis Civit, Condici and Linea Raffilli.
Walking through the door of Silks gives an immediate feel of luxury, elegance and quality. The expert stylists mix sophistication and innovative design with high quality fabric and cuts. Kerry the owner offers a complimentary two-hour personal shopping experience for ladies needing assistance buying the perfect outfit. Learn more here.
8 Montpellier Walk, Cheltenham, GL50 1SD
This boutique store in Montpellier is perfect for ladies wishing to stand out from the racing crowd with a colourful and truly special outfit. Beatrice, the owner of the store, which was founded in 1996, prides herself on 'empowering her customers to eradicate the fear of standing out and embrace wearing colour in an elegant way.'
Her garments, whether formal or casual, are easily distinguished by the combination of rich, colourful, highly textured fabrics and hand finished beading and embroidery. Take a look through her look book for race attire inspiration.
32-48 Promenade, Cheltenham, GL50 1HP
House of Fraser (fondly known in Cheltenham as Cavendish House) is a large department store on the Promenade offering many brands across womenswear, fashion accessories (and menswear).
If you're looking for luxury and comfort that's suitable for the unpredictable weather in March, a smart Barbour jacket is the perfect choice. With a traditional countryside look that will fit right in at any race meet, while ensuring that you stay warm and dry. Barbour's quilted and wax jackets pair perfectly with a tweed hat, skirt and long boots.
The Barlands, London Road, Charlton Kings, Cheltenham, GL52 6UT
For endless race day style inspiration pop down to explore the new Holland Cooper Cheltenham Boutique. Here you can expect to find classic and sophisticated pieces, British made, timeless and crafted to perfection.
Quality and longevity is at the heart of the company ethos founded by local entrepreneur, Jade Holland Cooper. She describes her vision on the HC website - "I wanted to harness a style that lasts forever, the investment piece, this is not a trend it's a way of life. I have no interest in chasing fashion, what I am interested in is creating beautiful timeless clothes for women that can be worn in every aspect of life".
A recent Instagram post, featuring a photo taken at a previous Cheltenham Festival, demonstrates that Jade has achieved her vision perfectly…
For everything you need to plan for your visit to the races check out our Guide to Cheltenham Festival
For more Cheltenham Festival style inspiration check out:
Related
2 Comments