As part of The Great Taste of Cheltenham we've asked local foodies to share their favourite places in town to eat and drink, (because let's face it local people ALWAYS know the very best places for the tastiest treats in any town!)
The first article in this series has been written by Alice Paisley, who was born and bred in Cheltenham and returned back to living in town after university and a stint travelling. When we asked Alice for a few of her local recommendations she very eagerly agreed and sent her top tips for best bars, lunch, brunch AND dinner! Watch this space, these recommendations will be coming very soon. You can learn more about Alice in the author section below.
Without further ado here are Alice's top recommendations for the best bars in Cheltenham…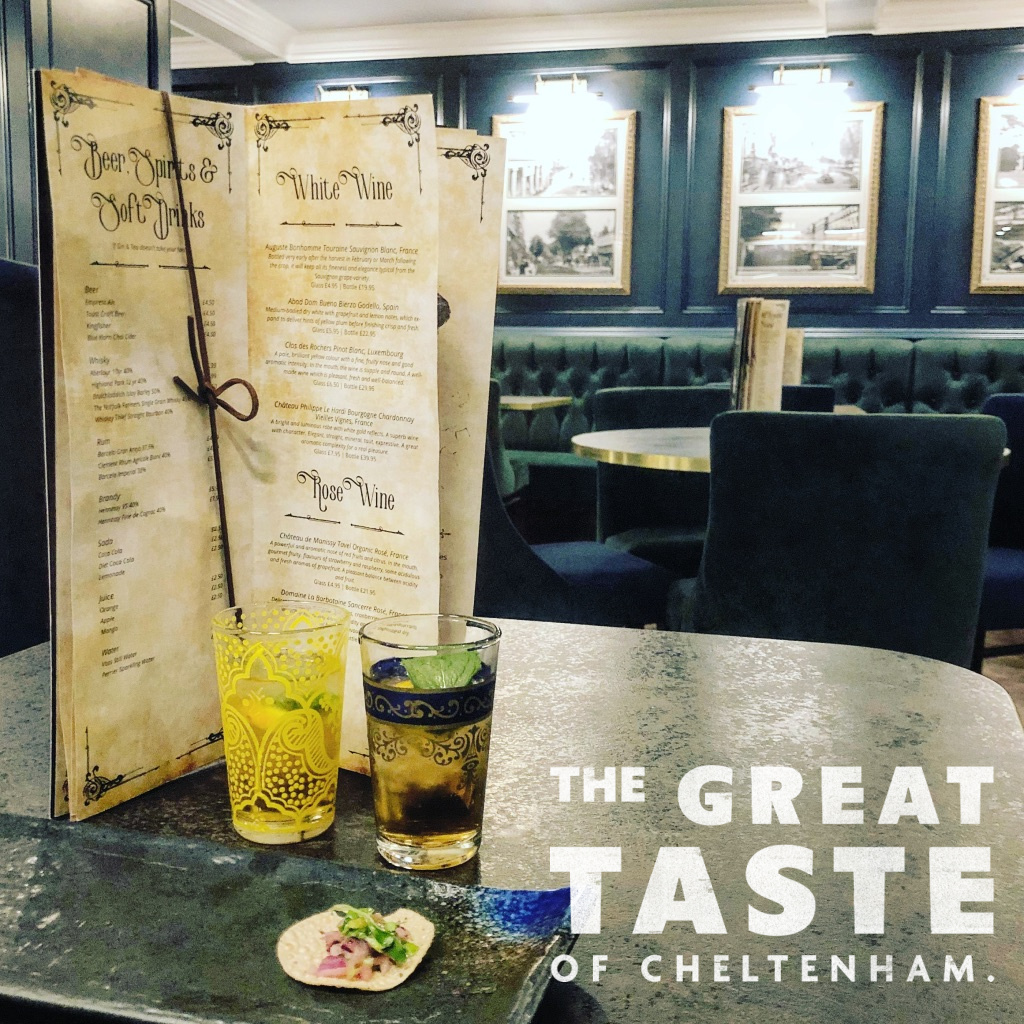 Best bars in Cheltenham as recommended by locals!
'Sharing is caring' is the central concept at the Five Alls on Bath Road. This concept is clear both in the amazingly friendly and passionate team of staff as well as the food on offer here. Once the 'dive' (excuse the bluntness!) pub also named the Five Alls, following a huge refurbishment 2 years ago, this place feels more like walking into someone's sitting room, (notably that 'someone' had a few bob or 2 to splash about!) than a bar. Warming, welcoming and wonderfully relaxing, this is fast becoming my go-to for an evening, or lunch or breakfast for that matter.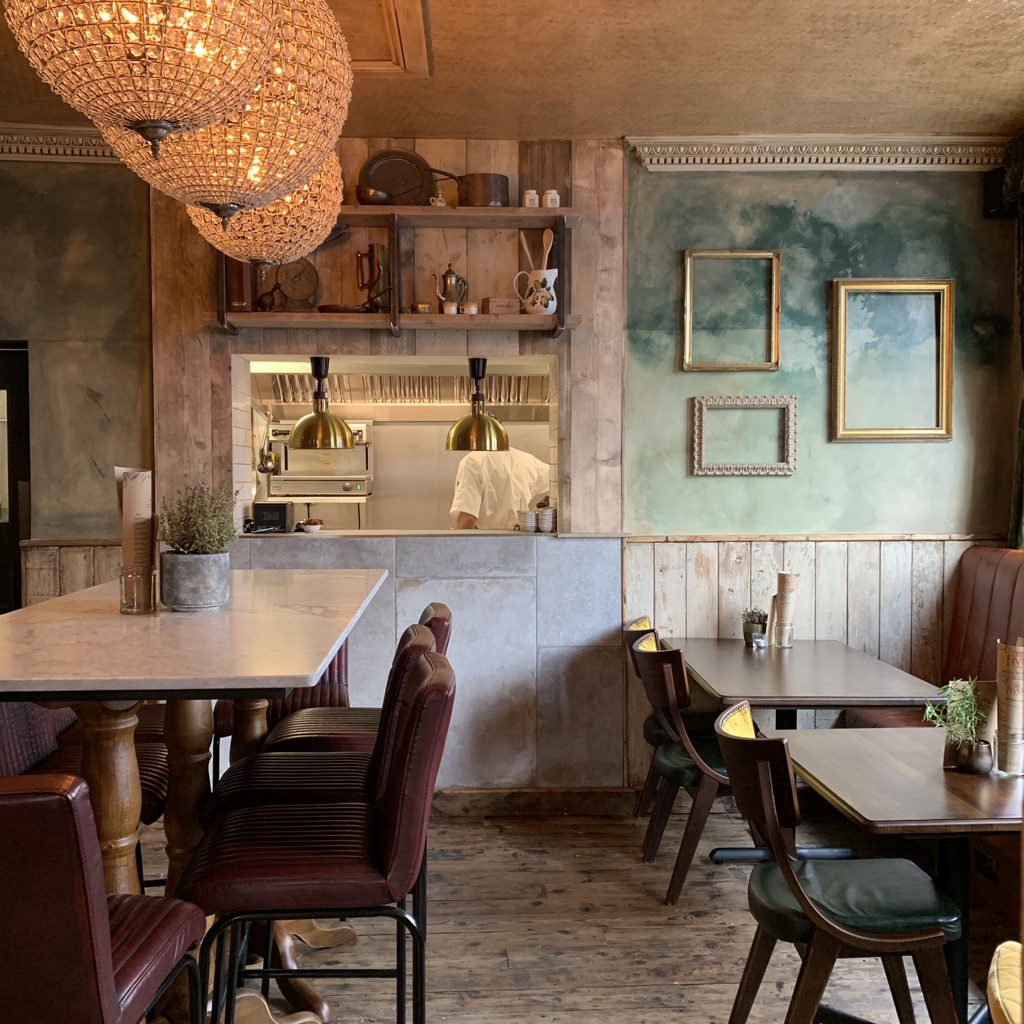 The wine list is extensive and the beers and cocktails equally sizeable in their offering. The food is tapas style small plates - a theme that carries on through to their Sunday roasts. Nowhere I know of in Cheltenham does this - essentially it solves that constant conundrum I have for Sunday lunch… I want it ALL! And here, you really can as the roasts are small plates so having beef, lamb, chicken & nut roast all together is entirely manageable. "Winner winner 'chicken or perhaps not this time' dinner", I hear you cry! A really popular place amongst us 'yocals' on the ever evolving Bath Road…the Notting Hill of Chelters I like to think!.
If ever there was a place that if you asked a true bonafide Cheltonian to state their choice for 'tipple' then you can bet your bottom dollar that this would be it. (Or rather should be it, if they are true 'dyed in the wool' locals)! Long standing and long loved in the heart of the Suffolk's, venture deep & you'll find The Retreat.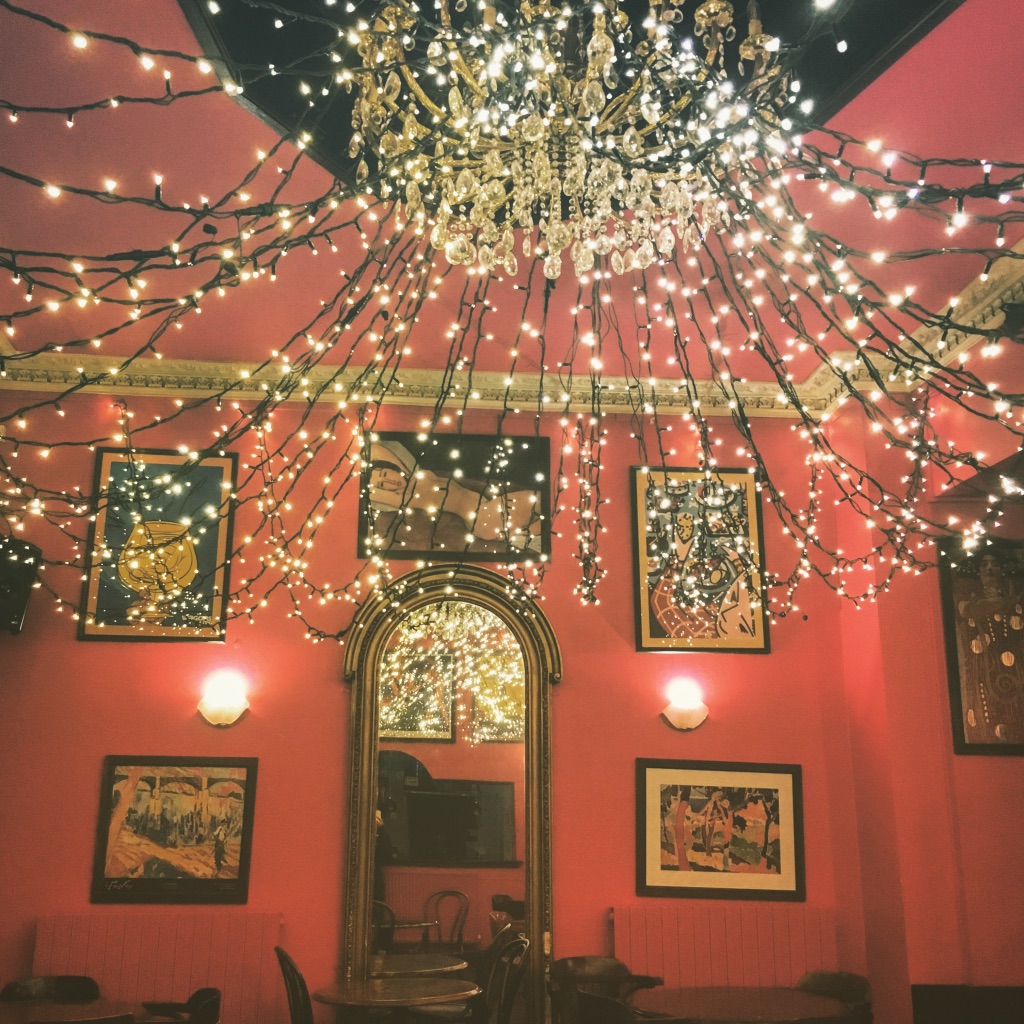 This wine bar has been under the same ownership for over 40 years. The Retreat is an eclectic mix of bohemian Paris' Montmartre meets the Jazz scene of New Orleans. Retreat (excuse the pun!) here for a lovingly selected wine list, hand-picked & no doubt personally tried by the owner himself - in the 'good ol' days' The Retreat was very much just a watering hole but these days their kitchen really packs a punch. Beers, ales & spirits galore, the evenings tend to start off with a 'oh, just the one for me' but swiftly digresses to a 'oh, ok just another bottle then'!
What a unique and GENUIS concept… that enables one to draw out the evening from midday to midnight. Serving, as the name hints, teas alongside gins - this is a winning concoction! It will appeal to all palettes, even those among us who abstain from liquor.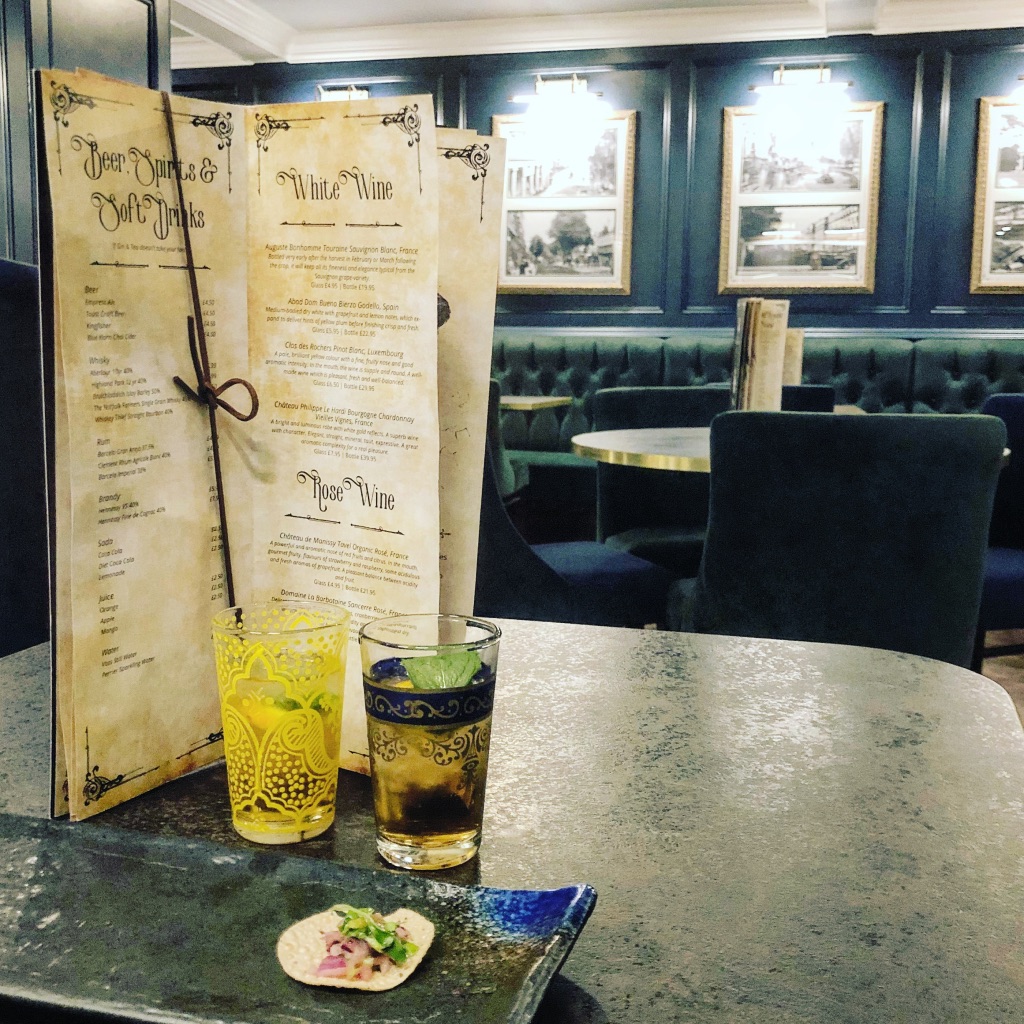 An Indian concept born from their 'older sister' East India Cafe, Memsahib Gin & Tea Bari is a brooding basement bar draped in emerald & gold interiors against a backdrop of colonial Rajasthan furnishings. The staff are supremely knowledgeable in gin tipples – they have a list of drinks on offer even longer & more complex than the history of India - alongside the most eclectic offering of tea. Anglo-India has never met in such fabulous harmony.
The drinks are presented so beautifully it's a real self-battle to actually imbibe these beauties! A complimentary refreshing tea is always served on arrival along with delicious appetisers, equally 'instagrammable' as the drinks. And should you get the 'munchies' then by all means tuck in with full gusto to their incredible and equally beautifully delicate food menu. It really is SUCH an innovative place and atmospherically lit that the temptation to kick back and wholly relax late into the night in the regal sofas is entirely excused and accepted!
Whisky, wine & bubbles. Need I say more? One of Cheltenham's longest serving (surviving & truly thriving I might add) wine bars, it's a personal favourite and go to - if only just to say hello to the family who own it and very much are 'part of the crowd'.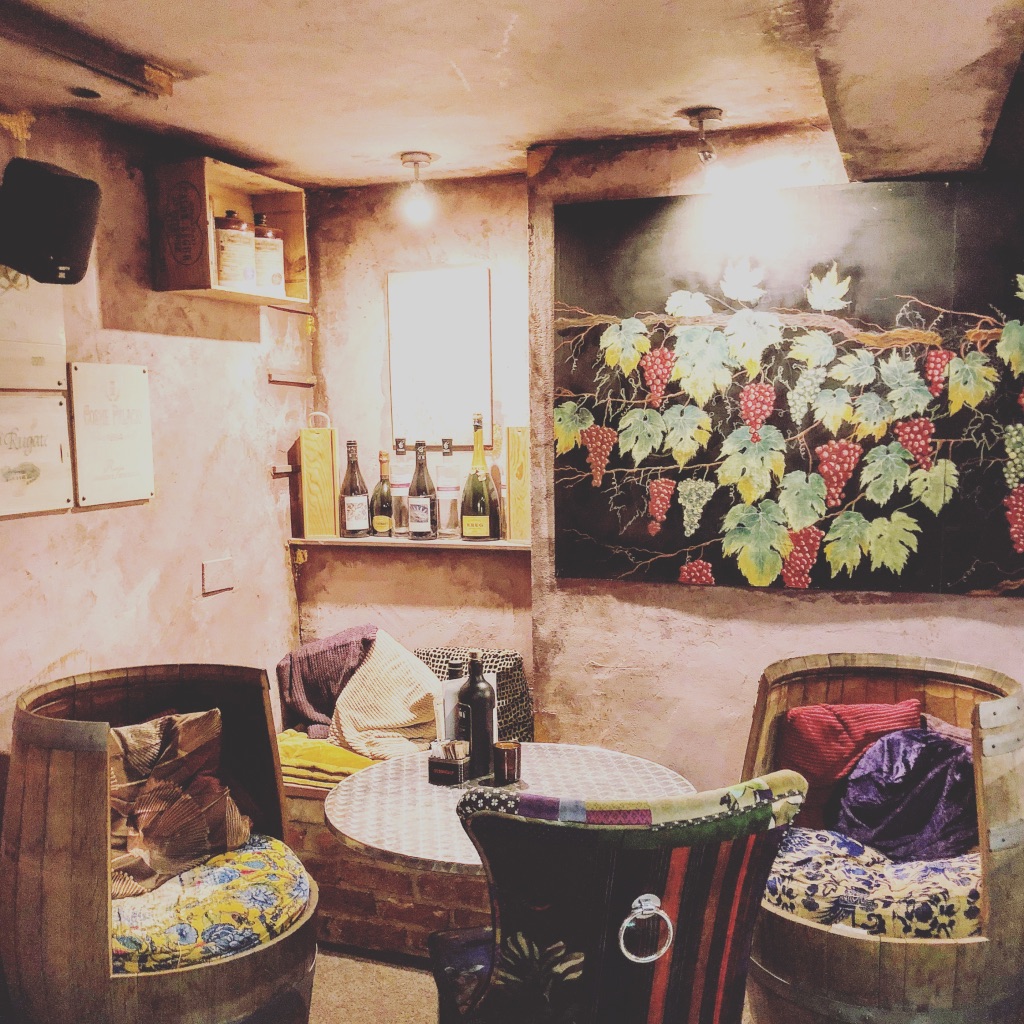 Gorgeous covered courtyard as well as amble outdoor seating which has the knack of capturing the morning and evening sun, I can easily while away a WHOLE day here (yup, they open from 10am…well, it's always elevenses' somewhere in the world, right!?) Recently having brought out their own blend of Whisky from Scotland, their collection is extensive & worldwide. Japan, Scotland, American, Canadian - as well as an impressive range of cigars available to buy, this really is a 'man's haven!' But fear not ladies, bubbles & Gins are their speciality too. In fact, I'm not sure there are many alcoholic beverages that the Gordon family aren't well versed in! With a kitchen offering of simple yet delicious light bites & pies, "eating may not be cheating" here.
I was in quite a conundrum as to whether to feature this pocket gem of a pub. Being my ABSOLUTE FAVOURITE I am loathed to disclose it to the world for fear of 'no room in the inn'. It is small yet perfectly formed under the love & devotion of the owner. Once the 'snug' of the owner's next door Royal Union where the feeling was very much 'everyday's a Sunday afternoon' (I can confirm the fire was never not lit - except for when temperature outside exceeded 20 degrees!) - a complete renovation has unveiled the cosy Tivoli Tap.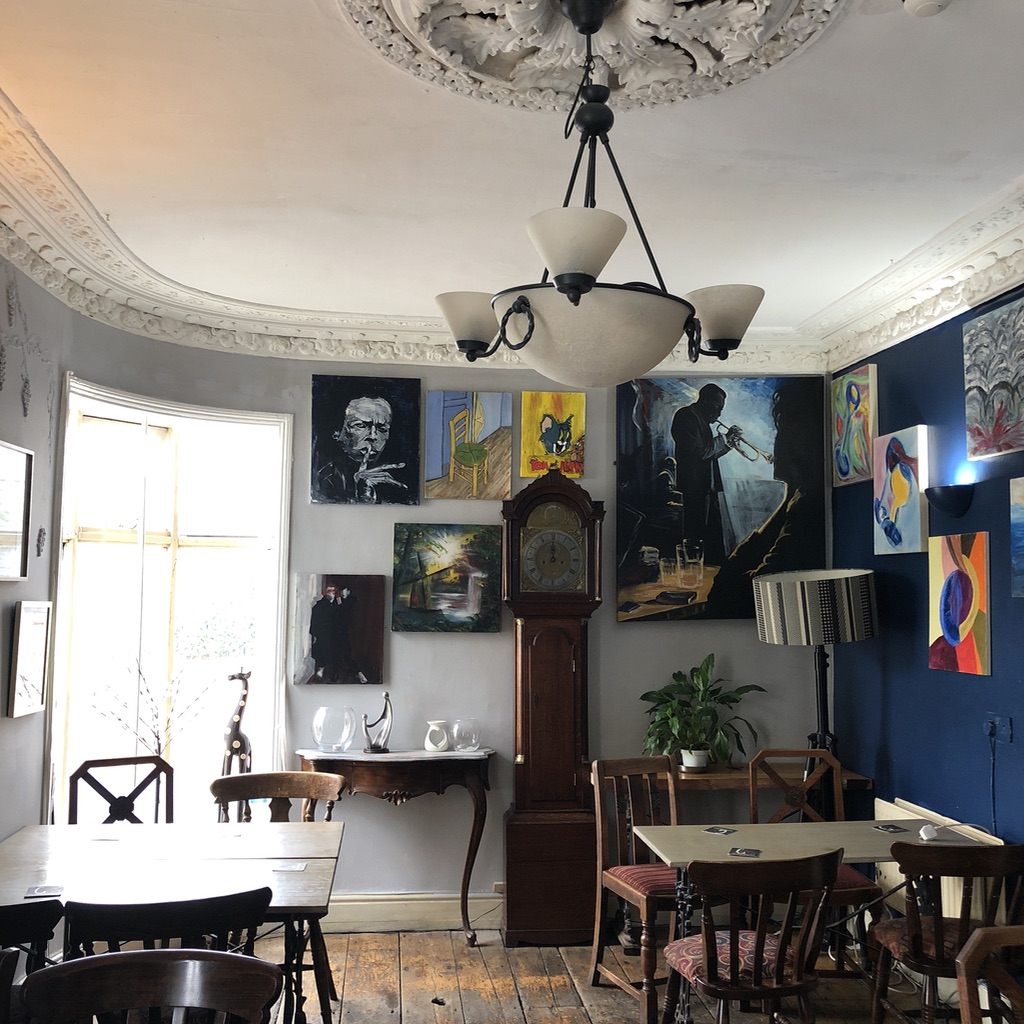 As the name suggests, you can expect beers on tap. A very innovative wine list alongside limited but carefully selected spirits. I will caveat with no qualms that this is NOT a family friendly pub. No children allowed. And please PLEASE no youths. If you are after a rip roaringly loud evening then The Tivoli is just around the corner. But if you fancy an early evening (5pm - 8pm weekdays only) snifter with the locals of Tivoli and a spot of honest home cooking, then this is your go to spot. Just please please leave my usually spot free…hmmm, best get myself a plaque made up!
---
About the author – Alice went to Berkhampstead School in Pittville, Cheltenham until the age of 11, then to Malvern Girls College. After a brief spell in Scotland for a 4 year Master's Degree at Edinburgh University, and a 'delay the inevitable getting a job', she drove from London to Mongolia on the Mongol Rally followed by a 'better be a grown up' stint back up in Scotland working in Politics in Perthshire. At 25 she decided to head 'back down south' and 10 years later she is still living in Cheltenham! She purchased a 'wee little pad in Tivoli' Cheltenham four years ago and says she has not looked back since.
You can find Alice at @alice_paisley7 on Instagram. Alice runs luxury travel and concierge company, Alician Travel.
Related
0 Comments