What a treat for Cheltenham! Ginger and Garlic, which opened after months spent meticulously converting an old pub, has fast become a restaurant for your 'must visit' list!
Ginger and Garlic offer traditional Korean Cuisine from their restaurant on the Lower High Street in Cheltenham. If you've not tried Korean before, don't be put off - there are lots of great flavours you'll already be familiar with and some tempting new ones too! The menu is extensive and it's hard to pick between the dishes, but anything you do pick is freshly prepared and cooked to an incredibly high standard.
This is a restaurant on the 'must visit' list, but perhaps we should amend it to 'must visit regularly' list. We visited more than once in quick succession, simply because it was impossible to capture the full dining experience in one sitting!
The first visit, we shared a selection of starters that included soft shell crab, deep fried octopus and Agedashi fried Tofu. We followed this with the great sounding Bibimbap - a brilliant full meal served in a hot stone bowl, including layers of white rice, seasonal vegetables, meat or veggie main of your choice, with a Gochujang sauce served in a small pot on the side. Even better, the dish (apart from the tofu and Kimchi Bibimbap) are topped with a fried egg. It's a very tactile dish and we were encouraged to use the hot sauce on the dish to soak right in, creating a hot, caramalised texture to the rice and giving the whole dish a complete sense of flavour that engulfs your taste buds from start to finish. Be warned, this dish is spicy and best avoided if you have poor heat tolerance!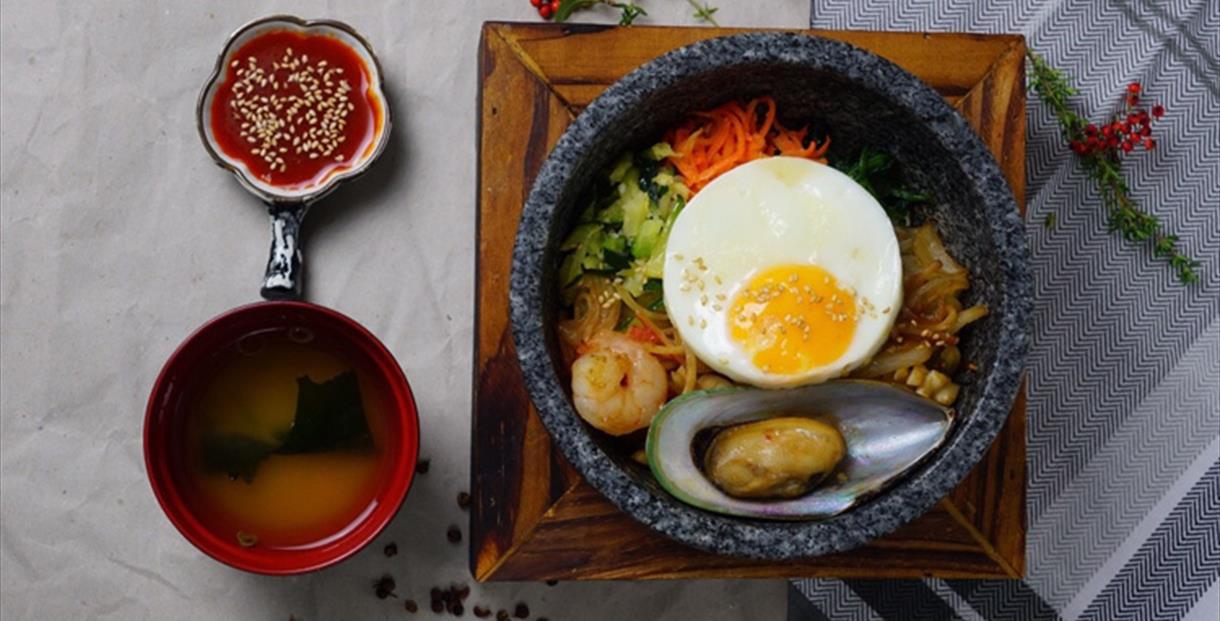 We left our first visit stuffed, marvelling at the good value of the whole meal and delighting in the first Korean restaurant to open in the town. What became immediately clear is that we hadn't even scratched the surface of the menu, and that one visit was simply not enough. Our eyes were held captive by the table next door who were trying the traditional Korean BBG Table, which is a unique and exquisite experience for the town. Naturally, back we came (making sure to request a BBQ table) bringing a crowd with birthday celebrations on the agenda. Again, we all selected a starter to share with the table, before turning to the BBQ pages to order a couple of the "Meat Lovers selection" platters along with a whole host of vegetable skewers and sides of rice and kimchi.
It's hard to describe what the BBQ looks like, and we were too busy munching to get a decent picture, however in the interest of full disclosure, we'll give it a go. The BBQ tables are a little wider than the average dining table, giving you room to eat, either side of a large pit in the middle of the table. Heaters inside the pit are lit and then over the top, a metal frame provides space to suspend your skewers. The frame also includes a rotisserie motor so once added, the skewers merrily spin over the heat to create a perfect cooking environment on all sides. The skewers are delivered to the table raw, with meats that have been marinated beforehand with some amazing spices all different. A particular hit were the Korean meatballs which are very different and cook really well on the skewer, as are the smoked sausages. The marinated beef, chicken and pork were so tender they fell off the skewers onto our plates with very little resistance while the vegetables came out crunchy and fresh with a hint of chargrill. We rounded the evening off we a really delicious green tea ice-cream.
No meal is complete without a traditional drink and we had one (or three!) bottles of wine, including a Korean variety, all of which were very reasonably priced. A number of our companions also enjoyed the traditional Korean beers and soft drinks too.
You might think twice is enough, but you'd be wrong! We had tried the Bibimbap and had the BBQ, but we hadn't even touched the Ramen or Pot Dishes let alone the grilled dishes and the noodles. So back again we came, introducing some other friends, which is always a good ploy - providing your friends like to share of course. This time we had a different selection of starters and then we followed this with Pulled Pork Ramen. Personally, I am not a fan of pulled pork but this was really tasty and melted in the mouth. Our other selections included The Bulgogi Hot Pot which comprises thin strips of marinated beef, with onions, carrots, mushrooms and glass noodles, flavoured with ginger and garlic broth and topped with fresh chopped chillies and a soft boiled egg; Kimchee Jpigae Stew – hot and spicy tofu stew served with a combination of pork belly, kimchi, soft boiled egg and mushrooms garnished with spring onions; Grilled Salted Mackerel which is so simple and totally delicious; and Bulgogi Beef Short Ribs. This time we round it off with Red Bean Ice-cream.
If you haven't got the gist yet, the food here is outstanding. The staff are really happy to cater for all dietary requirements and they are really happy to chat it through with you and advise on what to try. Don't be put off by spice either; one of our guests was allergic to chilli and her dish was full of flavour with not a hint of spice!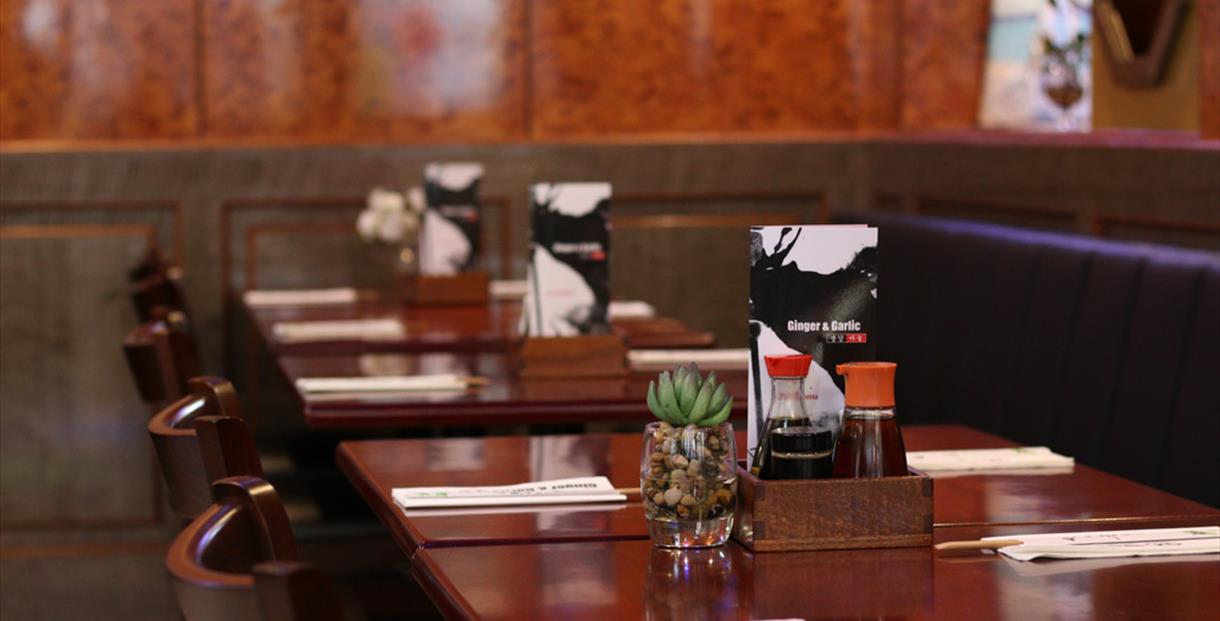 The final surprise is that Ginger and Garlic has five fully equipped and sound proofed Karaoke rooms with a great selection of songs and they serve your food and drinks in the room – great if you have a group made on Karaoke, you want a company event with a difference or you just want to celebrate a special occasion in a different way. The rooms really are soundproof though and we can guarantee it doesn't disturb other diners. Win-win!
Make a booking on 01242 519888 or visit their website for more...
Related
0 Comments