It's time to shake off those winter blues and start looking after our mental wellbeing. Check out our roundup of the best organised runs, treks and bike rides taking place in and around Cheltenham in 2023 and the most rejuvenating classes and wellbeing events, guaranteed to help you feel your best again!
Best Organised Runs Taking Place in Cheltenham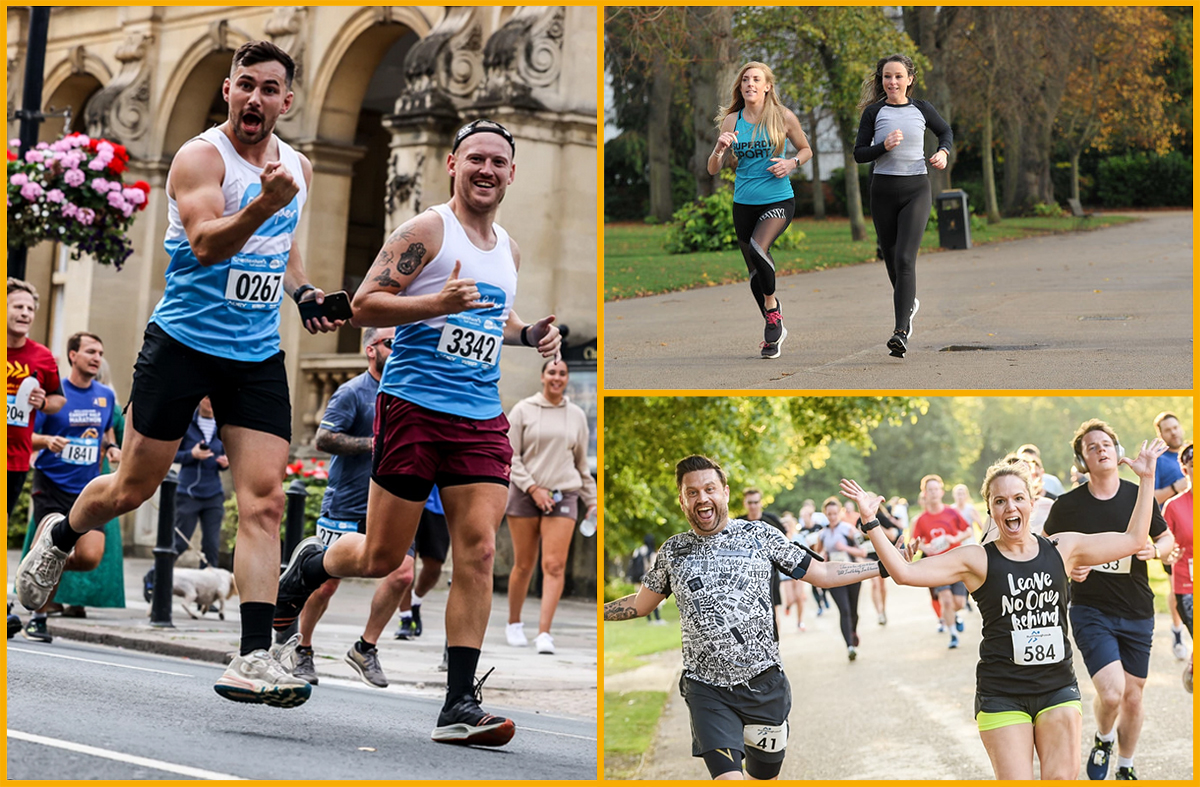 Cheltenham Parkrun
Not only is running great for cardiovascular health, it can have an incredible impact on your mental wellbeing as well, lowering stress cortisol levels while promoting clarity and a peaceful mind.
Parkrun Cheltenham is a free, fun and friendly 5k weekly event. Providing a positive and inclusive atmosphere where there is no time limit and no one finishes last. You can walk, jog, run, volunteer, spectate or just join in for the post-run coffee. It's up to you. Make friends, and work out the stress of the workweek, all for free!
When: Weekly on Saturdays at 9am.
Where: Start line is near the Pittville Park Boating Lake, closest to Tommy Taylor's Lane. See course page for more details.
More details: Cheltenham Parkrun
Cheltenham Junior Parkrun
Junior runners also have the opportunity to get outdoors and run for free as part of a friendly running community. Cheltenham junior parkrun is a weekly free 2k, dedicated to 4 - 14 year olds.
When: Weekly on Sundays at 9am
Where: The Park, Cheltenham, Gloucestershire, GL50 2RH. See course page for more details.
More details: Cheltenham Junior Parkrun
Run Cheltenham
Looking to step up your weekly park run to something a bit more challenging? Run Cheltenham (formerly the Cheltenham Half Marathon) is the sporty event for you. This annual popular event offers a series of closed-road races that are fun and engaging experiences for people of all ages and abilities. You'll get all the benefits of running along with the sense of pride that only a finished race can bring.
There are three races to choose from, all starting at the Cheltenham Racecourse and all on the same day. The famous 13.1 mile Cheltenham Half Marathon through the beautiful Regency town centre. The Cheltenham 10k, for those runners who want to experience the best of the Regency town without the longer 13.1 miles distance. The Community Mile, a family-friendly fun and the perfect introductory distance of 1.1 miles to push first-time runners.
When: All three running events Sunday 3 September 2023
Where: Cheltenham Racecourse and town centre
More details: Run Cheltenham
Cheltenham Running Festival
This event offers the opportunity to run a 5k, 10k or Half Marathon around the famous Cheltenham Racecourse in support of the Cheltenham & Gloucestershire Hospital Charity! Unlike the Run Cheltenham event above, the course route is purely on the Cheltenham Racecourse track. Each mile will be accurately marked out. There will be plenty of helpers to keep you quite literally on track and encourage you all the way to the finish line.
When: All three running events Sunday 11 June 2023
Where: Cheltenham Racecourse
More details: Cheltenham Running Festival
---
Recommended Cheltenham Bike Rides & Charity Treks

Beyond Cotswolds Sportive
Prefer the feel of cycling shoes to running trainers? The Beyond Cotswold Sportive has got you covered.
Like Run Cheltenham, the event will be starting at the Cheltenham Racecourse, with three ride lengths to choose from - 69, 104 and 163 kilometers. Taking in a large swath of the stunning Cotswolds, the route is not overly tough and is set to be a relaxed day in the saddle to help everyone enjoy cycling at its finest.
When: Saturday 13 May 2023
Where: Cheltenham Racecourse
More details: Beyond Cotswolds Sportive
Cheltenham's Three Peak Challenge
Prefer a slower pace to soak in the beauty around you? We have just the event! The annual Cheltenham's Three Peaks Challenge is a one day 30km trek across Cleeve Hill, Leckhampton Hill and Crickley Hill, organised by and in aid of Aim Up - formerly St Vincent's and St George's Association - a Gloucestershire based charity with a long established history of providing care and support services to vulnerable adults.
It's a fabulous way to raise money for a worthwhile local charity whilst experiencing the glorious countryside on our doorstep. You can enjoy this adventure safe in the knowledge you are on a fully recced 22 mile route with markers to guide you, and checkpoint volunteers pointing you in the right direction so you are unlikely to get lost!
When: Saturday 10 June 2023
Where: Meet at the Phoenix Centre (Portland Street, Cheltenham, GL52 2NW)
More details: Cheltenham's Three Peaks Challenge
Trek26 Cotswolds
Another opportunity to experience an adventure in the Cotswolds whilst raising money for charity and boosting your fitness. Join Alzheimer's Society for an epic 13 or 26 mile trek this summer. Both routes will start and finish at Postlip Farm, Cheltenham. The farm is just outside Cheltenham which sits underneath Cleeve Hill, the highest point in the Cotswolds. The routes will take a circular route North, utilising parts of the famous Cotswold Way before looping down to Cleeve Hill itself with incredible views across the hills.
When: Saturday 15 July 2023
Where: Start and finish at Postlip Farm, Cheltenham, GL54 5AQ
More details: Trek26 Cotswolds
Ride For Ryder
One of the longest running and best loved charity cycling events in the Cotswolds, this year it will take place on Sunday 9 July 2023 and will mark its 35th year.
Our local charity, Sue Ryder Care at Leckhampton Court Hospice invite cyclists to get on their bike for Ride for Ryder - The Sportive 2023. Enjoy some of the most stunning routes in the Cotswolds, while raising vital funds for local families needing expert and compassionate care.
This years event has four beautiful routes to choose, from 40 to 160km, the event offers something for all abilities.
When: Sunday 9 July 2023
Where: Starts from Dean Close School, GL51 6HE
More details: Ride For Ryder
---
Yoga Retreats & Wellbeing Events in and Around Cheltenham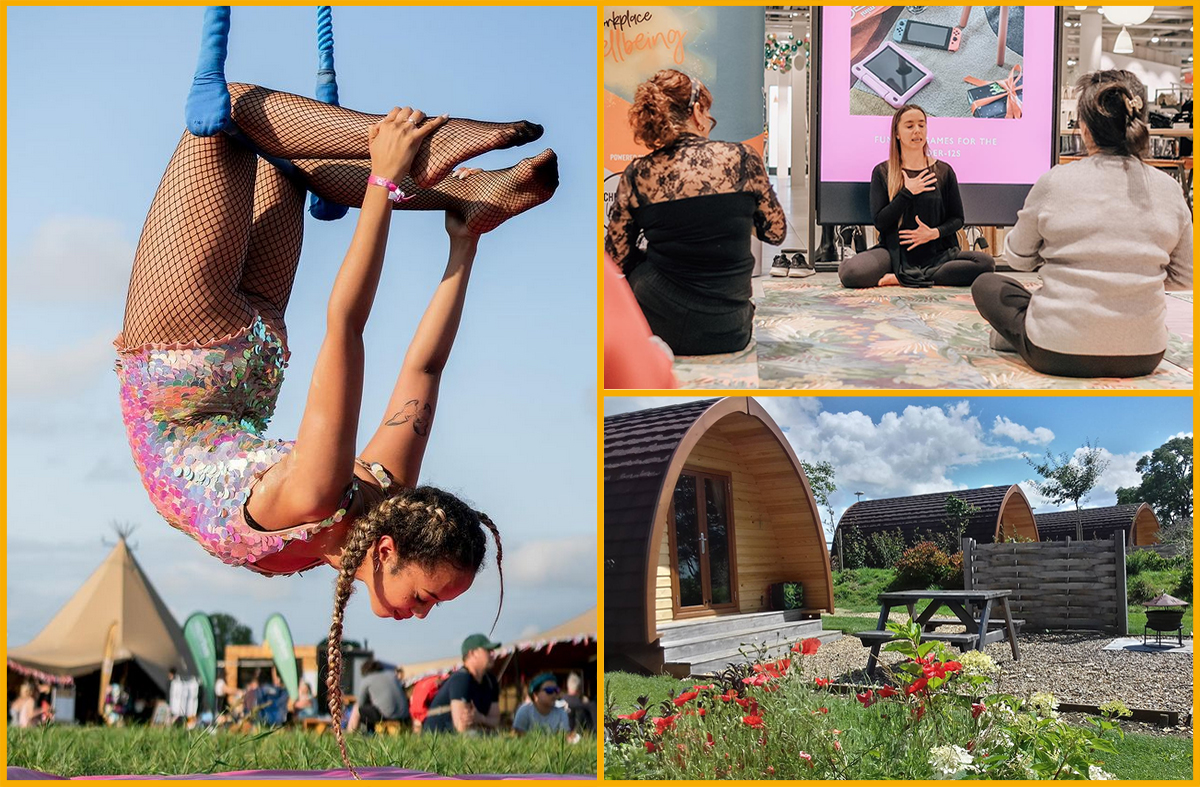 Soul Circus
Soul Circus is a wellbeing festival where music, yoga and holistic therapies meet glittery festival fun and DJ after parties in the rural Cotswolds countryside.
In the day wake up your body with sunrise yoga sessions and aerial classes led by master teachers, and move your mind with transformational astral projection, lucid dreaming and mindfulness workshops.
At night, dance beneath the stars as DJ's set the skies alight with thrilling shows and exhilarating music, enjoy locally sourced and nutritious produce in the market kitchen or simply admire the festival's stunning surroundings from your lakeside Jacuzzi.
When: 17-20 August 2023
Where: Hollow Farm, Elmore, Gloucestershire. GL2 3SG
More details: Soul Circus
Outdoor Yoga at the Lido
The benefits of yoga on our health and happiness is well documented, and what better way to experience it than outdoors with the rising sun?
Based on the ancient fitness science of Hatha yoga, it blends balance, strength, flexibility and power in a fitness format.
Classes at the Lido are held outdoors (weather permitting) and focus on breathing techniques, exercise and meditation to help people of all abilities improve their mental and physical health.
When: Saturdays 9.30 – 10.30 AM
Where: Lido Pool
More details: Yoga Classes Lido
Cotswold Yoga Retreat & Wellbeing Holiday
The Yoga & Wellbeing Retreat at Notgrove Holidays is designed to nourish, awaken, heal and renew. Set on the idyllic 1,500-acre private Notgrove Estate in the beautiful Cotswold countryside, it's the perfect place to reflect and unwind.
The three day and three-night retreat includes energising morning yoga, crystal sound baths, group Reiki, mindful countryside walks and much more.
The retreat will be led by Jo Fellows, an advanced yoga teacher (Yoga Alliance International), Reiki Master/teacher, sound therapist, and meditation teacher. Her classes and treatments are designed to revitalise the spirit and restore balance to both mind and body.
When: 26–29 January, 23-26 May and 12 – 15 September
Where: Notgrove Estate, Nr Cheltenham, Gloucestershire, GL54 3BT
More details: Cotswold Yoga Retreat and Wellbeing Holiday
The Cheltenham Mind Body Spirit Wellbeing Show
The Cheltenham Mind Body Spirit Show is a welbbeing extravaganza set in the Cheltenham Pittville Pump Room. The event features many top mind body & spirit wellbeing experts with over fifty exhibitors, talks, demos and workshops, inside and out.
Special guests this September include: Lee Petulengro, TV fortune teller, Joe Hoare, Laughter Yoga Guru, Denise Whichello Best Selling Author, Aziza of Cheltenham Belly Dance Troupe.
When: 4 March and 7-8 October
Where: Pittville Pump Room, E Approach Dr, Cheltenham GL52 3JE
More details: Cheltenham Mind Body Spirit Wellbeing Show
---
Check out our helpful guide for more ideas to enrich your Mind, Body & Soul in Cheltenham.
We've shared our recommended local walks, bike rides, best places to eat healthy food, spa breaks, staycation inspiration and much more! All guaranteed to boost your mental wellbeing and help you make the most of your time in Cheltenham.
Related
0 Comments