This last year has been an unprecedented time for all, particularly for those in the hospitality industry. Rather than mourn the hotel's temporary closure during lockdowns, the team at Queens Hotel Cheltenham decided to pivot their focus to support the local community instead.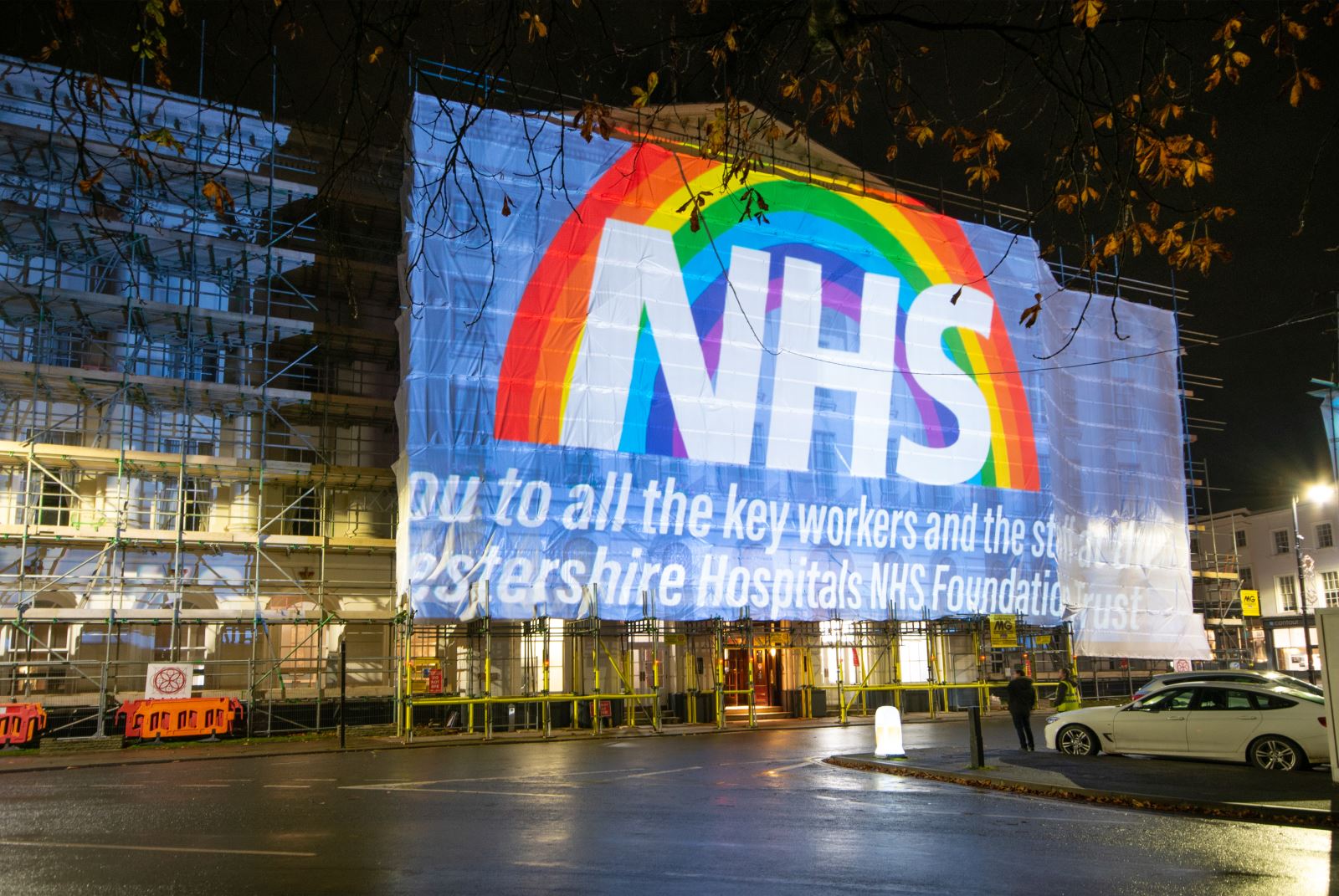 During the hotel's 2020/2021 renovation, the team has covered the historic façade with a temporary sheet to cover the scaffolding whilst the building work has been ongoing. This sheet covering over the façade has allowed Queens Hotel Cheltenham to project positive graphics to celebrate momentous occasions such as Remembrance Sunday, Children in Need as well as an Advent calendar in partnership with local schools & community project, No Child Left Behind, over the festive season. This façade has been used to communicate with and bring positive messages to the people of Cheltenham. There was also an initiative in the first lockdown where Accor hotels in the UK & across the globe lit up their façade each night to display a giant heart to provide hope to the local community.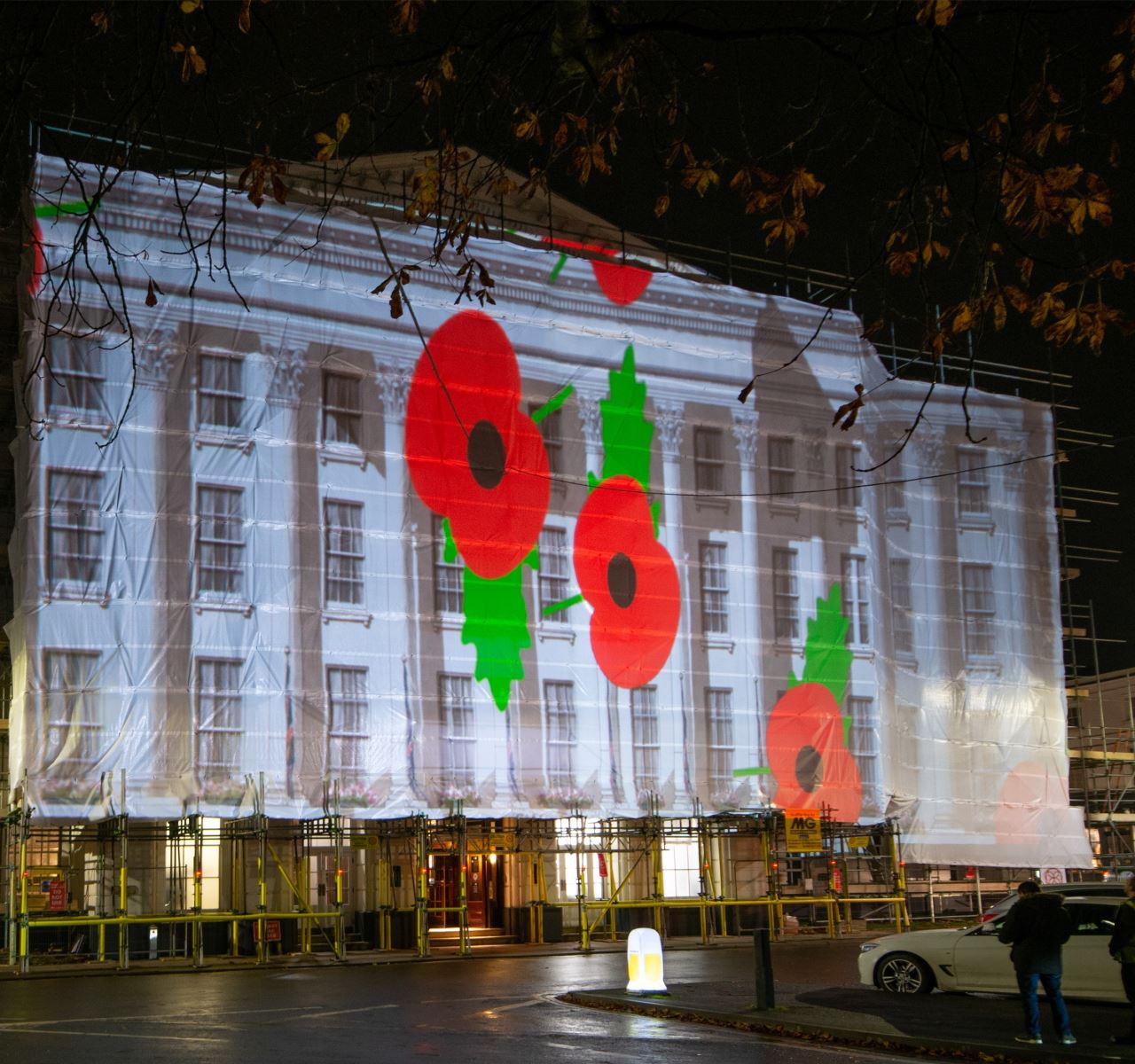 Queens Hotel projection for Remembrance Sunday
Queens Hotel has also supported the local NHS trusts with food parcel donations and hand baked goods made by the staff, gifted to the local hospitals. This is in addition to its work supporting local charity Cheltenham Open Door, with further donations to benefit vulnerable, disadvantaged and lonely people. In February, several members of the team participated in a 24hour Gymathon raising money for Hospitality Action alongside its MGallery UK sister hotels, Castle Hotel Windsor and Francis Hotel Bath.
Maintaining wellbeing within the team has been incredibly important, so to support staff wellness and morale during the lockdowns, the hotel implemented regular virtual 'coffee catch ups' and online team quizzes as well as additional training in specialist areas such as bartending and housekeeping. Staff also have access and can apply to the 'Accor Heartist' fund in the event of financial struggles.
Even as the hotel looks to its reopening, the Queens Hotel Cheltenham team continues to support the local community with the launch of their new Key Workers Refreshment Station from Monday 29 March 2021. Located at the front of the hotel, the Queens Hotel Team will be ready to welcome all key workers from the area, serving tea and coffee as well as light bites and other refreshments throughout the day from from Monday – Friday, 9am to 5pm, until the end of April 2021.
The hotel's General Manager Erol Uray says "We've been so pleased to be able to show our support to the Cheltenham community during such a difficult year. Coming out of lockdown does not mean it's the end of these initiatives, we have our Key Workers Refreshment Station launching at the end of March and we'll continue to be at the heart of local projects and activities."
Queens Hotel Cheltenham will be reopening on 12 April 2021 for outdoor dining in the Queens Summer Garden and the hotel will be fully reopening on 17 May 2021 in line with Government guidelines. For more information visit www.queenshotelcheltenham.co.uk
Related
0 Comments