Russian State Opera
Everyman Theatre
Regent Street
Cheltenham
Glos
GL50 1HQ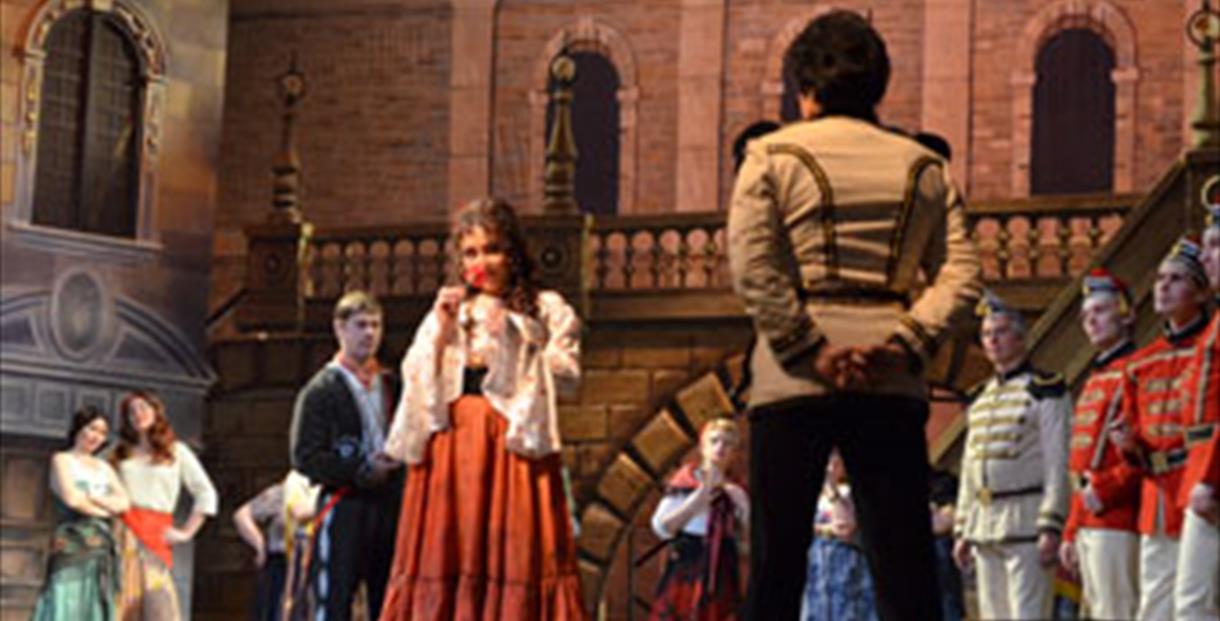 About
The Russian State Opera returns to the Everyman Theatre to present three classic operas featuring an impressive cast of over 30 musicians - Madame Butterfly, Aida and Carmen.
Madam Butterfly - Thursday 31st March 2022
No opera can match the tragedy and sorrow of Puccini's Madama Butterfly.
Set in Japan at the turn of the last century, it is the story of a doomed love affair between an American naval officer and his young Japanese bride whose self-sacrifice and defiance of her family leads to tragedy.
Though infinitely sad and tragic, the compelling tale of Madama Butterfly remained Puccini's favourite opera – his supreme theatrical achievements also gave the world some of the most sublime and beautiful arias in history - One Fine Day and Love Duet, as well as the Humming Chorus which has been popular with opera-goers for over a century.
This touching tale of innocent love crushed between two utterly different cultures resonates as strongly as ever in today's world.
Verdi brings ancient Egypt on stage with a love story amidst the backdrop of war. The princess of Ethiopia (Aida) falls in love with the Egyptian General (Radames) who is also besotted by her. Radames is chosen to lead the war with Ethiopia by the king and Aida is left to choose between her love of her father and her country.
A gripping love story that will keep you on the edge of your seats until the very end.
The aria 'Se quel Guerrier io fossi!', sung by Radames in the first act, is one of the most famous arias of the operatic world. The most powerful melody comes in the second part of the Opera in the form of a triumphal march to highlight victory and triumph.
A deeply moving opera overflowing with emotion and containing moments of despair and uncertainty. Aida is an unforgettable, inspiring experience.
Carmen - Saturday 2nd April 2022
Carmen tells the story of the downfall of Don José, a naïve soldier who falls head over heels in love with Carmen, a seductive, free-spirited femme fatale. The infatuated Don José abandons his childhood sweetheart and neglects his military duties, only to lose the fickle Carmen to the glamorous toreador Escamillo.
The music of Carmen has been widely acclaimed for the brilliance of its melodies, enthralling atmosphere and orchestration, as well as for the skill with which Bizet musically represented the emotions and suffering of his characters.
The Toreador Song is among the best known of all operatic arias.
The rich and colourful vigour of the gypsies' scenes will have you on the edge of your seat, the vibrancy, enthusiasm and intensity of the performances will reverberate long after the final curtain has fallen
Love, treachery, passion and betrayal, Carmen has it all.
Book Tickets
Facilities
Accessibility
All Areas Accessible to Disabled Visitors
Facilities for Hearing Impaired Visitors
Facilities for Visually Impaired Visitors
Toilets for Disabled Visitors
Catering
Key Features
In town/city centre
Indoor Event
Opening Times
Season
(31 Mar 2022 - 2 Apr 2022)
Directions
TripAdvisor