Queen Victoria in Paris - Watercolors from the Royal Collection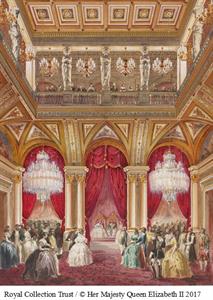 Address/Location
The Wilson
Cheltenham Art Gallery & Museum
Clarence Street
Cheltenham
Gloucestershire
GL52 6HB
Contact
This exhibition, organised by the Royal Collection Trust, displays the watercolours commissioned as souvenirs from Queen Victoria's momentous state visit to Paris, in August 1855. Following years of antipathy between France and Britain, this visit was intended to cement the historic alliance between the two countries, developed through their fight against Russia in the Crimean War.
The watercolours that make up the exhibition were all presented to or commissioned by Queen Victoria as a souvenir of her visit. The works act as fascinating records of the opulent surroundings and the pomp and pageantry of Queen Victoria's visit to Paris, and are representative of art and taste during her reign. Queen Victoria was a passionate collector of watercolours, compiling a sequence of 'Souvenir Albums' during her marriage to Albert, which recorded the journeys, events and visits the couple attended together. As well as displaying work by French artists, the collection also holds some drawings Queen Victoria herself made during the Paris tour.
Generously loaned by Her Majesty The Queen from the Royal Collection, this exhibition is the first time that many of these works have been on display, and introduce the remarkable work of little-known French artist to today's audiences.