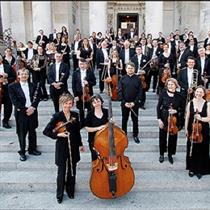 Address/Location
Cheltenham Town Hall
Imperial Square
Cheltenham
Gloucestershire
GL50 1QA
Contact
Conductor
Matthew Halls

Clarinet
Andreas Ottensamer

Mozart
Symphony No.35, 'Haffner'

Johann Stamitz
Clarinet Concerto in B flat

Carl Philipp Stamitz
Clarinet Concerto in E flat

Dvořák
Symphony No.5

Against the backdrop of the birth of the modern orchestra, in Mannheim around 1750, Czech composer Johann Stamitz wrote what is probably history's earliest clarinet concerto, and this milestone work is the first of two from tonight's Austrian soloist. The second comes from Carl Stamitz, continuing where his father left off by further developing both clarinet writing and classical structure in his concerto.

The evening opens with the brilliant Haffner with its sweeping first movement and innovative use of clarinets for added textural timbre. The finale, which Mozart marked 'as fast as possible', bubbles over with comic vivaciousness.

It was with his simultaneously airy and dramatic Fifth Symphony that Dvořák left his apprenticeship behind him and attained not only symphonic mastery but also the individual style - emblematic of his Bohemian roots - that makes him so popular.

Pre-Concert Talk (6.30pm to 7pm): Presented by a member of the BSO team. Free entry using your ticket for tonight's concert.
What's Nearby
Queens Hotel Cheltenham – MGallery by Sofitel is an elegant and imposing structure,...

0.11 miles away

A beautiful Georgian townhouse hotel in the heart of Cheltenham. Classic on the outside,...

0.13 miles away

Cheltenham Apartments offers luxury self catering accommodation in the form of a...

0.12 miles away
Previous
Next