Dunkertons, located on the picturesque fringe of Cheltenham, remains a firm favourite with Cheltenham's crowd. For those looking for a little respite from the hustle and bustle of the town centre, easy parking, and a relaxed atmosphere with warm welcomes and sun-dappled lawned terraces.
The Park has evolved and now presents a more integrated destination of shopping, entertainment, bars and dining experiences. With its upmarket organic Dunkertons farm shop, featuring produce from local and regional artisans, an array of Dunkertons Ciders and a mouth-watering new selection of casual eateries, with the newly opened Ronnies Ribshack, Sourdough Pizza Co and Bombay Street Food Company, in collaboration with Bella Mia Pizza and Koloshi. These local food heroes need no introduction, and their collaboration provides authenticity and real provenance for the innovative new menus on offer.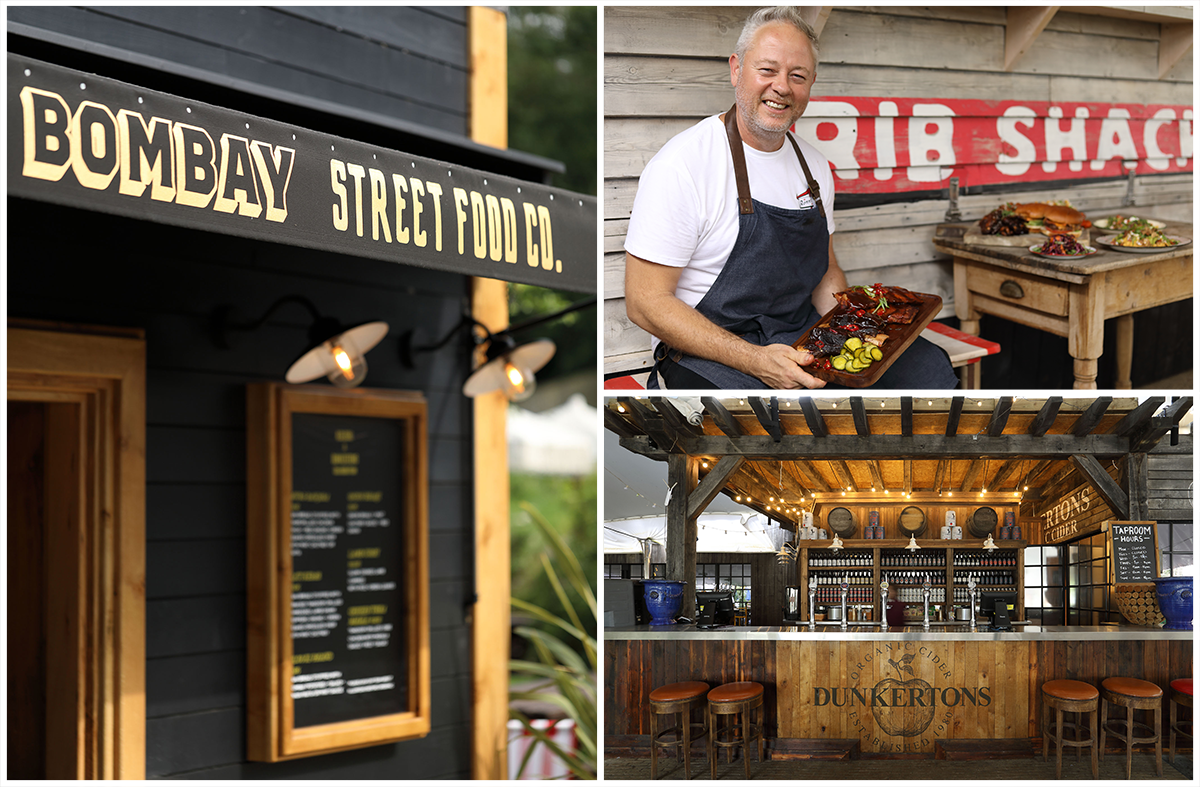 Sourdough Pizza Company
Sourdough Pizza Co. at Dunkertons is a proud collaboration with Bella Mia Pizza.
The unique pizza dough is all homemade from an authentic recipe steeped in age-old traditions and remains a tightly guarded family secret.
The Neapolitan pizzas are hand stretched to order by our passionate team and freshly cooked in 90 seconds using only the finest ingredients in a wood-fired oven. Room for more? Try their unique dessert options with the Calzone section already a talking point and sweet spot to finish on.
Ronnies Ribshack
The vision of Ronnie Bonetti, The Lucky Onion Executive Chef and Culinary Director, is to provide the authentic Americana-style go-to for ribs, smoked brisket, burgers, wings, nachos, signature fries and all the hot comfort food favourites.
Bristling with energy, Ronnie has put his signature on each grab-and-go style dining delight. Ronnies Ribshack redefines fast food, and the culinary philosophy delivers an uncompromising approach to food and service quality. Everything is carefully considered and the passion and detail in every dish are evidenced through a sensory delight of bold flavours and authentic cooking methods.
Bombay Street Food Company
Bombay Street Food Company is a proud collaboration with Koloshi that needs no introduction as Cheltenham's Premium Indian restaurant.
Experience a journey of regional and subcontinental cooking where fresh produce meets high-quality authentic ingredients, to unleash a truly refined selection of Indian favourites.
Handmade dishes based on centuries-old traditions passed down through the generations are perfected and packaged perfectly from The Bombay Street Food outlet. Cooked in authentic tandoors, the meat selections are expertly crafted and combined with secret spices that are beyond compare. Considered almost an institution, the naan bread stuffed with tandoor grilled shredded lamb shank, peppers, onions, and green leaves is the team favourite.
Jade Holland Cooper, owner of Holland Cooper Boutique, said: "We're delighted to have evolved the eateries, entertainment, bars and shopping experiences at Dunkertons, with everyone's favourites, to provide a truly relaxed and convenient leisure destination, to complement Dunkertons Cider and the Holland Cooper Boutique.
People can eat, play, shop and dine together and this convivial space recognises the need to unplug and enjoy the luxury of time spent with families and friends, opening a playful world centred around quality, good design and good times. We have plans for the addition of an artisanal boulangerie and butcher in the coming months, further validating our passion to provide a truly memorable sense of place for all."
---
Looking for more ways to soak up the summer sun with a refreshing drink? See our guides for the best Beer Gardens, Gastro Pubs and Cocktail Bars in Cheltenham.
Related
0 Comments