You are invited to celebrate the Queen's Platinum Jubilee in style with a street party on Regent Street! Enjoy food and drink from independent Cheltenham businesses around a communal table, whilst you listen to live music.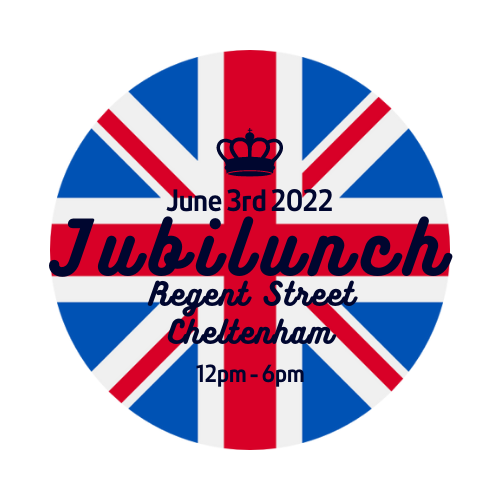 The Cheltenham Chamber of Commerce, with support of the Cheltenham Business Improvement District and TURF Cheltenham, is teaming up to bring Cheltenham the Jubilunch on Friday 3 June from midday.
The event is being arranged to celebrate the Queen's Platinum Jubilee and to give local residents and visitors the opportunity to enjoy food and drink from independent Cheltenham businesses, whilst seated around a communal table spread along Regent Street.
Lindsey Holland, Hospitality and Events Executive for Cheltenham Chamber and owner of Cleeve Hill Hotel explained how the event came about:

"The Cheltenham Chamber of Commerce wanted to mark the Queen's Platinum Jubilee with an event to celebrate the independent businesses with Cheltenham. We came up with the plan for the Jubilunch, and it was all systems go from that point. We hope this street party will be a fitting tribute to this very special occasion, and an opportunity to support and promote Cheltenham businesses, and our local hospitality scene, as it continues to try to build back and develop in difficult circumstances".
Regent Street, in the centre of Cheltenham, will be closed for the day, to allow the arrangement of tables and chairs to run down the centre of the street, and to offer free pitches for local businesses to sell their food and drink. The street party will take place on Friday 3 June between 12-6pm, with local musicians helping to create the party vibe!
Oliver Williams, Property Director with Stay Lets, a member of the Cheltenham Chamber of Commerce, commented:
"Predicting numbers for an event such as this is always difficult but we are planning for an attendance of 500-1000 people throughout the day, both local and visitors, subject to weather of course! Once we make the Jubilunch event a success it won't be the last event we do either; there'll be bigger and better things coming down the line. This is all about local businesses supporting local businesses and putting on a great event for Cheltenham to mark this special landmark".
The event has already received financial pledges of support from Stay Lets and the Markey Group, Spirax Sarco, Neptune Apartments, Gemini Financial Planning, Prestbury Marketing, CTIH security, and the Gloucester Carpet Outlet. The organisers have items that need to be hired/purchased and they are looking for other local businesses that may be able to contribute as part of their corporate social responsibility activities. Donations are being sought from £250 up and anybody who wants to support or get involved in any way should contact Oliver Williams - oliver@staylets.co.uk
---
It's going to be a busy four day bank holiday weekend in Cheltenham, with lots planned to celebrate the Queen's Platinum Jubilee. Visit our Cheltenham Jubilee What's On Guide for full details.
Related
0 Comments