Around 30 local cyber and creative companies have been involved in the development of Cheltenham Science Festival's brand new FREE drop-in zone – The Arcade. Read on for full details....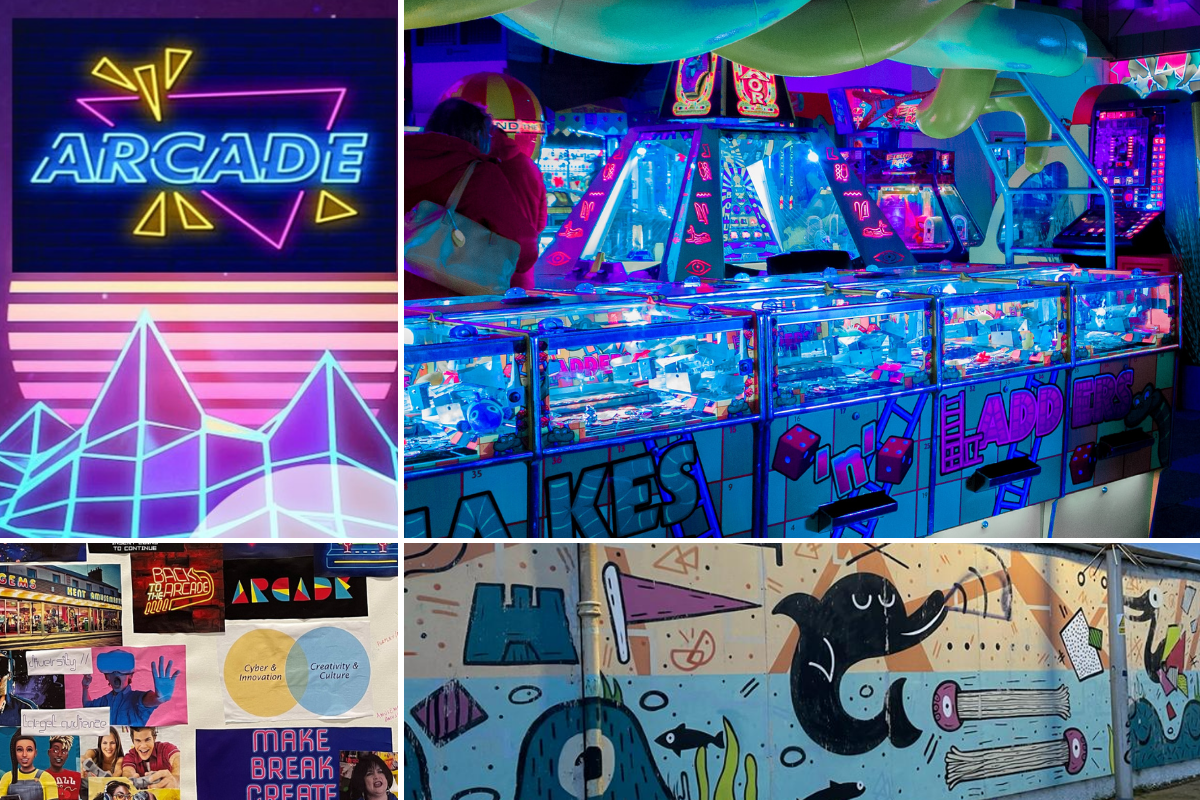 A brand-new drop-in zone – The Arcade - will appear at Cheltenham Science Festival this year, designed to be an inclusive space for everyone to get hands on and have fun. With retro arcade games and pinball machines, it will show the past technologies that have shaped the modern amusement arcade. But it will also explore new technologies and how they will shape our culture in the future.
Like seaside arcades, The Arcade will be a noisy, fun, colourful space where kids, teens and adults can try their hands at a series of creative and cryptic challenges. It will be a place for making, breaking and creating. Cheltenham Paint Festival will add their magic to the visuals for the zone.
Dr Marieke Navin, Head of Programming at Cheltenham Science Festival explains: "We want The Arcade to be the sweet spot between cyber & innovation and creativity & culture. It will show what creativity, communication, problem-solving and teamwork can achieve and that it's for everyone."
The Arcade was dreamt up in consultation with around 30 industry partners – nine of which are represented within the zone: Northrop Grumman, Sopra Steria, Lockheed Martin, L3 Harris, IBM, Security Queens, Northgreen Security, University of Lancaster and University of Gloucestershire.
Reid Derby, Director of Strategy at CyNam, convened a series of round-table discussions to develop the concept with input from the exhibitors as well as Factory Berlin, NCSC, Ladies of Cheltenham Hacking Society, Immersive Labs, Synack, Alan Turing Institute, Amazon Web Services (AWS), CGI, Rebellion Defence, Raytheon, BAE, BT, Ripjar, Improbable.io, Egress, Google Cloud, Intel, Quantum Dice, Vivida and Cyber Security Associates. He said: "The Arcade is more than a zone at Cheltenham Science Festival, it is a cyber and cultural movement."
Tasked with bringing the Zone together is Dr Gary Kerr who commented: "This has been a fantastic collaboration to work on and tremendously exciting to see it coming together. It will be a real celebration of Cheltenham as a cyber hub and show that it is open for business and open to everyone. I hope people will be inspired by a vision of a world where everyone is welcome in cyber and everyone is made to feel valued and included, regardless of their background".
The Arcade opening times at Cheltenham Science Festival
Tuesday 7 June - 10am-3pm Schools & 3-5pm All ages (relaxed opening)
Wednesday 8 June - 10am-3pm Schools & 3-5pm all ages (relaxed opening)
Thursday 9 June - 10am-3pm Schools & 3pm – 7.30pm all ages
Friday 10 June - 10am–3pm Schools & 6–10pm late night adults
Saturday 11 June - 10am-5pm all ages
Sunday 12 June - 10am-5pm all ages
View the full Cheltenham Science Festival 2022 Programme
More festival and events inspiration - Cheltenham Festivals & Major Events Guide 2022 | What's On Cheltenham | Things To Do Cheltenham | Jubilee Weekend in Cheltenham
Related
0 Comments