Snowdrops are starting to bloom in and around Cheltenham, signifying the start of spring! The pretty white flowers bloom between January and February and are always a welcome sign that the (slightly) warmer weather is on the way.
Also known as Galanthus, these small white drooping bell-shaped flowers blanket wooded areas and cover gardens, attracting hundreds of families, snow-drop seekers and garden enthusiasts alike every season.
So, for all you galantophiles looking to get your flower fix, check out our top places to see snowdrops in and around Cheltenham.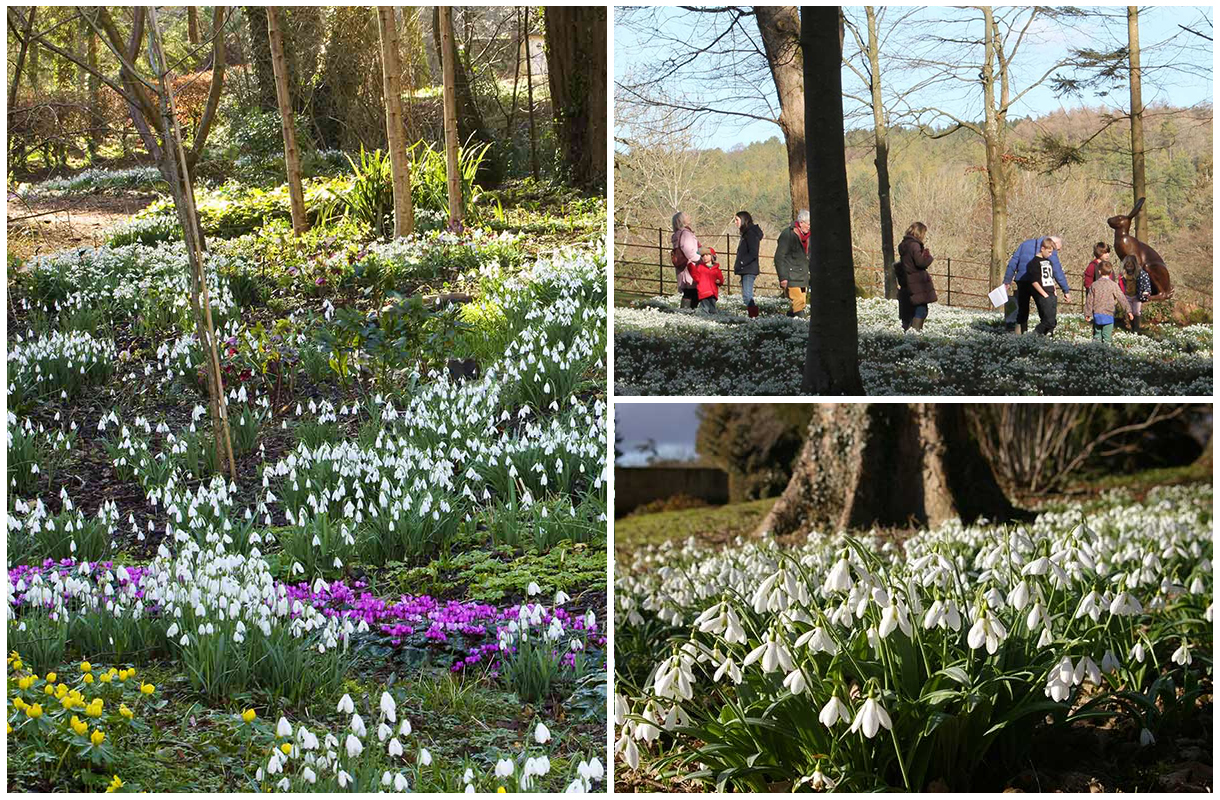 Colesbourne Gardens
Located just a few miles outside of Cheltenham, Colesbourne Gardens boasts a fantastic snowdrop collection to be enjoyed by all. The gardens comprise approximately 10 acres of formal snowdrop walks around the house and lake, with more parkland and an arboretum to explore further afield.
Colesbourne Gardens will be hosting open days every Saturday and Sunday from Saturday 29 January to Sunday 27 February 2022.
Batsford Aboretum
Situated in Moreton-in-Marsh, Batsford Arboretum is open all year round and during this time of year the snowdrop collection fills the arboretum. The white Snowdrops also contrast beautifully with the vivid yellow aconites and pastel mauve crocuses that are out this time of year too.
There are few better places to enjoy the season than at Aboretum, which is open daily until 5pm. Day tickets must be booked in advance online.
Painswick Rocco Gardens
The Rococco Gardens in Painswick have one of England's largest naturalistic plantings with over five million snowdrops and 15 distinct species to enjoy.
The beautiful display can be admired from the end of January and throughout February, with Head Gardener Roger predicting that the snowdrops are likely to be at peak blooming during the last week of January and first two weeks of February. Advance booking online required.
Cerney House Gardens
Nearer to Cirencester is Cerney House Gardens. With romantic Victorian features the walled gardens are described by Country Living as "what most people aspire to in their gardens - and few achieve." The gardens make for a wonderful place to view masses of Snowdrops and it attracts hordes of visitors from far and wide every year.
The garden is open every day, with no need to book in advance.
Cotswold Wildlife Park & Garden
Want to enjoy the snowdrops while also giving the kids something to look forward to? The Cotswold Wildlife Park & Garden is the place to be. With over 250 species of animal, the park also features a stunning display of snowdrops. With swaths of them growing naturally in the West Meadow, alongside a distinguished collection of around 30 different varieties in the Winter Garden.
Cotswold Wildlife Park is open on weekends only until Thursday 10 February 2022, after which they hope to return to normal operating hours.
Rodmarton Manor
Located between Cirencester and Tetbury, Rodmarton Manor has an eight-acre stretch of gardens where over 150 variations of beautiful snowdrops can be found; some small, some huge, with many different markings – some yellow and some green and including many rare ones.
The gardens will be open during the snowdrop season on Wednesdays and Saturdays from the 2nd to 19th February – 1.30pm onwards.
Looking for more inspiration and activites to chase away those winter blues? Then check out our Mind, Body and Soul page for all the best things to do.
Related
0 Comments