Take the new public art trail and find all the kingfishers scattered across the Cotswolds.
The Kingfisher Trail – the newest outdoor experience for the Cotswolds in 2021, launches this spring Bank Holiday Monday – to herald the start of summer! Everyone living in and visiting the region can enjoy this new and accessible covid-secure activity, running along two distinct routes inspired by the rivers Severn and Thames.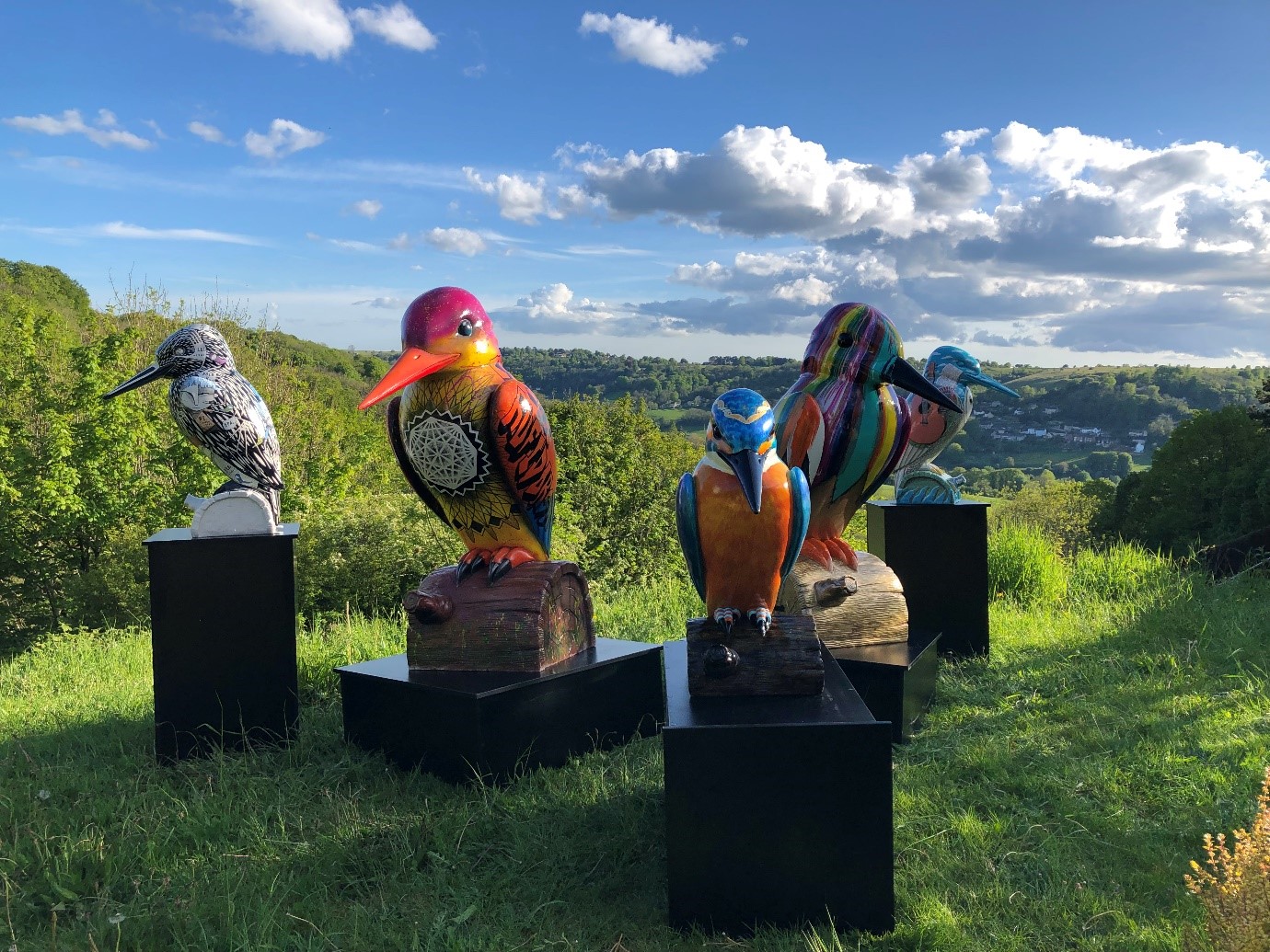 Image shows a small selection of the 22 kingfishers that can be found on the Kingfisher Trail, Cotswolds 2021.
The trail features 20 large scale artist-designed kingfisher sculptures, hosted at hand-picked locations throughout the region and beyond! Plus, there will be an extra special Flying Kingfisher which soars into a new location every two weeks, and finally a 22nd sculpture aptly named the Golden Kingfisher, which is part of a new prize draw competition, with tickets available from the trail organisers, Cotswolds National Landscape.
You can find out more about how to spot all 22 impressive sculptures by downloading the trail map from www.kingfishertrail.org, where you'll also be able to find information about the accompanying app. The kingfishers will be hosted at a range of places, from historic castles to market towns, and nature reserves to cosy cafes. All the models have been beautifully designed and decorated by the dedicated group of talented artists. Each kingfisher is truly unique, with themes close to the artists' hearts, including nature and wildlife, climate change, people and places special to them, and of course – the Cotswolds National Landscape!
Andy Parsons from Cotswolds National Landscape commented:
"The new Kingfisher Trail is a leisurely way to explore the Cotswolds, seeking out all of the beautiful sculptures, hosted at a fantastic variety of destinations throughout the area and beyond.
By showcasing the glorious waterways, historic towns, and lush green countryside of our beloved Cotswolds region, we are inviting people to search for each and every one of the sculptures in this crown of 22 kingfishers. Take the trail, explore corners of the Cotswolds, and escape the everyday, from May all the way through to October."
For more details and to get involved – www.kingfishertrail.org
Related
1 Comments